The Tornadoes and Floods of March 1913 (1)
Introduction
1913 started out much the same as any other year. January saw the introduction of parcel post. In February, Congress ratified the 16th Amendment which streamlined the federal income tax system, New York's Grand Central Terminal weas opened and prizes were put in Cracker Jack popcorn boxes. On March 4th, Woodrow Wilson was inaugurated as the 28th President. Gideon Sundback was finishing the design of the zipper which he patented in April and Henry Ford was perfecting the production line which was introduced in its full form in August.
1913 also saw one of the worst natural disasters that the United States has ever seen. Unlike the 2008 midwest floods that killed 13 people and caused $6 billion worth of damage there are no national statistics, that I could find, of the tornadoes and floods that hit the entire midwest from Nebraska to New York and from Michigan down to Tennessee, over the Easter weekend of 1913. From what I've read, I would estimate that over 1,000 people lost their lives, over a quarter of a million people were made homeless and the damage done would be roughly equivilent, in today's dollars, to the cost of the 2008 floods.
Uusually referred to as the Great Dayton Flood rather than something like the Great Midwest Flood this is more of a historical accident. Dayton being a larger town than most of the affected communities wasn't completely isolated by the loss of a single or even several telegraph wires, it was also one of the first communites to ask for help from the federal government and to send details of the damage it had sustained.
Among the tales of tragedy, death, flood, fire and destruction there are stories of true heroes, people worked who selflessly to save others less fortunate. People who risked their lives, and sometimes lost it, rescuing others. There are also tales of the bottom-feeders of society, from plain selfish people to looters, profiteers and people who stole from the dead.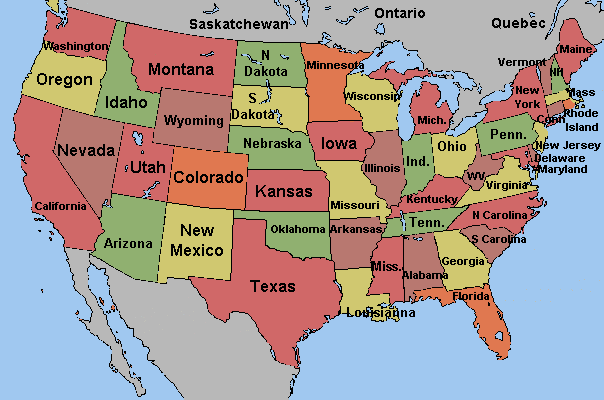 Map of the United States
The winter of 1913 was unusually warm and wet, almost spring-like, for most of the United States because of a huge high pressure area that had built up over Ontario in Canada. The wet winter had already saturated the soil in the areas that were going to be flooded in March. On Maundy Thursday, March 20th, 1913, the area of high pressure over Ontario started to move east and temperatures throughout the midwest plunged to below freezing. The change in temperature was sudden and unexpected, some places reported a more than 40 degree drop in 4 hours - from 60F to 20F. In The already water saturated ground was frozen solid. Along with the drop in temperature came very high winds, hurricane force winds in excess of 70mph were reported from Minnesota, Wisconsin and Michigan all the way down to Mississippi to Alabama.
1913 Weather Reports
These pages rely heavily on documents provided by the National Oceanic and Atmospheric Adminstration (NOAA), especially their scanned collection of the Monthly Weather Review which covers July 1872 to 1974 in both PDF and TXT formats. The MWR is still published but requires a subscription to access copies from 1975 onwards. At the time these pages cover the United States was split into 12 districts, each covering major watersheds and not conforming to state boundaries. Each district would compile monthly detailed reports from the weather stations they were responsible for and it these documents I have primarily used to gather the metrological data for these pages.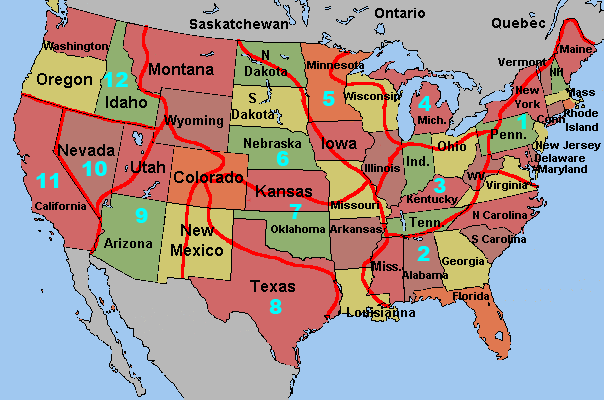 US Weather Reporting Districts
map created from http://docs.lib.noaa.gov/rescue/mwr/041/mwr-041-01-s.pdf
| | | |
| --- | --- | --- |
| District | Name | States |
| 1 | North Atlantic States | Connecticut, Delaware, District of Columbia, Maine, Maryland, Massacheusetts, New Hampshire, New Jersey, New York, Pennsylvania, Rhode Island, Vermont, Virginia, West Virgina |
| 2 | South Atlantic and East Gulf States | Alabama, Florida, Georgia, Mississippi, North Carolina, South Carolina, Virginia |
| 3 | Ohio Valley | Alabama, Georgia, Illinois, Indiana, Kentucky, Maryland, New York, North Carolina, Ohio, Pennsylvania, Tennessee, Virginia, West Virginia |
| 4 | The Lakes | Illinois, Indiana, Michigan, Minnesota, New York, Ohio, Pennsylvania, Vermont, Wisconsin |
| 5 | Upper Mississippi Valley | Illinois, Indiana, Iowa, Minnesota, Missouri, North Dakota, South Dakota, Wisconsin |
| 6 | Missouri Valley | Colorado, Iowa, Kansas, Minnesota, Missouri, Montana, Nebraska, North Dakota, South Dakota, Wyoming |
| 7 | Lower Mississippi Valley | Arkansas, Colorado, Kansas, Kentucky, Louisiana, Mississippi, Missouri, New Mexico, Oklahoma, Tennessee, Texas |
| 8 | Texas and Rio Grande Valley | Colorado, New Mexico, Texas |
| 9 | Colorado Valley | Arizona, Colorado, Nevada, New Mexico, Utah, Wyoming |
| 10 | Great Basin | California, Idaho, Nevada, Oregon, Utah, Wyoming |
| 11 | California | California, Oregon |
| 12 | Columbia Valley | Idaho, Montana, Nevada, Oregon, Utah, Washington, Wyoming |
Without the warnings given by the various reporting station and telegraphed to various population centers and the newspapers the loss of life and damage done would probably been far greater than it otherwise would have been.
Whilst going through the MWR scans I OCR'd some of the monthly average state temperature and rainfall data and this is available as an Excel spreadsheet.
January Floods
January 1913 was exceptionally warm over most of the midwest, especially in the Ohio Valley district. It wasn't that record high temperatures were reached, just that the average temperatures were higher and in no place in the Ohio Valley did the temperature drop to freezing for more than 24 hours. In New York state, for example, the average temperature was 34F, 10F higher than the normal January temperature of 24F. On 17th January, it reached 68F at Cobden in southern Illinois. It was also exceptionally wet. In Cairo, Illinois, 11.65 inches of rain were recorded for the month and over most of Kentucky 11.4 inches of rain fell in January - three times the normal amount of 3.7 inches and one quarter of the usual amount for the entire year. Incidentaly, a slight earthquake was recorded in Cairo, Illinois on 29th January sometime between 4am and 5am.
All this water meant that most of the major rivers and their tributaries in the Ohio Valley district overflowed their banks for at least part of the time between the 8th and 25th of January. The Ohio River flooded along most of its length as well as most of its tributaries. The same thing happened to the Green River in Kentucky, as well as the Cumberland and Tennessee Rivers also in Kentucky and Tennessee and the lower reaches of the Wabash and White Rivers in Indiana and Illinois. The overflowing of these rivers resulted in flooding in Pittsburgh, Pennsylvania, where one person was drowned; Parkersburg, West Virginia; Cincinnati and Columbus in Ohio. In Columbus a grocer and his horse were drowned when his wagon was swept away. At nearby Mineral City four more horses were drowned and their riders were lucky to survive.
In northern Indiana the Maumee River overflowed its banks and parts of Fort Wayne were flooded. On the lower Wabash River, Logansport, Attica, Terre Haute, Evansville and Mount Carmel suffered flooding and the overflowing of the White River meant that parts of Indianapolis and Elliston were also flooded. Around the vinicinty of Mount Carmel the Wabash River flooded areas 7 to 15 miles either side of the river.
The overflowing of the Cumberland River caused flooding to Nashville and Clarkesville, Tennessee. The flooding of the Cumberland caused an unusal accident at Cumberland City, Tennessee. A train of the Louisville and Nashville Railroad collided with, and severely damaged, a steamboat!
The Kentucky River also overflowed causing extensive flooding especially around High Bridge and Frankfort, both places reported extensive landslides along the steep river banks. Many bridges were swept away by the flood water. Large areas of low-lying land in Kentucky were flooded when the Green River, so much so that the Monthly Weather Report described parts of the state as "vast inlands seas".
Seventy-eight families had to be evacuated from their homes in Madison, Indiana on 12th January when the Ohio River flooded but the next day, on the 13th, 1,700 families were made homeless due to further flooding.
When the Green River in Kentucky flooded an area 5 miles in width over part of its length, somewhere between 2,000 and 3,000 in Calhoun people were made homeless. Forty people took refuge in a house on a low knoll, they were there for two days before they were discovered and rescued. Another 50 people took shelter in a schoolhouse. At Ashbyburg, 1,000 people were surrounded by between 2 and 5 miles of water for several days. At Greensburg, the river reached the highest level it ever had and some streets were covered in 15 feet of water.
In District 7, Lower Mississippi Valley, flooding was reported in Arkasas when the Black River and White River south of Batesville overflowed their banks. On January 25th, part of levee, several hundred feet in length, was washed away at Beulah, Mississippi.
The floods receded pretty rapidly in the north but further south, in places such as Evansville in Indiana and Cairo in Georgia the flooding persisted for three weeks or more into February.
Oddly enough Districts 9, 10, and 11; Colorado Valley, Great Basin and California recorded some of the coldest weather since 1898 and many young citrus trees were destroyed by frost and an estimated loss in crop value of at least $15 million (1913 dollars).
Mean Temperature Deviation from Normal - January 1913
map created from http://docs.lib.noaa.gov/rescue/mwr/041/mwr-041-01-c4.pdf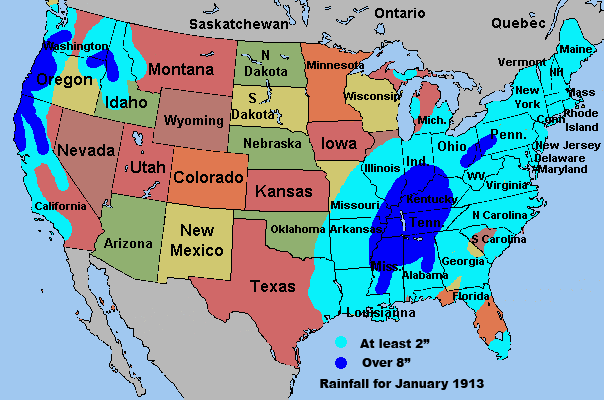 Rainfall for January 1913
map created from http://docs.lib.noaa.gov/rescue/mwr/041/mwr-041-01-c5.pdf
Some areas in the center of the dark blue areas had between 10" and 14" of rainfall
Area

Rivers

Flood Level
(feet)


Crest Level
(feet)

Height above
Flood Level
(feet)

Date
(Jan)

Days above flood level

Pittsburgh, PA
Allegheny, Monongahela, Ohio

22

31.3

9.3

9th

4

Parkersburg, WV
Ohio, Little Kanawha

36

45.1

9.1

13th

8

Cincinnati, OH
Ohio

50

62.2

12.2

15th

10

Louisville, KY
Ohio

28

39.5

11.5

14th

11

Evansville, IN
Ohio

35

46.7

11.7

19th

27

Cairo, GA
Ochlocknee

45

48.9

3.9

26th

21
Data from http://docs.lib.noaa.gov/rescue/mwr/041/mwr-041-02-0315.pdf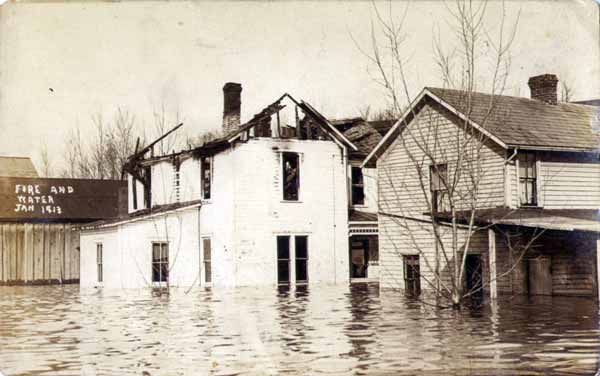 Fire & Flood - January 1913
This postcard, posted in Marietta, Ohio on January 18th, 1913, has no ther printed text. Although not printed on the card this is probably a scene from where the postcard was posted - Marietta, Ohio.
Early to Mid March 1913
The floods of January lasted a few days in the northern affected areas and several weeks in the southern but February and March saw more unseasonably warm weather. On 25th March it was 83F in Cumberland, Maryland. On 26th March, it was around 80F in most of Mississippi, Alabama and Georgia by the end of next day the temperature over most of the area had dropped to freezing or below.
The second week of March saw very heavy rain throughout the midwest and northeast and the Gulf States. Western Pennsylvania, New York, Mississippi, Georgia, Alabama and South Carolina all saw the wettest, or close to the wettest, month on record. Highland Home, Alabama received 19.45 inches of rain in March. This was caused principally by the tornado bearing storms of the mid-west and most of the rain fell between 23rd and 27th March.
Flood reports were sent from the entire length of most rivers and waterways in Districts 1 and 2 as roads, bridges, telegraph poles, livestock and buildings were swept away. All these rivers reached record or near record flood levels, the Mohawk River in New York, rose 16 feet in three days.
On the night 15th March, a levee protecting Macon, Georgia collapsed causing flooding to a goods yard, where the freight and even the tracks were damaged. The water rose to a level of about 3 feet in a nearby fertilizer plant and much damage was done there. As well as this damage, a railway trestle was destroyed and another severely damaged.
The Connecticut River at Brattleboro, Vermont on 27th March, saw the water level at the highest it had ever reached before. At Sharon, Pennsylvania a boom that was holding back 3 million feet of cut logs was swept away. The logs did considerable damage as they raced downstream. At White River Junction on the White River the logs struck and destroyed a highway bridge.
Reporting Station

River

Height above
Flood Level
(feet)

Date
(March)

Tuscaloosa, AL
Black Warrior

12.7

1st

Demopolis, AL
Tombigbee

15.3

15th

Chappella, SC
Saluda

7

16th

Catawba, SC
Catawba

8

16th

Milledeville, GA
Oconee

8

16th

Camden, SC
Wateree

9

17th

Columbia, SC
Congaree

8

17th

Montgomery, AL
Alabama

13

17th

Jackson, MS
Pearl

9

18th

Selma, AL
Alabama

14.4

19th
Data from http://docs.lib.noaa.gov/rescue/mwr/041/mwr-041-03-0340.pdf
Tornadoes
Alabama had already suffered several tornadoes, one on 2nd March and two on the 13th but others struck on Friday, 21st March. A storm that stretched from northern Texas to western Pennsylvania and New York produced the Alabama tornadoes. One at hit Florence at 1am, it killed three children and destroyed 20 houses. Half an hour later, another tornado struck near Decatur and it's path took it to Meridianville, another 3 people were killed and 20 injured. Other tornadoes smashed into Lower Peachtree and Thomasville, Alabama practically destroying both towns. In Lower Peachtree, 27 were killed, 68 injured and 200 left homeless; at Thomasville, 5 people were killed.
Later that day, a tornado struck Albion in Michigan. This tornado centered on the Albion Malleable Iron Company which it practically destroyed as well as crushing several nearby rail cars.
Easter Sunday, March 23rd, 1913 saw a storm front moving west into Nebraska and Iowa. At around 5pm the first of the 7 tornadoes produced by the storm hit Craig, Nebraska then cut a swathe to Blencoe, Iowa. This tornado didn't kill anyone but injured 13 and destroyed 11 homes.
The second hit Havelock, Nebraska around 5:30pm and moved to Greenwood. Again, no-one was killed but 2 people were injured.
The third touched down in Yutan, Nebraska again around 5:30pm and ended in Logan, Iowa. This tornado killed 22 people, 17 of whom lived in or around Yutan.
The fourth started near Ralston, Nebraska around 5:45pm where 7 people were killed. It then moved northeast into Omaha where a further 94 were killed then onto Beebeetown, Iowa where it killed two children. This tornado killed a total of 103 people, injured 350, destroyed 600 homes and damaged a futher 1,100.
The fifth touched down near Douglas, Nebraska around 6:15pm then moved northeast to Berlin, which is now called Otoe, where it killed 12 people, another person was killed at Rock Cliffs. Moving into Iowa the tornado killed 3 more near Barlett and another 2 near Glenwood. Altogether this tornado killed 18 people and injured a further 100.
The sixth tornado started just south of Bellevue, Nebraska at around 6:15pm then moved northeast into Iowa, hitting Council Bluffs where it killed 17 people, Gilliant, 2 killed; Weston, another 2 casualties, Neola, 3 killed and ending near Harlan where it killed another person. Altogether this tornado killed 25 people and injured 75.
The seventh tornado passed through Pawnee county around 7:00pm, Nebraska, but luckily no dead or injured were reported.
Within 2 hours these tornadoes had killed 177 people, injured 510 and left over 7,000 people homeless in western Nebraska and eastern Iowa.
That evening, at around 9:45pm on Sunday, 23rd March, 1913, a tornado hit Terre Haute, Indiana. in just 2 1/2 minutes, 21 people were killed, 250 people injured and 300 houses destroyed.
On 24th March, 1913 another tornado hit Baroda in Michigan, no-one was killed but several farm houses were damaged. The same day another tornado struck southern Illinois. It came to ground 2 miles west of Makanda and moved northwest towards West Frankfort. A train with 41 cards was hit and 21 of these were derailed. The engineer, Mr. Waggoner, and the fireman, Mr. Andrews, were seriously injured. The tornado wrecked 39 farms and killed three people.
The tornadoes over the Easter weekend killed around 274 people, injured over 1,000 and left around 10,000 homeless.
The Weather 23rd - 27th March 1913
A second wave of rain hit the midwest starting around 23rd March, huge amounts of rain fell over Illinois, Indiana, Ohio and western North Carolina in a swathe 500 miles long and 200 wide. It rained continuously until 27th March over most of this area, and also extended into western Pennsylvania, western New York, Arkansas, Kentucky and Tennessee.
What had happened was that an area of low pressure settled over southeastern Nebraska on Sunday 23rd March. From this area came the heavy rains over states to the east on Monday. The next day, Tuesday, 24th March, the rains over Illinois decreased and even ceased in northern Illinois but continued unabated and even increased over Indiana and Ohio. That evening it was still raining in Illinois, Indiana and Ohio but the downpour had extended along the St. Lawrence Valley into the New England states.
Most rivers in Indiana and Ohio reached flood stages sometime on the 24th March or early 25th March. In Ohio, the Sandusky River flooded to a depth of 11.4 feet at Tiffin and to a depth of 11.5 feet at Fremont. On the evening of the 24th March, the area of low pressure over Nebraska had moved northeast over the Great Lakes and into Canada. As this area of low pressure moved northeast a new low formed that stretched from northern Texas to New England. This second low caused heavy rain between 24th and 27th March from western Pennsylvania to southern Indiana and over northwestern Arkansas. In Illinois, the levee at Vandalia collapsed on the 25th March and 60,000 acres of land were flooded. The Sangamon River, also in Illinois, rose 2" every hour and eventually flooded Petersburg to a depth of several feet forcing many families to abandon their homes and seek shelter elsewhere.
These two areas of activity then joined over western New York and caused heavy rains there on the 26th March. Another low formed over southern Texas on 25th March and this caused heavy rain over eastern Tennessee and Kentucky. All this rain meant that flooding was extensive and most rivers in Ohio, Indiana, Illinois, Kentucky, West Virginia, northeast Arkansas, western Tennessee, western Pennsylvania and western New York flooded.
The Black and White rivers in Arkansas also flooded.
In Districts 1, 6 and 7, North Atlantic States, Missouri Valley and the the Lower Mississippi Valley, the floods had receded by 1st April. In Districts 2, 3, 4 and 5, the South Atlantic and East Gulf States, Ohio Valley, Lake States and Upper Mississippi Valley, the flooding continued into the first week of April.
Here's a partial list of communities that suffered most from the flooding...
| | |
| --- | --- |
| State | Community |
| Arkansas | Helena, Holly Bush, Mounds, Wilson |
| Illinois | Cairo, Carmi, Harrisburg, New Haven, Petersburg, Shawneetown, Vandalia |
| Indiana | Anderson, Attica, Broad Ripple, Bloomington, Bluffton, Brookville (16), Cedar Grove, Connersville, Elkhart, Ellwood, Elnora, Evansville, Fort Wayne (6), Frankfort (2), Hartford City, Howell, Huntington, Indianapolis, Ingleside, Jeffersonville, Kokomo, Lafayette (1), Laurel, Lawrenceburg, Logansport (1), Madison, Marion, Martinsville, Matthews, Metamora, Mount Carmel (1), Mount Vernon, Muncie (1), New Richmond, Newcastle (1), New Trenton, Noblesville, Patriot, Peru (20), Petersburg, Portland, Prenton, Richmond, Robertsville, Rushville (1), Shelburn (1), Shelbyville, Taylorville, Terre Haute (4), Tipton, Upton, Vernon, Wabash, Washington (4), West Terre Haute |
| Kentucky | Bellevue, Bromley, Caseyville, Columbus, Covington, Dayton, Hickman, Ludlow, Newport, Paducah, West Hickman |
| Louisiana | Breaux Bridge |
| Missouri | Anniston, Belmont, Birds Point, Charleston, Crosno, East Prairie, Greenfields Landing, Wyatt |
| New York | Albany, Binghampton, Buffalo, Camillus, Corinth, Dansville, Fort Edward, Fort Plain, Glens Falls, Hadley, Hornell, Luthern, Marcellus, Marietta, Mount Morris, Olean, Port Bryon, Rensselaer, Rochester, Schenectady, Seneca Falls, Troy, Waterloo, Watervliet |
| Ohio | Akron, Bellefontaine, Bellevue, Carey, Carollton, Celina, Chillicothe (18), Cincinnati, Circleville, Cleveland, Cleves (2), Columbus (64), Coshocton, Dayton (150), Defiance, Delaware, Delphos, Dennison, Deshler, Dresden, East Liverpool, Elizabethtown, Findlay, Fletcher, Fostoria, Fremont (14), Galipolis, Girard, Gnadenhutten, Hamilton (50), Harrison (12), Hartwell, Ironton, Ivorydale, Larue, Lebanon, Lima, Lockland, Lockport, Londonville, Loveland, Lowell, Malta, Marietta, Massillon (5), McConnelsville, Miamisburg (50), Middletown (14), Millersburg, Moscow, Mount Vernon, New Bethlehem (2), New Philadelphia, Newcomerstown, Omega, Ottawa, Piqua (13), Port Washington, Portsmouth, Prospect, Sidney, Springfield, Steubenville, Stratford, Tiffin (18), Toledo, Troy (9), Unionville (Pinchtown), Urichsville, Valley Junction (6), Wellesville, West Liberty, Woodsdale, Youngstown, Zanesville (10) |
| Pennsylvania | Beaver Falls, Columbia, Dickson City, Edwardsville, Fallston, Franklin, Kingston, Marietta, Meadville, New Brighton, Mahoningtown, Newcastle, Oil City, Pittsburgh, Pittsfield, Rochester, Scranton, Shamokin, Sharon, Titusville, Warren, Westmoor, West Nanticoke, Youngstown |
| Tennessee | Memphis |
| Vermont | Springfield |
| Virginia | Scottsville |
| West Virginia | New Martinsville, Parkersburg, Riverside, Wheeling |
The numbers in brackets are the number of dead.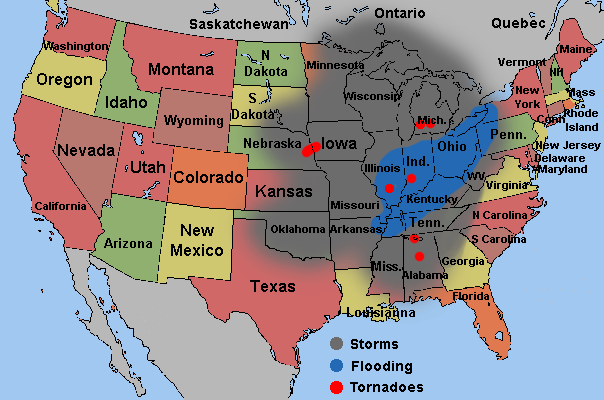 The Affected Area of March 1913
Tales of the Great Flood of 1913
Although there was torrential rain throughout the midwest the whole nation's attention was on the news coming out of the series of tornadoes that had ripped through eastern Nebraska and western Iowa, especially Omaha in Nebraska where a tornado had smashed its way from the southwest to the northeast of the city on Sunday, 23rd March. Ernest Percy Bicknell, National Director of Civilian Relief of the American Red Cross in Washington D.C. ordered the delivery of aid to the stricken area. The government also ordered the army and National Guard to the area to render aid. The following Tuesday, 25th March, Bicknell was en route to personally oversee the relief of the city. It was then then he got news that Indiana, Ohio and Kentucky were suffering from severe flooding. Samuel Moffett Ralston, who had only taken office as Governor of Indiana on 13th January, had already ordered a train carload of coffins from Chicago in expectation of the loss of life that was to occur.
As most of the rivers in the midwest generally flow from north to south as water poured into the major rivers communities further north were the ones that suffered first. As the water made its way south almost every community along the major river systems and some of the smaller ones suffered to some extent or other.
Cities further south knew what was coming their way. Once the major river systems such as the Wabash and Ohio flooded they knew all that water was going to eventually drain into the Mississippi River system. On Wednesday, 26th March, when most of Indiana and Ohio was flooded, the Mississippi River Commission sent a directive that all levees under their control were to be raised. This was hard, slow work as the work was done by mule teams and scrappers and was supervised by Major E. M. Markham of the Memphis Engineer District. Three days later, there were 300 teams working in Arkansas raising the levees, especially the ones around Luxora, Osceola, Sans Souci, Pecan Point, and Lamberthville.
Arkansas Governor James Futrell ordered 100 convicts to work on the levees in the Lower St. Francis district in Missouri down to the border with Arkansas. It seems no one wanted to work on the levees, even considering how cold and wet it was, even among those those whose land and homes would be protected by them. Workers were bought in from as far away as St. Louis to work on the Arkansas levees and many negroes were forced to do the work at the point of a gun. What was especially irksome to the engineers was that in some places farmers were plowing them under the land almost as fast as they were being built up.
By Monday, 31st March, just as the flooding in Indiana and Ohio was receding, it was realized that not much more could be done to save the communities in the Mississippi River valley. Around 5pm that evening the levee at Columbus, Kentucky gave way and the town was flooded to a depth of 10ft in places. Within days scores of the levees had collapsed, Greenfields Landing and Birds Point, both in Missouri, on 1st April. The one at Birds Point simply floated away! Thirty eight National Guardsmen had to be rescued from a piece of it, 200 yards long and 10 ft wide, that was making its way down the Mississippi River. West Hickman, Kentucky collapsed on 4th April and the town was flooded to a depth of 15ft. A levee around Memphis was breached on 5th April. On 10th April, 2,900ft of the levee near Wilson, Arkansas was washed away. By the end of April all of the flood water had receded but it had washed away a total 20,000 ft of the levees in the Memphis Engineer District alone.
Timeline
Date

Event

Friday, 21st March
Tornadoes hit Alabama wrecking Decatur, Florence, Lower Peachtree, Meridianville and Thomasville.
A tornado also wrecks Albion, Michigan
Sunday, 23rd March
Tornadoes hit Nebraska and Iowa, another hits Terre Haute, Indiana. In Nebraska; Bellevue, Berlin (Otoe), Craig, Douglas, Greenwood, Havelock, Omaha, Ralston, Rock Cliffs and Yutan. In Iowa; Barlett Beebeetown, Blencoe, Council Bluffs, Gilliant, Glenwood, Harlan, Logan, Neola and Weston all suffer damage
Monday, 24th March
Tornadoes hit Michigan and Illinois. Baroda, Michigan and Makanda and West Frankfort in Illinois damaged.
Flooding starts in Ohio and Indiana
Logansport Bridge swept away
Tuesday, 25th March

Flooding in Akron, Cincinnati, Columbus and Hamilton in Ohio
Flooding in Attica, Martinsville, Taylorville and West Terre Haute in Indiana
At 11:50am mains water shut off at Middletown, Ohio
12:12pm Black Street Bridge, Hamilton, Ohio collapses
12:28pm High-Main Street Bridge, Hamilton collapses
2:12pm Cincinnati, Hamilton & Indianapolis Railroad bridge, Hamilton collapses
Morris Street levee in Indianapolis, Indiana washed away
Brown Street Bridge, Lafayette, Indiana collapses
Gas and electricity fail at Logansport, Indiana
Electricty fails at Hamilton, Ohio
Electricty fails at Martinsville, Indiana at 10pm
Black Street, High-Main and Railway Bridges collapse at Hamilton
3rd and 6th street bridges at Logansport swept away
Railway bridge at Middlestown, Ohio swept away
Bridge at Portsmouth, Ohio swept away
Logging boom at Sharon, Pennsylvania gives way
All bridges bar the railway bridge at Tiffin, Ohio destroyed

Wednesday, 26th March

2:15am Columbia Bridge, Hamilton, Ohio collapses
Lakeview Hotel in Hamilton, Ohio collapses
Main Street Bridge, Lafayette, Indiana collapses
Directive from Mississippi River Commission to strengthen all the levees along the Mississippi
Levee protecting west Indianapolis washed away at 10am
At least three bridges are swept away in Indianapolis
High point of flood at Indianapolis and Fort Wayne, Indiana
High point of flood at Tiffin, Ohio
Looting reported at Tiffin
Levee protecting north Terre Haute, Indiana washed away
Columbia Bridge, Hamilton, Ohio collapses
Champion Paper Mill, Hamilton, Ohio catches fire
5:30pm - mains water restored to Middletown, Ohio

Thursday, 27th March
8am - gas plant at Terre Haute, Indiana stopped operations
8:45am - electricity generation at Terre Haute stopped
Reservoir dam at Akron, Ohio bursts.
Cleveland and Akron Bag Company levee in Cleveland, Ohio breached.
Railcar of carbide in Dayton, Ohio explodes killing several.
100 Naval reserves arrive in Dayton from Toledo to help rescue work.
Martial law declared in Dayton
Supplies of food reach Middletown, Ohio
Federal troops arrive at Troy, Ohio
Work starts strengthening the levees along the Mississippi
High point of the flood in Terre Haute, Indiana
Friday, 28th March
Flood starts to recede in Dayton
Vandalia Railroad Bridge, Indianapolis, Indiana collapses
Electricity restored at Terre Haute, Indiana
Saturday, 29th March
Levees washed away at Lawrenceburg, Indiana
Gas restored at Terre Haute, Indiana
Sunday, 30th March,
Dayton pumping station back in operation
Secretary of War, Lindley Garrison, tours Hamilton, Ohio
Mass funteral of 49 victims at Hamilton
Beckett Company paper mill, Hamilton collapses
Relief committee formed at Lawrenceburg, Indiana
Monday, 31st March
Electricity restored to part of Dayton
Flood water recedes in Indianapolis
Steamships bring food and supplies to Portsmouth, Ohio
Tuesday, 1st April
Levee at Greenfields Landing, Missouri gives way
Levee at Birds Point, Missouri simply floats away
Friday, 4th April
Mengel Box Company levee is breached at West Hickman, Kentucky

Saturday, 5th April
Levee at Memphis, Tennessee collapses
Thursday, 10th April
Levee at Wilson, Arkansas washed away
Sunday, 13th April
Dinner in Jefferson, Indiana to celebrate the convicts who helped shore up the levees around the town
Thursday, 24th April
Ferry "J. K. Cullen" used instead of the Main / High Street Bridge at Hamilton, Ohio
Saturday, 26th April
Brown Street Bridge, Lafayette, Indiana reopens
15th June
Champion Paper Mill, Hamilton, Ohio back in production
1914
Replacement Dresden suspension bridge opens
Long Covered Bridge near Metamora, Indiana replaced
1922
Branch Hill Bridge, Loveland, Ohio replaced by the Blue Bridge after it had collapsed in the 1913 floods
The following is some of what happened to various cities and communities those fateful weeks...
Akron, Ohio
The water in the reservoir just south of Akron, which supplied water for the Eerie Canal, topped the concrete dam at 2pm on Tuesday, 25th March. An inspection was made and cracks were found in the concrete. Riders were sent downstream to warn everyone which saved many lives when the dam finally burst on Thursday, 27th March. Seven lock gates along the stretch of the canal near Akron were dynamited in an effort to relieve the flooding.
Attica, Indiana
On the morning of Tuesday, 25th March water started to flood the southwestern part of town known as Texas. The next day water was running over the Chicago & Eastern Illinois railroad bridge and it was no longer regarded as safe.
Birds Point, Missouri
For several days Missouri National Guardsmen had been at work trying to strengthen the levee near Birds Point, Missouri. On Tuesday, 1st April a 600ft x 10ft section of the levee detached itself and started floating down the Mississippi River with 38 men still on it. They floated downstream for some distance before all being safely rescued by boat.
Broad Ripple, Indiana
The village, situated in north Indianapolis, was flooded for two and a half days. The jail suffered badly from the floods and the Freemasons lodge was used as an emergency shelter for people made homeless by the water.
Brookville, Indiana
Brookville, which is situated at the junction of the east and west forks of the White Water River, suffered badly in the floods. Five wagon bridges, the Big Four railway bridge, the railway station and a paper mill were completely destroyed. Twenty men were escorted from the city after they were found looting flooded homes and businesses. When the bridges were destroyed the water rushed down the White Water River like a tidal wave and engulfed the towns of Cedar Grove (six and a half miles downstream) and New Trenton (eleven and half miles downstream).
Caseyville, Kentucky
The town hall floated way on the rising flood water. A livery stable was about to do the same when it was tied to a tree.
Cedar Grove, Indiana
When the bridges at Brookville, six and half miles upstream on the White Water River, collapsed the water rushed down the valley in a torrent. The farm buildings of a Mr. Wilhelm at Cedar Grove were all washed away. He later rebuilt them on land 30ft higher than they were previously.
Chillicothe, Ohio
The Scioto River breached the East End levee, overran the sandbag levee behind Riverside Street, and seeped through the Baltimore & Ohio Railroad embankment to flood Yoctangee Park. This series of events was to be repeated during a flood in January 1959.
Cincinnati, Ohio
Cincinnati is in southwest Ohio and whilst places further north such as Dayton, Columbus and Zanesville were starting their relief work the flooding there had only just begun. A warning of what was about to come occurred on Tuesday, 25th March, when heavy rains all that day caused the Ohio river to overflow its banks causing local flooding. The White Water River just to the south of the city also swelled and washed away two bridges.
By Wednesday, 26th March, low lying areas to the east and west of the city were already flooded, the inhabitants had also heard what had happened to Dayton and Columbus that week and were busy moving their goods and chattels out of basements and first floors to second floors or to other places. The next day, low lying areas in the city were flooded, as were communities on the opposite side of the Ohio River in Kentucky such as Covington, where 500 houses were flooded, and Newport, where 120 square blocks were under water.
On Saturday, 29th March, Second Street was under nearly 5ft of water whilst Front Street was under 10ft of flood water. Both the gas and electricity supply failed. That night a huge explosion was heard. Water had reached the calcium carbide stores of the Union Carbide Company at Pearl and Elm Streets and the resulting acetylene had exploded.
As in other places the flood did immense damage but by Tuesday the waters the water finally started to drain away.
Cleveland, Ohio
In Cleveland, which sits on the shores of Lake Eerie, the bridge in the middle of the city carrying the New York Central railway over the Cuyahoga River was swept away by the flood. A steamer, the "Mack" was tied to it but this escaped major damage. In an effort to relieve the water a way was dynamited from the canals to Lake Eerie. The levee near the Cleveland and Akron Bag Company burst around 4am on Thursday, 27th March, sending a further millions of gallons of water into the streets.
Cleves, Ohio
About seven miles south of Cincinnati, parts of Cleves were flooded to a depth of 15 feet. The flood water swept away the railway embankment.
Columbus, Kentucky
Work on strengthening the half mile long levee had been going on for several days when work was stopped in the face of rapidly rising water on Monday, 31st March. At 5pm the same evening the levee was breached in several places flooding the town to a depth of 10ft in some areas.
Columbus, Ohio
Columbus was flooded on Tuesday, 25th March. The levees at Broad Street and at Sandusky Street were both swept away. As in Dayton, fires also started in flooded, abandoned buildings. Refugees from the flood reported to the City Hall where their details were taken so that families could be reunited. They were also given clothing and food. All except one bridge over the Scioto and Olentangy rivers were swept away or had collapsed. As in other places, there was a rumor that a dam, this time Griggs Dam which at 35ft high, holds back 1,200 million gallons of water was about to burst, the rumor was false and the dam held but as in Dayton the rumor did cause panic amongst the stricken populace.
Among the federal aid sent to Columbus were one million rations, 20,000 cots, 4,000 tents, 30,000 blankets, 100 hospital tents, 5,000 cans of milk for children, 5,000 wound dressings, 10,000 syringe needles and 5,000 doses of typhoid vaccine.
Dayton, Ohio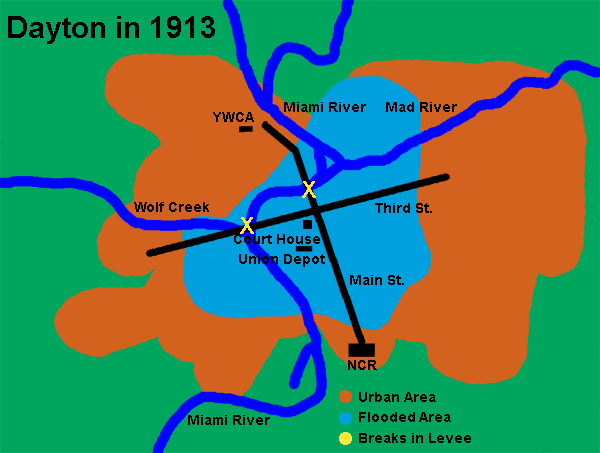 Dayton in 1913
Above Dayton there were two reservoirs, the Powerhouse and the Lewiston. It was the smaller of the two, the Powerhouse reservoir, that overflowed, sending a huge amount of water into the already swollen waters of the Miami River.
Most of the levees at Dayton were built of gravel, around 20ft high, 35ft broad at the base tapering to 12ft wide at the top. The first levee to be breached on Tuesday, 25th March was the one at the confluence of Wolf Creek and the Miami River which first flooded the area around Third Street. A little later the one on the Miami at Webster Street near Main Street, burst sending a 10ft. high wall of water racing through Main Street.
At 5th and Brown Streets the water was around 10 ft. deep. The North Dayton, Riverdale, South Park, East Dayton and Edgemont sections of the city were all flooded with somewhere between 10,000 and 12,000 people were trapped in the business section of the city who took refuge in various buildings, hotels and the YMCA.
Even though surrounded by water, several buildings caught fire. The fire started in a drug store around noon in the square formed by St. Clair, Jefferson, 2nd and 3rd Streets near the junction of Third and Main Streets. The fire spread both north and south, to the north it destroyed St. Paul's Evangelical Church and to the south it razed two large liquor warehouses. At around 3pm, the fire leapt across 3rd Street and started burning buildings in the square formed by St. Clair, Jefferson, 3rd and 4th Streets where a paint store was destroyed. People trapped in the area were seen running from rooftop to rooftop to escape the flames. Many people were eventually rescued from the area by means of a block and tackle slung across the streets and pulled into the Beaver Power building.
A trolleybus full of passengers was carried by the water until it was wedged against a large pole. Death seemed imminent to the people inside, until a young man jumped into the icy water to help with a rope around his waist. He struggled against the current, but eventually ran out of strength and gave up. Three more young men repeated his actions, until the fifth person finally reached the trolleybus and helped the trapped passengers to safety.
There were rumors that the Lewiston reservoir dam had collapsed and that millions more gallons of water were about to hit the city. Luckily these rumors were false but did cause widespread panic. As it was, some districts of Dayton were under 16 ft. of water.
Several bridges had to by dynamited. What was happening was that wreckage being washed down the rivers were building up against them and acting as a dam. The bridges were blown up in an effort to control at least some of the flooding.
On Thursday, 27th March several people were killed when a train carload of carbide exploded near the railway station. Calcium carbide when it come in contact with water produced highly inflammable acetylene gas. The same day the Naval Reserve from Toledo, OH, 150 miles north of Dayton arrived with 100 boats and it was then that the bulk of the rescue work was done. Thursday also saw a trainload of sightseers arriving from Springfield but the militia met the train and sent it back to where it had come from.
James M. Cox, Governor of Ohio was in Columbus when news of the flooding of Dayton reached him and he immediately realized the scope of the disaster and asked the federal government for aid. It wasn't just Dayton that was flooded, Zanesville and Marietta on the Muskingum River were also were and communications with these towns lost. Communications were lost to Fremont, Chillicothe, Middletown and Hamilton. It was known that dams had been breached at both Fremont and Chillicothe.
To coordinate the relief work, Governor Cox set up a Relief Commission with himself as chairman. The members of this were John H. Patterson, Homer H. Johnson, Jacob Schmidlapp, S. D. Richardson, George D. Lattimer, Colonel W. M. Wilson (treasurer) and James T. Jackson who represented the Red Cross. As in other places, the telegraph girls stayed at their posts helping to spread news of the floods and keeping the rescuers and relief committee in contact.
John H. Patterson, president of the National Cash Register Company in Dayton was one of the most proactive people of the floods despite being near 70. He set 150 of his carpenters to work building boats and rafts to help with the rescue operation and to help get food and fuel to those who needed it. The company premises were also used a hospital, morgue, registration clearing house for people looking for missing relatives and friends and as a store for the supplies that were being bought to the city. He also arranged for the company's cars and trucks to be used in the relief effort.
Dayton was under martial law on Thursday and all districts were being regularly patrolled. A curfew was imposed between 6pm and 5am. One of the first persons who was arrested was a man who had stolen $50,000 worth of diamonds from a flooded jewelry store. There were unofficial reports of up to half a dozen people being shot by the militia for looting and robbery. No-one was allowed to charge for relief supplies. The telephone system was being restored and there was no lack of food. When found in groceries and other stores unspoiled food was turned over to the flood relief committee. There was however still a shortage of drinking water and fuel of all types, including gasoline and coal. This meant that despite the freezing weather and being wet most people had to have cold meals with no chance to warm themselves.
On Tuesday, 25th March, at the start of the flood, the rain had turned to snow and sleet which added to the suffering but on Saturday, 29th March it was warm and sunny.
When the water finally started to recede on Friday, 28th March, there was remarkably little wreckage in the streets - most of it had been swept far downstream but everything the flood water had gotten to was covered in a thick layer of mud, sometimes 2 ft. thick. Many domestic animals were drowned in the flood and the bodies of around two hundred horses were burned in the streets. A drowned horse was found in the tellers cage of the First National Bank and another on the second floor of a department store.
By Sunday, 30th March, the water pumping station was back in operation. Water pressure was still feeble due to the number of burst pipes but at least there was some clean drinking water available. Water was still being distributed from outside the flooded area in kegs and barrels. The sewer system was slowly becoming usable. People without good cause for being on the streets, especially sightseers, were put to work helping to clear debris by the Ohio National Guard.
Major Thomas L. Rhoades , President Wilson's military aide, was placed in charge of the sanitary and permanent relief organization with Eugene T. Lies of the Red Cross as his assistant. Rhoades set up a tented city just north of Dayton. The homeless were temporarily housed there. Some people were reluctant to leave their homes even though they were in need of cleaning and fumigation and these were forced to the camp. Private vehicles were impressed by the authorities to help in the cleanup of the city. This included the removal and burning of hundreds of corpses of horses and other domestic animals.
By Monday, a small part of the city was once again illuminated by electric street lighting. Airplane pioneers, the Wrights, lived in West Dayton and fortunately their papers and factory survived the flood. A house near the factory caught fire but also fortunately, this did not spread and the work of Wilbur and Orville Wright was preserved. Not so lucky was Dayton's public library which lost nearly all of its collection, around 40,000 books and documents..
Dresden, Ohio
The suspension bridge over the Muskingum River, which was built in 1853, was destroyed during the flood. It was replaced by a new suspension bridge in 1914.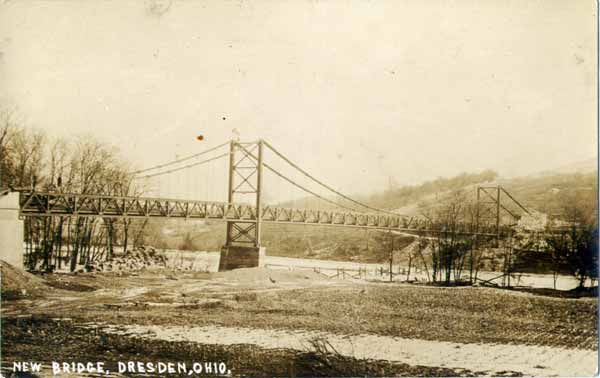 The New Bridge at Dresden
This postcard has no printed text but does have an AZO stamp box which dates the postcard from between 1904 and 1918.
Elizabethtown, Ohio
The Miami river was temporarily held back by the embakments of the Cincinnati, Lawrenceburg & Aurora electric line and the Big Four railroads, but these were all soon washed away. The Highway Bridge, with a span 586 ft. and at one time the longest single span bridge in the world, ended up as a twisted wreck of iron and concrete, at the bottom of the river. Soon after, the Baltimore & Ohio Southwestern railroad bridge near the confluence of the Miami and Ohio rivers was also destroyed.
Fort Wayne, Indiana
By Tuesday, 25th March 2,000 homes in Fort Wayne had flooded. The flooded was further increased when the Lakeside levee on the St. Joseph River was breached in two places. After these breaches flooding occurred so fast that many people became trapped in their homes unable to reach higher ground. It was decided to evacuate the Allan County Orphan's Home and whilst in the process of doing this one of the boats capsized and four young girls were drowned. In another incidenet a man was drowned at the Main Street Bridge whilst trying to rescue a family trapped by the flood.
A relief committee was formed which consisted of Mayor Jesse A. Grice; City Attorney Harry G. Hogan; Harry Kauffman, secretary; and City Comptroller William S. Cutshall, treasurer who coordinated rescue and relief work. The police seized twenty boats from a Mr. Gunkle and they received two carloads of boats from Rome City, about 35 miles to the northwest.
Churches and lodges set up folding beds and provided cooking facilities in their halls. Many families in private homes made guestrooms available. The furniture dealers equipped the Princess Rink with cots, Foster Furniture Company, Fort Wayne Outfitters, Fox Brothers & Company, and Indiana Furniture Company placed the top floors of their buildings at the disposal of the authorities; they also supplied beds and bedding.
Guards with orders to shoot anyone who disobeyed a command to halt patrolled the flooded districts in boats. Since many doors in flooded houses had been left open to let the water run out, strict measures were necessary to protect property from looters. No one was permitted to visit his home in the flooded area without a permit from Chief of Police Dayton R. Abbott. The Mayor also issued a proclamation asking that all instances of overcharging for food, bedding, medicine, and other necessities be reported to the City Hall. Offenders were promptly prosecuted.
At one river stage, on 23rd March the river stood at 6.7ft, by the morning of 24th March it stood at 19.6ft. The highest point of flooding occurred at 11pm on Wednesday, 26th March when the river stood at 26.1ft. Altogether people were killed and around 15,000 people in and around Fort Wayne were made homeless.
Franklin, Pennsylvania
The Alleghany River and French Creek both burst their banks at Franklin. To add further misery to the town no fires could be lit because the flood waters were covered in a layer of Benzine from the refineries at Titusville.
Fremont, Ohio
A central supply station was opened Wednesday, 26th March in the Elks' Block, all food, as it reached Fremont, was taken to this station. Free lunch rooms were established at once at the city hall building, Elks' reception rooms, Presbyterian Church, Croghansville school house, and Grace Lutheran parish house.
In all disasters there are people who maintain a happy outlook. One man who had just completed a house and found it off its foundation and minus the porch, told rescuers that "the three feet of space between the foundation wall and the house would ventilate the cellar nicely," and "he didn't care much for the architectural design of the porch and had expected to tear it down anyway."
A party of fishermen arrived from Port Clinton, 16 miles to the northeast, arrived to help in the rescue and they did great work. Unfortunately, one of their member, Isaac Floro, was drowned when his boat was demolished after striking a tree at the corner of Howland Street and Ohio Avenue. His body was found tightly wedged in a tree.
Greenfields Landing, Missouri
A 300ft portion of the levee gave way early on the morning of Tuesday, 1st April, allowing flood water to cover most of Mississippi County in Missouri.
Hamilton, Ohio
Hamilton was a place that suffered greatly from the floods. flooding began rapidly on Tuesday, 25th March, and by that evening many householders were taking refuge on the roofs of their houses. Both the gas and electricity plants were under 10ft of water and these people spent a dark, cold night.
At 12:12pm on Tuesday, 25th March the Black Street Bridge collapsed. Shortly after, at 12:28pm the High - Main Street Bridge went followed at 2:12pm by Cincinnati, Hamilton & Indianapolis Railroad bridge. The Columbia Bridge in the south end of town survived until 2:15am on Wednesday, 26th March when it too collapsed. One of the reasons this bridge collapsed was that the Coliseum a huge hall used to host roller skating, dancing, boxing, dog and poultry shows, political meetings, banquets and a variety of community events was lifted off of its foundations at North B Street near Wayne Avenue and crashed against it.
The Royal Theatre stood at 35 Main Street, it was ruined during the floods of 1913 and never reopened. The Cullen and Vaughn Lumber Company on North B Street saw $20,000 worth of its inventory simply float away. Debris ripped apart a streetcar abandoned on North B Street. At its peak, water was 35' 8" deep at the juction of Main and B Streets.
Hamilton was the home of the huge Champion Coated Paper Company. This colossal plant, six blocks long and a block wide burst into flames shortly after midnight on Wedenesday, 26th March. Also ablaze was the Martin Lingler coal yard and buildings at the northeast corner of South Fourth Street and Maple Avenue. Beckett Company paper mill simply collapsed into the flood water on Sunday, 30th March. One thousand Champion employees were paid in a massive cleanup, removing mud and debris and salvaging machinery and paper to make way for a new plant. Within three months, on 15th June, the rebuilt mill was in full operation.
Ohio National Guardsmen arrived on the evening of Tuesday, 25th March, but could do little during the night due to the lack of electric lighting but they were of great help over the next few days. They were helped by Ben Strauss, S. D. Fitton and Homer Gard who formed a committee to enlist a volunteer police force to maintain order. Twenty-five young men volunteered within 30 minutes. Armed with guns appropriated from hardware stores, they patrolled downtown streets in pairs. This volunteer citizens police were given instruction to shoot any person caught looting any store and to arrest and jail any saloonkeeper who attempted to open and sell liquor. In fact, all saloons were closed down until 18th April.
The city health officer, Dr. A. L. Smedley, was named military health officer. His assistants included 20 soldiers from the U. S. Army hospital corps at Fort Monroe, Virginia; 50 rnen from the Ohio National Guard medical corps; and other men from the U. S. Army Corps of Engineers.
A hospital established in the Methodist Church on Ludlow Street averaged 35 surgical and 50 medical cases daily for three weeks. Most of the patients suffered from exposure, exhaustion and hunger. Safe drinking water was a problem until the Mason Brewery on South C Street supplied empty beer barrels. They were filled with water and mounted along Main Street, where cooking and drinking water could be collected.
A meeting of First Ward residents was called for 10am Wednesday, 26th March, at the Reformed Church at southeast Ross Avenue and D Street. The 77 people who attended elected John F. Neilan, the city solicitor, as the temporary mayor of the West Side, which was cut off from the rest of the city. He was charged with coordinating relief and cleanup until normal govenrment operations resumed.
A telegraph office was installed in the basement of the George P. Sohngen house. Hundreds of personal messages and inquiries were sent to the east side. Three young children set about the task of collecting money from the residents of the First Ward to help with the flood relief effort. Mary Louise Gale, Jack Gale and Lois Face dug dandelions and sold them for 10 cents a pail. They spent most of the day selling them and collected $2.25 which they turned over to the flood relief committee.
Incoming food was distributed from the Reformed Church at the soutleast comer of Ross Avenue and South D Street. The four-year-old Lincoln Elementary School
at Crray Avenue and North E Street sheltered tle homeless and also served as a supply center.
On Wednesday, the Lakeview Hotel which stood on one of the higher areas of ground and had provided a refugee for at least 50 of the newly homeless itself became a victim of the floods when it too collapsed. Luckily, there was some warning that it was about to be destroyed and it was abandoned in time.
Secretary of War, Lindley Miller Garrison toured the town as a representative of President Wilson on Sunday, 30th March. The same afternoon, a public funeral was held for 49 victims who had been identified by that date. Up until then Greenwood Cemetery had been under water. On 3rd April, the authorities, not sure if all the bodies had been found, offered a reward of $10 for each one recovered from the debris.
During the cleanup operation at least 260 horses and thousands of dogs, cats, chickens and other animals were collected and cremated in a city park. The town of Oxford, about 20 miles to the northwest of Hamilton gave unstintingly to the residents of Hamilton. When Hamilton authorities tried to pay for at least some of the aid and material given the authorities at Oxford sent the tickets back.
By April, a temporary connection between the east and west sides of the river was established by the use of a pontoon bridge. Cable for the span was donated and hauled here by the flood relief committee in Richmond, Indiana. The bridge, which was about tlree feet wide, provided a walkway between Dayton Street on tle east side and Park Avenue on tle west. But more rain and a still swollen river caused it to be closed at times. Part of the pontoon bridge washed away when it was struck bv driftwood.
Thursday moming, April 4th, nearly a month after the flood struck, the barge "J. K. Cullen" was launched to act as a ferry. It was named in honour of James K. Cullen, chairman of the Citizens' Relief Committee. The Cullen provided a much needed link across the city, but not without controversy. County Commissioner Frank Kinch
directed the project, over opposition from the the other two commissioners. Although the county was responsible for the bridges, the other commissioners thought that the city should finance and direct the ferry.
None-the-less, Kinch went ahead and bought the $2,500 worth of materials needed to build the barge from Cincinnati and it was constructed on the east side of the river at the end of Buckeye Street. The barge was guided across the river by means of a cable. The power source to run it was supposed to be the current of the river itself but this proved to be ineffective and an engine had to be added. The ferry was the main connection across the river for around four months and it was later used by crews constructing a new High - Main Street bridge. The "Cullen" sank in 10ft of water on the east side of the river near the Soldiers. Sailors and Pioneers Monument on June 21st, 1914. The cause of this was found to be a leak, neglected pumping and overweight.
Indianapolis, Indiana
On the evening of Tuesday, 25th March, the Morris Street levee was washed away. When Broad Ripple flooded the Monon tracks at Westfield Boulevard and Winthrop the foundations were washed from underneath so deep that a six foot man could stand under the tracks. Many houses were washed from their foundations and several bridges destroyed including the one at Washington Street. As in other places, loaded railway cars were placed on the railway bridges to help weigh them down against the weight of water.
On Wednesday, 26th March, the levee built to protect west Indianapolis started to crumble and was washed away at 10am. As well as this one the levees along White River, Fall Creek, Eagle Creek and Little Eagle Creek all failed. Parts of West Indianapolis were flooded to a depth of 30ft! Several bridges could no longer resist the amount water and debris piled against them. The Washington Street Highway Bridge, Indiana & Vincennes Railway Bridge, Kingan & Company Bridge all collapsed and were swept away.
The Vandalia Railroad Bridge over the White River managed to survive until Friday, 28th March, when it too collapsed taking 10 railway cars with it. The water started to recede on Monday, 31st March.
Irontown, Ohio
As in other places, fire followed shortly after the flooding and several buildings were dynamited to create a firebreak when a block and a half of the business district caught fire.
Jeffersonville, Indiana
Flooding in the town would have been much greater if it wasn't for the 200 convicts from the Indiana Reformatory who worked for two days strengthening the levees around the Ohio River. A dinner was held in their honour on 13th April.
Lafayette, Indiana
On Tuesday, 25th March, a Purdue University student died trying to rescue two men after a section of Brown Street Bridge gave way. By the end of the day other bridges had either collapsed or had been swept away. The next day, the iron Main Street Bridge, opened in 1890, fell at 3:35 pm. Until the bridges could be repaired a cable-controlled ferry operated from 5 am. to midnight across the Wabash River at Main Street. The Brown Street Bridge was the first to be repaired; it reopened on 26th April, with timber replacing the iron span that had been swept away.
Lawrenceburg, Indiana
Lawrenceburg was warned on the afternoon of Thursday, 27th March to prepare for flooding by the weather bureau at Cincinnati. Most people heeded the warning and moved their goods to higher ground by Friday evening. Mayor Axby ordered that the levees were strengthened and work on that continued up to Saturday, 29th March whent the south levee on the Ohio River gave way at 2pm followed at 2:45pm by the levee immediately to to the west of Center Street where 100ft. of it simply lifted at the base, within minutes the breach was 600ft. wide. After thundering down Center Street the wall of water lifted houses off of their bases in Mary and Tate Streets.
The large carriage making plant of John Knippenberg was completely carried away. A forge fire in the plant set fire to the building and it was burned down to the waterline. Most of the town was flooded to a depth of six feet, nealy all 5,000 homes in the town were destroyed and and debris was found four miles downstream.
On the Sunday after the break the mayor appointed the following as members of a citizens' relief committee: William H. O'Brien, A. D. Cook, V. M. O'Shaughnessy (chairman), George H. Lewis (treasurer), P. C. Braun (secretary), Jesse W. Riddle, Victor Oberting, Archibald Shaw, Ezra P. Hayes, Hugh S. Miller and Jacob Spanagel.
Logansport, Indiana
A bridge over the Wabash River was swept away on Monday, 24th March. Logansport itself was flooded on Tueday, 25th March when about a third of the town was under water. The gas and electricty plants were almost immediately put out of action. aThe same day ppeals were made to the Culver Military Academy and the United States Life Saving Station in Chicago for help. Both places sent 6 boats and crews to aid the town. The ones from Chicago were paid for by the Chicago Tribune.
Overnight around 4 inches of snow fell and the temperature plummeted, the weather as well as the swift current hampered rescue and relief efforts. The next day, the flood water was 16ft deep in parts of the town. Both the 3rd Street Interurban and 6th Street bridges were swept away. The Wabash Railway bridge was saved because the company put loaded coal cars on it to weigh it down against the flood water. The wagon bridge to Biddle Island, which itself was completely under water, was lost as were the Cicott Street bridge and the Lewisburg bridge. Ths Lewisburg bridge was the last of the covered bridges in the area around Logansport.
On Tuesday, 25th March, That night 4" of snow fell with freezing temperatures. The water level started to fall on Thursday, 27th March and the real job of cleaning the town up could begin.
Loveland, Ohio
The Branch Hill Bridge also known as Loveland Bridge spanned the Little Miami River just south of Loveland. It was washed out by the floods of 1913 and replaced by the Blue Bridge in 1922. A corn mill was also destroyed.
Lowell, Ohio
Most of the town lived on the island in the Muskingum River. Lowell boasted a tannery, brickyard, saw and flour mills most of which were destroyed during the floods of 1913. .After the floods of 1913 it was relocated off of the island.
Marietta, Ohio
The Putnam Street Bridge, just built in 1900, was swept away by the flood.
Martinsville, Indiana
On Monday, 24th March the authorities at Martinsville got word from Indianapolis, 30 miles to the north, that the White River was rising at the rate of 4ft and hour and that the water was rushing downstream. Just after midnight the banks at Centerton, 8 miles north, gave way, sending a torrent of muddy water to join the flood heading towards Martinsville. Many people didn't get or heed the warnings and so lost much of their belongings when at 6am on Tuesday, 25th March the flood waters reached the town. The town was flooded west of Main Street for a stretch of 4 miles.
Both the gas and electricity plants were put out of action at around 10pm that evening. The railraod and interurban tracks were severely damaged and the twon was cut off from the outside world by these means for several days. Around 100 families were left homeless by the flood.
Matthews, Indiana
The Matthews Covered Bridge, also known as the Cumberland Covered Bridge, crosses the Mississinewa River in Matthews, Indiana. It was built in 1877 by William Parks for $722. The 1913 flood floated it a half mile downstream but it was returned to its original location, but rasied 3ft., using rollers and horsepower. The bridge is a single span Howe Truss structure and has a length of 175 feet, or 183 feet including the 4-foot overhang at each end, with a portal clearance 15 feet 6 inches wide by 16 feet high.
The first bridge in Matthews was an open structure built in 1863 by William F. Parks. In 1878 the Smith Bridge Company built an uncovered Howe Truss structure at about the same location and a local contractor finished the roof and siding in 1879. The Matthews Covered Bridge was added to the National Register of Historic Places, though no historical marker is present, in 1978. The bridge was restored in 1999.
Memphis, Tennessee
Along Bayou Gayoso in North Memphis at Overton Avenue the levee was of unusual construction. Part of it was made consisted of the wall of the abandoned Stewart-Gwynne Cotton Company. As Bobby Williams says in Mid-South Views the Floods of 1912 and 1913 "as a levee, it left something to be desired". No-one should have been particularly surprised when on 8am. on the morning of Saturday, 5th April it collapsed flooding the northern part of the city.
Metamora, Indiana
The Long Covered Bridge near Metamora was destroyed in the flood of 1913. Emmett Kennedy and his son Karl built a two-span replacement for the bridge in 1914 for $13,285.
Middletown, Ohio
On Tuesday, 25th March the railway bridge over the Miami River, which grew to be a mile wide, was swept away. Scores of houses were simple washed away by the flood. At 11:50am the mains water was shut off, it wasn't turned on again until 5:30pm on Wednesday, 26th March. Late Thursday, 27th March, food arrived but had to be eaten cold as fires were forbidden to be lit. The authorities has heard what had happened at Dayton and did not want fires starting in Middletown. Around 10,000 of the town's 18,000 population were made homeless.
New Trenton, Indiana
When the bridges at Brookville, eleven and half miles upstream on the White Water River, collapsed the water rushed down the valley in a torrent. There was an old covered bridge at New Trenton, nearby was a railway station, grain elevator, coal yard, lumber yard, and a saloon owned by a Mr. Brown. The bridge and all these buildings were swept away when the water reached New Trenton.
Olean, New York
Parts of Olean were flooded to a depth of 10 feet when the Canistco and Hornell Rivers burst their banks. Burst oil tanks meant the flood water carried a layer of oil which hindered the rescue and cleanup work as well a presenting a major fire risk.
Omaha, Nebraska
The tornado of Sunday, 23rd March left a trail of destruction in its wake. There were fires in Farnum, Cummings, Indiana, Hamilton, Leavenworth, Pierce, Emmet, Lake and other streets which would have caused more damage if it were not for the heavy rain that followed immediately after the tornado. Places like the Idlewild club building at 24th and Lake were first wrecked by the tornado and then destroyed by fire.
Despite having most of the windows blown out by the storm and some of them badly cut by flying glass, the telephonists at the Webster Telephone Exchange stayed at their terminals and did great work keeping the telephone lines open to the stricken area.
Peru, Indiana
As reported in the "Tragic Story of America's Greatest Disaster" by Marshall Everett - a Mr. Charles H. Thatcher reported that he, his wife, Louise, and a Mrs. Hoover were trapped on the second floor of their house when a boatman offered to rescue them, but at a cost of $100. Mr. Thatcher told them he would only offer $25 each but then the boatman said he would only take two of the three. They refused to leave each other and the boatman rowed away. They later heard a shot and later still saw the man's boat drifting in the current with him dead inside of it. However, a lot of the books such as this one published soon after the floods contain much that is widely inaccurate and even "facts" that could not possibly be true.
Peru was home of the Wallace-Hagenbeck Circus winter quarters and many of their animals were either shot before the water could reach them or drowned in their cages. The circus lost 8 elephants, 21 lions and tigers and 8 performing horses in the flood.
The Wayne Street Bridge over the Wabash River at Peru was the only bridge on sixty miles of the Wabash River to survive the flood of March, 1913.
Piqua, Ohio
At its height, some places in Piqua were flooded to a depth of 12ft, which inundated many manufacturing plants putting them out of business for good. Militia from Covington, about 7 miles to the southwest, kept order and helped with the rescue work.
Portsmouth, Ohio
On Tuesday, 25th March the bridge across the Scioto River was swept away as water from the swollen Scioto and Ohio Rivers flooded the town. Several fires broke out in the town which were difficult to deal with as mains water pressure was minimal. The Steamers "Klondike" and "J. I. Ware" bought food enough for a week on 31st March.
Rushville, Indiana
The only fatality during the March 1913 floods was the driver of a delivery wagon which overturned.
Sharon, Pennsylvania
The logging boom above Sharon gave way when the waters from Mill Run, Neason's Run, French and Cussewago Creeks descended on the milling town on Tuesday, 25th March. The bridge between Porter and Silver Streets was demolished by the force of the logs and water against it. One of the stone piers, weighing several tons, was washed a quarter of a mile downstream. The Wishart Planing Mill on Railroad Street caught fire and precious drinking water from a reservoir was used to contain the fire which otherwise would have spread to nearby wooden buildings.
Terre Haute, Indiana
By the morning of Tuesday, 25th March, Taylorville and West Terre Haute were already flooded. This was the first time that flooding had occurred in West Terre Haute. On the evening of Wednesday, 26th March a levee protecting north Terre Haute was washed away and a large part of the city was flooded. Houses in Maywood Terrace, southeast of Collett Park, floated off their foundations.
On Thursday, 27th March, around 8am the gas plant stopped operating, at 8:45am the electricity generating plant stopped working. Electricty was restored on the morning of Friday, 28th March. Gas was restored on the morning of Saturday, 29th March.
The high point of the flooding in Terre Haute was on Thursday, 27th March, when the water began to slowly recede.
Tiffin, Ohio
Associated Charities coordinated much of the relief effort under the leadership of Mrs. Charles S. Calhoun another relief center was the Capitol Food Company, under former Mayor Joswph C. Arnold and Councilman Chauncey Jones.
The Sunday, March 30, 1913 edition of the Tiffin Daily Tribune and Herald gave a list of the dead as...
Jacob Knecht
Clarence Knecht - found just south of Township Line Bridge on east side of river
Wilson Knecht
Mrs. George Klingshirn
George Klingshirn, Jr. 19
Magdeline Klingshirn, 17
Joseph Klinshirn, 15
John Klingshirn, 13
William Klingshirn, 11
Elizabeth Klingshirn, 10
Catherine Klingshirn, 4
Richard Klingshirn, 8
Helen Klingshirn, 2
Ray Hostler, 22
Regina Ranker, 18
William. D. Axline
Mrs. Wm. D. Axline
John Canty, Jr. - found at the rear of Motry residence on Water Street
George Schwab - found just south of Township Line Bridge on east side of river
Most of the fatalities were families who refused to leave their homes. The Knecht house was carried away at around 4pm, Tuesday afternoon. The fatehr and his two young sons were seen on the roof when it struck the dam below Speck's mill and the two Knecht boys were carried away. Mt Knecht managed to cling to a bush for around a quarter of an hour and although both Master of Boys Simpson, of the National Orphan's Home and Adolf Unger, a cadet at West Point, who was staying at the Home, tried valiantly but unsuccessfully to swim to him, he drowned.
The Klingshirn family all lost their lives when their house was washed away by the floods. Ray Hostler, their son-in-law and Regina Ranker were with them at the time.
Mrs. Axline refused to leave her home early on Tuesday when the other residents of Water Street fled. Her husband, foreman of the Tribune job rooms, left his work shortly before 10 o'clock Tuesday morning but couldn't persuade his wife to leave their home. The house was swept away around 5am on Wednesday, 26th March. Their house was split apart when it struck the railroad bridge. Witnesses saw them clinging to driftwood shortly after, but they were beyond help and both drowned.
All the bridges except the railway bridge which had railway cars full of coal and steel rails placed on it, were destroyed by the flood on Tueday, 25th March. The first to go was the Water Works Bridge, it being carried away by the flood shortly after 12 o'clock. At 12:30 the Perry Street Bridge was whirled away and at 1:58 the Monroe Street Bridge went out. The south half of the Washington Street Bridge was torn away at 2 o'clock and the remaining span went at 2:17. The Market Street Bridge, although having to withstand the greatest flood pressure, did not leave the abutments until 3:20. Just when the bridge at Riverview Park was torn loose is not known.
The flood began to recede in the late afternoon of Wednesday, 26th March and the ncame the first reports of looting. The town was placed under martial law and Mayor Keppel appealed for military help from Ohio Governor Cox. in response to this D Troop of the Ohio National Guard cavalry was despatched from Toledo who arrived at 9am Thursday morning. Also helping to keep order were Company 5 of the Junior Order of the United American Mechanics as well as hundreds of volunteers
Troy, Ohio
Federal troops who arrived in Troy enroute to Dayton, which is about 22 miles south, on Thursday, 27th March, found themselves stranded in the flooded town. The next day around half the troops left for Dayton following the line of the railway tracks, the others stayed in Troy to help with relief work there.
Unionville (Pinchtown), Ohio
On Ohio 821 / Ohio 60 there is a sign saying "Unionville" but no town of that name exists. Originally known as Pinchtown because of its location "pinched" between the Appalachian Mountain foothills and the Muskingum River the town changed its name to Unionville around 1904. The 1913 flood destroyed the town and it was never rebuilt. The main part of the town ended up in the yard of the Children's Home outside of Marietta. Part of the debris included the Unionville Church, a sawmill from Lowell, John Grimes Wagon Shop and a mess of wreckage, which was located where Ewing School now stands.
West Hickman, Kentucky
On Friday, 4th April, part of the levee in front of the Mengel Box Company gave way. Several brave men tried to block the breach with sandbags but eventually they had to give up against the torrent of water rushing through the gap. In an effort to stop the levee being washed away altogether they cut breaches into the levee at four other places, relieving the pressure against it. Parts of West Hickman was flooded to a depth of 15ft.
West Terre Haute, Indiana
Easter 1913, was the first time that West Terre Haute had ever suffered flooding. A boat operator drew a gun on Sheriff Denny Shea after the lawman ordered the man to lend his boats for a rescue effort, but he eventually relented.
Wilson, Arkansas
It was thought that raising the levee from 1ft to 4ft would be enough to contain the expected flood water. This was done by 100 men in the two weeks prior to Thursday, 10th April. Men were still working on the levee when a storm blew up from the west and over half of them abandoned the work. Forty-five men were still at work when 100ft of the levee was washed away. Within minutes, the gap had widened to 300ft and by the time the flood waters had receded 2,900ft of the levee had disappeared.
The breach here caused an argument between Lower St. Francis Levee District officials and Major E. M. Markham of the Memphis Engineer District who was in overall charge of the levee system. He claimed that they were incompetent but they answered that the levee was already waterlogged and the storm simply hastened the work of the advancing flood water.
Woodsdale, Ohio
The bridge at Woodsdale was destroyed and not replaced until 1916.
Zanesville, Ohio
The famous "Y" Bridge built in 1902 spanning the Muskingum and Licking Rivers was badly damaged by the floods and was later replaced.
The Aftermath
After a major flood people face further problems. Given the will and resources the infrastructure, electricity, gas, sewage disposal and so on can be largely restored within a week or so. Homes will generally take a year or two before they are fully restored or rebuilt. Unemployment after flooding such as this rises sharply, many businesses, some of them employing a lot of people, suffered such losses that they could never reopen again. There are personal issues too; some people would never get over the shock of such destruction or the grief of losing friends and relations. To give an example, it was said that most of the buildings in Dayton were rebuilt within a year, but it was nearly ten before the economic and emotional effects receded
Even as the flood water receded people were wondering at the vast area of destruction and what could be done to prevent it happening again. The system of levees were built after the 1860's and these massive structures, 10 to 30 feet high and miles long had given people a false sense of security. Whole city districts had been built on what had been flood plains behind them and it was these areas that suffered the most when the rivers flooded to a degree not seen in living memory in many places.
But not all, almost exactly a year before, in March 1912, there was major flooding all along the Mississippi River into which drains the water from 31 states and even dominions in Canada. All three political parties, Democrat, Republican and Progressive, used flood prevention as part of their election platform. When Woodrow Wilson was elected President the rhetoric concerning flood prevention that "such expenditures are not largess on the part of the Government; they are national investments." made during his presidential nomination acceptance speech was forgotten.
During the floods of 1913, in many cases the water did not overflow the levees but the gravel, stone and dirt levees were either saturated with water and were swept away or they could not stand up to the weight of water behind them and collapsed.
Immediately following the flood one of the major contributing factors to their severity was said to be deforestation of valley slopes. The arguments for this are that deforestation increases the amount of soil erosion on the slopes, the soil ends up in the waterways in the valley floors causing the waterways to become more restricted and by removing the soil from the slopes allowing less runoff to be absorbed. Trees and undergrowth are also said to slow the flow of water down the slopes allowing more time for it to be absorbed by leaf litter and soil.
Since 1913, there have been several studies on the relationship between flooding and deforestation but there is no consensus of opinion. For example, "Deforestation and logging do not increase the risk of major floods according to a new report from the UN's Food and Agriculture Organization" (2005) and "The United Nations has said that deforestation may be one of the principal causes of the most severe floods to hit the Mekong delta in the last forty years." (2000).
The Ohio canal system was built between 1820 and 1850 but even by the time the last of them were being dug they were already becoming obsolete due to competition from the railways. During the floods of 1913, in an effort to disperse at least some of the water, some canal lock gates were dynamited. As the water receded some of the canals became choked with mud and debris and were lost to even recreational use.
Following the flood, John Patterson of the National Cash Register Company, Dayton, Ohio headed a flood prevention committee which eventually resulted in the formation of the Miami Conservancy District (1919) and the construction of five flood control dams at a cost of $31 million in less than three years. This was the first flood prevention system in the nation funded entirely by local funds and came 15 years before the Federal Flood Control Act of 1936. Edward A. Deeds, Vice-President of National Cash Register Company, was the apostle of the Miami Conservancy District, seeing the need for detailed planning, public support, and conservancy district legislation.
Ohio's first Conservancy District, the Upper Scioto Conservancy, was established in February 1915 to protect the upper end of the Scioto River valley from the kind of flooding that caused great damage in 1913. A flood control and land reclamation plan was prepared by the Arthur Morgan Engineering firm of Memphis, Tennessee and construction of the project, which required extensive dredging and swamp draining, was done by the F. C. Morgan Company of Indianapolis, Indiana.
In Indianapolis, first the city authorities and later the Federal Works Progress Administration looked into a long-range flood control plan. This included the construction of more and better levees, concrete flood walls, pumping stations, dredging, water course straightening, bridge reconstruction, channel relocation and and detention basins. This work continued up until the 1960s, work was at first coordinated by the Indianapolis Flood control District, a forerunner of the Department of Public Works; the Works Progress Administration; U. S. Army Corps of Engineers and the Indiana Flood Control and Water Resources Commission.
View Postcards of the Floods of 1913
This page created 9th January 2010, last modified 15th April 2010