Postcards of the Tornadoes and Floods of March 1913 - Hamilton, Ohio (2)
More postcards from my collection...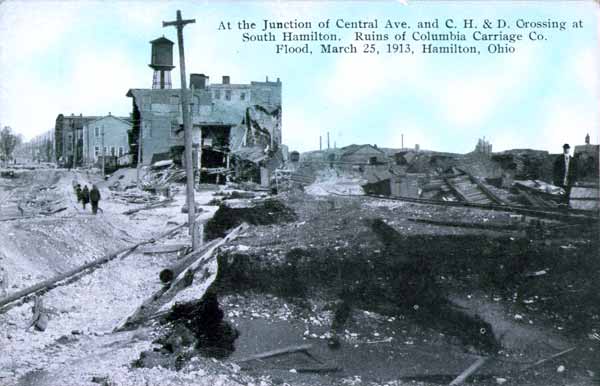 Junction of Central Avenue and C. H. & D. Crossing in South Hamilton
Ruins of the Columbia Carriage Company
Hamilton, Ohio - March 25th, 1913
This unused postcard has no other printed text. The C. H. & D. refers to the Cincinnati, Hamilton and Dayton Railway. The Columbia Carriage Company was formed in 1890 and in its first year made 1,683 carriages. Eight years later, in 1898, its annual output reached 13,000. In 1909, the company went into automobile production with with the 25mph Hamilton. Its factory was on the east side of Central Avenue, opposite the present eastern end of Knightsbridge Drive. Before it was leased by Columbia, the building at 1316 Central Avenue had been the Hamilton Distilling Company. Later, the complex housed a can company and later still the Leshner Corporation.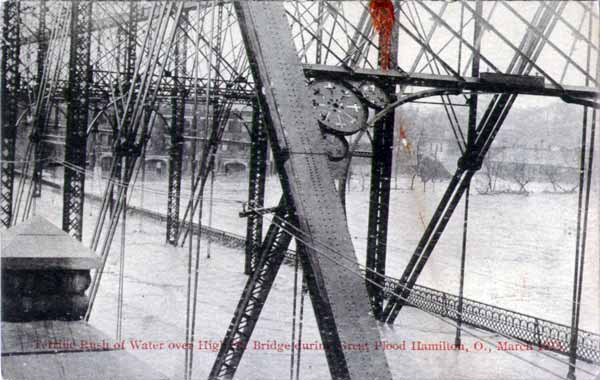 Terrific Rush of water over High Street Bridge, Hamilton, Ohio
This postcard, posted in Det. & Cin. on November 11th, 1913 has the printed text...
Kraemer Art, Cincinnati trademark logo
This bridge collapsed into the river at 12.28pm on Tuesday, 25th March, 1913 - probably shortly after this photograph was taken.
Although they look similar, I'm not sure if the High or Main Street Bridge are the same as the Great Bridge.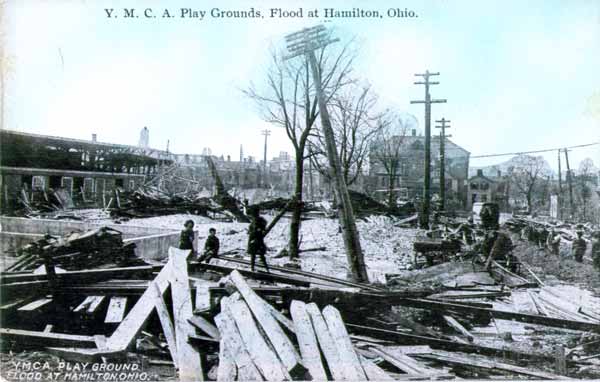 YMCA playgrounds, Hamilton, Ohio
This postcard, posted in Hamilton on April 23rd, 1913 the printed text...
The Feicke Desch Printing Co., Cin'ti., O.
This page created 27th March 2010, last modified 28th March 2010