Terre Haute - Sin City (2)
This is my history and guide to my adopted home - Terre Haute, Indiana.
Federal Gambling Bust
On November 29th, 1957, United States Treasury agents raided third-floor offices at 671 1/2 Wabash Avenue and uncovered the United States biggest illegal international gambling ring. The offices allowed people, some of them very prominent, to place bets as large as $25,000 and was placing bets totaling around $1.5 million a month. Life magazine of September 1st, 1958, carried a photo story of the raid and asked why the operators had set up shop in "small, homey Terre Haute on the sleepy banks of the Wabash?" It then answered itself by saying some not very nice things about the city...
"on the surface Terre Haute, is a quiet city of 82,000 devoted to commerce and banking. But below the surface - barely below - it is a thriving cesspool of unabashed vice. While in recent years it has made such concession to respectability as to insist that its 12 brothels take down their neon signs, Terre Haute has been known for the past 50 years as a place you can get anything you want for a price. It was probably Terre Haute's rubbery civic conscience, plus the fact that it lies beyond the control of underworld gambling bosses that made it so attractive."
Chicago gangster, Leo "Bookie" Shaffer, his partner Jules Horwick and three others had been arrested in a raid in Winnipeg, British Columbia in October, 1956 and fined $10,000. In early September, 1957, they set up shop in the offices in Terre Haute. They were helped in securing the premises by Joe Traum who owned the Manor house Restaurant next door. Shaffer and Horick were arrested in the Treasury raid along with Philip "Flippy" Share of Minneapolis; Irwin Gordon of Las Vagas; ex-Marion County Sheriff Charles "Buck" Sumner; and Joey Jacobs of Indianapolis were all arrested during the raid.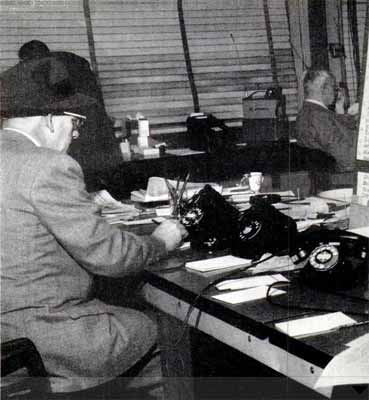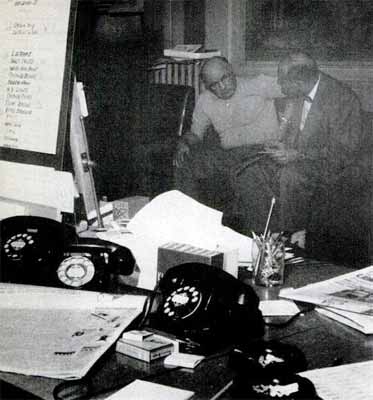 Treasury men during the raid and interviewing one of the telephone operators
Images from "Big, Big Bettors Hide, Hide and Hide" - Life, September 1st, 1958 edition
A grand jury in Indianapolis in August, 1958, subpoenaed 175 of the nation's most prominent gamblers from 43 states and Cuba and Canada. Among those subpoenaed were H. L. Hunt, a Dallas oil baron; Zeppo Marx of the Marx brothers; bridge experts John Crawford and Tobias Stone; Beldon Kattleman, Las Vegas hotel owner; Harry Brown; Herman Miller, a Philadelphia bookie; George Brooks, a Los Angeles bookie; Paul Fassula, a Baton Rouge bookie; Jack Liberman of Brooklyn; Herman Sharwell, a tobacco baron from Columbus; Ray Ryan, an oil baron from Evansville; William E. Lewis, banker and Bill Kaplan, a Chicago handicapper.
During the trial, which started in the U. S. District Court in Terre Haute in June 1959, Attorney Don A. Tabbert gave evidence that the operation had taken $3,363,152 in the three months it was in operation. It's telephone bill was around $6,000 a month. Tabbert wasn't interested in the gamblers, he was after the operators who had broken federal law. On July 30th, 1959, the jury convicted all six original defendants, as well as James Tamer of Detroit and Eddie M. Wyatt of Terre Haute on five counts including excise tax evasion and failure to purchase a gambling tax stamp.
Left to Right: Jules Horwick, Irwin Gordon and Leo Shaffer being led from the federal building in Terre Haute
Image from "Big, Big Bettors Hide, Hide and Hide" - Life, September 1st, 1958 edition
On September 10th, District Court judge Cale J. Holder sentenced all the men to five years in prison and fined them $25,000 each. Jacobs was 64 and Sumner was 70 and the judge suspended their prison sentences.
The raid took place on November 29th, 1957 and the article appeared in the Life edition of September 1st, 1958. Life also printed the following photograph of gambling still taking place in Terre Haute...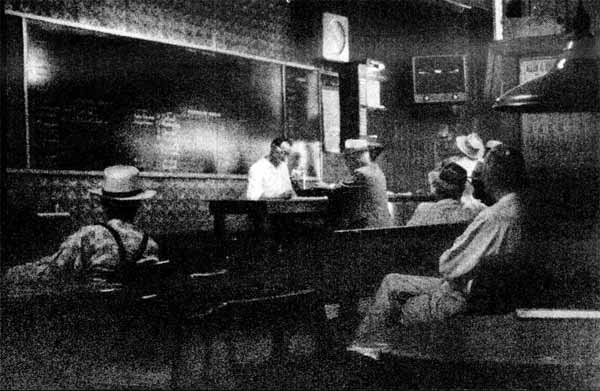 Gambling in "The Combo" , Wabash Avenue
Image from "Big, Big Bettors Hide, Hide and Hide" - Life, September 1st, 1958 edition
Housewives Effort for Local Progress - HELP
In the February 11th, 1961 issue of The Saturday Evening Post, Peter Wyden wrote an article entitled "Indiana's Delinquent City", the byline of which was
"In shabby Terre Haute, progress is dead, vice flourishes, and the citizens don't seem to care."
Some people decided that enough was enough and that something had to be done and in 1961, Jane C. Hazeldine, Jaqueline L. Becker, Elvira Carle and Joan L. Marx formed the Housewives Effort for Local Progress - HELP. They recruited 1,500 civically minded people, of both sexes, whose mission was to get involved in nearly aspect of the city's management. They would follow up complaints, pester local officials, researched the local laws and ordnances, attend public meetings, raise public awareness, try to instill a sense of civic pride, and lobby for railroad overpasses, public swimming pools, a public auditorium, a sewage plant and pollution control.
HELP was disbanded on May 15th, 1975, after helping press for some important changes. Terre Haute finally got it's sewage treatment plant at a cost of $6.1 million. It was dedicated on August 25th, 1963. Other organizations were ready to take up the mantle of civic improvement, such as the Terre Haute Committee for Area Progress (THCAP).
The Red Light District in the 1960s
Edith Brown had long gone, she'd closed her brothel in 1942 and died in 1956 but there were others who had taken her place. Mary Ann Meharry ran a brothel at 214 Cherry Street. Like Brown's old brothel at 206 North Second Street it was finely decorated and furnished. Some of the paneling and furnishings had come from businessman's Charles Minshall mansion which was at 654 Cherry Street before it was demolished by the Ohio Oil Company. Meharry leased out other houses for use as brothels.
George and Mary Gillette ran a tavern and brothel at 115 - 117 North Second Street. Tom and Ruth Brady ran a bar at 230 North Third Street and two brothels in Eagle Street. Jim and Kate Adair owned a bar and brothel in North Second Street. Claude "Bruiser" and Nellie Bandy ran a brothel at 108 - 110 North Second Street. Over the years, other denizens of Terre Haute's seedier side were Jack and Maude Hanes.
Another Attempt to Clean the City
In fact, no-one was over-keen to get rid of the brothels and gambling houses. In the article "Indiana: Open House in Terre Haute" that was published in the Time, February 21st, 1969 edition the then Mayor, Leland Larrison, who favoured legalized prostitution, denied that he'd ever vowed to rid Terre Haute of prostitution and gambling. One person who wanted the places closed down was Alan C. Rankin, president of Indiana State University. The university bordered the red light district and his protestations prompted Larrison to say "If the college will get rid of the beatniks, kooks and hippies over there, I'll shut down the houses."
Where the Mayor wouldn't take action Vigo County Sheriff, Clyde Lovellette, did. He raided three of the brothels and arrested 9 women. All pleaded guilty and spent 15 days in jail. The action prompted a petition which was signed by just 400 of Terre Haute's then population of 72,500 people to urge the police to clean up the city.
One of the cabaret / gambling clubs at the time was Club Idaho at 719 Hulman Street.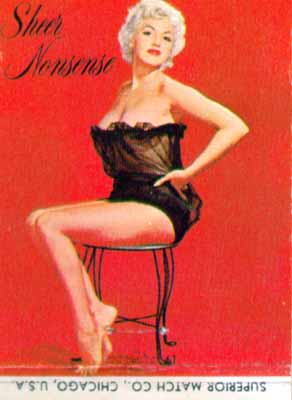 Matchbook from Club Idaho
A sign on the door read...
WHAT YOU SEE, WHAT YOU HEAR, WHEN YOU LEAVE, LEAVE IT HERE.
Sources:
Al Capone - Wikipedia
Allis-Chalmers Manufacturing Company - Wikipedia
"Bidaman Registers a First Impeachment" - Mike McCormick, Tribune Star, March 25th, 2006 edition
"Big, Big Bettors Hide, Hide and Hide" - Life, September 1st, 1958 edition
Courts and Lawyers of Indiana - Volume 3 by Leander John Monks. Published by Federal Publishing Company, Indianapolis, 1916
Deliver the Vote: A History of Election Fraud, An American Tradition, 1742 to 2004 by Tracy Campbell. Published by Carroll & Graf Publishers, New York, 2005
Historical Perspective: Allis-Chalmers labor dispute heated in 1952 - Mike McCormick, Tribune Star, January 26th, 2008 edition
"History of Madame Edith Brown" - Vigo County Historical Society
Index of Historical Events - Vigo County Public Library
"Indict Terre Haute Mayor" - New York Times, January 18th, 1914 edition
Indiana: A New Historical Guide by Robert M. Taylor, Jr., Errol Wayne Stevens, Mary Ann Ponder, and Paul Brockman. Published by the Indiana Historical Society, Indianapolis in 1989
"Indiana: Open House in Terre Haute" - Time, February 21st, 1969 edition
Information Annual 1915 - Published by R. R. Bowker Company, New York, 1916
Inventory Community Affairs File Archives M-P - Vigo County Public Library
"Judge Searched for Pistol" - New York Times, March 17th, 1914 edtion
"Legendary Madame Brown" - Spectator (Terre Haute), June 16th, 1979 edition
Letters To Robert Klassen About Allis-Chalmers - June 21st, 2007
Manville Gun - Wikipedia
"Martial Rule. Suit to Enjoin Governor's Proclamation. Justification for Use of Troops in Industrial Disputes" - Columbia Law Review, Vol. 36, No. 3 (Mar., 1936), pp. 494-496
"Mayor of Terre Haute Removed from Office" - Oswego Daily Times, June 30th, 1906 edition
"Nighttime Girls of Terre Haute" - Stag, November 1955 edition
"Strike is at End at Terre Haute" - Ludington Daily News, July 24th, 1935 edition
Terre Haute: Queen City of the Wabash - Mike McCormick. Arcadia Publishing, 2005
"Terre Haute's "Red Light District" Sees New Rules in 1906" - Mike McCormick, reprinted in the Tribune Star, December 27th, 2008 edition
This page created 26th September 2010, last modified 6th April 2014