Bristol - Place names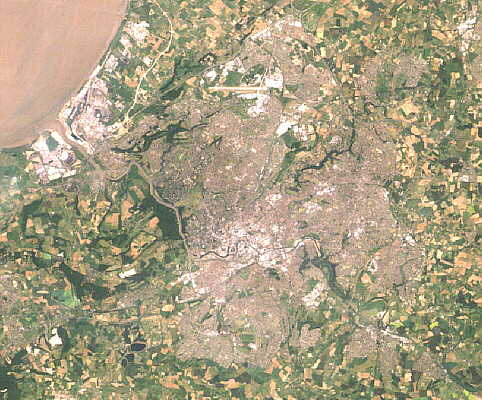 Satellite photo of Bristol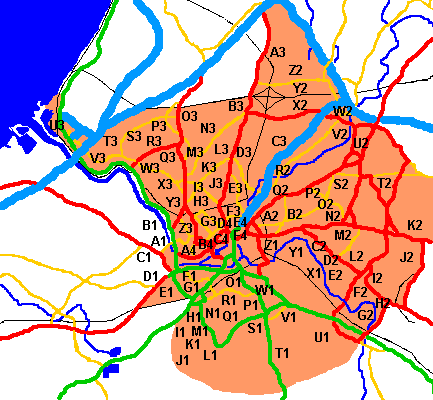 Each side of this map is about 10 miles long.
| | | | | | | | |
| --- | --- | --- | --- | --- | --- | --- | --- |
| A1 | Nightingale Valley | B1 | Abbots Leigh | C1 | Ashton Court | D1 | Bower Ashton |
| E1 | Ashton Vale | F1 | Ashton Gate | G1 | Bedminster | H1 | Bedminster Down |
| I1 | Highridge | J1 | Withywood | K1 | Bishopsworth | L1 | Hartcliffe |
| M1 | Headley Park | N1 | Novers Hill | O1 | Windmill Hill | P1 | Totterdown |
| Q1 | Filwood Park | R1 | Knowle | S1 | Hengrove | T1 | Whitchurch |
| U1 | Stockwood | V1 | Brislington | W1 | Arno's Vale | X1 | Broomhill |
| Y1 | Saint Annes | Z1 | Barton Hill | A2 | Easton | B2 | Whitehall |
| C2 | Saint George | D2 | Crews Hole | E2 | Conham | F2 | Longwell Green |
| G2 | Somerdale | H2 | Willsbridge | I2 | Oldland | J2 | Cadbury Heath |
| K2 | Warmley | L2 | Hanham | M2 | Kingswood | N2 | Two Mile Hill |
| O2 | Speedwell | P2 | Fishponds | Q2 | Eastville | R2 | Stapleton |
| S2 | Staple Hill | T2 | Mangotsfield | U2 | Downend | V2 | Frenchay |
| W2 | Hambrook | X2 | Harry Stoke | Y2 | Stoke Gifford | Z2 | Bradley Stoke |
| A3 | Patchway | B3 | Filton | C3 | Lockleaze | D3 | Horfield |
| E3 | Ashley Down | F3 | Montpelier | G3 | Cotham | H3 | Redland |
| I3 | Westbury Park | J3 | Bishopston | K3 | Golden Hill | L3 | Henleaze |
| M3 | Eastfield | N3 | Southmead | O3 | Brentry | P3 | Henbury |
| Q3 | Westbury on Trym | R3 | Coombe Dingle | S3 | Kings Weston | T3 | Lawrence Weston |
| U3 | Avonmouth | V3 | Shirehampton | W3 | Sea Mills | X3 | Stoke Bishop |
| Y3 | Durdham Downs | Z3 | Clifton | A4 | Hotwells | B4 | City Centre |
| C4 | Broadmead | D4 | Saint Pauls | E4 | Saint Werburghs | F4 | Old Market |
Present day Bristol is a conglomeration of the many villages and hamlets that used to surround the original city and have since been swallowed up by it. Usually, but not always, all that has survived are the names of these villages. Hence people still talk of Brislington and Clifton villages.
Incidentally, do you know the difference between a village and a hamlet?
(The answer is at the bottom of the page)
What the place names mean
Britain was invaded many times over the centuries. Up until 500 BC our Iron Age ancestors lived in isolation, then the Celts from mainland Europe arrived. The Romans arrived in 55 BC and were here for around 500 years. As the Roman Empire started to collapse they withdrew from Britain and by 450 AD the Angles and Saxons, from what is now Germany, were here to stay. In the 9th Century the Vikings and Danes from Scandinavia thought that Britain might be a nice place to live and invaded. In 1066 the Normans from France invaded and King Harold got an eyefull.

Harold gets his - from the Bayeaux Tapestry
I spy with my little eye, something beginning with the letter A . . .
For a race that is very proud of being 'English' or 'British' we seem to have quite a bit of mixed blood.
The derivation and meaning of some of the placenames seems to be a little uncertain. Where I have found alternative meanings then both (or more) are given. Most of the names are Anglo-Saxon in origin i.e. in common usage before about 1100 AD.
In April 2005, I got an email from Luke Rowlands who clarified the languages in use at various times. At the time of the coming of the Romans, the population in the Bristol area - and over most of England - spoke a form of Brythonic (Welsh) - this population remained until the invasion of the Saxons who brought their Germanic language with them - English. Having never heard of Brythonic, I looked it up. Wikipedia says that "A few British survivals are thought to be largely or wholly Brythonic in origin: some place-names (bre-, bal-, and -dun for hills, carr for a high rocky place, coomb for a small deep valley); domestic words (hubbub, iron, peat, bucket, crock, noggin, gob, nook); and folk-names for badgers (brock) and their burrows (set)."
More about Brythonic can be found at Encyclopedia.com and BBC Timelines.
Bristol ~ Old English 'Brycgstow'. Bridge and meeting place, also the place of the bridge.
Avon ~ Celtic for river, so our River Avon is really River River.
Abbots Leigh (B1) ~ Old English (Leah = Glade). A wooded settlement or farm belonging to an Abbot. In this case the Abbot was that of Saint Augustine.
Ashton (C1, D1, E1,F1 & E3) ~ Old English. Aston means farm or village with Ash trees.
Avonmouth (U3) ~ The mouth of the river Avon - this is a relatively new name.
Bedminster (G1) ~ Monastry or church founded by the monk Beda. In the 15th Century this is where the lepers came to live.
Bishopsworth (K1) ~ The bishops farm or homestead.
Bishopston (J3) ~ The bishop's manor
Brislington (V1) ~ Beorhthelm's farm.
Broomhill (X1) ~ Old English. Bramble covered hill.
Cadbury Heath (J2) ~ Cada's place by the iron-age fort.
Clifton (Z3) ~ Farm on the cliffes.
Combe Dingle (R3) ~ Wooded Hollow or Valley. In fact both Combe and Dingle mean this.
Conham (E2) ~ Farm on the hill.
Easton (A2) ~ Eastern farm or settlement.
Filton (B3) ~ Hay farm.
Fishponds (P2) ~ The ponds where fish were found or stored.
Frenchay (V2) ~ Woods on the River Frome.
Hambrook (W2) ~ The rocky, or stoney, brook.
Hartcliffe (L1) ~ Sloping ground where stags were to be found.
Henbury (P3) ~ High Hill. A village first mentioned in documentation in 692 AD, it was incorporated into the City of Bristol in 1935 before which it was part of Gloucestershire. ("A Guide to Henbury" by Hallen and Henbury Women's Institute, 1958)
Horfield (D3) ~ Dirty field.
Hotwells (A4) ~ There really was a hot well here. Sixty gallons of water a minute at 76 F flowed from the spring. The problem was that although at low tide it was 10ft above the river level, at high tide it was 26 ft below it.
Kingswood (M2) ~ The King's wood.
Knowle (R1) ~ Hillock or Knoll.
Lawrence Weston (T3) ~ Western farm with a church dedicated to St. Lawrence.
Mangotsfield (T2) ~ Mangoda's field.
Patchway (A3) ~ The road by Paecca's home.
Redland (H3) ~ The cleared land.
Sea Mills (W3) ~ Mills by the sea - these were, in fact, tide driven.
Shirehampton (V3) ~ A Poll had been held in the Parish as to its being included in the City Boundary with the result that a majority of 102 being in favour of the inclusion. In 1904, Shirehampton, Westbury on Trym and part of Henbury were added to the City and County of Bristol after centuries as part of south Gloucestershire. Following the boundary change, stones with the incised letters 'C.B.' were laid near the Iron Bridge and in the wood of the inner Kingsweston Park near Penpole Lane. (Shirehampton Public Hall) [My thanks to Stephen Baker for pointing out an error in the original text where I gave the date of incorporation into Bristol as 1974. Ray]
Staple Hill (S2) ~ A hill where a post stood.
Stapleton (R2) ~ Old English. The farm by the post.
Stoke (X2, Y2, Z2 & X3) ~ Originally a holy place but can also mean a meeting place or dairy farm.
Warmley (K2) ~ The forest glade infested with reptiles or the place by the weir.
Westbury (I3) ~ The western fort. Previously in Gloucestershire, it became part of Bristol in 1904. (Shirehampton Public Hall)
Whitchurch (T1) ~ Place with the church made of white stone.
WithyWood (J1) ~ The wood with Willow trees.
When I originally wrote this page there was something in the back of my mind that I meant to add. It was about a place name that in the various languages which make up modern English meant hill hill hill hill. Rewriting this in 2009 I thought I'd do a little more research. In his 1952 book "The Story of English", Mario Pei wrote that there is a ridge near Plymouth, England, called Torpenhow Hill. This name consists of the Saxon TOR, the Celtic PEN, the Scandinavian HAUGR (later transposed into HOW), and the Middle English HILL, all four of them meaning "hill". Hence, the modern name of the ridge is actually "Hillhillhill Hill". Unfortunately, there is no such place and this text has now been debunked.
Bredon Hill in Worcestershire does mean hill hill hill. BRE is of Celtic origin, and DON is Old English. Another place that means hill hill hill is Pendle Hill in Lancashire. The original name of the hill is Pennul or Penhul. PEN is Cumbric and HYLL is Old English.
The closest to these I can find in the west of England around Bristol is Churchill. Although "church" in most place names actually does refer to a church, in this case the name is a deriviative of CRUG or CHEECH, both of which are Old English names for hill. So Churchill is hill hill.
Another place near Bristol is Minehead, which means headland headland. Mine is derived from the Welsh MAEN which means headland and head is a derivative of the English headland.
This page created 15th January 2000, last modified 2nd September 2009