A Walk around the Old City (1)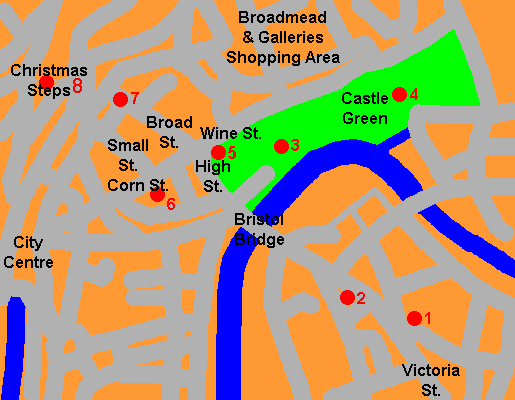 From Victoria Street to Christmas Steps.
5. Standing on this junction there are many sites to be seen. With Castle Green to your back, left is Bristol Bridge, half left is St Nicholas Church, now the Tourist Information office, and St. Nicholas Market which is always worth a visit. Behind which you can see the tower of All Saints Church. To your front is Corn Street which contains the Corn Exchange and its famous Nails. The Corn Exchange now contains another market. Here can be purchased photographs of old Bristol and Bristol Blue glass. On the corner of Broad Street is Christ Church. At the bottom of Broad Street is St. John's Gate - one of the old city gates.
The bombs that wrecked St Peter's church behind us also left their mark on St Nicholas Church, leaving many pockmarks in the stonework.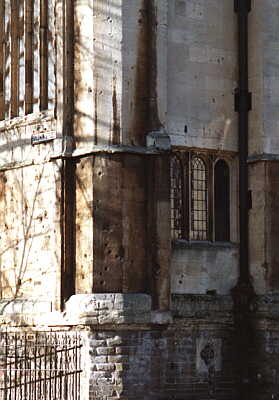 Shrapnel damage from WWII to St Nicholas Church
If they are open St Nicholas and the Corn Exchange markets are always well worth stopping at. Outside the Corn Exchange the farmers market sells organic, locally grown farm produce.
Walking down St Nicholas Street we pass the Tourist Information office on the left. Practically opposite and near one of the entrances to the market is this fountain.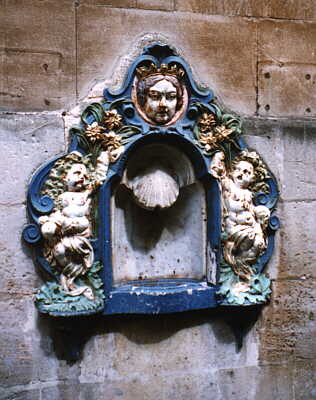 Victoria Fountain
The fountain was made by the Coalbrookdale Iron Company of Shropshire to celebrate Queen Victoria's fortieth birthday in 1859. The fountain is usually hard to spot as it is, unfortunately, usually hidden behind a collection of dustbins.
Once past this, on the right, the face of the Veiled Lady can be seen. On one of the buildings are four stone faces. Three of them are rather ordinary but one inparticular stands out. It is the Veiled Lady, marvelously captured in stone. The reason this figure was carved like this is now lost but it's very errie.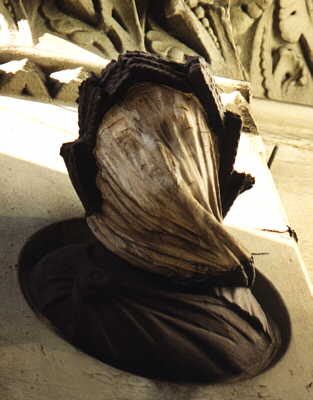 The Veiled Lady
Also on the right we come to the old Stock Exchange.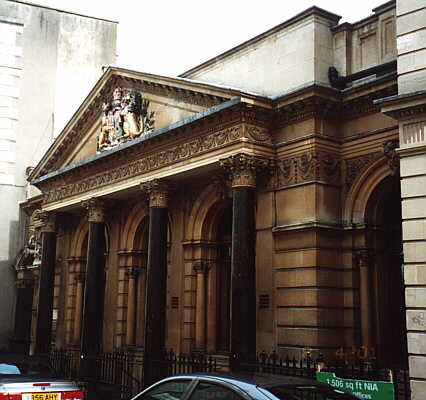 The Stock Exchange
This is a marvellous building, take a look at some of the detail of it.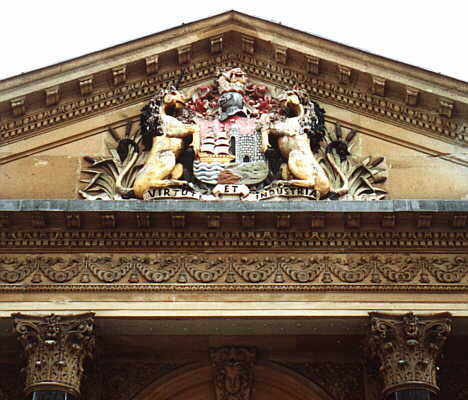 Some details on the Stock Exchange
Coming to the junction of St Nicholas Street and Corn Street we can see the magnificent tower of St Stephens.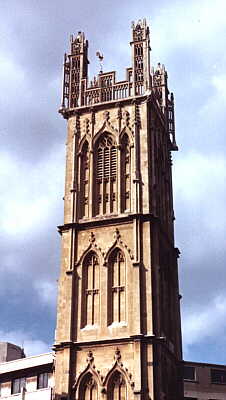 St Stephens
I think the pierced stonework at the top of the 150 fet tall tower is some of the best I've seen. This church was built about 1455.There was a hurricane that lasted from 26th November to 1st December 1703 that destroyed three of the pinnacles and flooded the church.
Turning left at the junction down Clare Street can be seen two more wonderful buildings.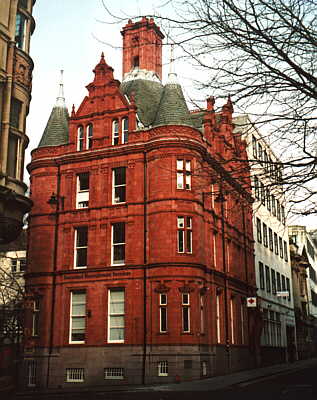 The Red House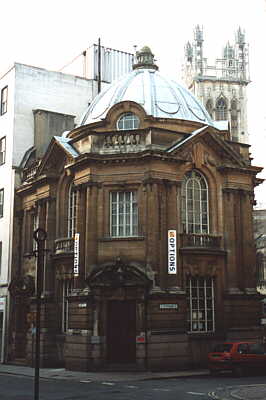 The Cupula
This page created 15th March 2000, last modified 21st February 2006