A Walk around the Old City (3)
7. At the bottom of Broad Street is St John's Gate, one of the old city gates. This is the gate that Queen Elizabeth I entered the city during her visit in 1574.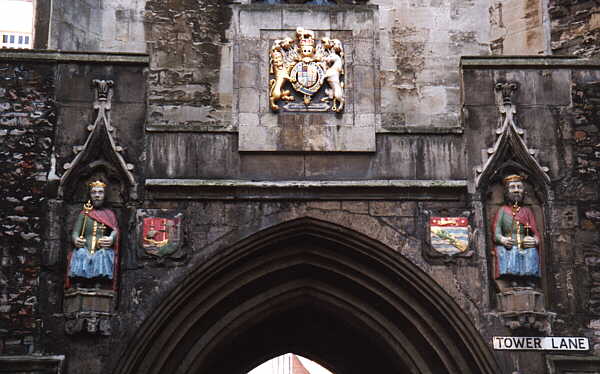 St. John's Gate from Broad Street
The statues are of Brennus and Belinus, according to legend Brennus was the original founder of Bristol. There is a bit of a problem with these statues though as they both carry crucifixes, but the two kings are supposed to have lived a long time before Christ.
The central arch is older than the two side arches and once contained St John's Conduit. The Conduit is now just through the arch and to the right, in Nelson Street.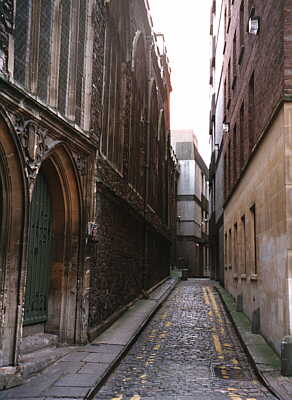 Tower Lane
Standing on the Broad Street side of St. John's Gate if you look right you can look along Tower Lane, this was in existence over 1,000 years ago, and you can still get the feel of what the old Bristol streets must have been like. The old pavements did not have a kerbstone as they are usually found but an iron edging, this was to stop iron rimmed cart wheels from damaging the stonework.
The tower on St. John's Gate is actually the spire of St. John the Baptist Church. The green door on the left of the picture of Tower Lane, above, is the entrance to the church.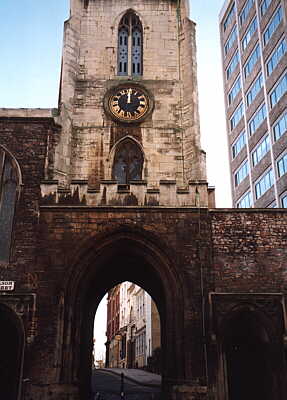 St. John's Gate from Nelson Street
To the right of this picture is a newish office block - who said modern architecture is boring ! (lol)
The entire area, which now houses the Courts and many solicitors' offices, contains many interesting buildings. Such as the one below :-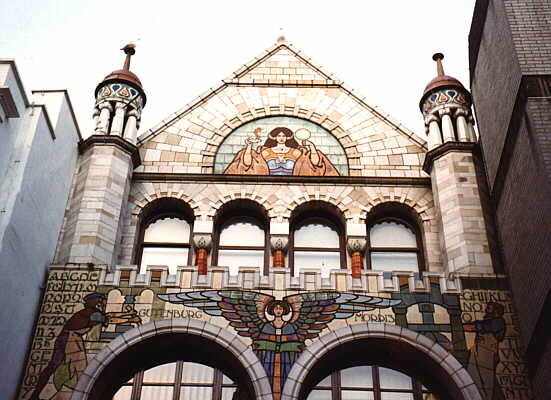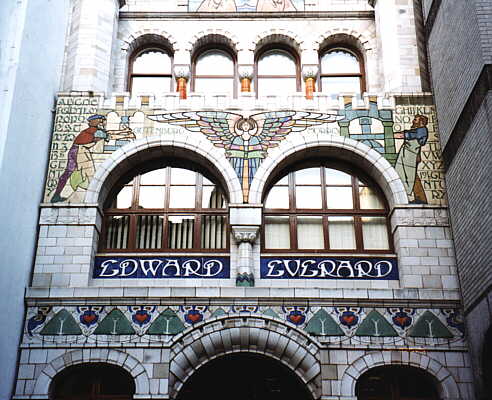 Edward Everard building
The Edward Everard building is a fine example of Art Deco. To the right is the easily missed Tailor's Court. The old Guild of Merchant Tailors had their hall here. The rather plain building was built in 1740, the most outstanding feature is the magnificent porch moulded with the Guild's arms.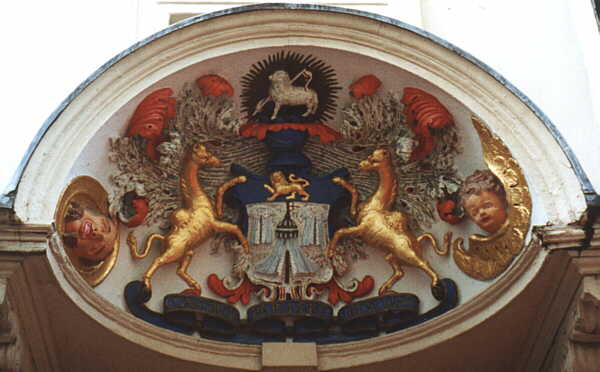 Porch of Merchant Tailors' Guild Hall
Originally called the Fraternity of St. John the Baptist, the moulding shows St. John's head on a platter to the left. The Guild's motto was "Concord makes small things flourish". A plaque states that this building replaced an earlier Guild Hall and that the Guild's charter was granted by King Richard II in 1399, and that the porch was restored in 1960.
A little further on is the 17th century building known as Court House.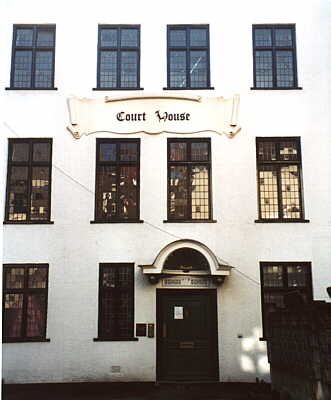 Court House
This page created 15th March 2000, last modified 21st February 2006