Bristol UK Postcards
Folders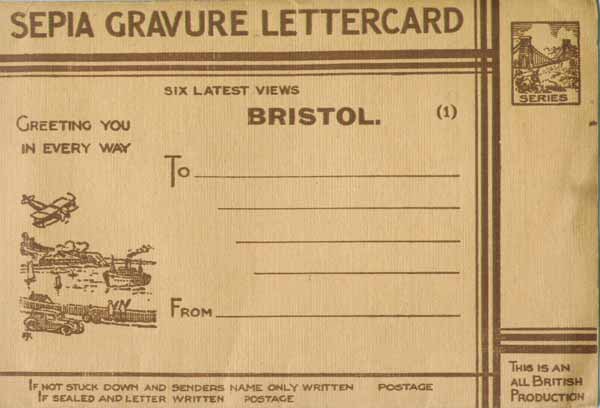 Sepia Gravure Lettercard
This unused postcard folder has the printed text...
Sepia Gravure Lettercard
Six Latest Views
Bristol
Greeting You in Every Way
This is an All British Production

Multiview

Avon Gorge, Clifton Suspension Bridge
and Leigh Woods

Wills Memorial Tower of the
University of Bristol

The Observatory

Avon Gorge

Blaise Castle
General Views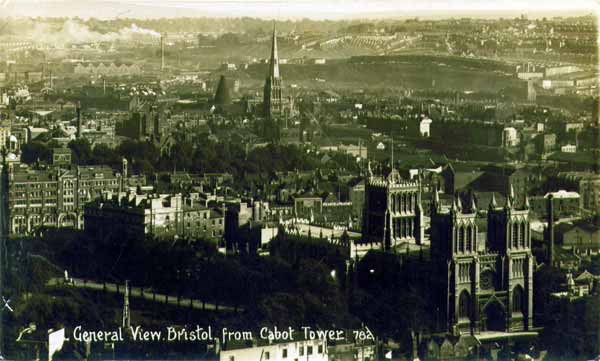 General View from Cabot Tower
This unused postcard has the printed text...
782
Viners, Publishers, Bath
The big building in the foreground is the Cathedral. The church with the tall spire in the centre of the picture is St. Mary Redcliffe. Just to the lft of this church can be seen one of the many conical kilns that used to be scattered in and around Bristol. I think this is the one in Prewett Street which was partially demolished in 1936 because it became unsafe. In 2001, the 25 ft high stub of the origianl 18th century, 60 ft tall building was converted into a restaurant. In 1722 there were 15 of these kilns in the Bristol area, by 1833 there were only four left.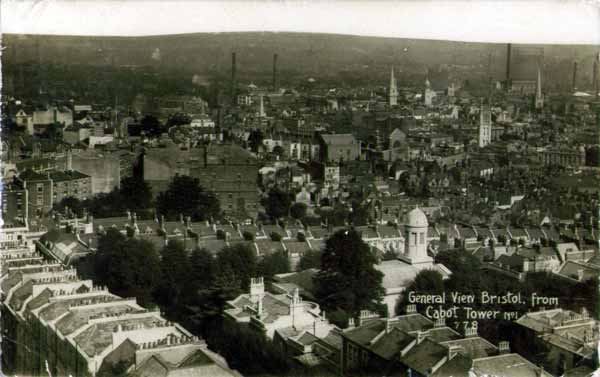 General View from Cabot Tower
This postcard, posted in Bristol on 26th August, 1919, has the printed text...
No. 1
778
Viner & Co., Publishers, Bath
Real Photograph
British Made

This page created 8th September 2009, last modified 24th February 2010