Bristol UK Postcards
Cenotaph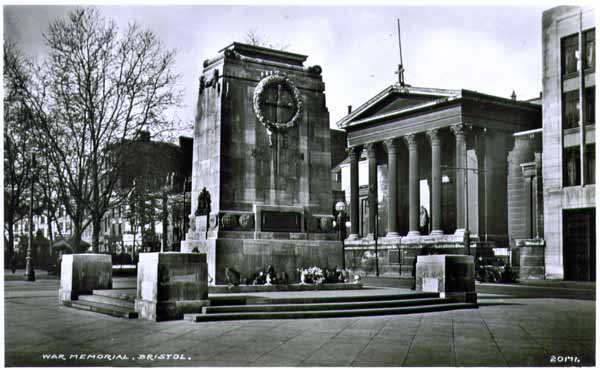 The Cenotaph
This unused postcard has the printed text...
20171
This is a Real Photograph
Printed in England
The Centotaph is Bristol's War Memorial and stands in the City Centre. It stands in front of the church "St. Mary on the Quay", which was built between 1839 and 1843, by Richard Shackleton Pope, as a Catholic apostolic chapel but which is now a Roman Catholic church.
The city of Bristol was one of the last major cities in Great Britain to unveil a civic memorial to commemorate the Great War 1914-1918. After Leicester (1925), Coventry (1927) and Liverpool (1930), Bristol's Cenotaph was unveiled in 1932, 14 years after the Armistice. During that lapse, its location, source of funding, and commemorative function were the focus of widespread disagreement and division in the city.
Source: Manipulating the metonymic: the politics of civic identity and the Bristol Cenotaph, 1919-1932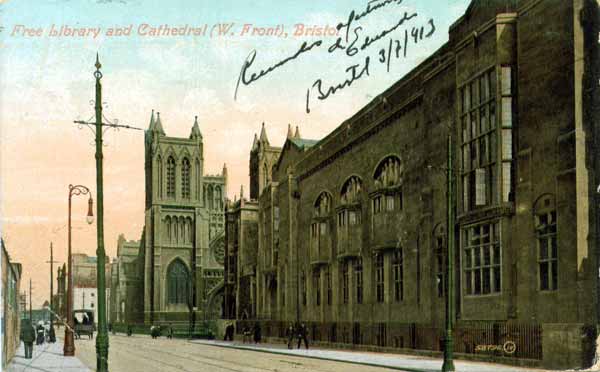 Central Reference Library, the Norman Arch and Cathedral, Bristol
This postcard, posted in Sharpness on July 3rd, 1913, has the printed text...
58796
Valentine's Series
Printed in Great Britain
Bristol Central Reference Library opened in 1906 following a bequest by Vincent Stuckey Lean of £50,000. An architectural competition was organised and won by the firm of H. Percy Adams with designs by his assistant Charles Holden, at a cost of £30,000.
Christ Church, Broad Street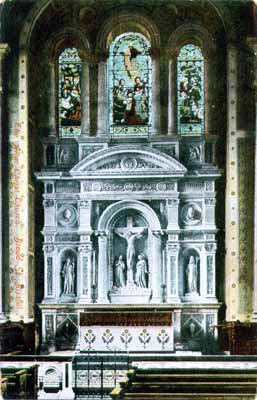 The Altar, Christ Church, Broad Street
This unused postcard has the printed text...
Empire Series London No. 236
Copyright
Printed at works in Saxony
Christ Church with St. Ewen was built between 1786 and 1791. It was designed by William Paty and built by his relatives Thomas Paty and Sons, replacing the 12th century Christ Church. St. Ewen's or St. Hoyan's church stood in Corn Street and was demolished in 1820 when the congregations combined. The entrance and refurbished interior of Christ Church are by Henry Williams and date from 1883. The building was restored in 1973.
An interesting feature of this church is the clock and quarterjacks that strike the quarter hours.
Christ Church, Clifton
Christ Church, Clifton
This postcard, posted in Clifton on December 11th, 1906, has the printed text...
The London Stereoscopic Company Series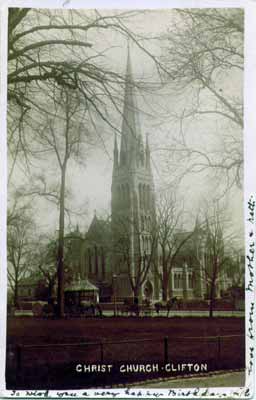 Christ Church, Clifton
This postcard, posted in Clifton on April 3rd, 1907, has no other printed text.
Christ Church, on Clifton Down Road, was built in 1841 by Charles Dyer. Dyer was a london based architect who designed several buildings around Bristol. The steeple, which reaches 212 ft, was built 1859 by J. Norton, and the aisles in 1885 by William Basset Smith.
Christmas Steps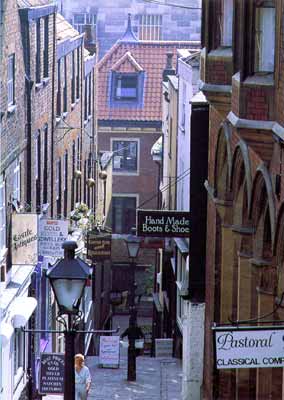 Christmas Steps
This unused postcard has the printed text...
Code P23
Christmas Steps, Bristol
Photo: Huntley Hedworth: 0117 973 0415
Printed by Mid Wales Litho Ltd.
Sky Cards, Clifton, Bristol, 0117 973 4074
The Steps contain many specialist shops and art galleries. Christmas Steps was renamed Queen Street and rebuilt in 1669, a plaque commemorates the event.
Rebuilt AD 1881

This Streete was steppered done
& finished September 1669.
The Right Worpfl Thomas Stevens
Esqr then Mayor, Humphry Little
and Richard Hart, Sherrifffes, the
Right Worpfl Robert Yeamans
Knt & Barronet, Mayor Elect, Charles
Powell and Edward Horne Sherriffes
Elect of this Citty.
By and at the cost of Jonathan
Blackwell, Esqr Formerly Sherriffe
of this Citty and afterwards
Alderman of the Citty of London
& by ye said Sir Robert Yeamans then
Mayor and Alderman of this Citty
named Queene Streete.
Jonathon Blackwell who paid for the street, then known as Queene Streete, to be paved and "steppered" in 1669 was a wealthy vintner. He also had a turnstile and lamp lighting installed. The street probably needed them as before then it was described by John Latimer in "Annals of Bristol in the Seventeenth Century" as a "break-neck footpath very perilous to passengers in winter weather and dark nights."
A calendar describes the alterations made by Blackwell, "Going up, there is steps, on the last of which is a turned style or whirligig, over which there is a lantern; then about 100 feet pitched; and then steps, with a court with six seats on each side; and then steps and a turnstyle like the former."
The seats caused a bit of a problem for historians.  In their "Bristol Past and Present" (J. W. Arrowsmith, 1881) J. F. Nicholls & J. Taylor say that the seats were "sedilia" or begging places for the friars from the Chapel of the Three Kings of Cologne which stands at the top of the Christmas Steps but this appears to be unlikely because the Chapel is much older than the remodelling.
It was renamed Queene Streete in celebration of Queen Catherine of Braganza who married King Charles II on 23rd April 1662. However the street has been known by a variety of names and nicknames over the centuries.
Christmas Street was an important Bristol thoroughfare that ran from St. John's Gate, Broad Quay over the River Frome, now covered by the city centre, to the Frome Gate near St. Bartholomew's, the remains of which are still at the bottom of Christmas Steps. It then became a steep lane that was to become Queene Streete and later Christmas Steps, and carried on up towards St. Michael's Hill.
In the Middle-Ages most trades were carried out in specific areas or streets and Christmas Steps was home to the cutlers - makers of blade-edged steel weapons and tools and armourers. Around this time, 1389 to be specific, it was called by both Knyfsmythestrete and Cutellare Street. The 1385 will of Robert Gradely refers to Knyzt-mass Street. Another will, dated 1390, refers to a smith, John Donster, living in Christmastrete and for several hundred years all these names appear to have been used for the road. Various other names appear on old city ordnances such as Christsmith and Cutlermass. By 1500 though it seems that Christmas Street had become the most popular.
During the English Civil War (1625 - 1649) in July 1643, Christmas Steps was the scene of fierce fighting and Colonel Sir Henry Lunsford, a royalist, was killed there. For a while the place was known as Lunsford's Stairs, so perhaps there were steps of a sort there before the remodelling of 1669. Henry Lunsford was the brother of Sir Thomas Lunsford who was deputy-governor of Bristol, 1644/5.
In 1669, it became Queen Street and in 1775, finally became Christmas Steps. The reason for this may be linked to the earlier names of Knyzt-mass, Christsmith and Cutlermass. The Eucharist processions would take place here and so Christmas may be a corruption of Knife and Mass.
Christmas steps contains an eclectic collection of wonderful little shops and has done for centuries. Here's a listing from Kelly's Directory of 1894...
No. 1: John Hooking - baker
No. 2: Percy Musgrove Lyddon - beer retailer
No. 3: Henry Woodland - greengrocer
No. 4: Mrs. Mary Chapel
No. 5: Alfred West - tinplate worker
No. 6: Thomas Lewis - newsagent
No. 7: Henry Pacey - dining rooms
No. 8: William Brook - coffee rooms
No. 9: John Wiltshire - beer retailer
No. 10: George Fear - watch maker
No. 11: Fredrick Tichbon - hairdresser
...and this is from the 1906 directory...
No. 1: Joseph Harry Lock - trade not known
No. 2: Mrs Ada Palmer - Landlady of the Whitehorse public house
No. 3: Henry Worsley - antique dealer
No. 4: Henry Jarvis - secondhand book dealer
No. 5: George Roberts - shell fish dealer
No. 6: Mrs. Georgina Brooks - confectioner
No. 7: John Jones & Co. - engravers
No. 8: Arthur Owen - dining rooms
No. 8: Edwin Hollister - sweet shop
No. 9: John King - furniture dealer
No. 10: Alfred Williams - watchmaker
This page created 13th September 2009, last modified 16th December 2009