Bristol UK Postcards - Dutch House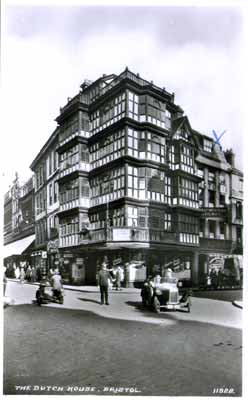 Dutch House
This unused postcard has the printed text...
11828
This is a Real Photograph
Scholastic, Bristol
There is a hand-written note on the back of the postcard saying that the builsing marked with an X in the photograph had recently been demolished and replaced by modern shops.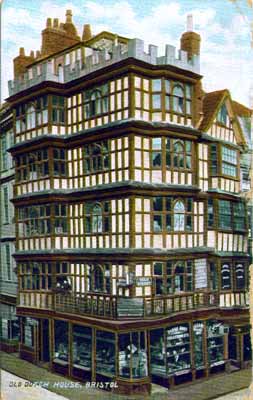 Dutch House
This postcard, posted in Bournmouth, Dorset on December 10th, 1909, has the printed text...
2461-5
Hartmann trademark logo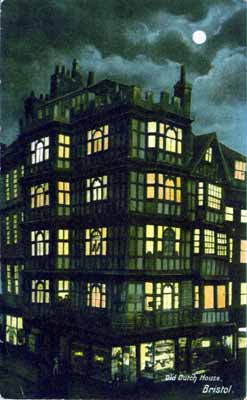 Dutch House
This unused postcard has just the printed Hartmann trademark logo.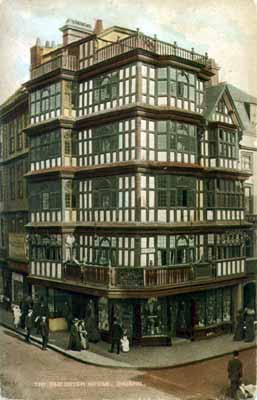 Dutch House
This unused postcard has the printed text...
2285
Printed in England
The Dutch House, a six-storey timber framed building, was built in 1676 on the corner of High and Wine Streets. It's address was its address was Nos. 1 to 2 High Street and was originally a private residence, and was later occupied by a goldsmith in the eighteenth century. In 1810 it became the Castle Bank.
It was first named "The Dutch House" in the mid-nineteenth century, but has no connection with Holland. There was a local tradition that its timber framing was constructed in Holland and then brought over and assembled in England, but the building has more in common with other half-timbered buildings in Bristol than any European style.
The building was last used as a shop by the Irish Linen and Hosiery Association; its address was Nos. 1 to 2 High Street. well-loved landmark of the city and featured in many photographs and postcards, such as the ones above.
On Sunday, 24th November 1940 Bristol suffered its worst air raid of the Second World War. Much of the historic area around the High Street was destroyed and the Dutch House was gutted by fire and the remaining shell was pulled down. There was a rumour that the Royal Engineers were a little over-enthusiastic in pulling the building down as it was though at least paer of it could be saved, but this is just a rumour and I can find nothing to support this. However, the Royal Engineers had to be stopped from demolishing the leaning tower of Temple Church in Victoria Street. It was pointed out to them the the tower had been leaning for at least 500 years and had nothing to do with the bombs. Nothing now remains to mark the spot where the Dutch House stood.
This page created 21st September 2009, last modified 10th February 2010