Bristol UK Postcards - SS Great Britain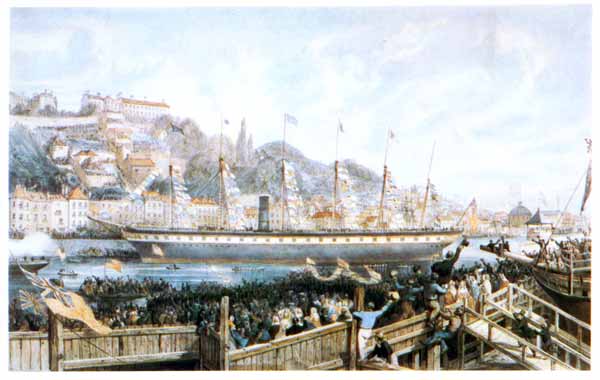 SS Great Britain
Launch of the Great Britain - 19th July 1843
This unused postcard has the printed text...
L6/SP 6101
DRG
J. Arthur Dixon
Printed in Great Britain
The World's first large iron steamship "Great Britain" on
19th July 1843 shortly after being towed from the Great
Western Dry Dock in Bristol. The ship was constructed by a
local ship builder, William Patterson, according to the
designs made by the famous 19th century engineer
Isambard Kingdom Brunel (1806 - 1859)
Reproduced from a hand-coloured lithograph in the
collection of the City of Bristol Museum and Art Gallery.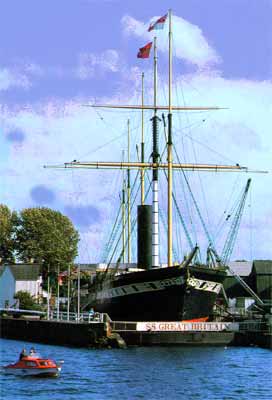 SS Great Britain
This unused postcard has the printed text...
2312
Photographed & Published by Pitkin Unichrome Ltd.
Tel. 01264 409200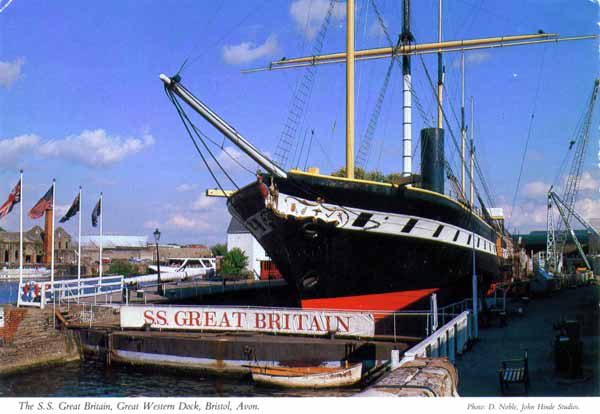 SS Great Britain
This postcard, posted in Bristol on 16th August, 1993, has the printed text...
2DC 1318
Photo: D. Noble, John Hinde Studios
John Hinde Original
Published by John Hinde (Distributors) Ltd.
Printed in Ireland
The S.S. Great Britain was built and launched in Bristol on July 19th
1843. She was the first ocean going propeller driven, iron ship in history. Designed
by I. K. Brunel, she had a varied active life for 43 years, both as a liner and a cargo
vessel. Her first voyages were to America, then for some 25 years she carried
thousands of emigrants to Australia. Abandoned in the Falkland Islands in 1886,
the ship provided storage facilities in Port Stanley for 50 years. In 1970 millions of
people in this country and all over the world were fascinated and thrilled by the
salvage from the Falkland Islands. Since July 1970 work on preservation and
restoration has been steadily going forward in the dock in which she was
originally built.
As soon as the Great Western entered service in 1837, people realised this was the way that sea travel would develop and Brunel designed the first ocean going, propellor driven ship in history - the Great Britain. Work started on her on 19th July 1839 and was launched four years later in July 1843. She was so wide that teams of men had to stand on the wharves and push against her to stop her scraping the walls, she was also wider than the locks at the entrance to the Floating Harbour and part of the lock walls had to be demolished for her to get through them.
She must have been too much of a novelty as only 50 passengers made the crossing to New York on her maiden voyage. Her early voyages were beset with problems, especially with her engines and she was runaground several times. Three years after he launch disaster struck and she ran aground at Dundrum Bay, Ireland in September 1846. Brunel arrived in December and wrote "I was grieved to see this fine ship lying unprotected, deserted and abandoned by those who ought to know her value ... the finest ship in the world, in excellent condition, such that four or five thousand pounds would repair all damage done, has been left and is lying like a useless saucepan kicking about on the most exposed shore that you can imagine."
The Great Britain was finally towed free for repairs in August 1847. An interesting fact is that at a General Meeting of the company, shareholders were at pains to point out that the directors should NOT have refunded the passengers their fare !!! The Great Western Steamship Company sold the Great Western to help raise funds for her salvage but she herself was sold in December 1850 to Gibbs, Bright and Company, Liverpool for £18,000, about a fifth of her original cost. This company used her to take emigrants to Australia. The round trip took around four months and she made this round trip 32 times over the next twenty years. This service was broken between 1855 and 1857 when, like the Great Western, she was used to carry troops to the Crimea.
Her passenger days ended in 1876 and she was laid up at Birkenhead. In 1882 she was acquired by a company who converted her to sail and used her to transport coal from Cardiff and Penarth in South Wales to San Fransisco. These trips were around Cape Horn and the round trip took a year. On 6th February 1886 she left Penarth for her third trip. By 18th April she was near Cape Horn and in serious trouble. A storm was blowing and her old hull was straining under the weight of the coal she carried. On 21st April her cargo shifted and had to be painstakingly shovelled back into postion. On 10th May her fore and main top-gallant masts were lost, three days later she turned and ran for the cover of the Falkland Islands, reaching Port Stanley on 26th May. The cost of getting her home was deemed too great and she was sold as a store ship for wool for £2,000. She was later used as a coal store, but in 1933 she was proving uneconomical even as this, even the Royal Navy rejected the offer to use her as a target ship. On 12th April 1937 she was towed to Sparrow Cove where she was beached, holes punched through her stern and she was left to decay, visited only by seabirds.
In 1968 the SS Great Britain Project was formed and plans were drawn up to return this great ship, in more senses than one, to her home port. On 13th April 1970, 33 years to the day she was beached, the pontoon she was to return home on was pumped out and she was lifed clear of the beach. She was taken off the pontoon at Avonmuth Graving Dock and on 5th July she was towed up the River Avon. On 19th July, the anniversary of her laying down and launch, she was floated back into her home, the Great Western Dock at Hotwells.
This page created 5th September 2009, last modified 25th February 2010