Christmas Steps (2)
At the top of the Steps and to the left are the chapel of the Three Kings of Cologne and Fosters Almshouses.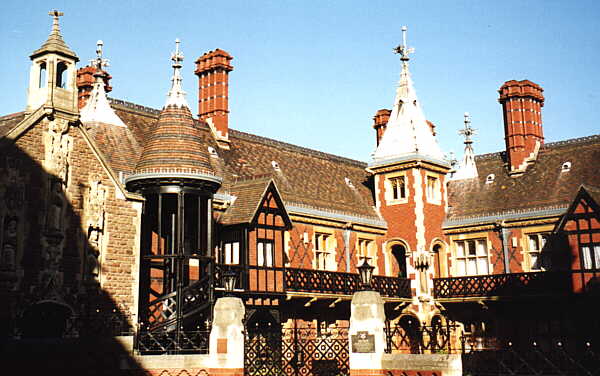 Foster's Almshouses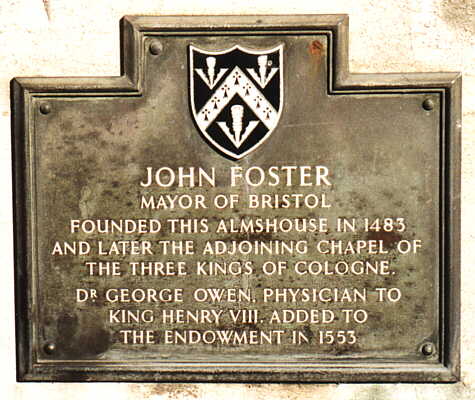 Plaque to John Foster and George Owen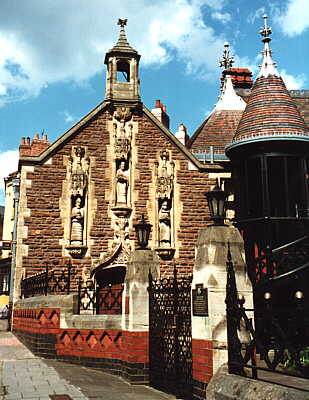 Chapel of the Three Kings of Cologne
The chapel was founded in 1504 by John Foster. The Three Kings are the Three Wise Men of the Bible. These were, Melchior; king of Nubia and Arabia; who gave gold. Caspar; king of Tarsas and Egypt who gave frankincense and Balthazar; king of Godolie and Seba who gave myrrh. The bodies of these kings are supposedly buried in Cologne Cathedral.
Myrrh is a bush, rarely 9 feet high, whose resin is an ingredient in incense and perfumes. It is used in the holy oil of the Jews and the Kyphi of the Egyptians for embalming and fumigations. Frankincense is another resin obtained from a leafy forest tree. It was used as a stimulant and cure-all, but the main use nowadays is in incense. Pliny mentions it as an antidote to hemlock. In the tenth century, Avicenna recommended it for tumours, ulcers, vomiting, dysentery and fevers. In China it is used for leprosy.
If you've the energy after climbing the steps, you can climb another set across the road to St Michael's Hill. On the corner you can see a real live optical illusion.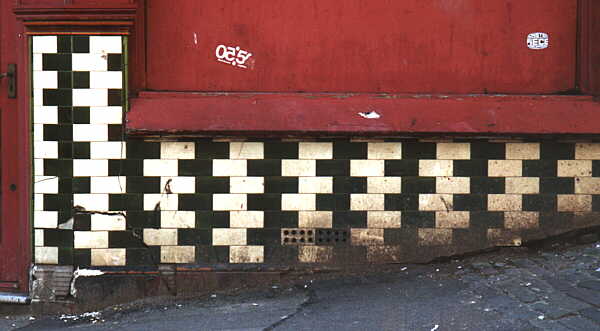 Cafe Tiles
The tiles on the cafe wall are simple rectangular tiles, it's just that the arrangement of light and dark tricks your brain into seeing them as being thicker at one end than at the other, causing a wavy line effect.
A little further up the hill is Colston's Almshouses.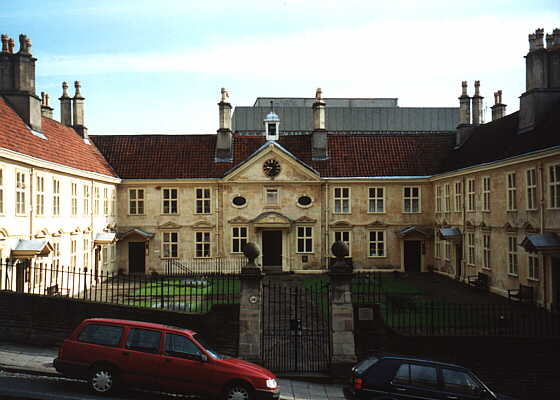 Colston's Almouses
A short walk from the Fosters almshouses at the top of Christmas Steps is The Hatchet public house. This was built around 1606 but a plaque on the wall states that an older public house dating from 1500 stood on the site.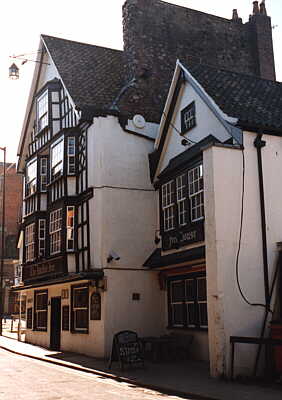 The Hatchet Public House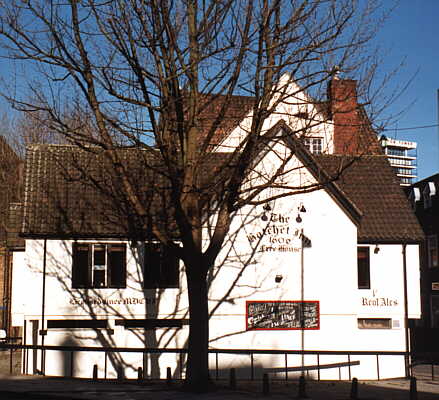 Another view of The Hatchet Public House
Sources
An A - Z History of 200 Bristol Street Names by Grace Cooper (Bristol & Avon Family History Group, 1989)
Annals of Bristol in the Seventeenth Century by John Latimer (William George's Sons, 1900)
British History Online - Bristol Hospitals
Bristol as it Was 1845 - 1900 by Reece Winstone (Reece Winstone, 1983)
Bristol Past and Present by J. F. Nicholls & J. Taylor (J. W. Arrowsmith, 1881)
British Civil Wars, Commonwealth and Protectorate (1638 - 1660)
Excavations at St. Bartholomew's Hospital, Bristol (Redcliffe Press / Bristol Threatened History Society, 1979)
Sixteenth Century Bristol by John Latimer (J. W. Arrowsmith, 1908)
Street Names of Bristol: Their Origins and Meanings by Veronica Smith (Broadcast Books, 2nd. Ed., 2002 - first published in 2001)
Unknown Bristol by Rosemary Clinch (Bossiney Books, 1985)
This page created 16th March 2000, last modified 16th January 2006