New England (1)
Patty's dad died in March 2011. Although widely traveled he'd always wanted to go to New England but never did. We decided to take the trip in his memory. Our holiday was from the 5th to the 14th August, 2011
Before we left we had no real plans, there are places named after my home city of Bristol, England in every New England state so we decided to visit those. We also knew the highest tides in the world are in the Bay of Fundy so we wanted to see that. We'd also read a book called "In the Heart of the Sea: The Tragedy of the Whaleship Essex" by Nathaniel Philbrick. It's the true story of the Essex out of Nantucket that was sunk by a whale in 1820. The crew had to resort to cannibalism during the 3 months they were adrift. One of the crew made a thread out of bits of twine that he scavenged and that is kept in Nantucket whaling museum so we decided to go and see that while we were there.
We originally planned to fly to an airport in Maine but couldn't get a direct flight from Indianapolis so we chose to land at Boston, Massachusetts and go from there. We also arranged car hire from Advantage. That was the extent of our holiday planning.
Here's a map of the places we eventually visited.
The adventure really started on the way to Indianapolis airport. There was a loud hissing from my car, a Suzuki Grand Vitara. It was the air conditioning fluid leaking from my car!
The flight from Indianapolis to Boston is only about two hours and we landed around 9:30pm on Friday, 5th August 2011, got the Nissan Altima from Advantage and headed for Connecticut. We really don't mind where we stay, so long as it's clean, the beds comfortable, has a shower and a TV then we're happy. If it hasn't got wifi then I just tether my phone using PDANet. The first place we stayed at was the Howard Johnson motel in Vernon, Connecticut. It was clean but definitely needed some updating. All the electrical outlet covers were askew and of different types which does leave a bad impression of hurried repairs.
The next day we set off for nearby Bristol, CT. a city of some 60,000 people. We went to a yard sale and Patty found a nice Princess House vase that she liked. We spent a while in the city but perhaps because we were excited it was the first day of our holiday maybe didn't look around as much as we would have liked and missed a lot of interesting stuff. It's a nice city, very green, but spread out on several hills and we didn't find anything too interesting. That was our fault, not the city's.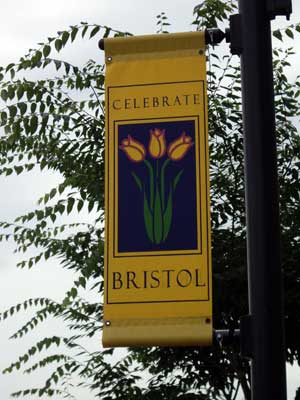 Bristol, Connecticut
From there we headed towards Bristol, Rhode Island. On the way we passed a viewpoint for Mystic, CT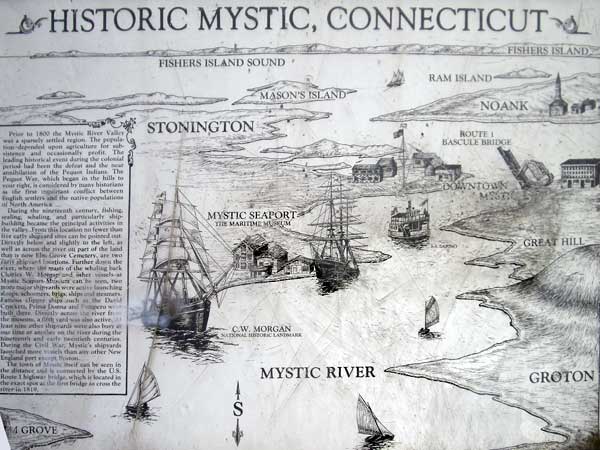 The plaque at the Mystic, CT viewpoint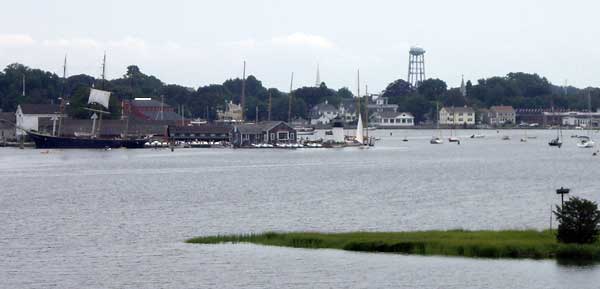 A view of Mystic, CT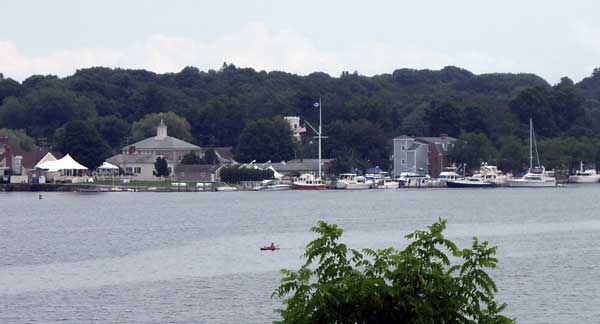 A view of Mystic, CT
Before we started the holiday we decided we were going to try and keep off the interstates as much as possible and use some of the less traveled roads. There is an old British comedy show called "Little Britain" and one of the lines in that was "If you like the smell of cow poo and being shouted at by farmers, you can't beat the English countryside". This was the New England we wanted to see. What's the point of doing 70mph down I90 or whatever when you can go just as fast down some country lane AND get a real sense of danger?
Actually, we found New England drivers to be the most law abiding and considerate I've seen anywhere. They mostly keep to the speed limits and will even stop to let you out at junctions. It made getting around really enjoyable. Boston drivers are a bit different though. I think someone gets a driving license from a Crackerjack box and the whole family and their friends use it, whether they know the rules of the road or not.
I had actually taken a wrong turning despite the Garmin StreetPilot C340 and Patty reading a map when we saw this...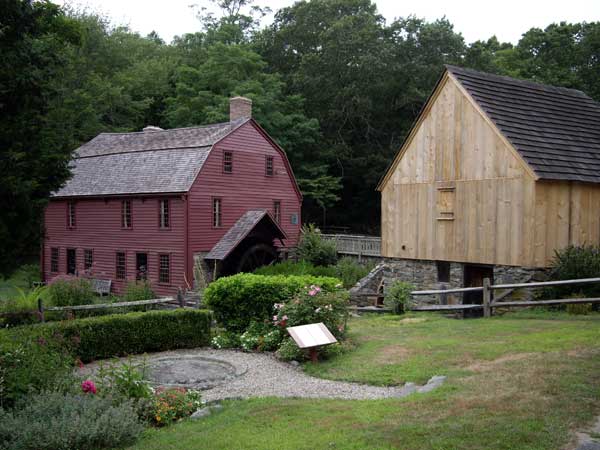 Gilbert Stuart Museum, Saunderstown, Rhode Island
It turned out to be the birthplace of Gilbert Stuart (1775 - 1828) and he's considered one of America's best portrait painters. With our usual sense of good timing the museum was about to close but they were kind enough to let us wander around, take photos and even help close the watermill sluice gates.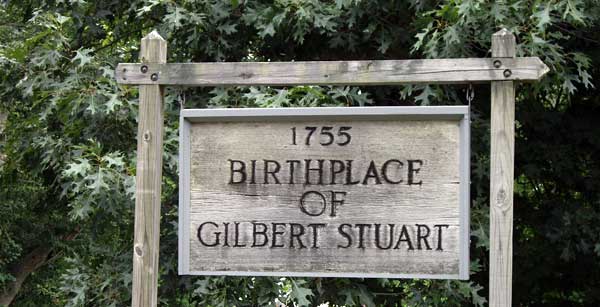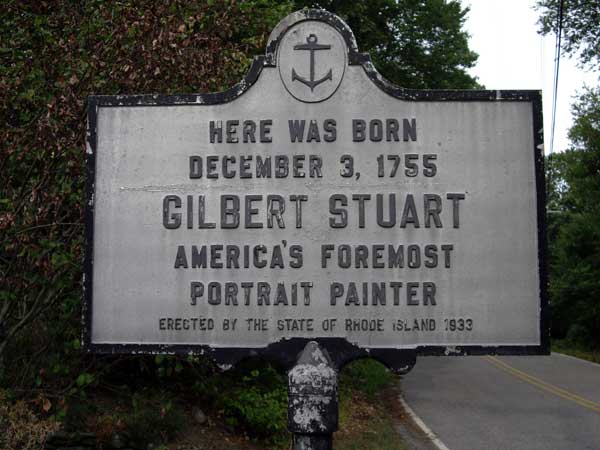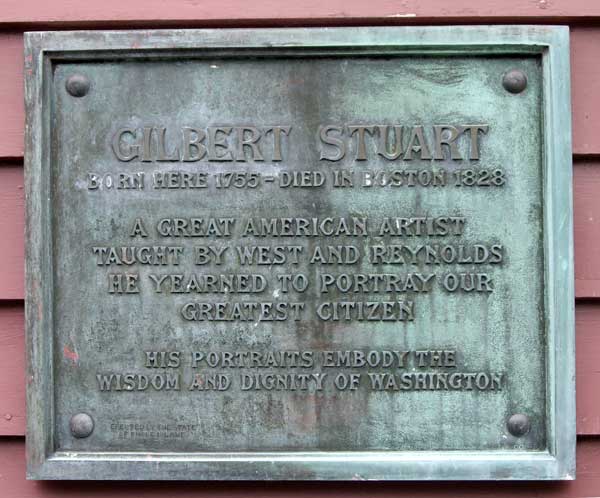 Stuart Museum signage
This page created 18th August 2011, last modified 7th September 2011