Russia 1981 (1)
On Friday, 31st July 1981 there was a solar eclipse that was best seen in Kazakhstan, Russia. Some friends, Andy Grasemann, Steve Webb, Neil Robson and myself spent from 26th July to 9th August in Russia. I've known andy since I was 11 in 1969 when we met at Hengrove Comprehensive Secondary School in Bristol. I met Steve and Neil later when I started going to Bristol Astronomical Society meetings. Here's a record of our trip...
I've created a Google Map of the places we visited.
Saturday, 25th July 1981
Got up at 7am. Andy and his dad called at about 7:50am and we drove down to the bus station and met Steve and Neil. The coach left Bristol at 8:45am and got into Birmingham at 11am. We took another coach into Manchester on a crowded motorway and then a £4 taxi ride to the Belgrade Hotel at Bollington near Macclesfield. We got to the hotel at around 4:30pm and the four of us shared two rooms.
When we got to the hotel the receptionist was a little confused by the fact that we'd paid the bill to Explorers Travel Club and not to the hotel. I tried to have a bath at 5pm but the water was cold but had one anyway - not recommended for weak hearts. Went into the bar around 7pm and into dinner at 8pm. I had a prawn cocktail, soup, rump steak garni and icecream. The meal cost £9 which made staying there about £20 for the night. [I thought that was expensive in 1981.]
Sunday, 26th July 1981
We had arranged for a 6am alarm call but they didn't call us until 6:20am. Still plenty of time though. Went to breakfast at 6:45am where I had coffee, orange juice, toast, egg, sausage, bacon and tomato. Neil felt a bit nervous and when he gets nervous he doesn't eat so he didn't have much breakfast at all. When we left the hotel it was drizzling and when we got to the airport we found that the plane that was due to leave at 10am had been delayed until 1pm. They were probably bolting the wings back on! While we were waiting went up to the terrace and took a bunch of photos of the planes. We also met a guy from Belfast named Adrian who was an expert on everything - and liked to tell everyone.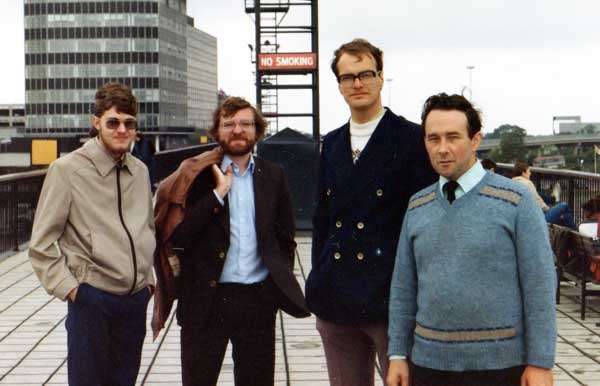 Andy, Steve, Neil and Adrian
Q: What do these planes have in common?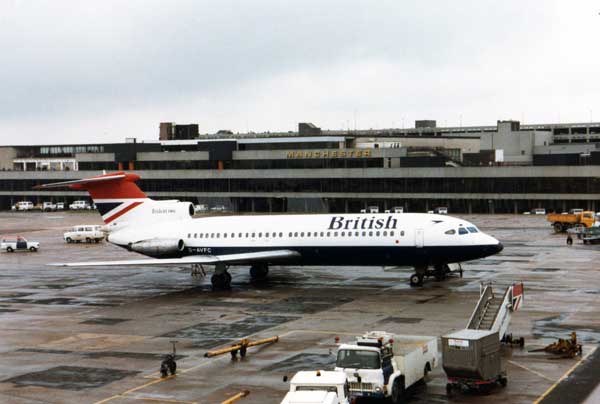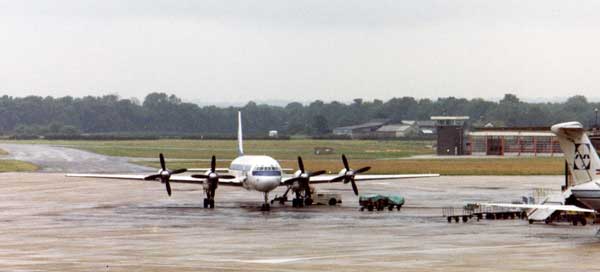 A: They are not going to Moscow
On the plane they fed us pressed meat, ham and salad which wasn't bad. I bought a packet of 20 Tponka cigarettes for 20p. We landed in Moscow at about 8:20pm. It took over two hours to get through customs, there were long queues everywhere for everything. I just had my hand luggage searched, Andy had everything searched. I noticed the airport x-ray machines were made by Philips. The coach we got onto was made in Hungary but we couldn't 'eve just yet as two of our group had gotten lost. When we did start, it took about an hour to get to the Cosmos Hotel which was about a year old in 1981.
I noticed that the concrete roads were not in very good condition but that most of the cars we saw looked new. Nina, our Intourist guide, gave us a few instructions. We had to be careful crossing the roads as most cars won't stop for pedestrians, we should take our coats off when entering restaurants and we we had to be careful not to lose our currency control forms as we could have our money confiscated.
The Cosmos Hotel was very nice but as we didn't get there until after midnight we missed dinner they made a scratch meal of bread, mineral water, cheese, eggs and tomato for us which we ate in the hotel reception hall.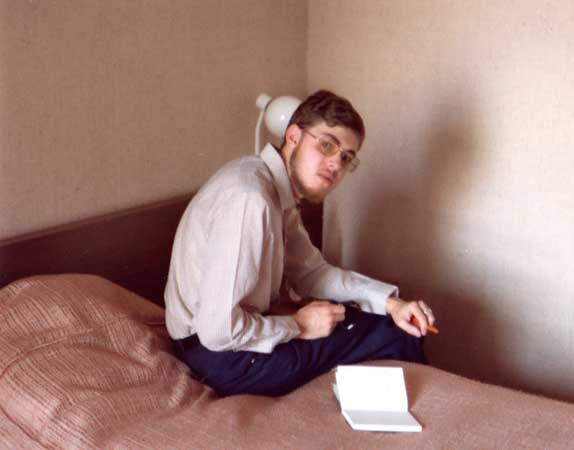 Andy in our room at the Cosmos Hotel
Monday, 27th July 1981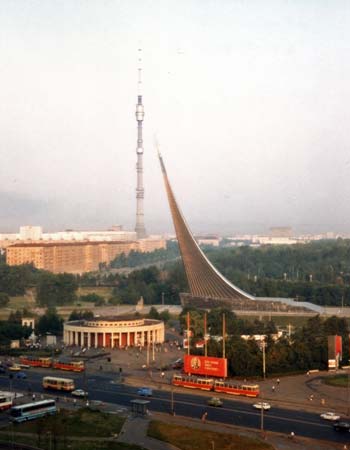 Cosmos Hotel - view from our room
The tall tower is a radio and television mast
The big swoop is a monument to "Soviet Achievement in Space" or "Monument to the Conquerors of Space" which was erected in 1964
The circular building is a metro station
When I woke up at 6:45am, andy was already up and about. He'd got up at 6am. It was already very warm. Breakfast was at 9am and consisted of sour cream, cheese, bread, apple jam and egg omelet. Changed some money at the hotel, £1 is worth around 1.5 Roubles. After that we were taken on a tour of Moscow. Neil and Andy took a huge number of photographs, Steve didn't seem to take very many and I was somewhere in between.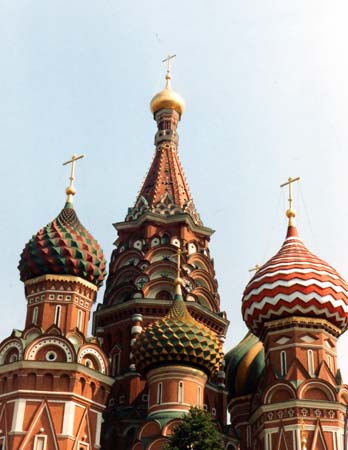 St. Basil's Cathedral in Red Square
It was built between 1551 and 1561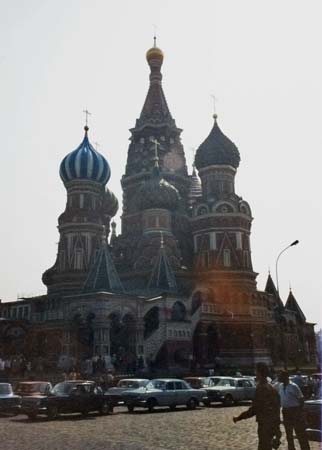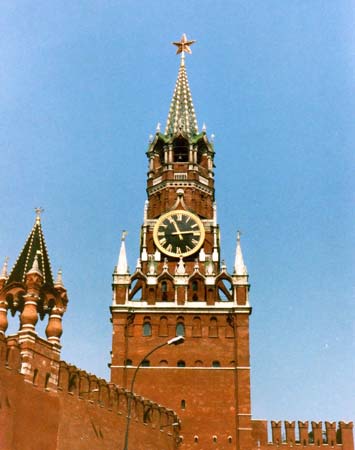 Spasskaya (Spassky or Saviour) Tower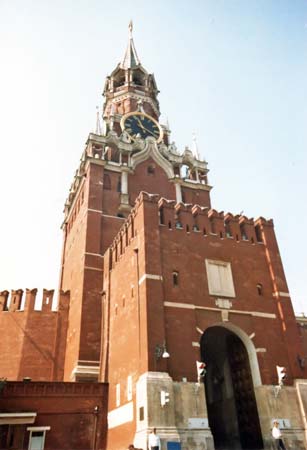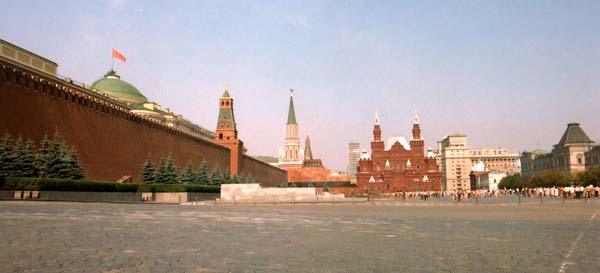 Red Square
From left to right: The Kremlin, Nikolskaya Tower, Lenin's Tomb, State Historical Museum, GUM Department Store
The fir trees to the left denote the burial places of Russia's military and political heroes
People aren't allowed to walk across a lot of Red Square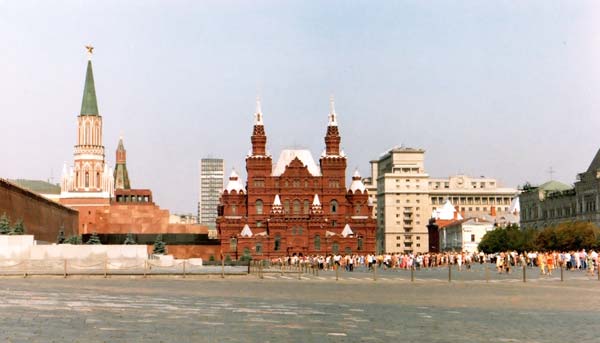 This page created 16th September 2011, last modified 23rd September 2011