Russia 1981 (11)
More photos from around Tselinograd...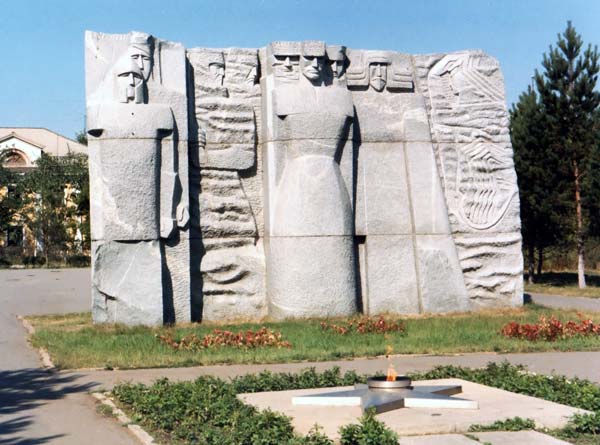 Monument to the Heroes of WWII
and Eternal Flame
Dinner in the hotel was at 7pm and consisted of salad, meat and potatoes, meringue and beer. During dinner a pop band played for us. I enjoyed them but some of the others didn't. After 3 songs they packed up and left. After supper we all had a short, casual meeting about the eclipse, which is in two days time. It was mostly about camera settings and the usual warnings about looking at the eclipse through telephoto lenses - not a great idea unless you want to be blind for the rest of your life. Most of the information we went through can be found on the Kodak site. For one of my cameras I worked out I needed a f number of 1/3,000. Yeah right. Here's a page from my original notes...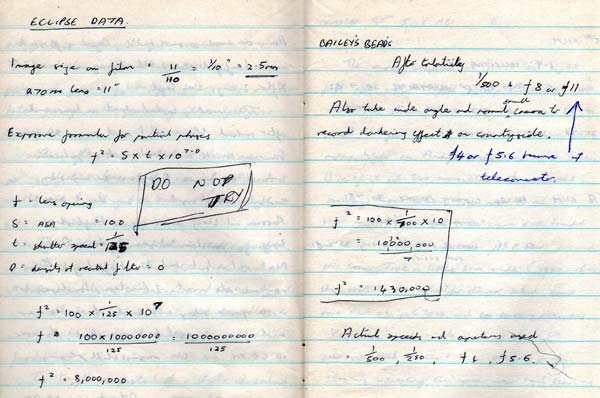 Exposure calculations for photos of a solar eclipse
Neil started to feel a little better and ate most of his dinner. After dinner, Neil and Andy retired for the evening. Both get tired with the heat, it's been nearly 40C, over 100F nearly all the time we've been in Russia, and all the traveling we've been doing. Steve Webb and I went for a short walk around the hotel.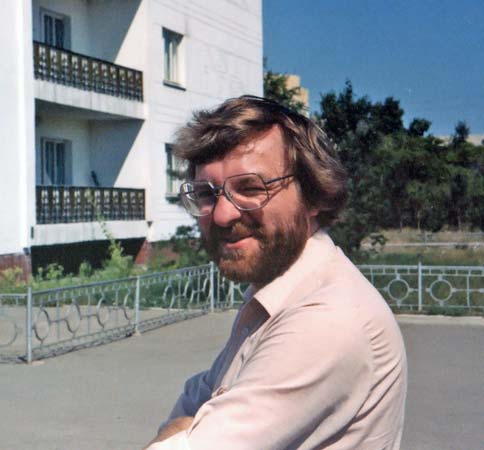 Steve Webb
There were loads of police around and we saw a drunk arrested. Everyone seems very curious about us and we tried talking to several people but the language barrier is a real problem. Music started from loudspeakers in the square about 8pm and it seemed quite a gathering place. It was mostly pop or folk music, no martial music as I expected. The music stopped dead on 11pm.
Thursday, 30th July 1981
Woke up a 4am just bathed in sweat. Stayed awake for about an hour then fell back to sleep. Andy had to shake me awake at 8:30am as breakfast was at 9am. I didn't enjoy most of breakfast mostly because of all the sour cream. We had cold sausage, sour pancakes with sour cream. I don't like sour cream!
Took a coach tour around the town starting at 10am, which I can't remember much of, then back to the hotel for lunch. It was much better than breakfast, salad, meat and potatoes, with savoury pancakes.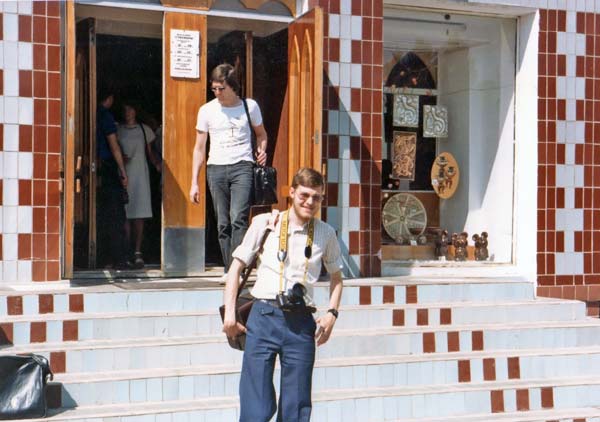 Andy in Tselinograd
In the afternoon we were taken on a tour of a children's clothing factory. The women wear scarves, most were gingham but some were red. The women who wore red scarves we especially good workers and got perks such as holidays in the works sanitariums. We really did notice the difference in the speed these women worked at. Everyone was a little embarrassed at being gawked at while they worked. most just furiously sewed looking down or looked around at us.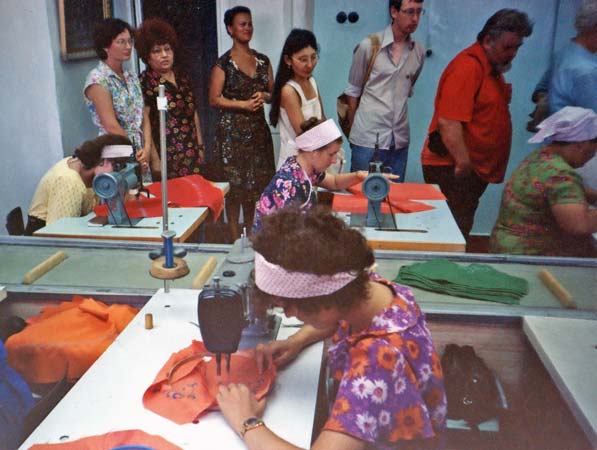 Children's clothing factory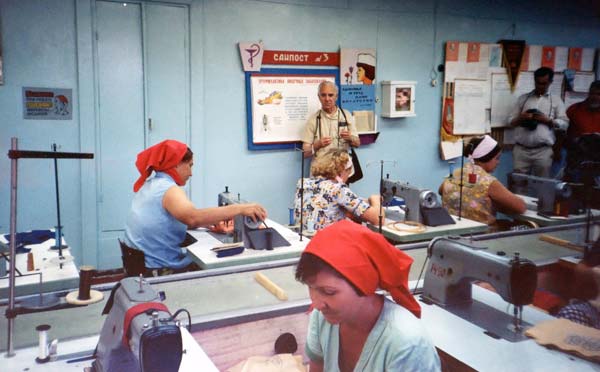 After the clothing factory we were taken to an exhibition of local art. some of these were very good. One picture was of Lenin visiting the offices of Pravda. I remember thinking was he there taking an interest in the operation of the newspaper or telling them what to write? Another picture was a table laden with food but through a windows could be seen a starving child. An icon recognizable in every country on the planet.
At about 4pm it was back to the hotel. I was hot and dusty and wanted a shower but there was no hot water so took a cold one. And I mean cold, some people may have called it invigorating but the water was freezing.
Andy had a nap and I just pottered around. I've bought too many clothes, especially jumpers and sweaters. It's been hot all the time we've been in Russia and I haven't worn one once. Andy sometimes sleeps very restlessly and I'm sure that I don't help as I need less sleep than he does and forever doing things whilst he's trying to rest.
Steve frog-marched into the room, very pleased with himself. He's just been out and bought himself a Russian fur hat.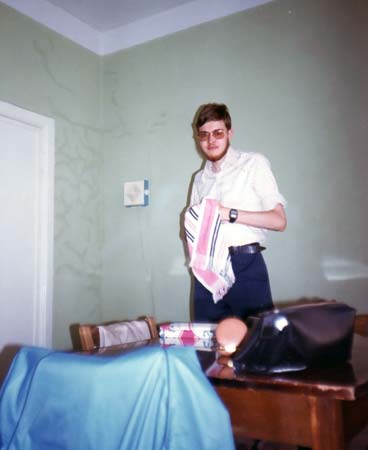 Andy in Hotel Ishim, Tselinograd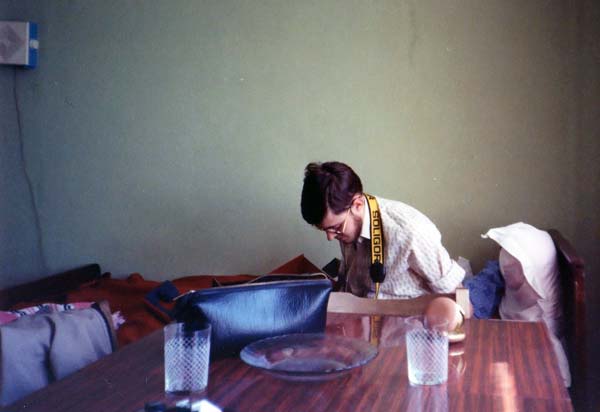 Andy making his own diary.
We both did this, which is just as well as I created these webpages almost exactly 30 years after these photos were taken.
Andy and I have been friends since we were 11. Surprising really as although we have some of the same interests we are completely different characters but we generally get on very well together.
This page created 24th September 2011, last modified 25th September 2011