Russia 1981 (12)
More photos from around Tselinograd...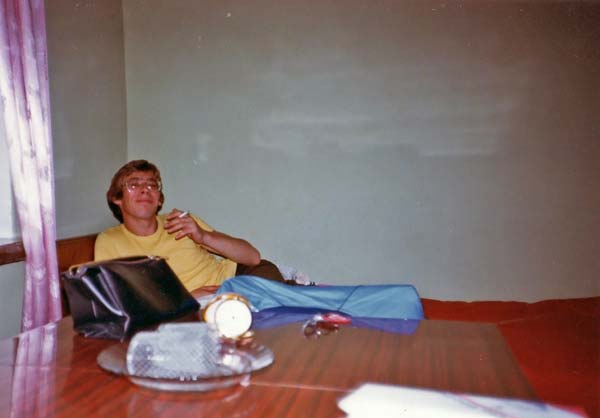 Me in our room at the Hotel Ishim, Tselinograd
Dinner was at 7pm and was a salad consisting of shredded white cabbage, tomato and cucumber. Next came caviar and crackers. I don't know what the fuss is about caviar, it's fish eggs. they have a salty taste and not very fishy. Then more meat and potatoes, which we seemed to get almost very meal followed by apple jam meringue.
After that a few of us took a stroll around town. Two Irish guys who were sitting on the hotel steps were told to move by a couple of policemen. There was a short argument but they got up and came and sat on the wall where the rest of us were. It turns out on of our coach party is from Weston-Super-Mare so talked to him for a while.
There was a cat that first of all I thought was being tormented by some young kids but when I wandered over there to see they were just handling it a bit heavily. They were trying to feed it, so it put up with some of the heavy petting it was getting. NO - not that sort of heavy petting.
We are all pretty excited as it's solar eclipse day tomorrow and we're all looking forward to it. We have to be out of the hotel and on our way by 4:30am so went back to the hotel. Andy was already asleep but it was much to hot for me to get any decent sleep.
Friday, 31st July 1981 - Eclipse Day
I eventually fell asleep around 2am. Pretty useless really as we had to get up at 3:30am to get ready and be on the coaches for the observation site at Shortandy.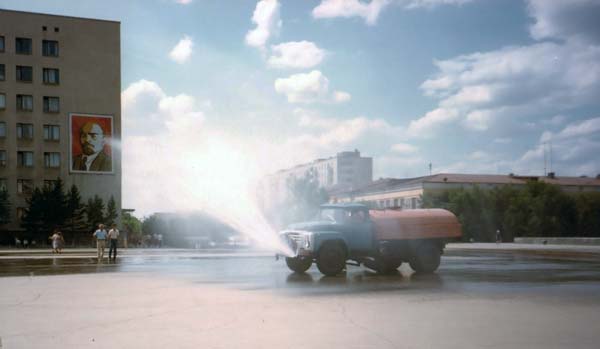 Tselinograd street cleaning
Nearly all the tourist area we visited in Moscow and Leningrad were cleaned every day
I made a note saying this photo was taken at 4:15am but now I'm not so sure because sunrise in July here isn't until 6.45am
There was quite a cavalcade. Two coaches for the 56 people from Explorers Travel Club, another two for a party from Germany who stayed next to the Hotel Ishim in the Hotel Intourist, an ambulance and two police cars. We all left Tselinograd around 4:30am. There are three Shortandy's in Kazakhstan and I don't know which one we went to. One is 40 miles north of Tselinograd, one is 85 miles north and the other is 50 miles south east. Whichever one we went to it took 1 1/2 hours to get to and it was in the middle of nowhere. No building that we could see, just a place in the middle of the Russian steppe. We got to Shortandy, whichever one it was, at 6am.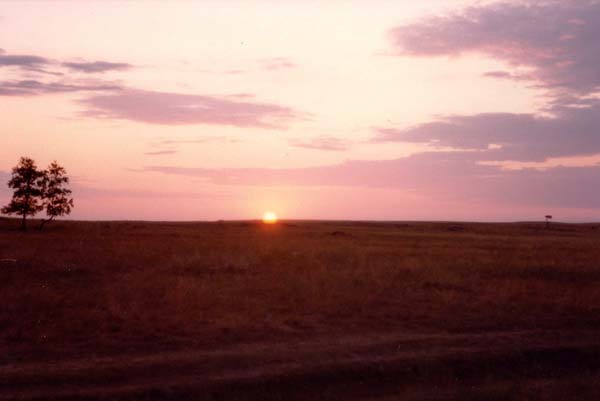 Sunrise at Shortandy - 6:45am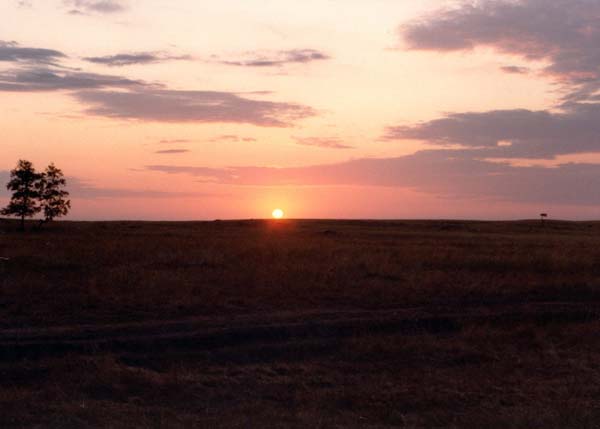 I can't ever remember seeing a sunrise before. I always thought the sun just appeared in the sky around 9:30am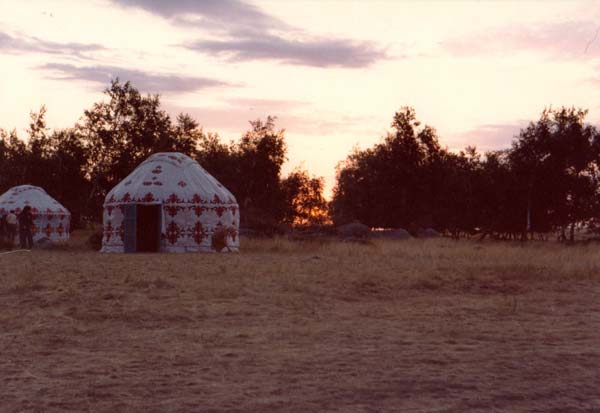 The Russians were fantastic and had erected several Yurts or Yurtas for us to rest in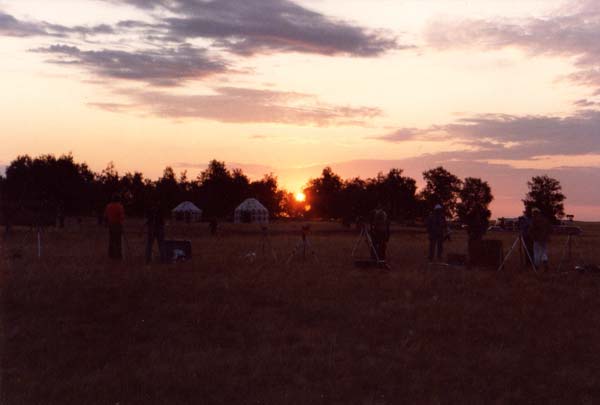 Setting up the cameras for the solar eclipse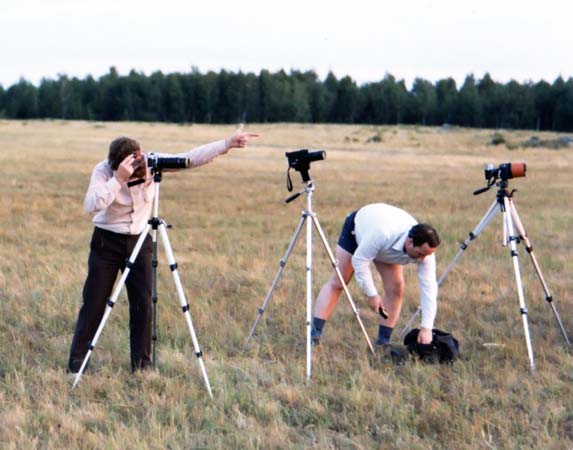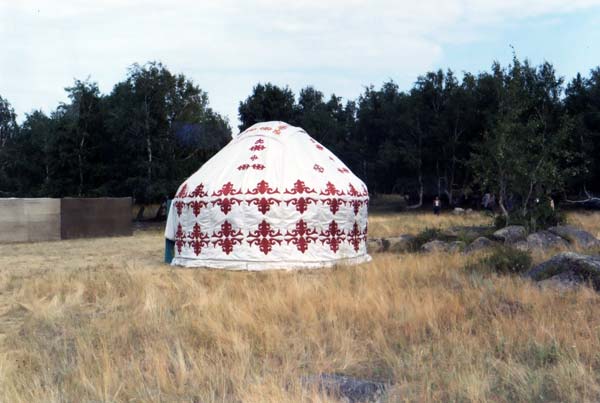 One of the yurtas the Russians provided for us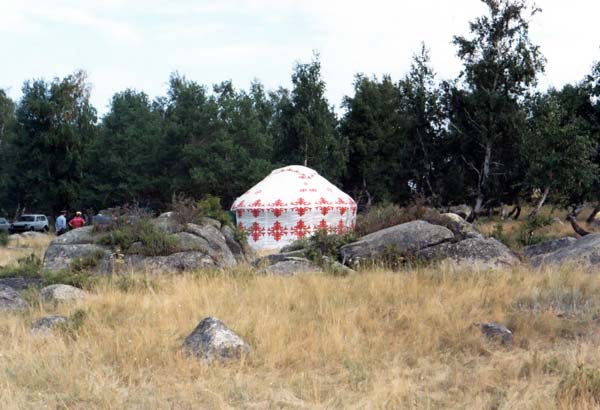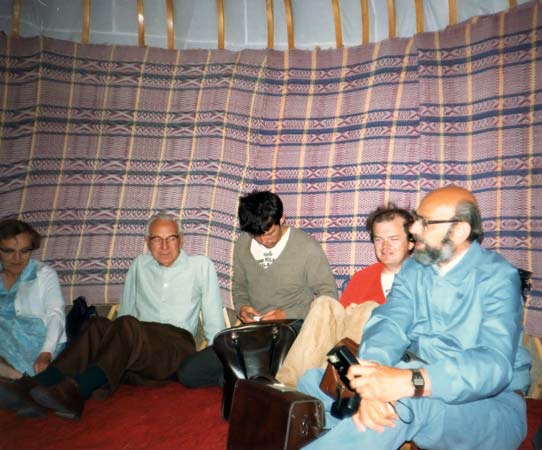 Inside the yurta
This page created 24th September 2011, last modified 24th September 2011