Russia 1981 (15)
More photos from around Alma-Ata...
The tour around Alma-Ata was a waster of time, nearly everyone fell asleep - too much alcohol and food from earlier in the day. I didn't but sat in my seat fairly comatose and didn't notice much of anything that was going on at all.

Young Pioneers
Young Pioneers were disbanded in 1990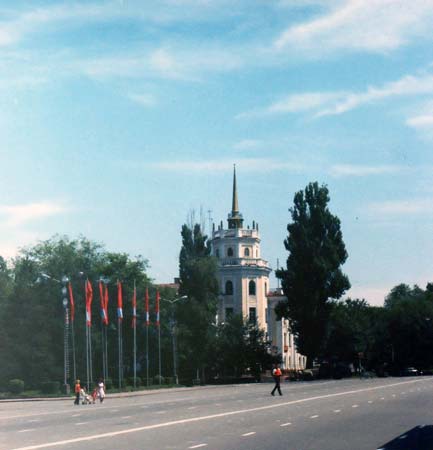 If I was fully awake at the time I'd be able to tell you what this building was
But I wasn't, so I can't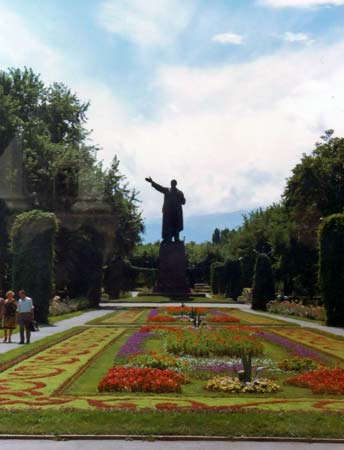 The almost obligatory statue of Lenin
We got back to the hotel around 5pm. I had to ask the "keeper of the keys" (dezhurnaya - the floor monitor) how the toilet worked. Instead of a pull chain there was a plunger that would not work. It turned out someone had left it in the wrong position and it wouldn't refill the cistern.
Three people in out little group of 19 are leaving us. Dr. E. B. Nash, a Canadian doctor and his wife, who now live in Bermuda, and an English woman who is traveling with them are leaving for other parts of the Soviet Union. They joined our party just before the eclipse and are having to pay for all the extras, like meals, that are included in our costs. Not that I think they mind, they seem perfectly happy doing their own thing.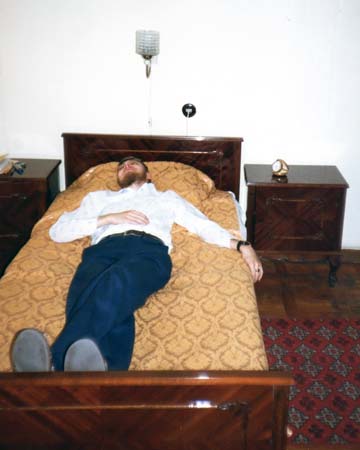 Andy, Seven Rivers Hotel, Alma-Ata
Dinner tonight wasn't very nice. There was nothing wrong with it, just there was a lot of sour cream and onion, and I don't like either. We started with smoked fish and over-ripe tomatoes. Then came with the onions stuffed with meat and onion. The meat was good, but as I said, I don't like onions. As a desert we had apple jam merangue.
After dinner, andy went up to the hote lroom and some of us went for a walk. We came across an open-air concert. There was folk music, dancing and a rock band. The folk music taped and projected onto a screen but the rock band was live and got a much bigger audience. We got back to the hotel room around 10pm and a smaller group of us went to the hotel bar.
Sunday, 2nd August, 1981 - My 23rd birthday
Up at 7:30am. Breakfast was cheese, bread, jam, fried eggs and tea. After that it was up to the mountains and the Medeo ice rink.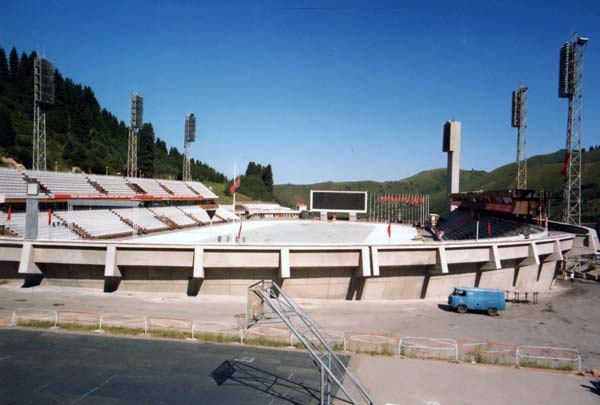 Medeo Ice Rink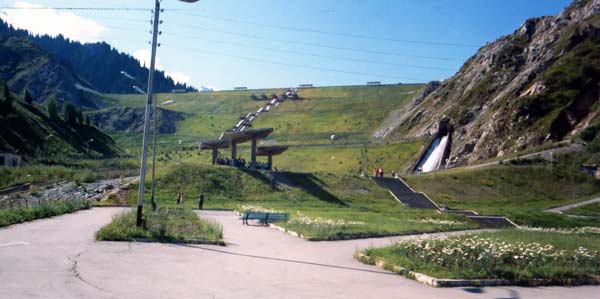 Medeo earth dam
A huge earthen dam protects the rink and Alma-Ata itself from landslides and floods. Our guide said the 350 steps up the side of the dam were worth climbing as the view from the top was spectacular. Myself and Andy Panteli were the first to the top and found that the guide was right in only one of the things she said. The views from the top were spctacular but there were 850 steps not 350.
It was very hot and we took full advantage of a drinking fountain on top of the dam. Then we settled down and watched other people coming up the steps. We didn't think some would make it.
Steps up the earth dam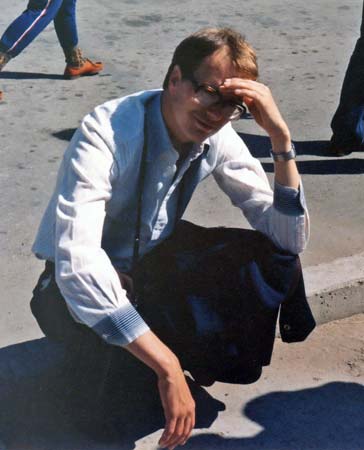 Neil was badly affected by the heat, altitude and exertion
He was very sick after the climb up those steps
I imagined a huge lake on the other side of the dam, instead there was this...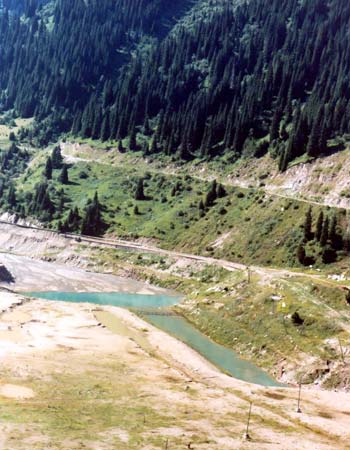 The other side of the dam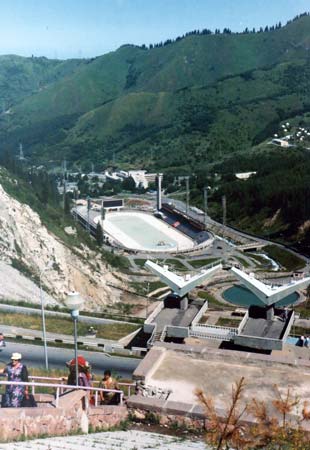 Medeo ice rink from the earth dam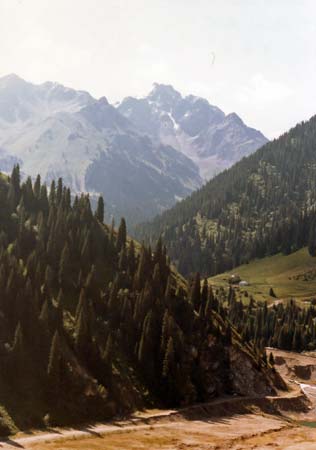 View from the earth dam
This page created 25th September 2011, last modified 27th September 2011