Russia 1981 (16)
More photos from around Medeo, Alma-Ata...
More views from the top of the earth dam at Medeo...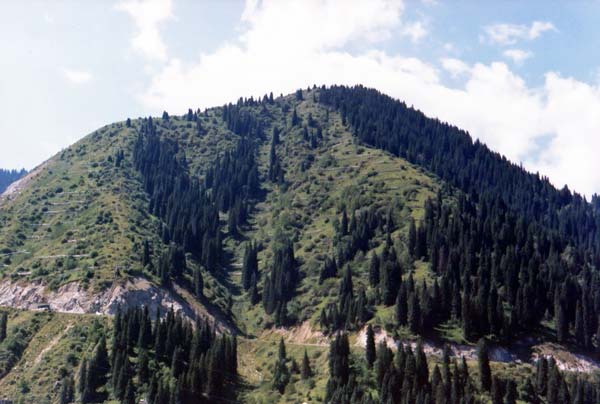 Views from the Medeo earth dam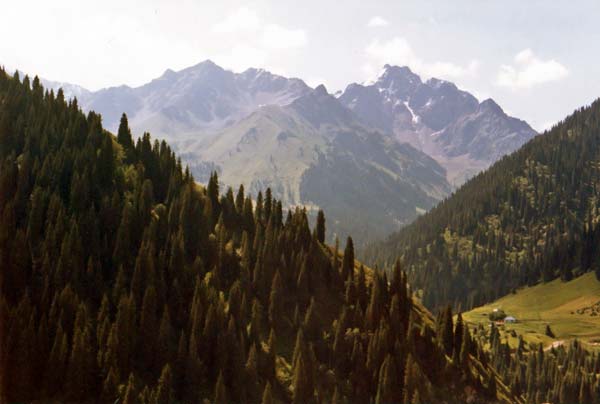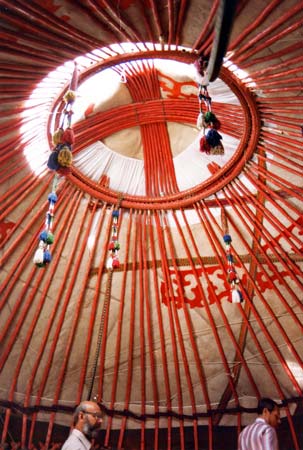 Interior of Kazakh Aul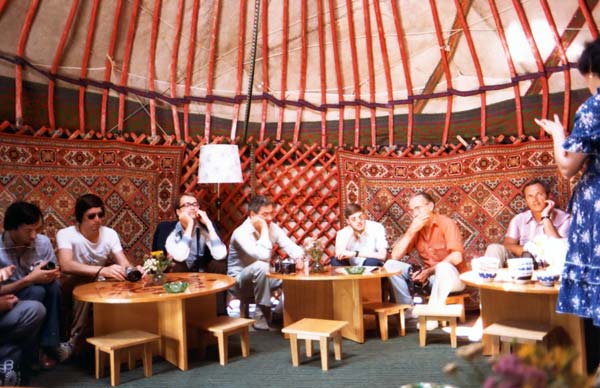 Kazakh Aul
Some of our happy band of 16
Left to right: Two Belgians (the one on the right was very sick on the plane to Alma-Ata), Neil Robson (still not eating properly), Dick, Andy Grasemann, Dick's friend, Rommel (an Egyptian) and our interpreter (standing)
Dicks; friend would later get very ill and spend several days in bed
The trip is getting to be very wearing for some people. Although we've only been in Russia for 9 days now it's been hot all the time. We've been very busy and some people aren't getting enough sleep or eating enough. The food certainly isn't what we are used to. I managing to eat quite a lot of it but there is some I would not touch - mainly because I don't like them anyway. Russians seem to like very undercooked eggs which makes me gag, and I don't like things like onions. Some people are also having stomach problems with diarrhea and stomach cramps. The people who stay up later (Steve Webb, Dick, Mr Campbell, one or two others and myself) in the bars seem to be staying more healthy - or is it because we've got stronger constitutions in the first place?
Kazakh Aul specializes in traditional food, most of which I do not like at all. Some of it was just euk, most of it was ever so euk. The horsemeat we've had isn't so bad, a very strong taste and tough. Fermented mares milk called Kumis, we've had several times and I think it's horrible. It looks and smells harmless enough but the taste of it turns my stomach. Here's my thoughts on it. Allow a bottle of milk to stand in a warm place for about three weeks. Stir the sludge, strain out all the lumpy bits then add 2 pints of vinegar, serve cold. Don't throw away the lumpy bits. You can squeeze them altogether, let it dry, cut it into squares and call them "sweets". They look, feel and taste like Bakelite.
On the other hand we get lots of fresh fruit and vegetables and the sugar beet sweets we get sometimes are great.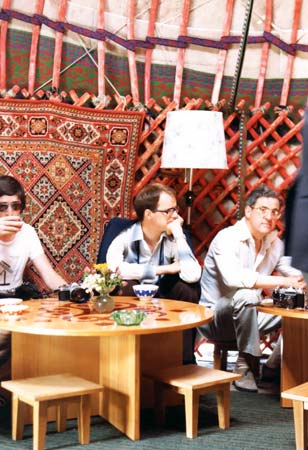 One of the Belgians, Steve Robson and Dick at Kazakh Aul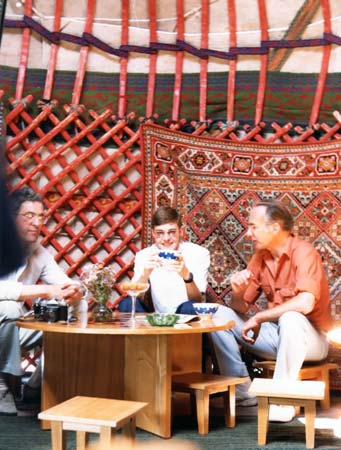 Dick, Andy and Dick's friend (I never learned his name) at Kazakh Aul
By this stage in the holiday the only time Andy smiled was when he saw a camera pointing at him. It was shortly after this that Andy said he wanted to get flown back to Moscow and get a plane home. This would have been a very expensive undertaking but luckily after a day or so he was feeling a bit better.
We only stopped at Kazakh Aul for a rest, the kumis and sweets, a sort of elevenses. After that we were back on the coach and taken to the Zhailjau restaurant for lunch.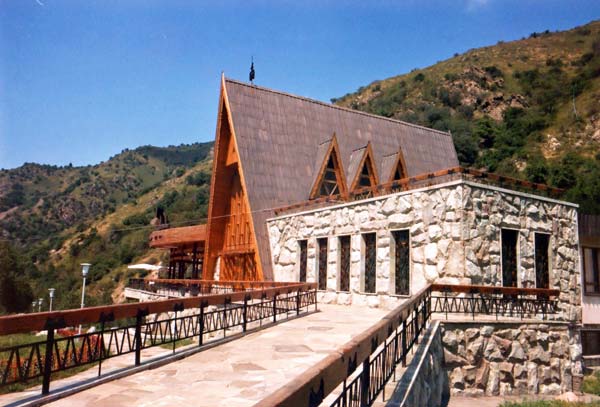 Zhailjau Restaurant
The wine with our meal was excellent
I wonder if this was the area they built the Zhailjau golf course in 2006?
This page created 26th September 2011, last modified 27th September 2011