Russia 1981 (18)
More photos from around Alma-Ata...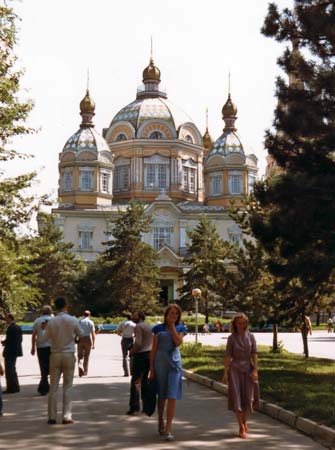 Zenkov Cathedral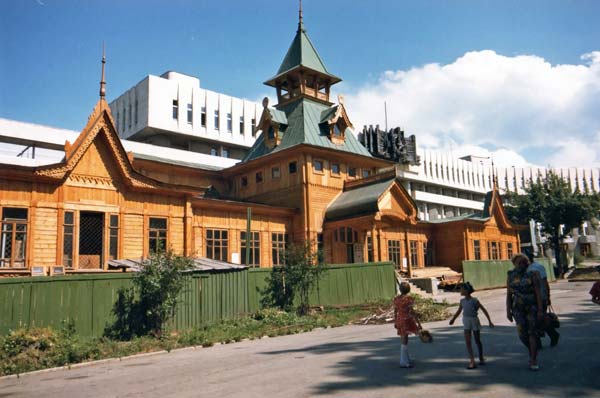 Museum of Musical Instruments
In the evening we went to see the Moscow State Circus in the Circus Stadium. Not surprisingly they were very good. People watching the circus instead of applauding spontaneously did that steady synchronous clapping. I find it annoying. One reason is that I've got no rhythm can't stay in synchronization and the other is because it doesn't sound spontaneous, just forced. The animal acts, and people's reactions to them were odd. There was an act that involved bears that I thought was funny but no-one clapped at all. There was an act with horses, I thought the horses looked skinny and I thought one or two of them showed weals, but they were well received. I enjoyed the acrobat and clown acts best. The clowns did two skits, one about a strongman and another about boxing that were hilarious.
Andy didn't go to the circus as he was feeling ill. In fact, he was sick several times while we were out. I don't think he's eating enough and although he's enjoying most of the holiday, he and several others are having stomach problems and finding the pace very tiring.
After the circus some of us met at the hotel bar. Left the bar at around 1:30am and fell asleep as soon as I was in bed.
Monday, 3rd August 1981
Woke up at 8am. My turn for an upset stomach today. Not enough to send me running to the toilet every half hour like some people but still uncomfortable. Incidentally dropped the toilet roll into the bowl and a very messy couple of minutes fishing it out. A good long shower afterwards! After breakfast we went back to the Museum of Musical Instruments where the staff played traditional folk music for us. Very enjoyable.
On the way back to the hotel we stopped off at a camera shop. The cameras here are very expensive but they did sell some reasonably priced projectors and darkroom equipment. The film was cheap but some people said Russian photographic film is not of the best quality.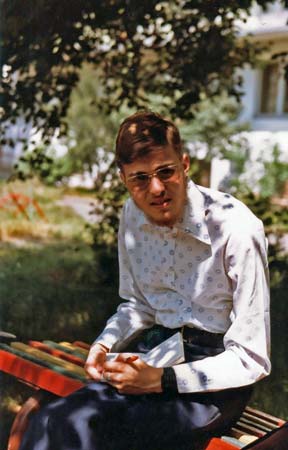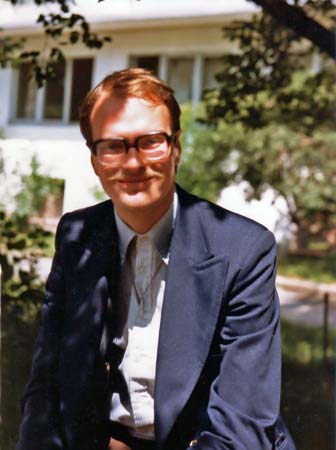 Andy and Neil outside the Seven Rivers Hotel, Alma-Ata, shortly before we left for Chimkent
Once back at the hotel we packed, ready for our 1pm departure for the airport. Once at the airport had a lunch of salmon salad, mutton and pasta soup, then the russian equivalent of beefburger and chips. I think the burger may have been made from horsemeat as the taste and texture was very similar to something we had to eat earlier in the holiday. Then a two hour flight west on a turbo prop to Chimkent.
Chimkent is another place we stayed at that had its name changed later, in 1993, the name was changed to Shymkent. We are staying at the Voskhod [Rising Sun] in Chimkent. Andy and I have a suite, separate bedrooms and a sitting room. Very nice. Andy gave me some of the pills he's been taking to settle my stomach. As American astronauts might say "bowel control has now been reassumed, beep"
Dinner this evening was very pleasant some sort of garlic meat and meatballs followed by tea and melon. I've only spent about £100 so far. Russia is amazingly cheap. Went to the bar about 10:30pm, stayed there chatting until about 2:30am. Went to sleep as soon as I got into bed.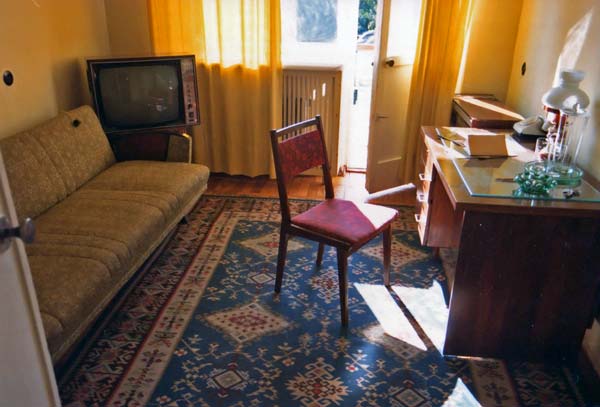 Our sitting room, Voskhod Hotel, Chimkent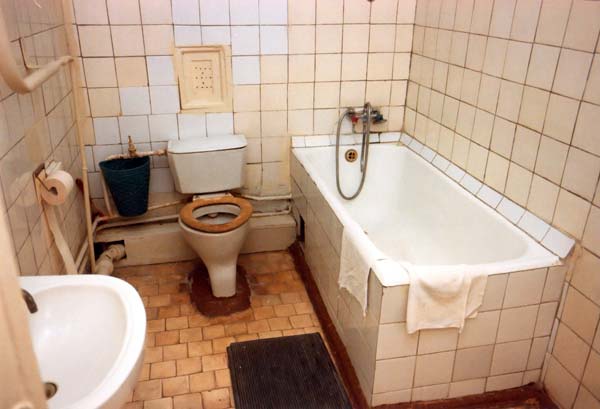 The bathroom wasn't so nice, but it was functional
Without a curtain you needed galoshes to get around after taking a shower
Sorry Steve, but with no locks on the doors, things like this are bound to happen
Tuesday, 4th August 1981
Andy tried to wake me at 7:30am, 7:45am and 8am. finally got out of bed around 8:15am. Didn't feel like breakfast and at 9am were were on the coach for the 100mile trip northwest to Turkestan and the Khodzha Akhmed Yasavi Mausoleum.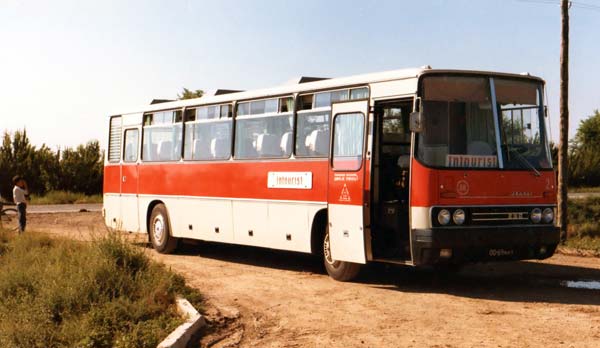 Intourist tour bus
These coaches were Hungarian made, nearly new, very comfortable, air conditioned and had a fridge
We took a small detour to a place near Kentau.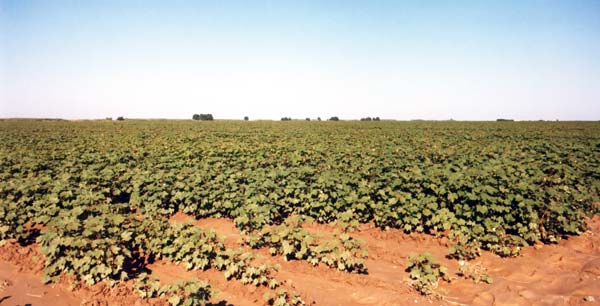 Cotton fields, Kentau
This page created 27th September 2011, last modified 28th September 2011