Western States (1)
A friend, Mike Jones, and I decided to take a fly drive holiday to California. A fly drive holiday is one where you fly in, pick up a car and drive off. As on other holidays there were places we wanted to get to but no real plans for anything.
We were in America from the 1st to 16th October 1995. As on my other holidays I was making notes all the way through and it's those that accompany the photos. It's 2011 as I'm adding them to the website and any new notes are marked in square parentheses.
After being messed around at Heathrow airport and having to fly into Los Angeles via Chicago - where the hell is Chicago? - we picked up the hire car and our holiday began. After traveling about 130 miles we arrived at a motel in Valencia around 35 miles from the Avis car hire place we picked the car up from. We had this trouble all the way through our holiday, the maps we got were rubbish and not all the roads are marked on inner city maps. As a result we were looking for something like the 3rd left when we really wanted the 7th left.
[Little did I know that 7 years after writing that I would be living just 200 miles south of Chicago and would know exactly where it is.
If I remember what happened at Heathrow was that the people who Mike bought our tickets from promised to have them waiting for us at Heathrow, when we got there they weren't there. After the phoning them it turned out they were going to courier them to his house which meant we had to drive the 120 miles back to Bristol, pick up the tickets and drive back to Heathrow. Of course this put us on a different flight which is why we had to change planes at Chicago.
Also, when we got to Avis at LAX I found I didn't have a credit card and couldn't drive the car without one, which meant I did all the navigating and Mike had to do all the driving.]
Here's a map of the places we visited.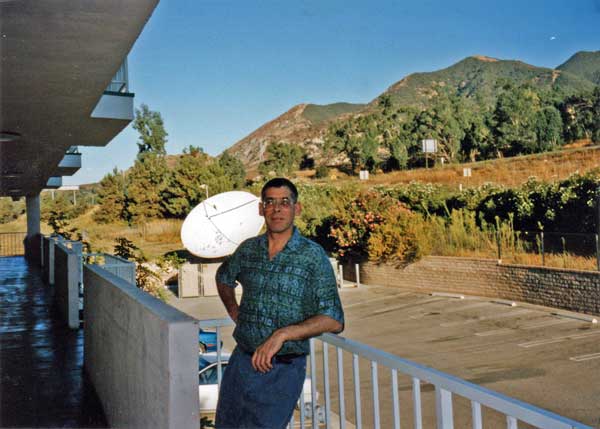 Me at the motel in Valencia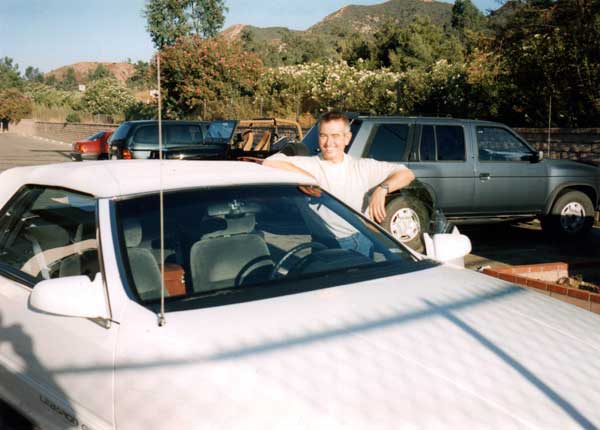 Mike and our LeBaron convertible hire car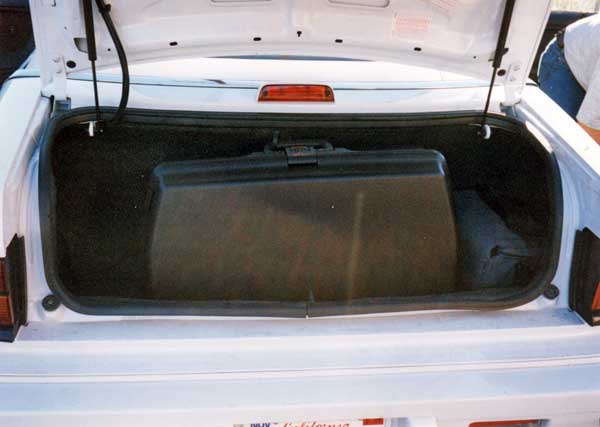 LeBaron luggage space
The car was comfortable, fast and sporty looking but it had bugger all luggage capacity.
We couldn't figure out how to turn the interior lights off or how to put the roof down.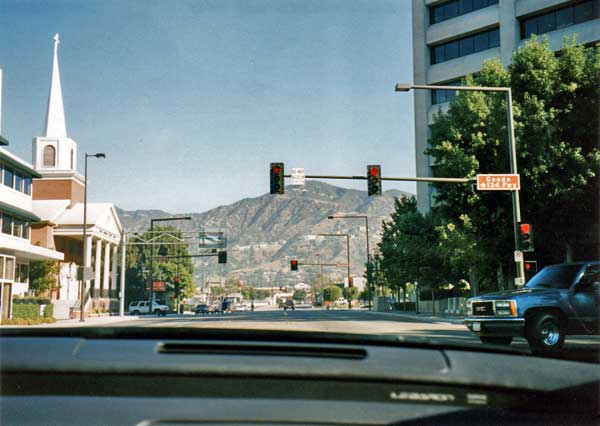 Valencia, California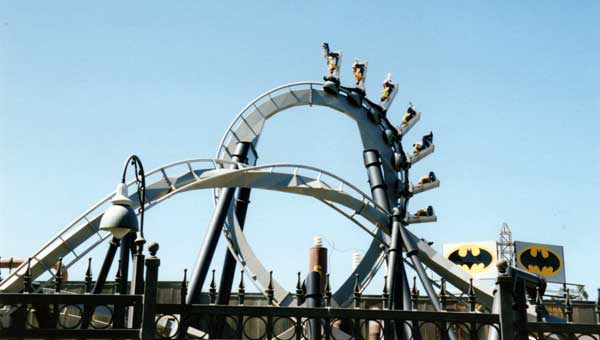 Gotham City ride at 6 Flags Magic Mountain, Los Angeles
They cut hollows out of the ground on the lowest points - but it looks like you're about to crash into the ground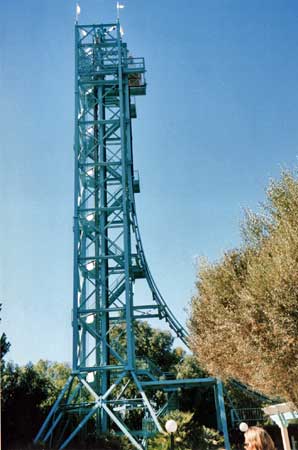 Free Fall ride at 6 Flags Magic Mountain, Los Angeles
If you like your stomach in your throat then this is the ride for you
I'm surprised Magic Mountain isn't covered in vomit and people having heart attacks. you should be able to make a good living by picking up all the loose change at the bottom of the rides. I would have taken more pictures of the place but I took my camera on one of the water rides and ruined the electronics.
After a couple of hours at the amusement park we drove the car back to Avis. We had to be shown how to get the interior lights off and how to put the roof down. Dumb tourists!
We found an advert for a cheap hotel in a free newspaper and spent most of the evening trying to get to it. We discovered the reason why - we were in the wrong town! We were in Santa Monica but the hotel was in Venice Beach! In the end we stayed at the Travelodge in Santa Monica.
That night we went to a bar and got very, very drunk. We showed the locals how to make a drink called a "monkey brain". This isn't a yummy cocktail but a mixture of vodka and Bailey's. The vodka curdles the Bailey's into a messy goo and you're supposed to drink the whole mess in one go. In their turn the locals showed us a drink called the "Flaming Asshole" which is a mixture of rum and tequila. Mike and I got outrageously drunk and very loud.
When we got back to the hotel the manageress was waiting for us. She said she could hear us from about 1/4 of a mile away. She had to let us into the room because we couldn't find the room keys. She slung us out the next morning.
We spent the day wandering around Venice and Muscle beaches with hangovers. Our guide books said tourists should stay away from both during the night as they have more than their fair share of druggies and assorted loonies. We certainly met some very strange people in our couple of hours there, but maybe that's because we were still dazed from the night before.
My camera sorted itself out and was now working again.
When we both felt a little better we drove down to San Diego. A brilliant city. We stayed at a hotel called "Tradewinds" on Mission Bay Drive. If the guy who owned it shook hands with us once he must have about a million times and his wife could talk the ears off a donkey. A very eccentric couple.
[According to the website, Richard Edward Finnegan Michaels had owned that motel for around 50 years. He passed away in 2010. "The funny old character who ran this place has sadly passed away. He was a gracious host and though eccentric, was the genuine article. A wonderful man, he will be missed!"]
The next morning we had breakfast at the "Broken Yolk Cafe". Got talking to a couple of people there. Why do Americans keep thinking we're from Australia? We didn't get the 13 egg omelette they serve but after a huge breakfast set off for Balboa Park.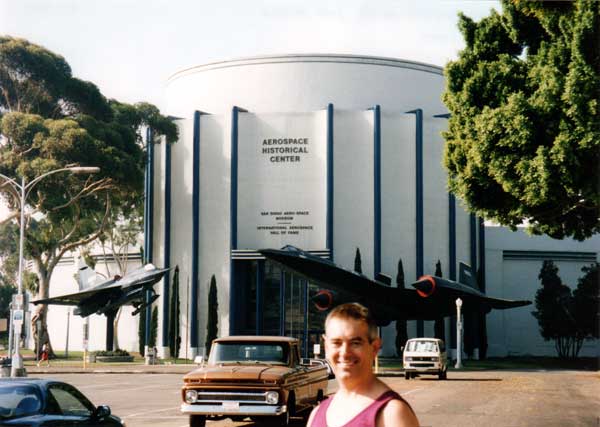 Mike at Balboa Park, San Diego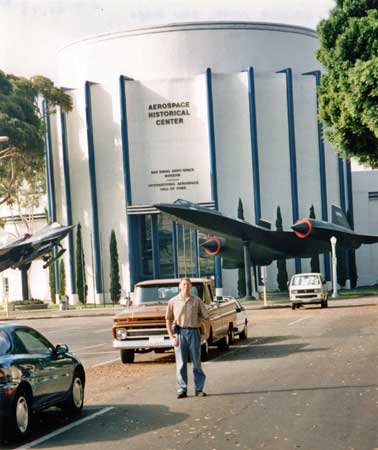 Me in Balboa Park, San Diego
Balboa Park is the home of the Aerospace Historical Center [now the San Diego Air & Space Museum] The plane on the left behind us is a Convair YF2Y-1 Seadart. This was a seaplane from the early 1950's designed to take-off and land on a pair of hydrofoils. It only flew as a prototype and never entered production. The plane on the right is a Lockheed A-12 Blackbird. Dating from the late 50's this plane flew at the edge of space at an altitude of around 64 miles. The fastest plane ever built, it could attain over 2,000mph. Basically it two huge engines and somewhere for the driver to sit. There is also an IMax cinema in the park.
In the evening we headed across the Mexican border to Tijuana. This place is really cheap. You could get a Rolex watch for £15 - about $10 in 1995.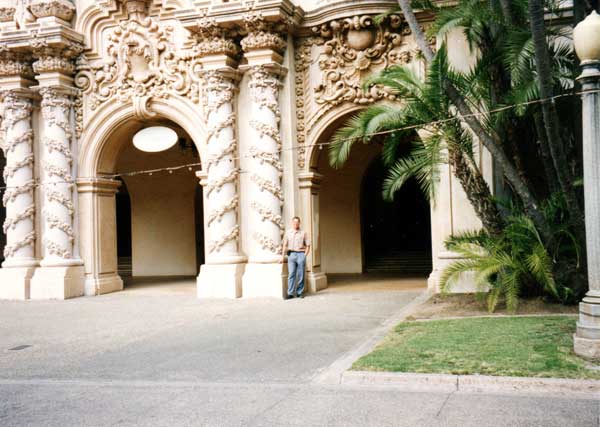 I cannot remember where this place is in Tijuana.
This page created 24th August 2011, last modified 7th September 2011