Bristol, Georgia
Population (1990) - 1,361
Patty's parents are "SnowBirds", that is they live in one part of the country, in this case Illinois, and move somewhere warmer in the winter. In their case it's southern Florida. In December 1999/January 2002, we visited them in their winter home, on the way down we visited the Bristols in Tennessee/Virginia and Georgia and on the way back the one in Florida. Unfortunately, it was dark when we got to Georgia and we really must visit the place again.
There was a slight incident on the way to Bristol, Georgia. Getting close to the town I was going a bit fast and got stopped by the police. He asked for my ID and driving license when I gave him my British passport and UK driving license I think I surprised him a bit. He asked if my driving license was valid in the US, I said yes. I'm fairly certain it is, but don't know for sure. Luckily for me, after warning me that he could actually jail me while they check out my documents he let me go on my, much slower, way.

Southeastern Georgia
It's about 100km between Brunswick and Waycross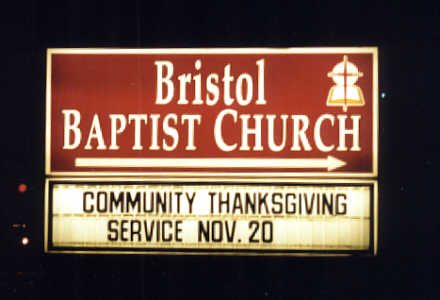 Bristol, Georgia
This is the only photo I took of the place that turned out properly, although taken in December the church sign still has Novembers' service on it.
This page created 31st October 2000, last modified 16th August 2005