A history and guide to Terre Haute - Differences 2
Differences and First Impressions (1)
Garden ornaments here are the thing to have. I don't mean little garden gnomes and stuff like in the UK, I mean all singing, all dancing, burn as much electricity as you can, giant outdoor exhibits. Most of the year some gardens are full of lights and little ornaments. At holiday times practically everybody has something. At Easter, gardens here are full of giant multi-coloured easter eggs, huge plastic chickens and electric Easter bunnies. In the autumn, gardens are full of bales of straw, glow in the dark Halloween figures, and billions of pumpkins. Christmas time, which seems to start here at the end of October, and people start decorating their house with fairy lights, not just a simple string but zillions of them. They plaster them all over the house, over the roof, down the garden fences, everywhere. Then there are the life-size plastic models of the Nativity, complete with all the animals and internal lights. Everywhere you go there are 6ft tall plastic snowmen, reindeers, Father Christmases, and wreaths of every conceivable kind. In fact, if it looks vaguely festive, made of plastic and got a light inside it, people will stick it in their gardens. As far as I can tell, at least one house in every street will have one of these huge outdoor displays. A couple of streets go all out and the effect is dazzling. There are so many lights in some streets that it must be around 5 degrees warmer than the rest of neigbourhood.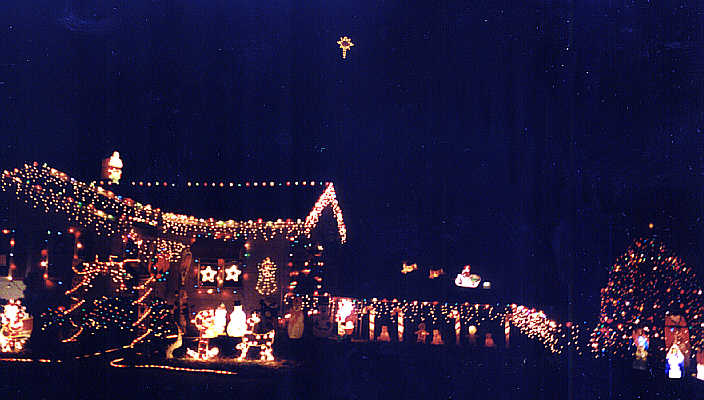 This is not a public display as such - this is someone's front garden, and so are the following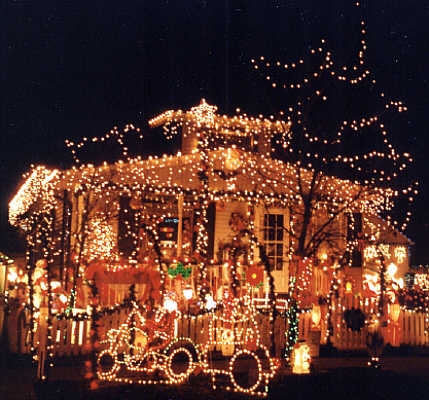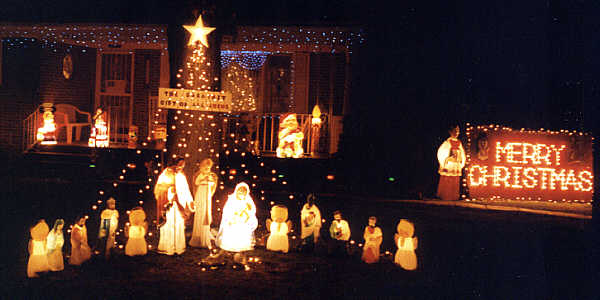 Nativity Scene
Another Christmassy thing I haven't seen before is the Christmas village. These are little china houses into which you can put little electric lights, apart from the houses you can get churches, little Christmas trees complete with fairy lights, model skating ponds, working traffic lights and all sorts of stuff. It all sounds a bit cheap and tacky, but when Patty put ours together it didn't look too bad.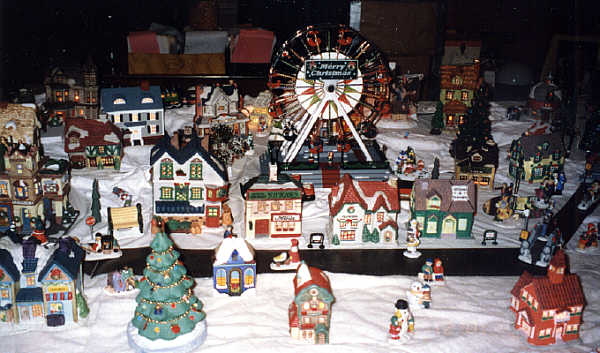 Our Christmas village
This page created 13th December 2001, last modified 6th February 2007