The Fowler family history
The following was given to me by Patty's step-mother who lives in Decator, Illinois. It gives a wonderful insight into life at the beginning of the 20th century. The copy I have is a photocopy of the original hand written text. I've kept the original spelling, grammar and, where possible, the layout of the document. Notes added by me appear in []'s.
HISTORY OF THE FOWLER FAMILY
Father
John Fowler
Born in Oldbury, England [Shropshire?]
Died January 2nd, 1933 aged 58 years
Buried in the Witt Cemetery
Mother
Margaretta "Rawlings" Fowler
Born in Shropshire, England on October 31st, 1877.
Died December 22nd 1957 aged 80 years
Buried in the Witt Cemetery
John and Margaretta were married in Hednesford, Staffordshire, England in a little parish, where I saw the record and also a record of their first child's, John, birth. John was 23 years old. Margaretta was 20 years old.
[From the above John was born in 1874 or 1875, and they married in 1897]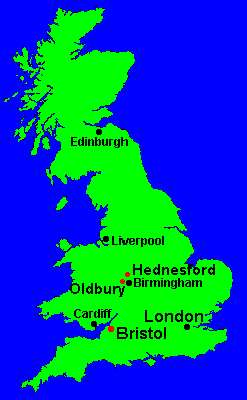 United Kingdom
To this couple was the birth of 11 children. The oldest to the youngest
John, born in England
William, born in England in August [?]. Died in Taylorville, Illinois. Buried in Taylorville.
Ellen Fowler Mosely, born in England, June 29th 1901
Died in Pana Illinois. Buried in Pana.
Husband Richard born Feb 9th 1901, died Aug 7th 1972.
Rosine Gladys Fowler Dhermy, born in Hednesford, England, May 8th 1903 [nr. Cannock, Staffordhire]
Arthur (Rosine's husband) born April 2nd 1901, died October 4th 1964
Lester John Fowler, born in Litchfield, Illinois May 24th 1904, died July 23rd 1978, buried in Nashville, (SW of St. Louis) Illinois.
Mary Jane (Lester's wife) died March 31st 1966
Myrtle Fowler Coffey, born in Litchfield, Illinois, December 23rd 1907
Husband, Loren Coffey born October [?].
Edna Marie Fowler, Tenoglio, Wheat, born in Witt, Illinois, April 24th 1909
1st husband, Anthony Henry Tenoglio
Born September 13th 1905, died October 24th 1935, buried in Witt Cemetery.
2nd husband, Duane Leslie Wheat, born in Witt, Illinois,
Died December 13th 1985 in Granite City, (Central St. Louis) Illinois, buried in Witt Cemetery.
Son, Anthony Junior Tenoglio, born January 24th 1930 in Taylorville, Illinois.
Died October 10th 1983, buried in Witt, Illinois.
Eileen Fowler Corzine, born in Witt, Illinois, March 26th 1911.
Husband, Joseph Corzine, died November 20th 1983, buried in Peoria, (NE of Decatur) Illinois
Paul James Fowler, born in Witt, Illinois, January 2nd 1913.
Married to Zelma Morgan Fowler. Lives in Taylorville, Illinois
Evelyn Jaye Fowler Crause, born in Witt, Illinois, July 15th 1915.
Married to James W. Crause, born November 1st [?]
Lives in Woodriver (nr St. Louis), Illinois.
Chester Fowler, born "still born" Witt, Illinois, buried in Witt Cemetery.
My Life with Mom and Dad
June 1st 1979
I [am] Edna Marie Fowler, Tenoglio Wheat, age 70 years.
Born April 24th 1909 at Witt, Illinois. I will try and write a little of my life and my five sisters and three brothers, starting from the oldest to the youngest. Bill, Nell, Rose, Jack, Myrtle, Edna, Sis, Jim, Jaye. I will write their ages later and place of birth. We were all raised in the same house, my father bought when he came to Witt. We all had a happy childhood, our parents punished us when we needed it, but were kind to us. None of us were little angels. We played and fought together like all children. Easter and Christmas and our birthdays were big days in our life.
Easter mom made all the girls new dresses and we got new shoes to wear to Sunday School "Methodist Church" and we were all baptized. Mom gave us each a penny for the collection pan. That is all any of the children gave, only Dr Adams adopted daughter gave a nickel and we thought they were rich. Every summer all the people got together for a picnic on a farm and it was a lot of fun. They made big rope swings for the kids to take turns on.
Most of my sisters used to call me moms and dads pet. Maybe it was because I loved them so much. I remember one time while talking about my mom I said she meaning mom. Mom said "who's she?" and I said he. Mom had to laugh and I thought I was cute. The only time I remember of being little was I couldn't see what was on the table for our meal without getting on a chair and I wished I was taller so I could see.
When I started in school in the primary as they called our first year of school at age 6 years then we went to the first grade and so on. My sister Rose took me and I remember crying to go home. I soon got used to the other kids but all my school days, I didn't like school and never did any good at learning. All us kids from Bill down attended the same school. We had two grades in one room. Mr Tucker was the janitor and all the kids liked him. When we took our own lunch in a molasses bucket with a wire handle to carry it, he would open for it for us with his pocket knife, the lid was hard to get off. He was a janitor for many years. I attended the seventh and eighth grade at the Avena building, it used to be a movie house and store. I never went to high school. My father was disappointed I didn't want to go and told me I had to go to school or go to work, so the day school started I went to work at the Pama Hospital, a bunch of girls from Witt were working there, we got our room and board at $15 a month. I was proud of my wages and gave it all to mom and dad and mom would buy my clothes and give me spending money. We got one Sunday a month off and Dad would drive down to get me and Adelaide Shaw and Annie Holden. Mom always made an "eggless butterless cake" and my favourite, bean salad. All the kids, Sis, Jay and Jim looked forward to my coming home.
I got a little ahead of myself. As a little girl I cried a lot. I got my feeling hurt very easy. Myrtle, older than I and Sis younger, sort of chummed together and would tease me. It broke my heart when they would whisper and I couldn't hear them. I thought they were keeping secrets from me and I would cry. They liked that. Other times they would make me laugh so much I would wet my pants. One time, I remember they made me laugh so much at the dinner table and Dad was trying to make us be quiet I wet all over the chair and was ashamed to get up. Another time Rose wound up a swing I was on and it unwound so fast I wet and it looked like a fountain. Myrtle and Rose have never forgot that.
The time mom went to the hospital after Chester, the last baby was born I cried because I was afraid mom would die and Sis and Myrtle teased me and made me cry all the harder. Pop took us in turn to see mom and I remember he kissed mom goodbye. That was very unusual to see pop and mom kissing in front of us kids. We went to aunt Becky's house to stay while mom was having the baby but none of us younger kids didn't even know mom was having a baby. While no-one was looking I snuck out of the house and peeped in our kitchen window and saw aunt Sophie, Dad's sister, holding the baby. I rushed back to aunt Becky's and told the rest of the kids what I saw and they couldn't believe me. We later learned the baby was dead. The undertaker brought a little tiny casket and when the baby "Chester" was dressed Dad let us all come in to see him. We thought he was like a little doll asleep. Every time we went to the cemetery I always put just one flower on his grave.
No one except the rich people in out town had indoor toilets, some called them privies or back houses or out houses. When my mother would go to the toilet, she used to say she was going to "call on Mrs Jones". They had to be cleaned out, how often depended on how many was in the family and as you know ours had to be cleaned out pretty often. Some people would have their toilet cleaned. A man "that came from England, like my folks", his name was Mr Tim Hadley, he had several sons. Well, they had big tin barrels on a wagon, pulled by a team of horses and a shovel, the boys took turns using the shovel. Sometimes you could see one boy eating an apple or banana sitting on the back of the wagon while the other was shoveling. The father, Tom, would give them a hand once in a while. When us kids seen them coming we would say "Here comes the muck house cleaners". Mr Hadley used it as fertilizer on his little farm. Some people also called them the "Honey Dippers". Some of his sons still live in Witt. The toilet is called the loo in England.
Our Bath Facilities
Now I will tell you about our bath facilities. It consisted of a "wash tub", the children now don't know what a wash tub is. It's a tub we washed our clothes in with a wash or scrub board. On Saturday nights mom would fill the tub with warm water and put it behind our heating stove and set chairs next to the tub with blankets or towels on the back of the chairs so the kids couldn't see each other taking a bath. We all used the same tub of water because it was hard to heat water on a coal oil stove or a coal heater. Mom used to say we had to take a bath on Saturday night if we needed it or not. We were all clean for Sunday School the next morning. We all got clean underwear and we wore them till our next bath. In the summer time I have seen my older sisters, Rose or Nell, give the younger kids baths in the same water we washed the clothes. All the people bathed this way, only a few like the Doctor's or richer families … [not finished]
We had a lot of fun in those days. In the summer the boys would go to the "new mine and old mine ponds". They were "made when they built the coal mine". They went to swim and they didn't have to take their bath when they got home.
When we were going to school, the first one ready to wash up would go to the well and get a pan of water. Set the pan on a chain and wash their face. The next one would do the same until we were all washed for school, all in the same pan of water. Sometimes the same pan of water would be on the chain when we got home. Mom had enough to do getting our supper ready and she loved working out of doors in her flower garden. Mom would stack the breakfast and lunch dishes. We would come home from lunch because there were no lunches in the school then. When it was very cold with a lot of snow, we would take our little lunch in a molasses bucket, so we had to do dishes when we come home from school, to have clean dishes for our supper. After supper we took turns doing the dishes. With the table cleaned off and the coal oil lamp in the middle of the table, we were ready to do our school work, all sitting around the table. Dad would smoke his pipe and read the newspaper and Mom would knit or sew till bed time. We only had two bedrooms. One was Mom and Dad's room and the other one we all slept in. As I Remember we had three beds we all slept in except Myrtle, and she slept on the floor, and I think Jack did too, because they wet the bed. My dad didn't like that so one evening he made Myrtle and Jack sit on chairs and he got hold of their hair and pulled their head back to make them promise not to wet the bed. Myrtle promised to quit and she did stop, but Jack was so stubborn he wouldn't promise and he went right on wetting until he was a pretty big boy. I know it hurt my dad than it hurt Myrtle or Jack. He hated to see them lay on the wet blankets. Our bedroom looked like a cyclone hit, all the rooms were kept clean except ours and we had to sort of shift for our own selves until we got older and kept it clean.
I didn't remember much of Nell and Rose being home because they were oldest and went to work in Litchfield in a shoe factory at an early age, so I only remember a few things about them when they were home. They would come home on Saturday night all dressed up. One time they came home with beautiful pink dresses trimmed with pink satin ribbons, us kids thought they were rich. My dad didn't allow them to go to dances or to wear lipstick. I imagine they did when they were away from home. They wore their hair combed back and had "kaotic garages" [?] we called them. It was the hair combed over the ears and pulled back in a bun at the back of the head. I remember Rose was the sort of tattle tell of the family, she would tell mom everything we kids did and got us punished more than once. One time, Rose was sweeping the kitchen floor and picked up the dirt on a little shovel and threw it on the cook stove. There was a rifle shell in the dust and it went off, hitting Rose in the eye. It was lucky it didn't blind her. Mom grabbed a cloth and sent her running to Dr Lockart downtown, it's about a mile, blood running down her face. Dr patched it up and I remember her going to school with a red handkerchief over the eye. It left her sort of cross-eyed.
I will try to tell you of our wash days. Mom didn't have a certain day of the week to wash, but never on Saturday, she said that was a lazy persons wash day. Now most all of the ladies wash, and have to wash on Saturdays, their day off. As a small child I remember Nell and Rose rubbing the clothes on a wash board. They had a big wash tub for washing the clothes and one for rinsing them, with a big copper boiler on the kitchen stove to heat the water to wash the clothes with and then it was filled back up again to boil the white clothes and bed sheets. Mom would sort out the clothes. The sheets, pillow cases, handkerchiefs and white shirts, they would be rubbed on the board then put in the boiler to boil with "Fels Naptha" [?] soap grated. Mother would take them out with a big stick, she called the boiler stick, then into the rinse water. They were white as snow when dried and folded up. Then the same process with a "bunch of underwear", with nine kids there was a lot. As the water boiled down we would add more to the boiler. After the underwear came the bath towels, then the kitchen towels, then the girls napkins. That was the end of the boiling but now came the coloured clothes, there was a lot of them. The boys overalls were the hardest to rub. It was an all day job, after we (Myrtle, me and Sis) got older we took turns rubbing the clothes. We had the clothes liner full and mom would put the kitchen towels over the gooseberry bushes and on the grass to dry, she said it would bleach them.
I recall one time my dad was sick with pneumonia and one of my aunts loaned mom some nice sheets. We didn't have many in those days. Somehow they got mildewed and we spread them all over the bushes. I don't remember if it took all out or not but mom was real upset. Later on, I guess I was about 7 or 8 years of age when we got a wash machine with a handle to pull back and forth to work the dolly or agitator that did away with some of the rubbing but mom still wanted the towels rubbed and the colored clothes after they had gone through the washer. That way we all took turns pulling and pushing the handle, it also had a wringer on, we used turning by hand. So you see it was very hard work to do a washing in those days. Most everything was starched pretty stiff.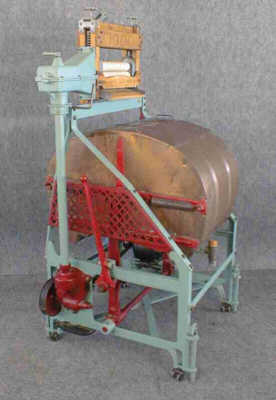 An old washer - perhaps like Edna's mom used?
Now it was ironing day, all the clothes were sprinkled down, with dipping our fingers in water and shaking them over the clothes. We called it dampening the clothes. We started again with the white clothes and ended up with the boys and dad's bib overalls. As we grew up we ironed our own clothes. Mom didn't do much ironing but I remember one day we came home from school and she had ironed all the clothes to surprise us. We ironed with "flat irons" as they called then. They had to be heated up on the cook stove and as one got cool they would get another, hot one. Remember we didn't have electricity until we were all pretty grown up.

Some early flat irons
When we were kids, there was no electricity in our homes. When it got dark we had a coal oil lamp. We studied and mom sewed by it. When dad had to go out to the barn, we had a few chickens, a cow and a horse. We lived just out the City limits and we could have those livestock. Sometimes dad would have to go out after dark to feed the horse and he would light the coal oil lamp to see by. No big electric bills in those days. In the summer it got terrible hot and we used to make a pallet, a blanket and pillow, in the doorway to get a little breeze. In the daytime we would fan ourselves with a newspaper folded up or a cardboard fan.
We didn't have an ice box so if we were having company, mom would buy a nickel or dimes worth of ice from the ice man. He came around with a horse and wagon and sold ice. People would have signs painted with "ice" on one side and "no ice" on the other and put it in the window. It also told how much they wanted, 25lbs or 50lbs. We had a nice well in the back where we pumped our water. It was good and cold and refreshing on a hot day. We would put our milk and butter in a bucket and hang it in the well. It kept nice and cool. We had to be careful we didn't spill the milk in the water or we would have to pump the well dry so clean water would come up. My dad used to put a ladder down the well to clean it out, it was brick lined.
Our play time and the games we played.
When we were all children we played together very good. We made our own games and enjoyed playing them. My dad made us a swing from the tree. He bought a heavy rope and tied each end to a big branch on a tree. He took a board and put notches in each end a put in the rope to make a seat. We spent many ours taking turns swinging. He also made us a merry-go-round, it consist of a big rail road tie put half way in the ground and a big piece of round iron knocked in the top with a big long board cross the tie with a hole in the center where the iron was. One sat on one end and the other kid on the other end with one of the other kids pushing it around. One time Jaye was standing in the center and jumped off, her dress caught in the iron and she fell and bit her tongue so bad the Dr took several stitches to close it. The stitches came out and she had to go the second time. It finally healed up with no affects. She was around 5 or 6 years old. In the evening, after supper and the dishes were done, we would all the kids in the neighborhood would gather under a street light by Mrs Ransdells and we would play high and go so seek. We all loved that time to play. I sold garden seed one year to get a pair of roller skates and Lenora Walcher, her father was a Veteranian, animal doctor. We thought they were rich people and was proud to play with his kids. Lenora had a pair of skates, and her and I would skate up and down the side walk. One year our Grandpa took a trip to England and he bought Jaye a pair of clogs. They were little shoes with metal on the bottom of the clogs. We would take her by the hand and run up and down the sidewalk to hear the clickety clack. We also played jacks. You bounced a little ball and picked up a jack and catch the ball at the same time. Lots of fun. The boys would play marbles. They had some pretty marbles in those days. Certain ones had names like "bulls eyes", "Karnicks", "cats eyes". The kids used to get them in candy Jaw Breakers. The boys would see how many marbles they could collect but they lost a lot to other kids in the game. My father used to like to play ball with us. We played ball in our big cow pasture. One year he planted corn in a corner of the pasture and we had a good time hiding from each other and running up and down the rows. We had our play time but also our work time. I would say, all in all, we had a happy childhood. We got in little fights but didn't amount to much. Sometimes we would run around with a "shiner" (black eye) or a bruise. I often had a thick lip by getting hit with something. We soon made up and was happy again. There was usually one of us with a hurt big toe, we would stump it on something and really hurt and we cut our feet a lot on broken glass because we were bare foot all summer.

A part of the original text - with the only illustration
Our Meal Times – Breakfast, Dinner and Supper
Before we went off to school we would eat a good breakfast. Consist mostly of a bowl of rolled oats, bread and butter and treacle. That's what they call molasses in England. We never got coffee until we were older, in fact, I don't remember drinking coffee until I worked out in other people's home and after I married. I could drink all I wanted, we were allowed to drink tea. Mom would put a pan of oats on the heating stove before we went to bed and in the morning they would be done for our breakfast. We did have a cow for a time and plenty of milk and butter. When we didn't have a cow, we would take a bucket to the neighbor and buy a quart of milk for a nickel.
For our dinner we would just sort of get what was there, bread and jelly, but for supper, when dad would get home from the coal min, mom would have a nice supper ready. Mom would send one of us kids, mostly me when I got old enough, to go to the store for 25c worth of meat, pork steak, hamburger or liver and it would be a nice piece for all nine kids and mom and dad. We had potatoes and gravy and some kind of vegetable and plenty of bread. We didn't drink anything in those days with our meal. Mom and dad would have a cup of tea and we would all eat together, if we weren't there for meal time we were out of luck. We kids always saved our piece of meat for last because it taste so good. Mom would make a pudding some time called Bermange [blancmange ?], made of milk, a little flour to thicken, sugar and vanilla. We sort of got tired of that but it was filling. I remember one time the table was all ready for us to sit down to eat and the electric light hung over the table. The bulbs had a little point or tit on the end and brother Jack said "I bet I can cut that tit off the bulb". He had been waving a table knife around and we all bet he couldn't, so he acted like he was going to but he didn't miss and the light bulb broke in pieces all over the table. That night there was no supper for any of us. I don't remember whether he was punished or not, but imagine he was.
Some evenings for a little snack we would pop corn, some my dad would raise or if we had a little sugar, Nell or Rose would make a little fudge.
When the weather would break in the spring, my dad would have the garden plowed. One of the farmers would come in town and plow people's gardens for a dollar or two. He would plant lots of potatoes, enough to raise to eat in the summer and enough for the winter, and plant every kind of vegetable. The lettuce, onions and radishes taste so good, so fresh right out of the garden. When the potatoes got some on, we would dig around the roots to find a few to cook. Mom would put a few mint leaves in them and a few fresh peas out of the garden, boy, that was good eating. Mom didn't do much canning. A few tomatoes and she made a corn relish, which was very good and pickled peppers filled with red cabbage. We had soup quite often, mom would make it from hamburger and kidneys. All us kids liked that. We didn't go hungry but we wished for something different. Mom made her own bread and it tasted so good, fresh out of the oven, mom also baked pies and cakes.
In our early life, they sold margarine in a square block, they called it oleo. It was pure white and a little capsule came with it. We would have to break the capsule and there was yellow coloring in it. We would have to mix it in the oleo to make it yellow like butter. I never did like to do that job but I had too.
My dad would buy a big crock full of strawberry jam. It was real good, we had to put it thin on our bread. A train would come in to the station with a with a car full of bananas and the people would buy them. They were on a long stem. My dad would carry them on his shoulder and we were all happy to see him bring them home. He would hang them up in the front room to ripen. We only got one when we asked for one. We couldn't ask too often.
In the summer we ate fruit from the trees. We had apple, cherry, plum trees. We also had rhubarb, peanuts [?] and gooseberry and currant bushes. Mom made currant jam but none of us kids liked that very good. We also had a strawberry patch.
Our neighbor had a plum tree close to his fence and one of us kids was there to get them when they fell on the outside of his fence. We would also get a stick and pull them through the fence. He never hollered at us for doing that.
When the tomatoes in the garden were ripe we would take a little salt in our hands and pick us a ripe tomato out of the garden and eat it there. Also, carrots, we washed them at the well and ate them raw. We would also make a meal out of fresh lettuce leaves and radishes and onions with a slice of bread. That was very good. We had to help pull weeds in the garden. Bill and Jack always complained of stomach ache to get out of it quite often. We also knocked potato bugs in a coal bucket and poured kerosene on them and set fire to them. We also had to get the big green worms from the tomato plants. We were scared of them because they said they were poison if they bit you. Dad used to say there was a different bug for every plant. Now we have spray to get rid of them.
Oh yes, I forgot to say when we had lunch meal we always had to have bread with it to fill us up.
Our Entertainment
There wasn't too much entertainment in our town, they had a movie house. My father loved to go to the movies and woud go when there was one he wanted to see. My mother also went with him sometimes and the next morning we would all gather around and mom would tell us the movie from beginning to end. She told it so good I could almost seethe movie in my mind.
In the summer there was a band and we all get to go, we would walk up and down the streets in town. The grand stand was in the middle of the street and no horses or buggies were allowed on the streets Saturday night. My cousins dad, Mr Crane, was the band leader and our uncle Joe also played. We were proud to brag that ie my Uncle Joe.
The first Monday in September was Labor Day then school started again. Labor Day, there was a big carnival come to town. We kids would save our pennies all summer for that one day. We would find medicine bottles and sell them to old Dr Lockart or Adams for a penny a piece (they used the old bottles over again in the early days). We also picked strawberries for old Doc Walcher (a vetanarian) for 2 or 3 cents a box and the neighbors would give us a few pennies to go to the store for them. We didn't have much by Labor Day and we spent it mostly for ice cream and soda.
Our 4th of July was nice too. We all got a few fire crackers and sparklers and after dark we would let them off. We would watch other kids with Roman Candles and wished we had some.
Easter was also a big day. We would make a nest in the pasture for the Easter Bunny to lay their eggs. One year mom made her a nest on the front porch and Easter morning we went to look for our eggs and there in mom's nest was nothing but black jelly beans. We all laughed because it looked like the Easter Bunny left mom "a lot of poo poo". Then mom sang "I'm putting all my eggs in one basket". That was a popular song at the time. Like I said before, we all got new dresses to wear to church. One year, I guess I was around 13 years old, mom got some brown silk material and Mrs Cox, a dear neighbor, made Sis and I a dress for washing her dishes. You would said that wasn't bad, but Mrs Cox never washed a dish till every dish was dirty and she had two wash tubs full of dirty dishes. It took Sis and I most of the day, but we were proud of our dresses, they were trimmed with yellow ribbon and Mrs Cox also decorated a hat for me with artificial cherries. I thought I was the best dressed kid in town.
One summer, I guess I was about 14 years old, Rose took me to Stonington, Illinois for a vacation. I stayed with Mr and Mrs Davis, friends of mom and dads. Rose was courting Athur Dhermy (and later married him). All the Davis' friends and other people gave me a little money. I had enough to buy a white eyelet dress, a slip and new panties with lace on them and some pink and white anklets. Rose took me to buy them and she said "buy your sisters something", so I bought them anklets too. I was so proud of those clothes. When I got home I went to all the neighbors to see how pretty I was. Mr Allen, an Englishman, took Sis, Myrtle, Jaye and I picture. He developed them his self.
The boys all got new shirts and knickers and new shoes for Easter. Most of the time mom made them shirts. They looked nice too.
Our birthdays were nice too. Mom would cook something extra nice for us and we got a little gift. I don't remember mom baking birthday cakes.
Thanksgiving was also a big day. We had plenty to eat and mom made a pudding called "Spotty Dick" [Spotted Dick]. I always hated to say that because it sounded dirty and we were never allowed to talk dirty or sassy, but when we were on our trip England in 1977 we found a "Spotty Dick" recipe, and they had a lot of trinkets called "Spotty Dick". It had raisins in the pudding, maybe that's why they called it that. It had to boil in a cloth bag for three hours. Then served with a lemon sauce. It really was good. We always had chicken because turkey was very scarce and expensive when we were young.
Then came our biggest day and that was Christmas. Seems like to waited for months for Christmas to get here. Our school would have a program and every class had songs or Christmas poems and a Christmas Bible play. We practiced every night after school for that. Then, Christmas Eve, we gave our program. The mothers and fathers and all relatives came to hear us. We also had a big Christmas tree with decorations we made. Sis, Myrtle, and I and Jaye all got new dresses. I would pester mom for weeks before our program to hurry and get my dress done. One year, I was about 11, mom kept saying "I don't think I will have time to make your new dress". I was so disappointed and hurt and didn't want to do my part in the program. Mom said "I will wash up your old dress and iron it and I would look nice". I was still disappointed but agreed to go. Well, the day arrived and we all got cleaned up to go and perform and I was ready to put on my old dress and here came mom out of the bedroom with the prettiest new dress I thought I had ever seen. I was so happy I cried and loved her so much. She had sewed on it while I was at school and hid it before I got home. Mom was always doing nice surprises for us kids like that.
New Years was just a nice quiet day for us after all the goings on for Christmas. I forgot to tell you about Christmas Day. Christmas we all had our baths, then each of us hung up our old black stockings, clean of course. There was 9 stockings hanging on a line we tied back of the coal stove, ready for Santa to come and fill them up. They were long stockings. We couldn't go to sleep, trying to hear old Santa come down the chimney, we really believed he did, but always fell asleep before he came. Can you imagine mom and dad waiting for all of us to get to sleep, so they could fill the stockings? They were always full with oranges, apples, bananas, nuts and candy. We all got a little present. Maybe a game for the whole bunch. A box of handkerchiefs or a little perfume, but we were all so happy Christmas morning. Mom would have a big dinner with mince meat pie and our traditional English plum pudding with vanilla sauce and roast or chicken with a lot of good veg. [The only meat product in English mincemeat pies is beef suet. Minced meat or "mince" is chopped meat, mincemeat is a rich fruit paste.] Mom worked a couple of weeks before Christmas making mince meat and plum pudding. We would have some of the aunts and uncles over. We loved to see Uncle Ben and aunt Clara come. They were a lot of fun. So that is the end of our holidays.
New Year we would go out beat on pans to usher in the New Year. Maybe once or twice we would shoot the shot gun, but my brothers used them for hunting.
My dad had a horse and two-wheeled cart, he would ride it to work at the coalmine about 4 or 5 miles from Witt, in Coalton, Illinois. On Sunday we took our turns with dad for a ride in the country, he would never take only one kid because he said horses get tired too. We all waited patiently for our turn and we loved it, the country seemed so pretty and fresh. I saw a lot of cows and houses along the way. I think my dad enjoyed it as much as we did, I was so proud to go with him. They were beautiful memories. Mom didn't go much when we were kids, she had a lot to do at home.
All grown up
Well, we all grew up and married one by one. None of us married our first boyfriend, or the boys their girlfriend.
Myrtle was older than I and in order for her to go out with her boyfriend she had to take me along. Of course her boyfriend bought his friend for me and I was rather young at 13 years old. I sure had to go with some dandies and some old enough to be my father, but Myrtle got her man, Loren and now married 53 years. After that I was free to be on my own picking. I think I did good picking first Tony and then Duane (Pete). I only had Tony from 1929 till 1935. As of now I still have Pete from 1937 till ? I hope many more years. It's up to the good Lord.
As I look back
When we all nine of us were growing up we didn't realize the struggle our parents had, keeping us in clothes and food to eat. I never remember my father complaining what a hard time it was. In those days there was no relief from the Government Unemployment benefits to help out. The coal miners worked pretty good in the winter to supply coal for home heating. There was no gas heat in those days, every home had a coal heater or furnace. The coal heat kept the house good and warm and we had cook ranges that burned coal to cook on. The miners had to save a little money for the summer months to pay for the bills from the summer before. My folk's never ran up bills they couldn't pay. My father would do any honest work for a days wages. He helped the farmer thresh hay and pick corn. They called it corn shucking all by hand for a dollar a day. They didn't have machines to do it in the early days.
So you see our childhood was free from worry which I appreciate now. We never heard how much my dad got pay day or what such and such cost. Our parents thought that was their own business and we shouldn't ask. After I started work at age 16, about 1925. I realized what it was to earn your living. I made 15 dollars a month and board and gave my parents all of it.
The big depression
It seemed like the depression was from the time I was born in 1909 until the second world war in 1942. We just got by in those years. We couldn't save any money until Pete came to work in Granite City to work in November 1943. Then Pete got a job at American Steel and started out on 75 cents an hour. We were able to save a little and buy a few war bonds. We really thought we were rich. All through the years from our marriage in 1937 we have never went into debt to buy anything. If we didn't have the money we did without the things we wanted until we did have the money. We have always been happy to say "We don't owe anybody".
But I guess the depression years didn't start until the market crash of 1929 when all the banks closed and people couldn't get their money. People lost everything they had, people buying homes lost them. In 1930 men couldn't get work, bread was 10 cents a loaf and eggs were 5 cents a dozen, milk 5 cents a pint, but people didn't have money to buy it. There wasn't any relief or state aid then. Hoover, a Republican, was President. Then Roosevelt was elected and set up the WPA [Works Progress Administration] program, Works Program and men worked digging ditches and other jobs. Women went out and worked in homes to help the sick and disabled. They put lunch in school free of charge and baked their own bread and canned vegetables from the Victory Gardens. Some women quilted quilts. The State gave relief orders for groceries, not much but we had to buy only as for as the relief order went.
If a woman was expecting a baby they would get a relief order for baby's clothes and the State paid for the birth – 25 dollars for the Doctor. They also gave surplus food once a month (flour, cheese, butter, sugar, lard, cornmeal, dry milk, raisins, prunes and canned meat.) We all did good on that.
When Tony took sick in 1933 and went to the hospital, I had to apply for relief for Tony Jr. and myself until I went to work at the Sanitarium where Tony was a patient for 2½ years, until his death in 1935. Tony Jr. stayed with his grandparents, Mona and Nona Tenoglio while I worked for 45 dollars a month, room and board. After Tony's death we went to my mothers in Witt, Illinois, where we got relief for Tony Jr. and myself. We also had a coal order, a ton a month. I was puny, run down and got an extra milk order. I went to work, housework for Mrs Welge in Hillsboro, Illinois, making 5 dollars a week and room and board. Tony Jr. stayed with my mother, I would visit him on week ends. He was a lonely little boy. Then Pete and I started to date and we married in 29th April 1937.
Life with Pete
After Pete and I were married, 29th April 1937. I am writing this 11th March 1982, so you see we will soon be married 45 years. Well, Tony Jr. and I was happy to have a home again, so he could stay with us. Pete had two big rooms in a house owned by his dear friends dad., Mr Repolesky [?] Pete had dated his daughter, Rose, when they were school kids. Rose, she liked to dance a lot and Pete didn't like to, so they went their separate ways. He told me she was his first love.
Pete and I both grew up in Witt, Illinois, where I was born and raised. He lived in one end of town and I lived in the other end, as we called it. I had heard of Peter Wheat and his brothers and my sisters all my life, but only seen them if we were in town at the same time. Us girls talked to Heady, [?] his sister, when we saw her up town. We didn't especially like her because she was stuck up. Her mother, grandma Wheat, took in washing and ironing and dressed Heady [?] pretty nice. We didn't know Peter's brothers Otis and Deneen until I married Pete.
Often, we were teenagers, Pete bought me home one night, he was going out with Rose at the time and I didn't like him because he wouldn't let me try on his ring, and I thought he didn't trust me to give it back. Well, I never went with him again until almost two years after Tony died (24th October 1935).
Tony Jr. and I went to stay with mom and we used to go to the free show on Saturday nights and we would pass Pete on the street. We would speak but Pete said he was afraid to ask me for a date while I was with mom. He tried going to mom's and asking for my brother, Jim. He thought he would see me there, but didn't. Mom Fowler used to say he didn't come to see Jim, he came to see me.
I got a job in Hillsboro, Illinois, for a Mrs Welge. Her and her sons owned the Mortuary, funeral home. On Sunday I would have a day off, so Saturday night we generally went to Mr and Mrs Homer [?] Coffey's (Loren Coffey's brother). We would have beer and lunch and dance. Homer invited Pete one Saturday night, and so we started to date and soon Pete got me an engagement ring then, soon, a wedding band. We didn't date too long before we got married. He would have a lady at a tavern make some nice sandwiches and we "with Tony" would ride out in the country. Sometimes, we would go fishing. Pete never liked movies or dancing. He would take me to a restaurant and get hamburgers and bought them back in the movie house.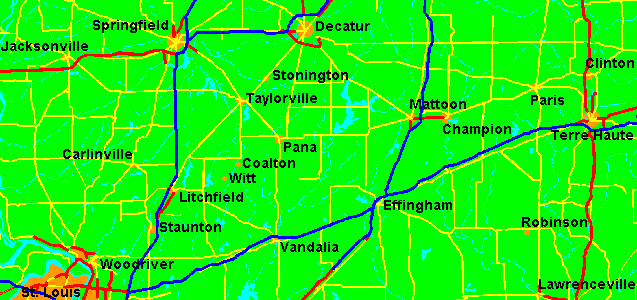 Places mentioned in the text
Places mentioned in the text :-
Association of British Counties
Granite City, Illinois - Duane Leslie Wheat died here in 1985
Litchfield, Illinois - Birthplace of Lester (1904) and Myrtle Fowler (1907). Nell and Rose worked here.
Litchfield, Illinois - Birthplace of Lester (1904) and Myrtle Fowler (1907). Nell and Rose worked here.
History of Stonington, Illinois - Edna holidayed here in around 1923
Taylorville, Illinois - Burial place of William Fowler, birthplace of Anthony Tenoglio (1930), Paul Fowler lives there
Taylorville, Illinois - Burial place of William Fowler, birthplace of Anthony Tenoglio (1930), Paul Fowler lives there
Other items from the text :-
"I'm putting all my eggs in one basket"
"I'm putting all my eggs in one basket"
Mincemeat Pies - the only meat product in English mincemeat pies is beef suet. Minced meat or "mince" is chopped meat, mincemeat is a rich fruit paste
Spotted Dick pudding recipe - a Thanksgiving treat
This page created 9th March 2005, last modified 19th June 2011