Terre Haute - A history and a guide
This is my history and guide to my adopted home - Terre Haute, Indiana.
Other Stuff
This page is for information and photographs I haven't yet been able to verify or manage to include on other pages.
Infamous bank robber, John Dillinger, declared he would never rob any banks in Terre Haute because there were railroad tracks over every exit road.
The original hour glass shaped Coca Cola bottle was designed and made here by Roots Glass
Terre Haute has one of the few federal maximum security prisons. Now and again a film will mention the prison at Terre Haute.
In 1967, Indiana State University Stadium, in Terre Haute, became the first outdoor stadium installed with AstroTurf?. James M. Faria and Robert T. Wright of Monsanto Industries co-invented AstroTurf (U.S. patent #3332828). The patent was filed for on Christmas Day 1965 and issued by the USPTO on July 25, 1967.
On 19th April 1995 the Alfred P. Murrah federal building in Oklahoma City was blown up, killing 168 people. Timothy McVeigh, the 33 year old "Oklahoma Bomber" was due to be executed in the prison on 16th May 2001. I was in Terre Haute, visiting Patty, that May and the prison grounds looked like it was getting ready for a circus. There were areas roped off for the news people and other areas reserved for the public. The television news were reportedly renting local houses at extortions prices. He was finally executed at 8:14am on 11th June 2001by lethal injection.
Steve Martin
I'm not sure about this article at all and haven't been able to find much out apart from 3rd hand stories. It started when I was watching the Steve Martin film "Dead men don't wear plaid". I was chatting to Patty about the film and she mentioned that Steve Martin doesn't really like Terre Haute. Apparently he did his stand-up comic routine here a few years ago and didn't go down that well. Some people here say that he had a bad night, and when I asked about it on the Steve Martin website someone suggested that perhaps because Terre Haute is in the mid-west Bible Belt he shocked a few people. I can't really see that that is true. Most of the people of Terre Haute I've met don't seem the sort to be easily shocked, besides which, the people who went to see him must have known his type of humour.
A short while after the show Steve did a television interview where he apparently called Terre Haute "the most nowhere place in America". He's also described Terre Haute as, "the armpit of America" he may be referring to the local creosote factory that on bad days pongs a bit. A few of his films mention Terre Haute by name, usually in not too good a light. He mentions it in "Trains, planes and automobiles", a very funny film.
In August 2003, I received an email from CCRider. It seems that after the "the armpit of America" remark he was invited back here and given a tour of the city in a vintage convertible automobile. He was shown around such tourist attractions as the local sewage treatment plant and creosote factory. No doubt he left the city greatly impressed.
In "Dead men don't wear plaid" he plays the part of a private detective, Rigby Reardon, who is unwittingly drawn in to a Nazi plot to destroy America using cheese mould. At the finale of the film, just before dying, the Nazi Field Marshall Von Kluck played by Carl Reiner manages to destroy a town using cheese mould. That town is Terre Haute. Von Kluck's last words are "Well at least I managed to get Terre Haute, Indiana", to which Steve's reposte is "Damn, they were just about to get a public library".
Due to increasing bandwidth issues with some hosts that carry this site the downloads are now now only available from my own server.
This isn't the fastest web server in the world so please be patient with larger downloads.
16 second excerpt from "Dead Men Don't Wear Plaid"
Black and White, 91 minutes, PG rated, 1982
Writers - Carl Reiner, George Gipe and Steve Martin
Director - Carl Reiner
Producers - Aspen Film Society, W. E. McEuen / D. V. Picker
Distributor - Universal Studios
3GP - 279Kb, SWF - 606Kb, FLV - 622Kb, AVI - 1.85Mb, WMV - 1.85Mb, MOV - 2.35Mb, ASF - 2.78Mb, MPG - 4.04Mb
Photographs
These are photographs from around Terre Haute.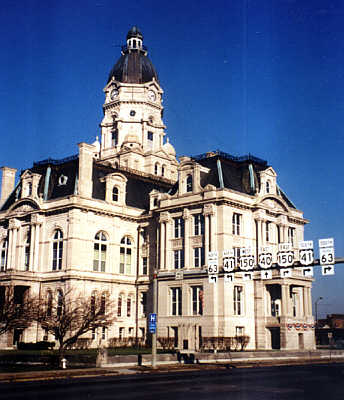 The Court House
The traffic signs show why Indiana is known as "The Crossroads of America", Indiana has more main highways through it than any other state. The Courthouse was designed by Samuel Hannaford of Cincinnati and built of limestone between 1884 and 1888.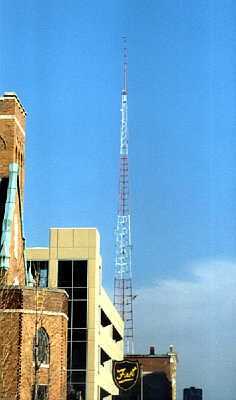 The Webcam Tower
This is the Action News 10 - WTHI TV broadcasting tower, and where their webcam is situated.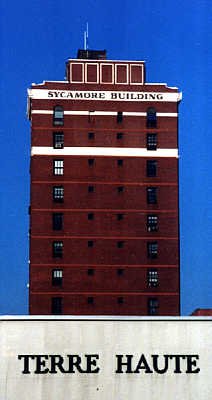 The Sycamore Building
The Sycamore building was built for the Citizens Trust Company and was opened in 1922. It took 11 months to build and cost $318,000. At the time it was built it contained two state-of-the-art lifts. At 12 stories it is the amongst the tallest, if not the tallest building in Terre Haute. Terre Haute, is on the whole, a low rise town.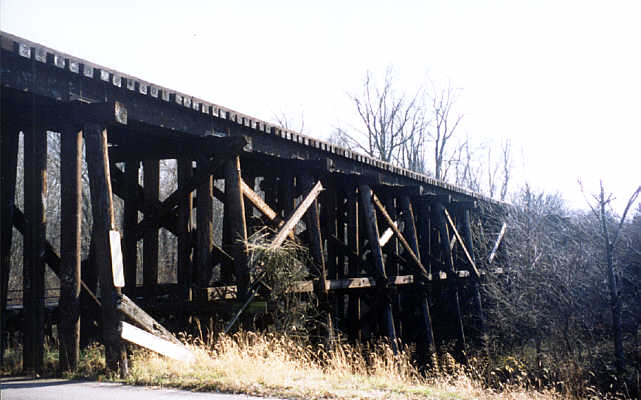 This pair of photographs show the wooden trestle railway bridge at the east end of Terre Haute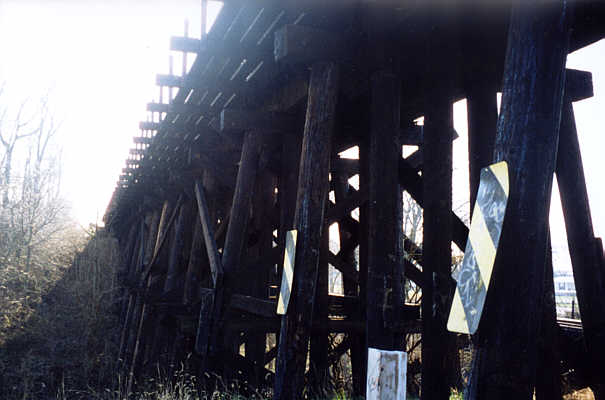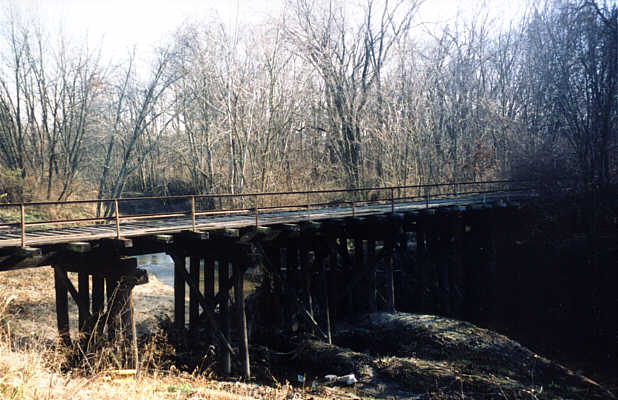 Here's the old railway bridge, the tracks have been taken away and the wooden deck has rotted
Chemical Warfare
Just as my original home city Bristol, England was a manufacturing base for chemical weapons in the First World War so could have Terre Haute for Biological Warfare in the Second. The Vigo Vigo Ordnance Plant, just south of Terre Haute could have produced 100 tons of anthrax and botulinus bacteria a month, grown in a four day cycle in twelve 20,000 gallon tanks. Built in 1944, around 500 people worked at the 6,100 acre, $8 million plant. The plant used 300,000 lbs of glucose or cerelose, 625,000lbs of corn steep liquor, 1 million lbs of yeast, 50,000 lbs of casein, 20,000 lbs of peptone and 190,000 lbs of phosphates a month. This was all used to produce over 500,000 anthrax or 250,000 botulinus bombs a month. The plant never went into full scale production as it wasn't finished until early 1945, near the end of the war. In 1947, the plant was demilitarized and leased then sold to Charles Pfizer and Company for the production of animal feed and veterinary antibiotics. However, it could have been converted back into war production inside of three months. According to the History of Biological, Chemical, and Radiation Emergencies published by the U.S. Department of Health and Human Services in September 2005...
The production facility in Terre Haute, Indiana, lacked necessary engineering safety features. Tests of the plant?s fermentation and storage processes revealed contamination of the plant and nearby area. This discovery led to limitations on the production of bioweapons ... From 1950 to 1953, the United States, having learned a lesson from the Terre Haute plant, built a new facility with better biosafety measures in Pine Bluff, Arkansas.
In November 1945, the orbat (order of battle) of the senior members of the Army Service Forces, Chemical Warfare Service, Vigo Plant C.W.S. was...
Major


Winfield S. Hoerger, Commanding Officer

Colonel


Seymour C. Schwartz, Post Surgeon

Major


Charles E. Jelitz, Executive Officer

Captains

Frank H. Alexander, CWS
James J. Leibert, AUS
Donald E. Neese, CWS
Frank J. Riel, Jr., CWS
James T. Ashworth, Inf.
Charles A. Lotter, Inf.
Walter K. O'Loughlin, CWS
Charles H. Saunders, CWS
Alfred W. Bennett, CWS
Nelson E. Lyttle, CWS
Edward H. Page, CH
Frank L. Strom, CWS
Robert N. Cron, Ord.
Charles R. Meehan, TC
Arthur E. Post, Jr., Fin.
Roy W. Thompson, CWS
James W. Echelberger, Sr.
Sydney Nashner, CWS
Alfred G. Reidell, CWS
Arnold Tarton, MC
Donald H. Hill, CWS
John F. Neely, CWS
Gordon Rich, CWS
Hentry Reichel, CMP

First Lieutenants

Bernard F. Allen, CWS
James K. Carey, Jr., CWS
Franklin S. King, CWS
Richard L. Roszkowaki, CWS
Herbert B. Arnold, CWS
George R. Draudt, CWS
Albert Kramer, QMC
Thomas S. Walsh, CWS
Harold Z. Baumbach, CWS
Bernard J. Horrow, CWS
Joseph A. Marchetta, CWS
Harold H. Wright, CWS
Joseph E. Hunter, Jr., CWS
Oscar Padwa, CWS

Second Lieutenants

Earle W. Galyean, MAC
Orestes Righellis, CWS
Ralph R. Wade, CWS

First Sergeants

James E. Howrey
James W. Plyler

Master Sergeants

Kenneth L. Hardesty
Wilbur J. Soliau
John A. Orr
Rex P. Van Riper

Technical Sergeants

Harry F. Clark
Lawrence S. Cox
Rudolf M. Holesek
Alexander L. Clemens
Irwin W. Goldstein
Fred S. Parker

Staff Sergeants

Charles L. Duncan
Herbert S. Hilberg
Frank S. Owen
Robert L. Simmons
Paul R. Hackerd
James E. McFarland
Theodore H. Saari
James E. Tolls
Victor R. Herog
James B. Ortlund
Harold B. Sauser
Arvid R. Win

Technicians Third Grade

Roy C. Cedarquist
Harry M. Grandey
Wendell S. Clark
Albert L. Hazelbarth

Sergeants

Glen D. Atknison
Donald H. Fravel
Richard S. Kittila
Harry Stevens
Carl H. Blomberg
Lemar Gelman
LeRoy H. Naden
Dominic R. Tamburro
Leo E. Borregard
Donald W. Goodwin
Frank A. Panamas
Michael L. Voytek
George M. Burt
Ernest A. Horn
James Pilurs
Lowell E. Warnick
Harry B. Dietrichs
Robert R. Hutton
Mardon Rothwell
Joseph L. Yurkanin
Charles W. Doggett
Robert E. Kennedy
Elton C. Settle
Joseph S. Zinkowica
Old Photos
I like collecting books and articles about the things I write about on this website. Here are photos from these articles that aren't yet on other pages on this site.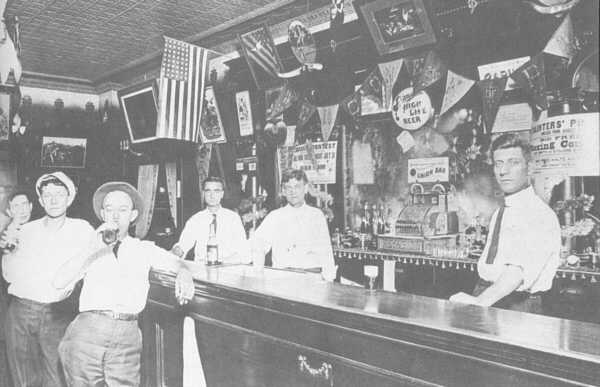 Ed Light's Saloon - 1914
This was at 331 North Third Street
The image comes from the "Wabash Valley Magazine", September/October 1992 issue
The photo was used to introduce the "Food & Fun" section of the magazine
Philip Jose Farmer
I like reading science fiction, and was surprised to learn that Philip Jose Farmer was born in North Terre Haute on 26th January 1918.
This page created 19th December 2001, last modified 13th September 2008