Terre Haute Postcards
More postcards from my collection...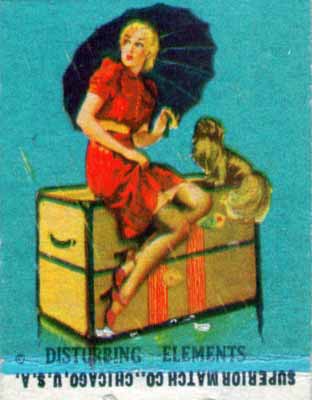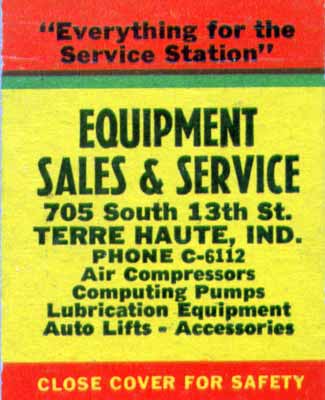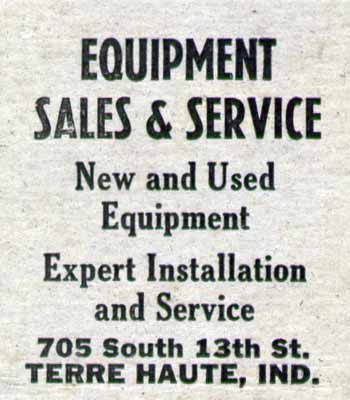 Equipment Sales & Service Matchbook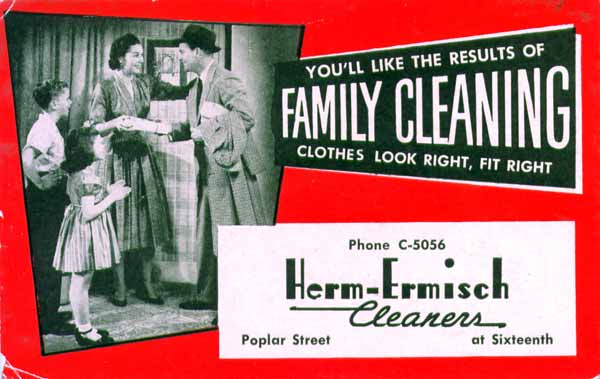 Ermisch Cleaners
This trade card has no other text.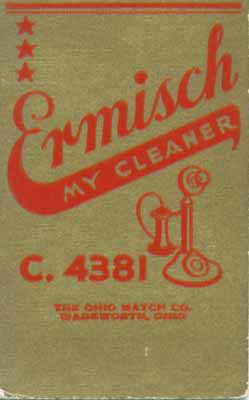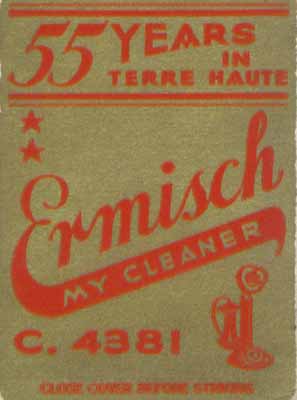 Ermisch Cleaners Matchbook (1930's)
Already an experienced dyer Julius F. Ermisch, a German native, arrived in America in 1879. In 1885, he arrived in Terre Haute and started working for John H. Nelgen business. a year later, in 1886, he bought that business for $1,000. Ermisch's fancy dyeing, scouring, and chemical-cleaning establishment was located at 656 Wabash Avenue. Over the years, dry cleaning became the predominant element of the company's business. Ermisch was active in it prefessionally and was instrumental in establishing the National Institute of Dry Cleaners in Milwaukee in August 1907.
In August 1906 the Ermisch Dyeing Company moved to 106 North SeventhStreet. Within the next six years, Ermisch built new plants, first at 635 Chestnut Street and then at 206-208 North Third Street (although the company continued to operate out of the Seventh Street address until at least 1922). Between 1910 and 1914, George A. Schaal was a partner in the cleaning business, which became known as the Ermisch Dyeing & Cleaning Company.
When he died in 1922, Julius He left the business to his two sons: Robert, who succeeded him as president, and Herman J., who became vice president. By the 1930s the company had incorporated
as Ermisch Brothers and, at some point in that decade, became known as Ermisch My Cleaner. Robert sold his interest in Ermisch Brothers and moved to California. Herman disposed of his interests in the firm but continued in dry cleaning, building a new cleaning plant at 1528 Poplar Street in 1941 and establishing Herm Ermisch Cleaners. Robert's ex-wife, Zora J. Ermisch, however, continued to operate Ermisch Brothers, or Ermisch My Cleaner, through the 1950s as a separate company.
By 1945 Herm Ermisch Cleaners employed fifty workers. After Herman died in 1954, his widow, Mildred, and son, John B. Ermisch, assumed control of the firm, which operated five branch locations in addition to its main plant. They operated it as Ermisch Cleaners. By the early 1990s the company managed coin-operated facilities and began computerizing its financial operations.
Sources:
Ermisch Cleaners from Indiana Historical Society
Julius F. Ermisch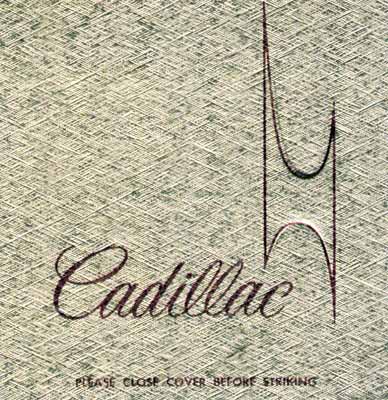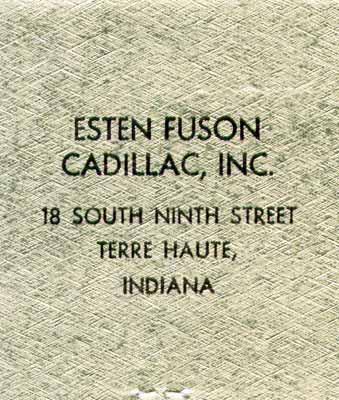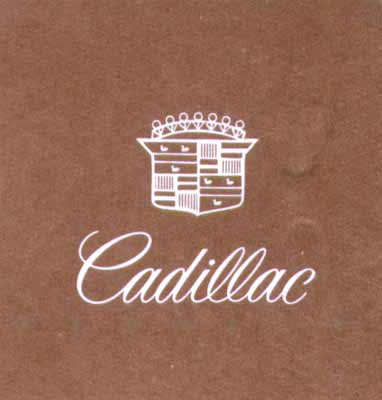 Esten Fuson Cadillac Matchbook
The following information was taken from the Tribune Star of August 22nd, 2005 and ADAI - Automobile Dealers Association of Indiana - February 2006.
Born on December 29th, 1931, in Terre Haute to David E. Fuson and Grace L. Bruner Fuson, Esten Fuson was a 1949 graduate of Wiley High School and a 1955 graduate of Indiana State University, where he earned his bachelor's degree in liberal arts. From 1952 to 1954, he served as a corporal in the U.S. Army, during the Korean War. After the war, he was a salesman, general manager and secretary with Downtown Cadillac Company and also Downtown Chevrolet Sales, Inc. In 1965, he became a General Motors dealer and was awarded the Cadillac franchise. As president of the new company, the name was changed and became known as Esten Fuson Cadillac. Subsequently, he was awarded the Pontiac franchise in 1982; the Buick franchise in 1997 and the GMC franchise in 2003.
He was a member and past president of the Terre Haute New Car Dealers Association, member and past president of the Indiana Automobile Dealers Association, and a member of the National Automobile Dealers Association. In 1994, he received the Hermin R. Goodin Civic Service Award presented by the Indiana Automobile Dealers Association for outstanding civic service, and in 1995 was Indiana's nominee for the Time Magazine Quality National Dealer Award. As a civic leader, he was very active in the Terre Haute community, especially at Union Hospital.
His dedication to the hospital began in 1968, when he became a member of the board of directors of Union Hospital, Inc., and later served as chairman of the board from 1990 to 2004. Additionally, he served on the Union Hospital Foundation board of directors since 1985, where he was a former vice chairman, and in 1997, received the Union Hospital Bauer Award for outstanding volunteer service. He also served as a board member and former chairman of Clarian Health Network, and served on the board of directors of Terre Haute Savings Bank, ISU Foundation, Rose-Hulman board of associates, Greater Terre Haute Chamber of Commerce, ISU Alumni Council, United Way of the Wabash Valley, Terre Haute Family YMCA, where he was a former board president, executive board of Wabash Valley Council Boy Scouts of America, member of the board of directors of the Vigo County Unit and Indiana Division of the American Cancer Society and was Secretary/Treasurer of Froderman Foundation, Inc.
He was an active member of Memorial United Methodist Church, Kiwanis Club of Terre Haute, Benevolent and Protective Order of the Elks Lodge 86, Riley Lodge 390 Free and Accepted Masons, Scottish Rite Valley of Terre Haute, Delta Lambda Sigma social fraternity, Lambda Chi Alpha fraternity, ISU Varsity Club, Country Club of Terre Haute and Aero Club of Terre Haute. In 2004, he was the recipient of the Sagamore of the Wabash award for his outstanding community service and for his leadership to Union Hospital. He died, aged 73, early Sunday morning, August 21st, 2005, in Union Hospital.
In 1984, Warren Clem, formerly general manager at Flowers Sales, Marshall, Ill., was named sales manager at Esten Fuson Cadillac & Pontiac, 18 S. Ninth St.
Mark Fuson is President of Fuson Pontiac Buick Cadillac & GMC Trucks in Terre Haute. He is a 3rd generation dealer with his grandfather, G. H. Froderman, receiving a Chevrolet franchise in December 1926 and his father, Esten Fuson, awarded his first franchise in December 1964. Mark began his dealership career as a salesperson in 1979.
He is a graduate of Indiana State University in Terre Haute, Indiana and is a graduate of the GM University of Automotive Management. He is a current board member of the Morris Plan Bank of Terre Haute, Froderman Charitable Foundation, Inc., Rose Hulman Board of Associates, Union Hospital Foundation, Inc., St. Patrick Church Parish Council Board of Governance, John Paul II Catholic High School Administrative Board, Regional Board of the Selective Service System for the U.S., Carmelite Monastery Advisory Committee, and Economic Development Center of Terre Haute. He has been a member of the Kiwanis Club of Terre Haute for more than 30 years.
Fuson Pontiac Buick Cadillac GMC is still operating at 4325 US Highway 41 South, Terre Haute and their website is at http://www.drivefuson.com/
This page created 20th February 2008, last modified 1st May 2009