Terre Haute Postcards
More postcards from my collection...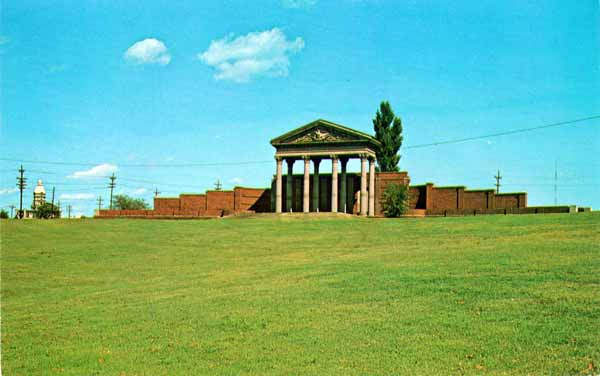 Chauncey Rose Memorial, Fairbanks Park
This unused postcard has just the following printed text...
Photo by John V. Pontiere, Jr.
Estell Wholesale Co., 518 Arrowhead Dr., Seymour, Ind. 47274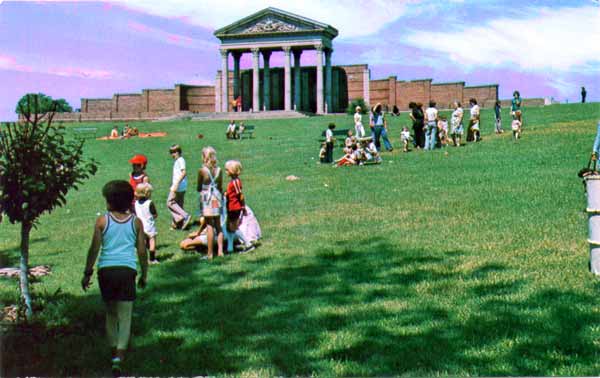 Chauncey Rose Memorial, Fairbanks Park
This unused postcard has just the following printed text...
Vigo County, Indiana
Fairbanks Park, located 300 South First St.,
Terre Haute, Indiana. The Banks Of The Wabash
Festival is held here for ten days in early summer.
145283
K
Photo by Mitchell
Pub. by Floyd Mitchell, Bridgeton, Ind. 47836
Chauncey Rose was born on December 24th, 1794, in Wethersfield, Connecticut into a farming family. Chauncey journeyed through several states before deciding at the age of 23 to settle in the Wabash Valley in 1817. He spent seven years running a logging and milling operation in Parke County, north of Vigo County, before returning to Terre Haute in 1824. He bought much of the land that today is between Poplar and Chestnut Streets from Seventh Street to nearly the present campus of Rose-Hulman Institute of Technology - a move that at the time seemed highly speculative but ended very profitably for Chauncey. Owning several properties, including the Prairie House Hotel at Seventh and Wabash, he saw the value in developing the town and invested in canals, municipal improvements and the railway. For example, in 1847 he organized the Terre Haute and Indianapolis Railroad. Like other of Terre Haute's successful businessmen he was also a great philanthropist and was very generous to the town's Providence Hospital, the Free Dispensary, the Rose Orphan Asylum and other libraries and colleges. Chauncey formed a corporation on September 10, 1874 known as the Terre Haute School of Industrial Science, which in 1875 and against his wishes, was renamed Rose Polytechnic Institute and later still, in 1971, became the Rose-Hulman Institute of Technology. Altogether, he donated over a million dollars to the town, a huge sum in the 19th century, before his death in Terre Haute on August 13th, 1877.
The memorial was dedicated in 1936 and stands in Fairbanks Park. The memorial is made from elements, such as the columns, triangular entablatures and eagle sculptures, taken from the old Post Office that had stood at the corner of Seventh and Cherry Streets from 1884, and which was demolished in 1932.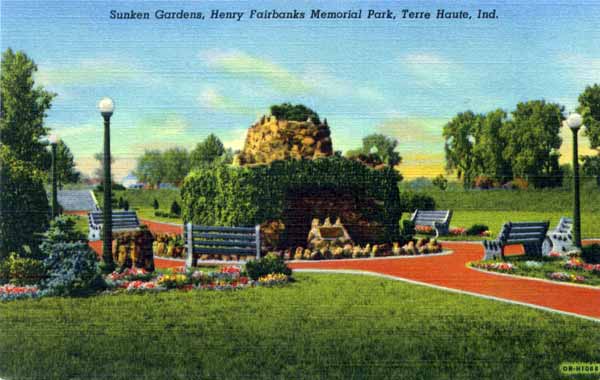 Sunken Gardens, Henry Fairbanks Memorial Park
This unused, linen postcard has the printed text...
OB-H1089 [1940]
Wabash Valley News Agency Inc., Terre Haute, Ind.
Genuine Curteich-Chicago "C.T. Art-Colortone" Post Card (Reg. U.S. Pat. Off.)
This page created 12th July 2008, last modified 1st November 2008