Terre Haute Postcards
More postcards from my collection...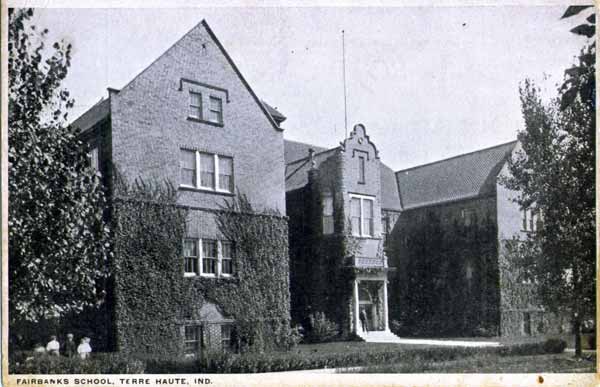 Fairbanks School
This unused postcard has no other printed text.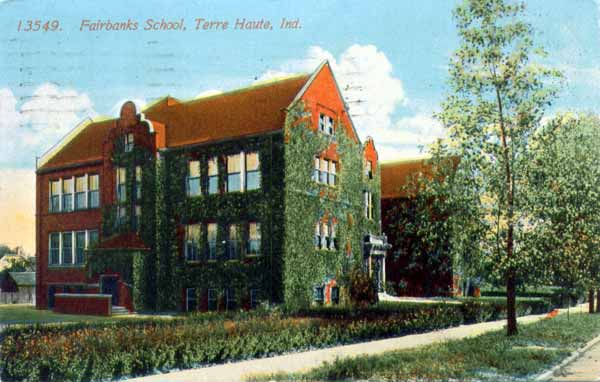 Fairbanks School
This postcard, stamped in Terre Haute on August 19th, 1916, has the printed text...
Levin Bros.
Acmegraph, Chicago logo
This neo-Jacobean elementary school was built in 1906 on the corner of Sixth and Hulman Streets to replace the old Nineteenth District School that had stood on Fifth and Osborne Streets. The school was named after Crawford Fairbanks and served the area until the Farrington Grove School opened in 1988.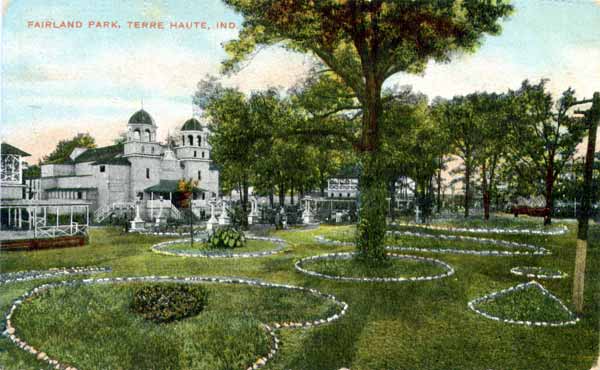 Fairland Park
This postcard, stamped in Terre Haute in May, 1909, has the printed text...
Made Expressly for S. H. Knox & Co.
Printed in Germany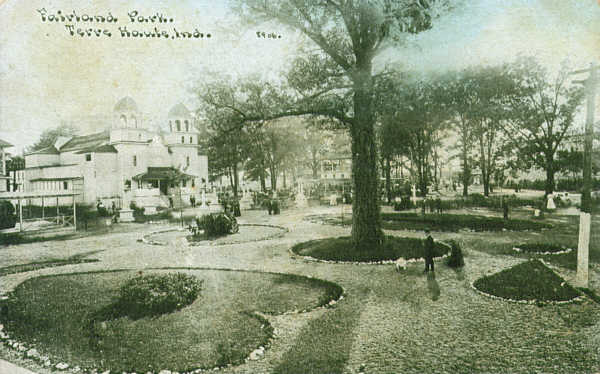 Fairland Park
This used postcard, stamped in Terre Haute on 13th July 1910, has just the following printed text - 8906
Situated near Brown and Wabash Avenues and originally known as Lake View Park this appears to have been a privately owned park. Whilst it was called Lake View Park it was operated by Henry Breinig. Over the winter of 1907/08 it changed hands and became the property of the Terre Haute Amusement Co. with August Fromme assuming duties as president and general manager. Brothers August and Herman Fromme maintained several successful businesses at the southwest corner of Seventh and Hulman Streets and August retained the park's flourishing features but altered others to attract more family gatherings. It reopened on June 7, 1908 as Fairland Park.
Perhaps the most significant change instituted at Fairland Park was the admission charge, reducing it from 25 cents to ten cents. Children under 10 were admitted free. In an effort to encourage families to spend the day at the park, intoxicating beverages were barred and the once popular daily buffet was discontinued but the picnic facilities were expanded. Vaudeville also was terminated. Instead of "charging for inferior acts," Fromme intended to use the theater to offer free motion pictures. Free band concerts and a variety of high class circus and animal acts became the chief forms of live entertainment. While Lakeview Park engaged bands for one day exhibitions, Fromme secured popular bands for a week at a time. Shows were available every afternoon at 3 p.m. and every night at 8 p.m. The opening attraction on Sunday, June 7, was the Great Dixie Band, hailed as "the official band of the State of Texas."
The photograph on the above card was used to advertise the original Lake View Park as early as 1907.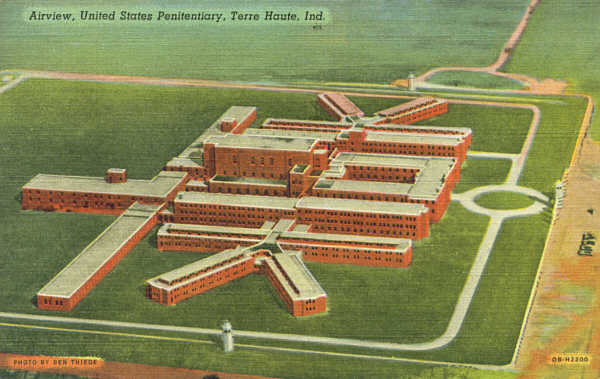 Federal Penitentiary
This unused linen fronted postcard has the printed text...
Photo by Ben Thiede
OB-H2200 [1940]
Wabash Valley News Agency Inc., Terre Haute, Ind.
Genuine Curteich-Chicago "C.T. Art-Colortone" Post Card (Reg. U.S. Pat. Off.)
Another copy of this card was posted in Terre Haute on November 23rd, 1955.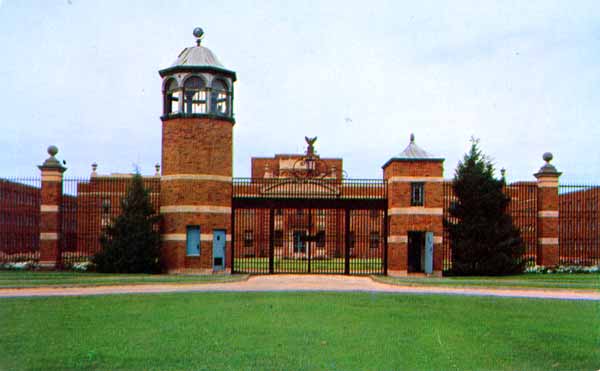 Federal Penitentiary
This unused postcard has the printed text...
U.S. Federal Penitentiary
Terre Haute, Indiana
Main gate, U. S. Federal Penitentiary
P22392
Pub. by Wabash Valley News Agency Inc., Terre Haute, Ind.
Plastichrome by Colorpicture Publishers, Ind., Boston 15, Mass., U.S.A.
I have another copy of this postcard that was posted in Terre Haute on August 28th, 1962
A new United States penitentiary was authorized by President Franklin D. Roosevelt in 1938 and established in Indiana on October 3rd, 1940 on 1,126 acres of land in Honey Creek Township just south of Terre Haute. The opening of the prison was partly due to heavy promotion by Terre Haute's Chamber of Commerce which raised $50,000 to pay for the property on which the prison was built. It was the first penitentiary for adult felons ever to be constructed without walls, which can be seen from the postcard view.
The Terre Haute Camp was added in 1962 with the purpose of housing non-violent felons to perform farm and maintenance duties. The federal death penalty was reinstated in 1988, after a 16 year moratorium beginning in 1972. In 1993, Terre Haute became the only federal prison in the United States to house a death row, this facility was completed in 1995. It was selected due to its geographic location in the center of the country and the fact that it already was a high-security prison that housed some of the nation's most dangerous inmates. This institution carries out executions of inmates by means of lethal injection.
The first death sentence to take place at the prison was June 11, 2001 with the execution of Timothy McVeigh, who was convicted in the 1995 Oklahoma City bombing. On June 19, 2001, Juan Raul Garza became the second person executed at Terre Haute, for his involvement in three drug-related murders that occurred in 1993. On March 19, 2003, Louis Jones Jr. became the third person executed at this institution, for kidnapping, raping, and killing 19-year-old Tracie Joy McBride.
This page created 20th February 2008, last modified 24th October 2009