Terre Haute Postcards
More postcards from my collection...
Fort Harrison Boat Club Party, Terre Haute, Ind.
This postcard, stamped in Terre Haute on September 9th, 1949, has the printed text...
Big Stag Party
Thursday. September 15th, 3 P.M. Until...
Chicken dumplings and all the trimmings.
Deluxe Floor Show and Entertainment All Evening.
Boat Rides In The Afternoon
All Free Just Show Your Memberhip Card
Fort Harrison Boat Club
Make reservations now for "Wee Bonnie Baker" week of Sept. 26th
"Wee Bonnie Baker" (1918 - 1990) was born Evelyn Nelson in Orange, Texas. This small big band singer is best remembered as vocalist on the 1939 Orrin Tucker hit "Oh Johnny, Oh Johnny, Oh!" The song was so big, it won them an invitation to The White House to perform for Roosevelt. In 1940 she was voted Most Popular Female Band Vocalist in a college poll. She left Tucker's orchestra in 1941 and went on to appear in several films during the 1940's and 50s.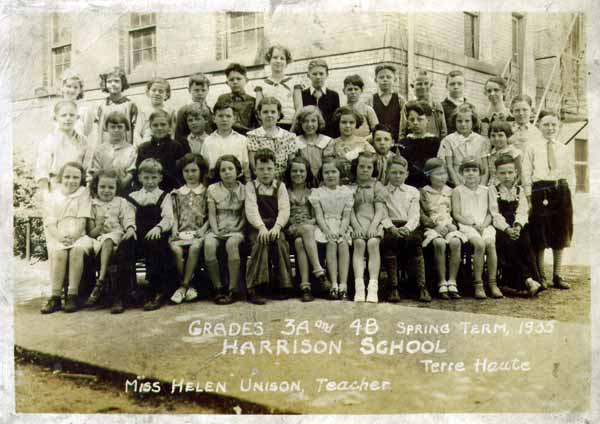 Fort Harrison School, Terre Haute, Ind.
This is not a postcard but a real photograph. It has the printed text...
Grades 3A and 4B Spring Term 1935
Harrison School, Terre Haute
Miss Helen Unison, teacher
This page created 12th May 2009, last modified 14th November 2009