Terre Haute Postcards
More postcards from my collection...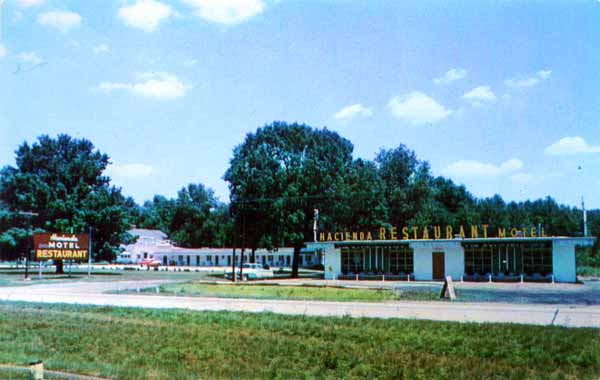 Hacienda Restaurant & Motel
This unused postcard has the printed text...
94031
Genuine Natural Color
Made by Dexter Press, Inc., West Nyack, N.Y.
"Hacienda Restaurant & Motel"
Delightfully Air Conditioned Throughout
Offering Restful & Comfortable Rooms, Delicious and Tasteful Food, Central Hot Water Heat.
Located 8 Miles South of Terre Haute, Ind. on U.S. 41.
Phone - Restaurant W 1015 R.R. #3
Motel W 1883 Terre Haute, Ind.
"Free TV in Rooms"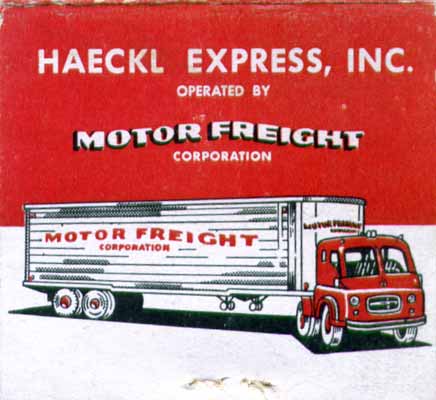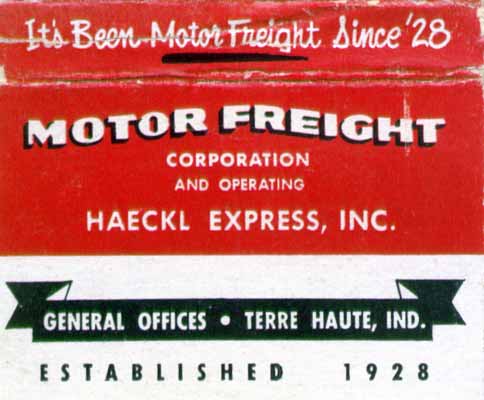 Haeckl Express Motor Freight Matchbook
This matchbook was produced for Haeckl Express Motor Freight . They were established in 1928 and had terminals in Chicago, IL; Cincinnati, OH; Columbus, OH; Dayton, OH; Detroit, MI; Evansville, IN; Greencastle, IN; Hamilton, OH; Indianapolis, IN; Kokomo, IN; Lexington, KY; Lincoln, NE; Louisville, KY; Omaha, NE; St. Louis, MO; Terre Haute, IN and Vincennes, IN.
Established in 1928, their head office was in Terre Haute with the phone number CR 2345.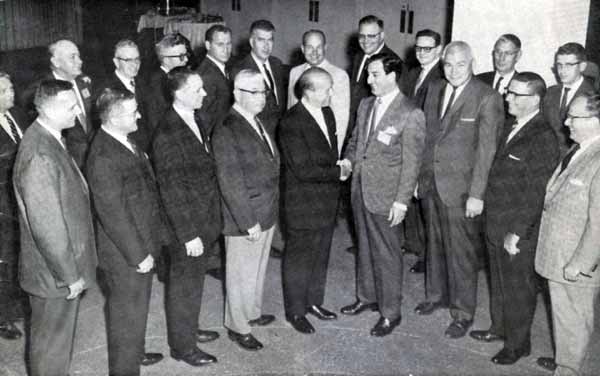 Left to right, 1st row - Ray Dalka, Allstates Freight, Inc., Akron, 0.; William Farnsworth, Arkansas-Best Freight System, Flo Smith, Ark.; Jay D. Harn, Brady Motorfrate, Inc., Des Moines, la.; A. C. Clemans, Clemans Truck Line, Inc., South Bend, Ind.; H. E. Baker, Spector Freight System, Inc., Chicago; Danny Thomas; Curtis Crowe., Consolidated Freightways, Inc., Menlo Park, Calif.; William Mitchell, Eastern Express, Inc., Terre Haute, Ind., and James E. Nicholas, general manager, Indiana Motor Truck Association.
Same order, 2nd row - Joseph Styx, Huber & Huber Motor Express, Inc., Louisville, Ky.; 'Claude C. Caylor, Ellis Trucking Co., Inc., Indianapolis, lnd.; Phil Amato, Federal Express, Inc., Indianapolis, Ind.; Ed Kinnesten, Interstate Motor Freight System, Inc., Grand Ral}ids, Mich.; R. J. Shellenbach, McLean Trucking Co., Winston?Salem, N. C.; Ralph Johns, Motor Freight Corp. Haeckl's, Terre Baute, Ind.; Ed Grieshaver, Roadway Express, Inc., Akron, 0.; Jack R. Dugger, Suburban Motor Freight, Inc., Columbus, 0.; Robert Burkey, Terminal Transport Co., Inc., Atlanta, Ga.; Maurice Beukeme, Viking Freight Co., St. Louis, Mo. and Forest Burm, Yellow Transit Freight Lines, Inc., Kansas City, Mo.
Executives of 22 trucking firms had "Breakfast With Danny Thomas" last month and received the television star's personal thanks for assisting in the promotion of his favorite charity - free treatment for leukemia stricken children. The motor carrier representatives were presented awards on October 12th, 1963 at the Morrison Hotel in Chicago for their efforts in furnishing free transportation to Aiding Leukemia Stricken American Children. The awards were made by Mr. Thomas, ALSAC president, at the annual "Breakfast With Danny Thomas" during the national convention for ALSAC - St. Jude Hospital
Source: The Fifth Wheel, Motor Transportation Magazine, November 1963. Clemens Truck Line, Inc. website.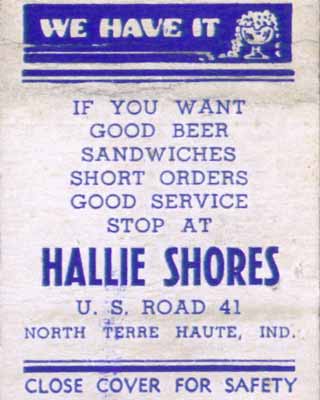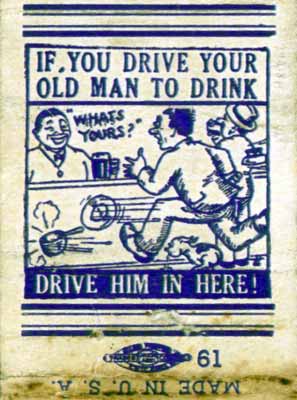 Hallie Shores
This matchbook advertises Hallie Shores bar and restaurant which stood on U. S. 41 in North Terre Haute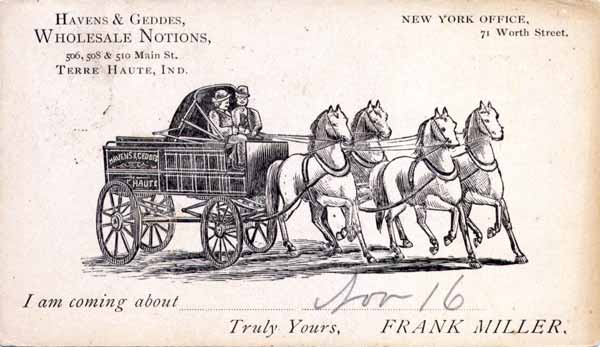 Havens & Geddes
This postcard was posted on November 7th, 1831, and has the printed text...
Havens & Geddes,
Wholesale Notions,
506, 508 & 510 Main St,
Terre Haute, Ind.
New York Office,
71 Worth Street
Havens & Geddes Company, specialized in wholesale staple and fancy dry goods, notions, woolens and carpets. Established in 1859, in 1899 the company succeeded to the business of D. P. Erwin & Company, transferring its business from Terre Haute to Indianapolis. The officers at the time were Elisha Havens, president; R. Geddes, vice-president and treasurer, and H. O. Wright, secretary. This business also controlled the Wabash Manufacturing Company, which manufactured shirts, overalls, etc., employing over 200 persons with Messrs. B. Havens as the president, and R. Geddes as the treasurer and which had been in business since 1874.
In the 1890's, the 5-storey store was the largest dry goods store in Indiana and occupied a site on the northeast corner of 5th Street and Wabash Avenue and employed more than 300 people. A second-story passageway provided access to the wholesale side of the business that faced Cherry Street. On December 19th, 1898 the retail side of the business was the starting point of the worst fire ever seen in Terre Haute. It cost four people their lives, seriously injured eight others and caused $2 million worth of damage.
In 1898, the Havens and Geddes building was less than five years old and considered "modern and safe." Around half of the store's 300 employees had already left for home and shortly before 6 p.m. on the evening of December 19th, 1893, an incandescent lamp burst in a main-floor display window, showering sparks onto piles of cotton used to simulate snow. Flames raced up draperies to the wooden ceiling and quickly spread to the evergreen Christmas decorations that the store was using. Louis Kramer, the window dresser, suffered terrible burns to the head and arms. Kramer was in so much pain from his injuries that, according to the New York Times, he "begged to be killed."
The store manager, Fred Brown, tried to stop the spread of the fire. "I went to the rear of the store where we always keep a large number of buckets of water and called to the other men to help me," Brown said. "All of this time I was thinking that a few buckets of water would hold the fire in the window until the fire department could put it out. When we reached the front of the store I saw at once that the buckets were useless. My hands were singed in the awful heat. With incredible rapidity the fire spread clear through the store. I called to the men with me to run for their lives."
In April 1898, eighteen year old Claude Herbert had volunteered for the Spanish - American War. A few months later the war had ended and Herbert, a large young man with a gentle nature and "always eager to help anyone," was back in Terre Haute looking for work to support himself and his widowed mother. In December 1898, Herbert had found employment as Santa Claus in the store. Working in the basement, he was entertaining the store's patrons when the fire broke out. The children around him grew frightened and with great presence of mind, Herbert stayed in character as Santa and instructed the children to hold hands. Carrrying two of the smallest children, Herbert led the others out of the burning building onto Wabash Avenue. As soon as the children were safe Herbert threw off his Santa robes and ran back into what the Terre Haute Evening Gazette described as the "fiery holocaust of hell" to render further assistance to the store's customers. By the time local fire units began forming Herbert had already made two trips into the burning store, each time returning with coughing, choking employees and customers. Sadly, Claude Herbert didn't manage to return from his final rescue mission into the store. Clerk Nellie Welch, one of those Herbert rescued, told the Gazette, "He had plenty of time to save himself but he went back inside."
Two of Havens & Geddes' clerks, Katie Maloney and her friend Linelle or Luella "Lulu" Ferguson, were trapped on the second floor of the store by the fire. A Mr. Peters, a salesman for the Baldwin Music House in Chicago spotted the women at a window. He rushed into the burning building and persuaded them to jump for their lives. He jumped first, followed by Ferguson who was caught by some men. Although injured, she recovered. Maloney apparently threw her coat down ahead of herself then jumped. She wasn't so lucky as her friend and hit her head on the pavement. She died from her injuries on December 23rd.
J. O. Button, manager of Havens and Geddes bookstore was badly injured as was Albert Weinbreicht, a bookkeeper.
The fire threatened to get completely out of control and appeals for help were sent via telegraph. The mayor of Indianapolis helped load two fire wagons onto a special train which raced towards Terre Haute, all other rail traffic being stopped for it. The fire department fought the blaze bravely and two firemen were killed, several badly injured whilst many suffered from smoke inhalation and burns.
Three firemen, Captain John Osterloo, John Welch and William O'Connell were badly injured and burned in the cellar of the nearby Ford and Overstreet store when the floor collapsed under them. Osterloo was trapped under burning debris and died from his injuries on December 29th.
Henry Nehf was a pharmacist and volunteer fireman, he was also one of John Osterloo's friends - they'd known each other from their schooldays. Nehf's body was found 10 or 12 twelve days after the fire in the remains of a burned and collapsed building, his right arm over his head, as if to fend off the ceiling, and his left around the nozzle of a fire hose. A great deal was made of the fact that Nehf's pocket watch, which he kept in his vest pocket, had stopped at 6:08. It seems unlikely that this is the time that he died though as this was either around the time that the fire first started or after the bulk of the fire was extinguished. The fire was still burning fiercely around 11pm that night but by then was under control.
As well as the loss of life, the economic impact of the fire was huge. The Havens and Geddes store suffered around $800,000 worth of damage. Albrecht and compnay, a dry goods store, $750,000. Terre Haute Shoe Company, a shoe wholesalers, $150,000. Owen Pixley and Company, a clothing manufacturer's and store, $100,000. The United States Baking company $80,000. Thorman and Schloss, clothiers, $50,000. Breinig and Miller furniture store, $40,000. Ford and Overstreet, another clothiers, $40,000. These and other, smaller businesses, in total suffered around $2 million worth of damage.
More than half of the block on the north side of Wabash Avenue between Fifth and Sixth streets and the Thorman & Schloss building at the northwest corner of the intersection were destroyed by the fire. The facia of the Albrecht Building, now Ellis Plaza, survived, but the rest of the building had to be rebuilt. Havens and Geddes never reopened in Terre Haute. Elisha Havens moved to Indianapolis a few months after the fire after spending 35 years in Terre Haute. The site of the Havens and Geddes store is now occupied by the Terre Haute Transit Utility bus transfer center.
With the help of his wartime friends and grateful members of the Terre Haute community, a seven-foot stone monument to Herbert's bravery was dedicated on August 2nd, 1905, but it was destroyed by a vehicle, as was its replacement. To protect it, the third memorial was moved to the Vigo County Courthouse grounds in 1980. The simple engraving says: "In memory of Claude Herbert, who gave his life to save others in the Havens & Geddes fire."
Sources:
Great Fire in Terre Haute
Havens & Geddes Fire
Paper Tigers - Page Slaves Pressed by History's Volume
Santa Died a Hero That Night Long Ago
The Big Fire at Terre Haute
The Journal Handbook of Indianapolis by Max Robinson Hyman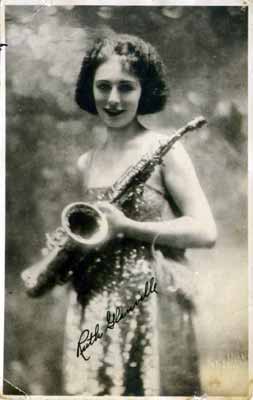 Ruth Glanville
This unused postcard has the printed text...
Hayden's Novelty Photo Shop
624 1/2 Wabash Ave, Terre Haute, Ind.
Pictured is Ruth Glanville. Apparently, at one time she was "America's Premiere Saxophonist". In 1927, Vitaphone made a short film of her playing Saxophobia.
Source: Complete Index to World Film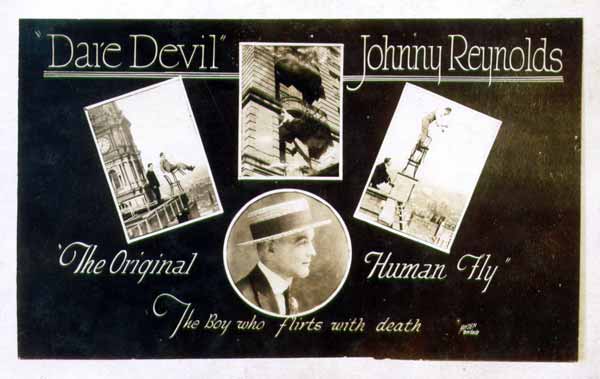 Dare Devil Johnny Reynolds
The Original Human Fly
The boy who flirts with death
Hayden, Terre Haute
This postcard has the printed stamp box...

According to Playle's postcard site this stamp box was in use from 1905 to 1920.
The back of the card also has the hand-written text...
He climbed First National Bank and Elk's Building. July 14, 1928, during Fireman's Carnival.
Sunbury P.A.
I do not know who Hayden, Terre Haute was.
"Human Fly's" such as John Reynolds were seen scaling building in many cities during from around 1900 to the 1920's. A series of accidents which led to the death of some of these performers in 1923 and 1924 led many cities to pass ordinances prohibiting the scaling of buildings.
This page created 25th February 2008, last modified 7th July 2009