Terre Haute Postcards - Hulman & Co. (2)
More postcards from my collection...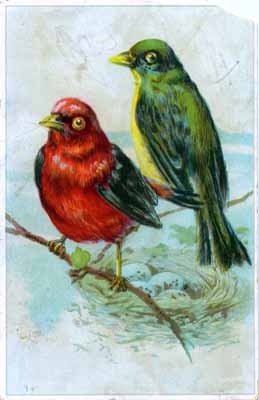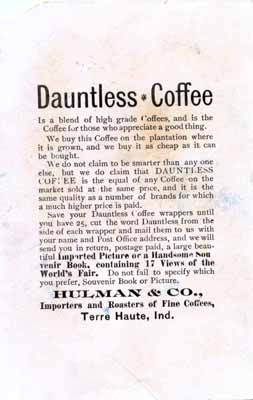 Hulman & Co. - Dauntless Coffee (front and back)
Not a postcard but a trade card, the text says...
Dauntless Coffee
Is a blend of high grade Coffee, and is the
Coffee for those who appreciate a good thing.
we buy this Coffee on the plantation where
it is grown, and we buy it as cheap as it can
be bought.
We do not claim to be smarter than any one
else, but we do claim that DAUNTLESS
COFFEE is the equal of any Coffee on the
market sold at the same price, and it is the
same quality as a number of brands for which
a much higher price is paid.
Save your Dauntless Coffee wrappers until
you have 25, cut the word Dauntless from the
side of each wrapper and mail them to us with
your name and Post Office address, and we will
send you in return, postage paid, a large beau-
tiful Imported Picture or a Handsome Sou-
venir Book, containing 17 views of the
World's Fair. Do not fail to specify which
you prefer, souvenir Book or Picture.
Hulman & Co.,
Importers and Roasters of Fine Coffees,
Terre Haute, Ind.
This text was also used on some Crystal Coffee tade cards but with the word Crystal substituted for Dauntless.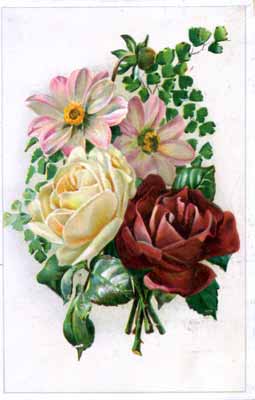 Hulman & Co. - Dauntless Coffee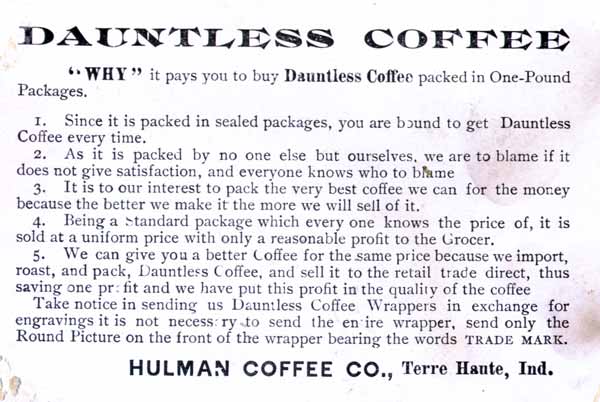 Hulman & Co. - Dauntless Coffee (back)
Not a postcard but a trade card, the text on the rear of the card reads...
Dauntless Coffee
"Why" it pays you to buy Dauntless Coffee packed in One-Pound Packages.
1. Since it is packed in sealed packages, you are bound to get Dauntless Coffee every time.
2. As it is packed by no one else but ourselves, we are to blame if it does not give satisfaction, and everyone knows who to blame.
3. It is to our interest to pack the very best coffee we can for the money because the better we make it the more we will sell of it.
4. Being a standard package which everyone knows the price of, it is sold at a uniform price with only a reasonable profit to the Grocer.
5. We can give you a better Coffee for the same price because we import, roast, and pack, Dauntless Coffee, and sell it to the retail trade direct, thus saving one profit and we have put this profit in the quality of the coffee.
Take notice in sending us Dauntless Coffee Wrappers in exchange for engravings it is not necessary to send the entire wrapper, send only the Round Picture on the front of the wrapper bearing the words TRADE MARK.
Hulman Coffee Co., Terre Haute, Ind.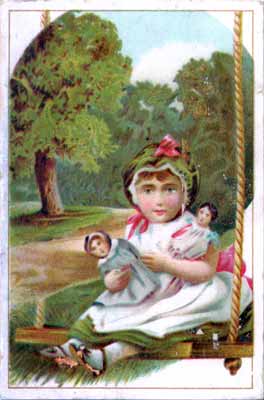 Hulman & Co. - Dauntless Coffee
Not a postcard but a trade card, the text on the rear of the card is exactly the same as on the previous card.
Hulman & Company brands...
Coffee - Rex, Crystal, Dauntless
Baking powder - Clabber Girl, Rumford
Farmers Pride
1850 - Francis Hulman and John Bernhard Ludowici invested $700 and $1,400, respectively, opened Cincinnati Wholesale Grocery Store in Terre Haute
March 12th, 1853 (March 12th) - partnership ended; Ludowici kept the business
September 1853 - Hulman opened F. T. Hulman Wholesale Store directly across street
1854 - Herman Hulman arrived from Germany to sell for Francis
September 13, 1858 - Francis Hulman, wife and child died aboard ship destroyed by fire on way to New York
July 1869 - merged with R. S. Cox Jr., closest competitor in wholesale grocery business
1878 - acquired Benjamin Cox's half-interest; became major supplier of food, merchandise under house brands (Crystal, Dauntless, REX, Farmers Pride, Clabber Brand baking powder)
January 1st, 1899 - Clabber Brand baking powder brand name first used
1923 - Food and Drug Administration changed labeling laws, Clabber Brand baking powder name changed to Clabber Girl
March 18, 1924 - trademark registered.
This page created 9th February 2010, last modified 13th March 2010