Terre Haute Postcards
More postcards from my collection...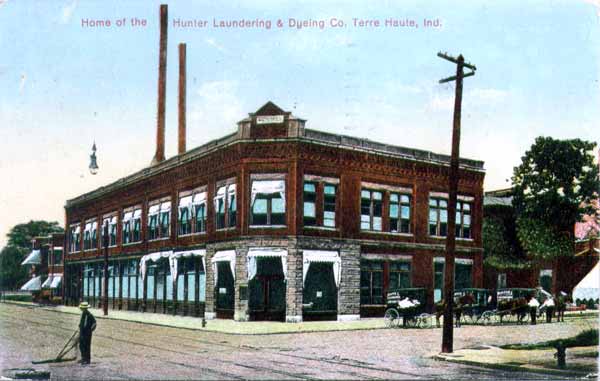 Hunter Laundry and Dye Works
This unused postcard has the printed text...
636
4910
Printed in Germany
JAMES HUNTER, dealer in men's furnishing goods, Terre Haute. It is an infrequent thing to meet men who are such capital financiers that they succeed admirably in almost any undertaking. James HUNTER, of No. 523 Main street, seems to be of this class. He is a native of the north of Ireland. Though he has been a resident of the United States but ten years, he is as fluent a speaker as native-born Americans. This is due partly to a good education, and partly to his native place being in a Protestant community. He has now been engaged in the mercantile business fifteen years, and ten years in his present line, seven of which he has spent in Terre Haute. He is now but twenty-seven years old, and has established a trade more extensive than many men are able to do at the age of fifty years. As before stated, he is located at No. 523 Main street, where he occupies a room 22x140 feet, besides the basement and thirty feet of the second floor. His stock consists of a fine line of gents' furnishing goods, though his specialty is the manufacture of shirts. In 1877 he established the Troy laundry in connection with his business. To fit this up for perfect work he has spent about $2,000, one notable feature being a handsome horse and vehicle with which to gather up and return goods from the laundry. In all he gives employment to about seventeen hands. The Troy laundry is well appreciated by the citizens of Terre Haute, if one may judge by the continued rush of business to the place. In this, as in other things, Mr. HUNTER seems to have anticipated the wants of the public. He now has a trade established in Terre Haute of which he may well be proud.
Source: History of Vigo and Parke Counties
The above text was written in 1880. By 1900, James Hunter, from his humble two tub laundry business in the rear of his men's clothing store on Wabash Avenue had laundry agencies in 135 towns within a 150 mile radius of Terre Haute. The building pictured in the postcard stood at the northeast corner of Sixth and Cherry Streets.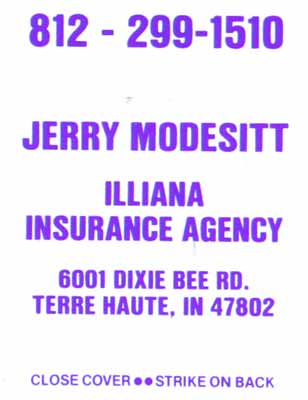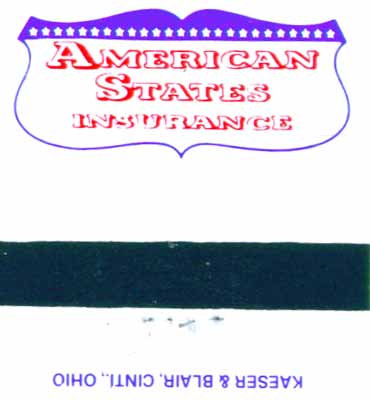 Illiana Insurance Agency
This matchbook advertises the Illiana Insurance Agency and its agent, Jerry Modesitt who operated out of 6001 Dixie Bee Road.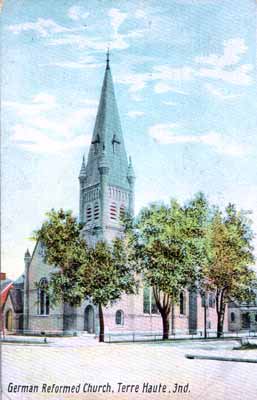 Immanuel Evangelical Lutheran Church
This postcard, stamped in Terre Haute on January 14th, 1908, has the printed text...
German Reformed Church, Terre Haute, Ind
No. C1825
Published by the American News Company, New York
Leipzig - Berlin - Dresden
Printed in Germany
Leipzig - Berlin - Dresden
ANC NY Litho-Chrome Trade Mark logo
Germany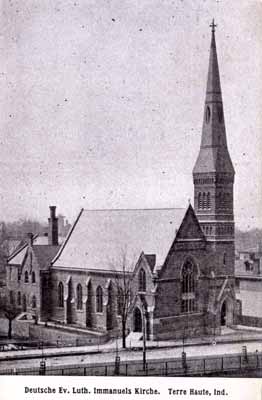 Immanuel Evangelical Lutheran Church
This postcard, stamped in Terre Haute on November 23rd, 1909, has the printed text...
Deutsche Ev. Luth. Immanuels Kirche
Journal Printers Co., Printers, Terre Haute, Ind.
I have another copy of this postcard that was posted in Terre Haute on January 3rd, 1910
The Immanuel Evangelical Lutheran Church was organized in 1858. The pictured second church was built at 645 Poplar Street and dedicated on October 10th, 1886. It was built of brick and cost $25,000. The site of the parsonage is now occupied by the Immanuel Lutheran Preschool.
This church had a Germanic origin. Although Terre Haute had a small population at that time, quite a number of residents came from Germany. In 1848, Arnd H. Luken, a grocer, collected a small group of Germans. They were mostly young people from East Friesland, the northernmost county of the German Empire. A few of them, however, came from other parts of Germany. Under the leadership of Mr. Luken, a congregation was organized which was called the German Evangelical Lutheran and Reformed Church, and he became the first pastor. This group had not just Lutherans, but other groups with different doctrines.
After 10 years, they decided to form a purely Lutheran Church which remained until 1917, when the word "German" was dropped due to anti-German sentiments, giving the church the name it has today. Over the years, this church went through a process of evolution.
In 1880, a brick church was built at the northwest corner of Fourth and Swan streets. The Rev. H.W. Rinker was the pastor and the congregation had 20 regular members, which quickly increased to 60. They formed a constitution, had charter members and trustees. They became quite active and formed a parochial school.
It was during Mr. Katt's pastorate from 1879 to 1918 that the present sanctuary at 645 Poplar St. was built and was dedicated in 1886. Congregational organizations included a choir, young people's society, and women's society. The church became very active, with regular services, weddings, funerals, Bible studies, baptisms, and Sunday school studies. At the beginning, services were conducted in German, but changed to English in 1879.
In October 1958, under the leadership of the Rev. Jordan, a weeklong centennial was observed. Since then, another 50 years have passed. To commemorate these years, a hardcover publication has been written and given to the Historical Museum by Dr. Ronald W. Dunbar. This book, "Immanuel Evangelical Lutheran Church, 150 Years, That We May Confess Your Truth," chronicles the history and activities of this landmark church and its prominent place in the community. It is now a part of the Museum's collection for reference and research.
Source: Immanuel Lutheran has served community for more than 150 years
Imperial House
This unused postcard is about 1.5 times as long as a normal postcard and has the text...
Imperial House
Terre Haute
Where every guest is King!
2150 North Third Street
Terre Haute, Indiana 47804
Phone 1-812-234-4816
112 elegantly decorated rooms, color TV, outdoor heated pool, El Black Rose Restaurant,
Conquistador lounge, Banquet and meeting rooms, Most credit cards accepted
75564-C
Photo by Paul Cramer
Distributed by Paul Cramer, 546 Main, Hamilton, Ohio 45013
Made by Dexter Press, West Nyack, New York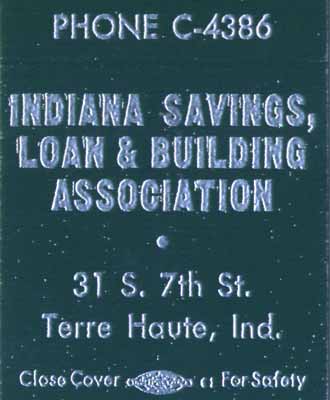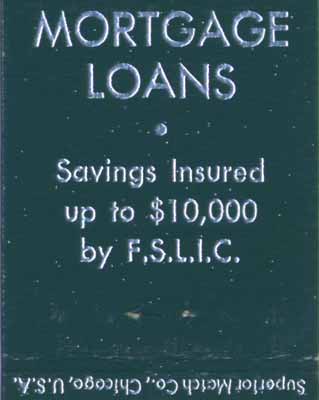 Indiana Savings, Loan and Building Association
This matchbook advertises the Indiana Savings, Loan and Building Association which stood at 31 South Seventh Street. On 1st January, 1921 it had capital stock of $7 million and assets of $2,503,601.49. The president was B. V. Marshall, Vice Preseident - Marx Myers; Treasurer - Herman A. Mayer; Secretary - James D. Bigelow; Assistant Secretary - Omer Rhodes and the Director was George M. Stewart. Later, Ray Hahn of Hornung & Hahn shoe store became a board member.
Sources:
Book of Terre Haute:  An Optimistic Financial Review
Ray Hahn
This page created 17th July 2008, last modified 8th July 2009