Terre Haute Postcards - Indiana State Teachers College (3)
More postcards from my collection...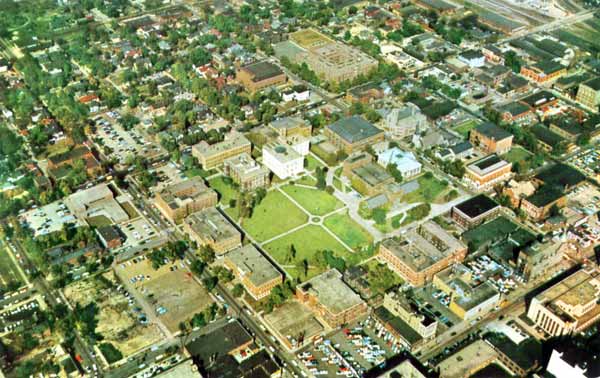 Indiana State Teachers College
This unused postcard has the text...
7C-K2980
Copyrighted by Kadel Photographers, Terre Haute, Indiana
CurteichColor 3-D Natural Color Reproduction (Reg. U.S.A. Pat. Off.)
K-8A Air View
Ektachrome Original by Bob Kadel
Indiana State Teachers College, Terre Haute, Indiana
Indiana State Teachers College was founded on January 6, 1870, as Indiana State Normal School and the present name was adopted in 1929. The beautiful, modern, and compact campus covers over 37 acres in the heart of the City of Terre Haute, Indiana. Coeducational enrollment is over 3,500 students. one of four Indiana tax-supported colleges and universities, the College offers fully-accredited four-year degree and advanced graduate degree study in teaching and fields other than teaching.
The above photograph was taken while the college was still named Indiana State Teachers College, which was up to 1961.
Indiana State Normal School has it's own interesting history. In 1929 it became the Indiana State Teachers College, in 1961, the Indiana State College before finally became Indiana State University in 1965. There is a fully history of the college at Indiana State University Archives, but here is some information about the buildings pictured...
The bookstore was situated in the former First Christian Church building on Mulberry Street between Condit House and the Women's Residence Hall. This dormitory, completed in 1925, was later expanded and renamed as Reeve Hall. It was the first residence building on the campus. The bookstore was demolished in 1954 and Reeve Hall in 1997.
Women's Residence Hall
Women's Residence Hall, 1925
Reeve Hall, 1959
Architect: Johnson Miller and Miller and Yeager, Terre Haute
Cornerstone Ceremony: November 19, 1924
Dedicated: October 5, 1925
Cost: $105,000.00 (1st wing)
Cost: 258,000.00 (1st and 2nd wings)
Remodeled: 1955 & 1971
Addition: Second wing and courtyard, 1929 & Third wing, 1955
Notes: 1959 - Named for Helen E. Reeve, Director of Residence Hall, (1926-1946) and Dean of Women, (1946-1956).
Converted to office space in 1971.
Demolished 1997
Stalker Hall - this information refers to the second Stalker Hall which dates from 1954.
Architect: Ralph O. Yeager
Contractor: J.L. Simmons Co., Inc.
Cost: $810,837.00
Contractor: Nehf Hardware & Electric Co., Terre Haute
Cost: $108,860.00
Notes: Second university building to bear the name Stalker Hall named for Francis Marion Stalker, Indiana State Normal School. faculty, 1892-1929.
Renovation: 200: Elevators added, facade added to back entrance of building.
Vocational Arts Building
Contractor: Bedford Stone and Construction Company
Opened: 1915
Cost: $116,000.00
Remodeled: 1957
Addition: 1957- wing containing Print Shop
1982 - new educational and classroom wing.
Training in vocational subjects was introduced into the curriculum of Indiana State Normal School in 1905. Originally vocational training was offered in a room in the basement of the Training School; however, progress was very slow because of very limited equipment. Gradually the whole basement was taken over, and in addition, part of the basement of the Main Building was used.
In 1911, the department became known as the Department of Manual Training and Domestic Science. Regular vocational instruction for women began in 1911; but the separate Home Economics Department was not created until 1915 when adequate space was made available by the completion of the Vocational Building. In 1915 the policy of training teachers under the Smith-Hughes Act was instituted.
The Vocational Building contained in addition to the Home Economics Department and the Industrial Arts Department, the Teachers College Press, a shop in which most of the printed material required by the college was produced. Printing was taught here to a large number of students.
Fine Arts and Commerce Building
Architect: Miller & Yeager
Contractor: James McHugh
Dedication: March 15-17, 1940
Cost: $365,000.00
Remodeled: 1963
Note: PWA funded project ($165,272.00). Land offered by the City of Terre Haute
Laboratory School
Established: 1935
Architect: Miller and Yeager
Dedication: November 12, 1937 Cost: $1,000,000.00
Addition: 1937

The laboratory school was a PWA funded project. The land was donated by the City of Terre Haute. The first part of building was completed in July, 1935. An additional PWA grant allowed for completion of an additional wing to house the Sycamore Theater and gymnasium. Gilbert Wilson murals enhance the interior. On the corner of Seventh and Chestnut Streets it housed Indiana State High School until 1978 and after that the University school until 1991. The building now known as University Hall, houses the University child care center, 21st century scholars department, and various other departments. It is currently under renovation.
Student Union Building
Student Union Building - 1940
Tirey Hall - 1963
Architect: Miller and Yeager
Contractor: Robert E. Meyer
Dedicated: March 15-17, 1940
Cost: $440,000.00

The building was a PWA funded project ($191,782.00). Mrs. Franklin Delano Roosevelt gave the dedication address and Rose Bampton, Metropolitan Soprano performed. In 1963 it was named for Ralph Noble Tirey, President of Indiana State University , 1934-1953. The auditorium is named Tilson Music Hall in honor of Lowell Mason Tilson, Faculty and chairperson of the Music Department (1915-1940).
The Public Works Administration was part of the New Deal. It was created in June 1933 in the midst of the Great Depression. It allowed 3.3 billion dollars to be spent on the construction of public works as a means of providing employment, stabilizing purchasing power, improving public welfare, and contributing to a revival of American industry.
This page created 4th October 2009, last modified 4th October 2009