Terre Haute Postcards
More postcards from my collection...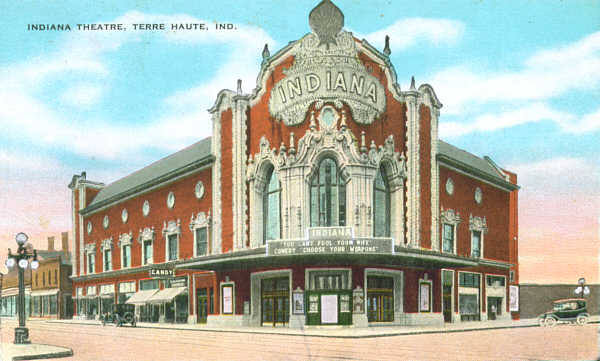 Indiana Theatre, Terre Haute, Ind.
This unused postcard has the printed text...
27863
Pub. by Levin Bros., Terre Haute, Ind.
Made in U.S.A.
Designed by Chicago architect John Eberson for Theodore W. Barhydt and the Indiana Theater company, this Spanish Baroque movie house stands on the corner of Seventh and Ohio Streets. John A. Schumacher & Co. of Indianapolis was the general contractor. The cost of the brick structure with its terra cotta details and a sumptuous interior exceeded $750,000. To give some idea of the fabulous interior, the theater's ornate domed ceiling was trimmed in 24-carat gold plate.
The 2,000 seat theatre opened on January 28th, 1922. Theater employees wore costumes consistent with the theater's Spanish Andalusian motife. Peacocks strutted about the lobby, which included handsome mosaic floors, an elegant fountain and a marble staircase. The 12-foot "Paramount Peacock," at the top of the marquee, required 3,000 light bulbs. Sidney Smith was the theater's first manager. The 20-piece Indiana Symphonic Orchestra, conducted by Raymond Bond Townsley, occupied the orchestra pit which incorporated a $50,000 Wurlitzer Hope-Jones pipe organ played by R. Wellington Welch and Jack Welch. The organ's massive pipes were concealed in the walls. Festivities began with a inspiring version of "On the Banks of the Wabash, Far Away," by Terre Haute native Paul Dresser. The premier film feature was "Cappy Ricks," starring Thomas Meighan and Agnes Ayers.
In this postcard, the awning is advertising two films, a drama called "You Can't Fool Your Wife" which was made in 1923 and the 1922 comedy "Choose Your Weapons."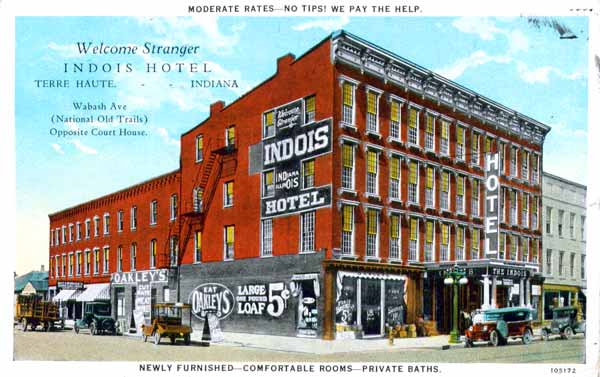 Indois Hotel, Terre Haute
This postcard, posted in Springfield, Kentucky on October 30th, 1925, has the printed text...
105172
Made by Curteich & Co., Chicago, U.S.A.
Moderate Rates - No Tips! We Pay The Help
Welcome Stranger
Indois Hotel
Terre Haute - Indiana
Wabash Ave
(National Old Trails)
Opposite Cout House
Newly Furnished - Comfortable Rooms - Private Baths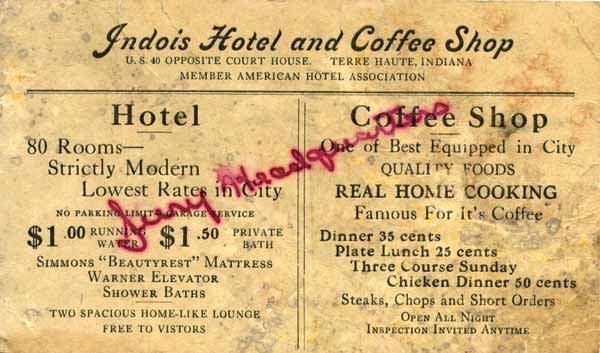 Indois Hotel, Terre Haute
This postcard, posted in Terre Haute on March 2nd, 1933, has the printed text...
Indois Hotel and Coffee Shop
U.S. 40 Opposite Court House, Terre Haute, Indiana
Member American Hotel Association
Hotel
80 rooms
Strictly Modern
Lowest Rates in City
No Parking, limited Garage Service
$1.00 Running Water
$1.50 Private Bath
Simmons "Beautyrest" Mattress
Warner Elevator
Shower Baths
Two spacious home-like lounge
Free to visitors
Coffee Shop
One of Best Equipped in City
Quality Foods
Real Home Cooking
Famous For It's Coffee
Dinner 35 cents
Plate Lunch 25 cents
Three Course Sunday Chicken Dinner 50 cents
Steaks, Chops and Short Orders
Open All Night
Inspection Invited Anytime
The site at the northeast corner of 204 Wabash Avenue and Second Street, like many places in Terre Haute has a long and varied history. Since 1820, this corner has been home to several lodging and other businesses.
By 1820, Francis Cunningham's Terre Haute Hotel advertised "nine spacious rooms" near Cunningham's Tavern which was across the road on Second Street.
By November 1823, Bonner, Reynolds and wealthy pork merchant, John D. Early also sold merchandise at the site. Early aquired the building in 1951. He expanded it into storefronts and opened a tenement house known as "Early's Corner". In 1854, he added another two floors to the two storey building with a three storey extension at the rear.
Early died in 1868, and the building became the property of Joseph F. Fellenzer, who erected the Metropolitan Theater in Indianapolis. Fellenzer remodeled the building in the 1870s and renamed it St. Clair House. Vaudeville star Rose Melville, youngest daughter of Rev. Jacob and Caroline Smock, was born there. By 1886, the building offered two bakeries, two saloons, a barber shop, a grocery, a hardware store, a coal and wood dealer, a harness shop and a confectionery. Storefronts faced both Second Street and Wabash Ave.
Samuel M. Young Jr. remodeled it again in the 1890's and it was renamed the Wabash Avenue Hotel. It was later renamed the Stag Hotel and advertised for "men only" and "a clean place for clean people" with Samuel B. Moore as manager. It was remodeled again in 1928 and renamed the Indois hotel.
Young, whose father founded Youngstown, was also quite an entrepreneur. He was a playwright who wed Rose Melville's older sister, Ida and founded Young's Airdome Theater between Third and Fourth streets on Ohio St., the Savoy Theater at 323 Wabash (in partnership with Albert Joab and Edward Hampton) and the Young Building at 819 Ohio.
Young died May 12th, 1933, surviving his wife by five years. For awhile, their son, Richard Young, managed the Indois Restaurant and Coffee Shop. Louis and Lucille Haag owned and managed the hotel for its final 30 years.
The ground floor contained stores, one of which was Oakleys. On August 9th, 1909, Hollie N. Oakley of Terre Haute opened his first grocery store at 1105 Wabash Avenue. The store was a success and Oakley's soon became the largest independent grocery chain in Indiana. By 1920, there were 33 Oakley stores in and around the Wabash Valley alone.
Demolition of the building was started on October 24th, 1969.
Sources:
Terre Haute & Vigo County in Vintage Postcards by Dorothy W. Jerse and John R. Becker III
Wabash Valley Profiles - The Indois Hotel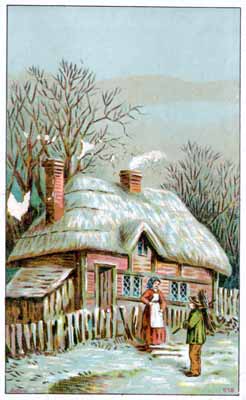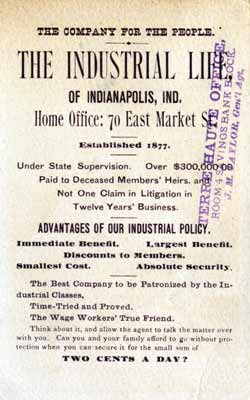 Industrial Life of Indianapolis.
This tradecard has the printed text...
The Company for the People
The Industrial Life
of Indianapolis, Ind.
Home Office: 70 East Market St.
Established 1877
Under State Supervision. Over $300,000.00
Paid to Deceased Members' Heirs and
Not One Claim in Litigation in
Twelve Years' Business
Advantages of our Industrial Policy
Immediate Benefit. Largest Benefit.
Discounts to Members.
Smallest Cost. Absolute Security.
The Best Company to be Patronized by the
Industrial Classes
Time-Tried and Proved
The Wage Workers' True Friend
Think about it, and allow the agent to talk the matter over
with you. Can you and your family afford to go without
protection when you can secure it for the small amount of
Two Cents a Day?
The card is stamped...
Terre Haute Office
Room 4, Savings Bank Block
J. M. Taylor, Gen'l. Agt.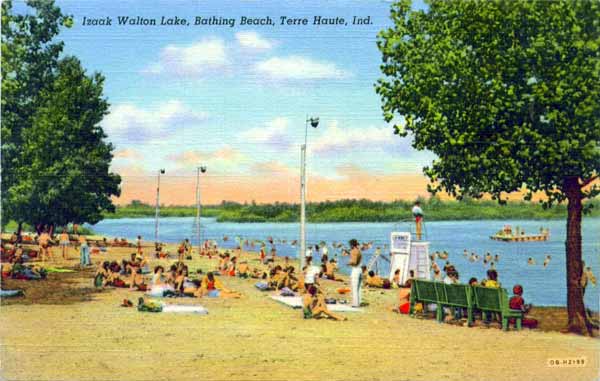 Bathing Beach, Izaak Walton Lake
This linen faced, unused postcard has the text...
OB-H2199 [1940]
Wabash Valley News Agency. Inc., Terre Haute, Ind.
Genuine Curteich-Chicago "C.T. Art-Colortone" Postcard (Reg & U.S. Pat. Off.)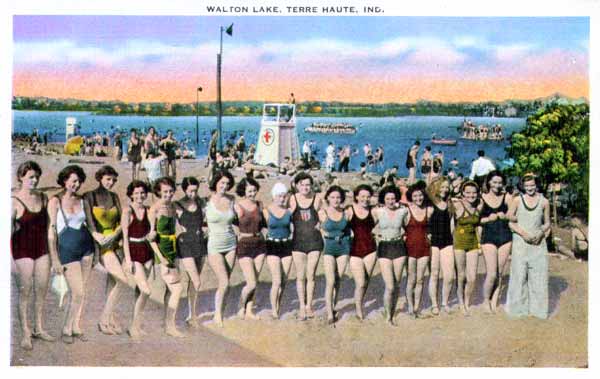 Izaak Walton Lake
This linen faced, unused postcard has the text...
14810N
Pub. by Levin Brothers, Terre Haute, Ind.
Made in U. S. A.
E. C. Kropp Co. stamp mark
Izaak Walton was an Englishman who in 1653, first published the Compleat Angler. In 1922, the Izaak Walton League was formed in Chicago to help preserve fishing streams. The Terre Haute chapter was founded in 1923 and soon acquired the 150 acre lake, now known as Izaak Walton Lake, just north of West Terre Haute.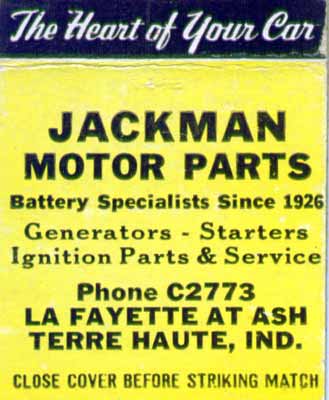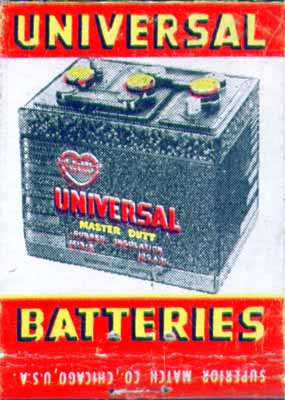 Jackman Auto Parts
This matchbook advertises Jackman Auto Parts which was situated at La Fayette and Ash.
This page created 15th March 2008, last modified 14th October 2009