Terre Haute Postcards
More postcards from my collection...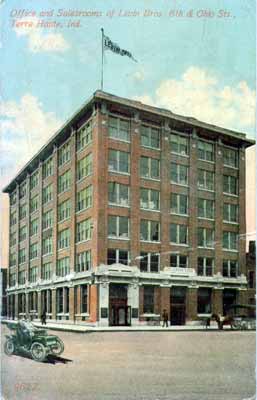 Office and Salesroom of Levin Brothers
This unused postcard has the text...
Levin Bros.
Acmegraph Co., Chicago trademark logo
This building was built by the Terre Haute Savings Bank in 1911 on the corner of Sixth and Ohio Streets. Levin Brothers, a wholeesale dry goods company, and publisher of many of the postcards on these pages, occupied the top five floors of the building until they stopped tading in 1968. The Levin Brothers were Meyer, Morris, Isaac and Max.
The building is still occupied by the Terre Haute Savings Bank as their main offices but has changed - the top five floors were demolished in 1972.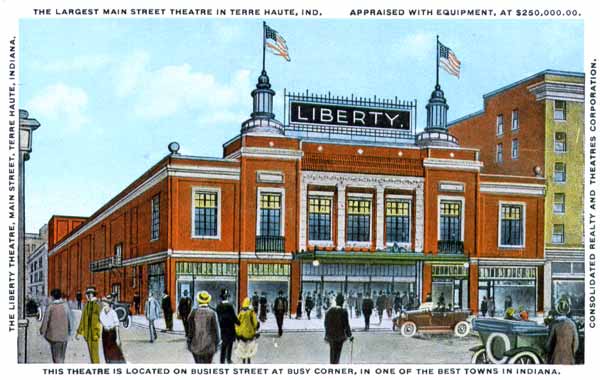 Liberty Theatre
This unused postcard has the text...
R-86726
The largest main street theatre in Terre Haute, Ind.
Appraised with equipment, at $250,000.00
The Liberty Theatre, Main Street, Terre Haute, Indiana
Consolidated Reality and Theatres Corporation
This theatre is located on busiest street at busy corner, in one of the best towns in Indiana
The Liberty was a vaudeville and movie house situated on the site of the old Varieties Theatre on the southwest corner of Eighth Street and Wabash Avenue. The Liberty later became the Grand Theatre and later still housed the presses of the Tribune - Star newspaper, the offices of which were next door.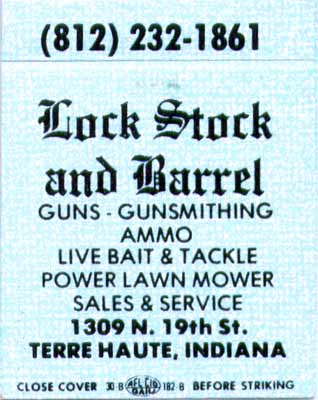 Matchbook by Lock, Stock and Barrel
This is a matchbook cover not a postcard and has the text...
(812) 232-1861
Lock Stock and Barrel
Guns - Gunsmithing
Ammo
Live Bait & Tackle
Power Lawn Mower
Sales & Service
1309 N. 19th St.
Terre Haute, Indiana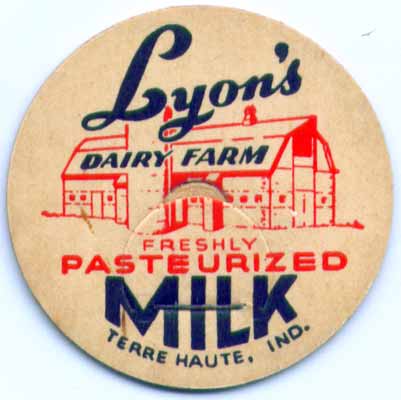 Lyon's Dairy Milk Bottle Top
This is a milk bottle top from Lyon's Dairy. The dairy was actually located closer to Brazil, Indiana than Terre Haute.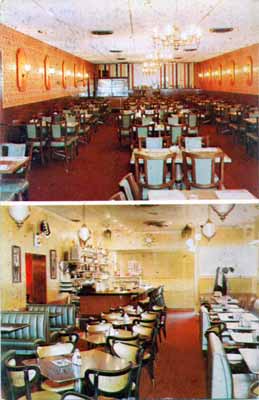 Malooley's Saratoga Restaurant
This unused postcard has the text...
Malooley's Saratoga Restaurant
Breakfast - Lunches - Dinners
Cocktail Lounge
5th & Wabash - Near ISU campus
Call Reservations 234-9950
58,794F
Published by F. R. Ryan Co., P.O. Box 5084, Terre Haute, Ind. 47805

Earl M. Mann Election Campaign Matchbook
This matchbook was produced for the mayoral election campaign of Earl M. Mann. Unfortunately, I can't find anything about Earl.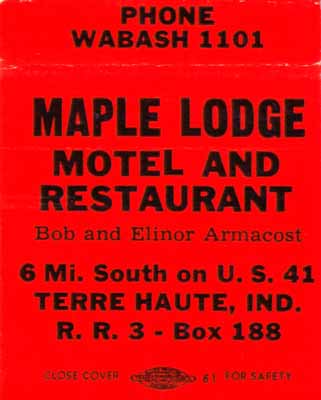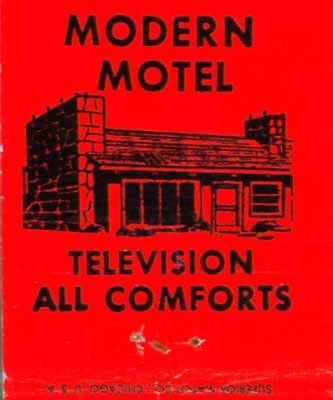 Maple Lodge
A matchbook advertising Maple Lodge Motel which was on U.S. 41, about 6 miles south of Terre Haute and was run by Bob and Elinor Armacost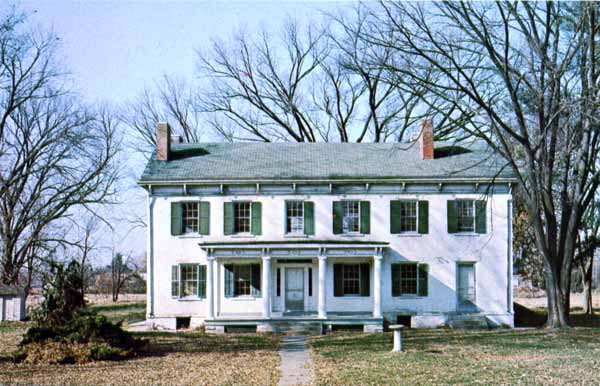 Markle House
This linen faced, unused postcard has the text...
162219
Photo by Floyd Mitchell
Pub. by Floyd Mitchell, Bridgeton, Indiana, 47836
K
Vigo County, Indiana
Markle House , built in 1848 by Frederick Markle. He was the sone of Major Abraham Markle, original proprietor of Terre Haute in 1816, and builder of Markle Mill, first in area. The house was a stop on the Underground Railroad, also stage coach stop. Now owned and operated by the Vigo County historical Society, Inc. The house was a gift of the late Tony Hulman, local philanthropist.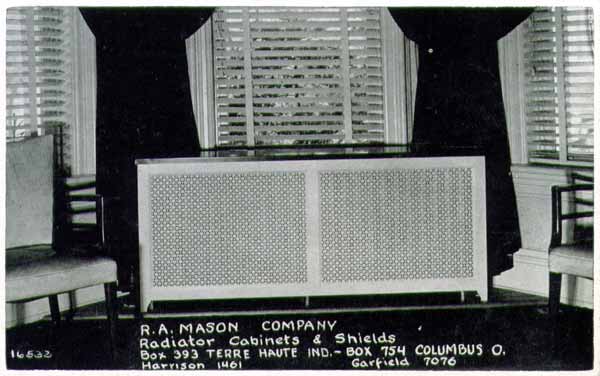 R. A. Mason Company
This unused postcard has the text...
16532
R. A. Mason Company
Radiator Cabinets & Shields
Box 393 Terre Haute Ind. - Box 754 Columbus O.
Harrison 1461 Garfield 7076
Picto Cards - Kaeser & Blair, Inc., Cincinnati, Ohio
This page created 21st August 2008, last modified 22nd November 2009