Terre Haute Postcards
More postcards from my collection...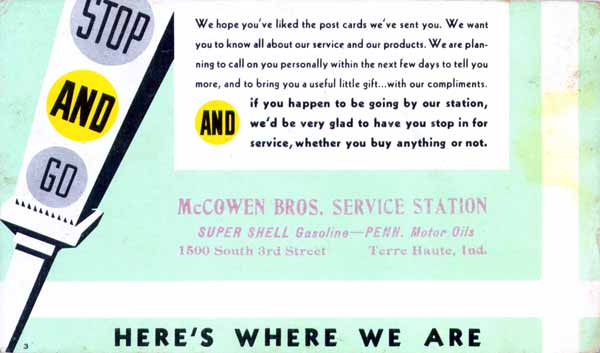 McCowen Brothers Service Station
This unused postcard, and has no other identifying text except for the number 3. It does have the text...
We hope you've liked the post cards we've sent you. We want
you to know all about our service and our products. We are planning
to call on you personally within the next few days to tell you
more, and to bring you a useful little gift... with our compliments.
AND if you happen to be going by our station,
we'd be very glad to have you stop in for
service, whether you buy anything or not.
McCowen Bros. Service Station
Super Shell Gasoline - PENN. Motor Oils
1500 South 3rd Street, Terre Haute, Ind.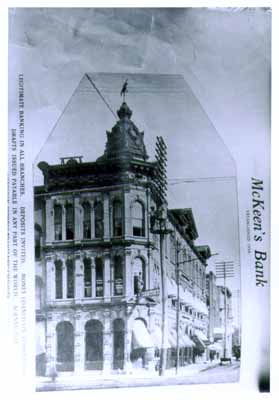 McKeen's Bank
This is a photograph, not a postcard, and has the text...
McKeen's Bank
Established 1855
Legitimate Banking in all Branches. Deposits Invited. Money Loaned on Approved Security.
Drafts Issued Payable in any Part of the World. Agents for
American Express Travelers Checks
This building pictured stood on the corner Sixth Street and Wabash Avenue.
This appears to be a photograph taken of a book page and appears to be from "Twentieth Century Souvenir of Terre Haute", printed in Terre Haute by Moore & Langen Printing Co., in 1903. An online version of this book appears on the Vigo County Public Library website. The online library also has a copy of the "Book of Terre Haute: An Optimistic Financial Review Volume 1, Number 7" published in Terre Haute by the Terre Haute Chamber of Commerce in February 1921 that has an advertisement for McKeen's National Bank which was formed in 1905 and which was the successor of McKeen's Bank.
In 1853, William Riley McKeen was working as a cashier at the State Bank of Indiana in Terre Haute with a salary of $1,400 a year. He resigned a year later in 1854 and in association with Ralph Tousey opened the McKeen and Tousey Bank on Wabash Avenue, just east of Third Street. Demas Deming, who would later be called the "Boy Banker", started work for the McKeen and Tousey Bank at age sixteen. Toussey left the partnership in 1860 and shortly after Deming became McKeen's partner.
In 1868, Demas Deming, now just twenty-seven years old, became president of the Terre Haute First National Bank which had been founded in 1863. McKeen then entered into a partnership with Mr. D. W. Minshall who was the Cashier at the Terre Haute First National Bank. In 1876, McKeen and Minshall moved to new premises at the northwest corner of Sixth and Wabash. On Minshall's retirement the company became simply McKeen & Co., becoming McKeen's National Bank in 1905.
In 1894, the Terre Haute First National Bank moved to premises at 513 Wabash Avenue. The United States Trust Company, which was formed in 1902, merged with it in 1927. In 1928, McKeen's company, now known as the First McKeen National Bank merged with the bank that then had it's headquarters at 643 Wabash Avenue as well as the branch office at 513 Wabash Avenue.
Source: The Wabash Valley Remembers 1787 - 1938, Terre Haute Northwest Territory Celebration Committee, 1938.
Meadows Shopping Center
This unused postcard has the printed text...
20,834F
Indiana's Finest and Most Complete
Shopping Center
25th and Poplar Streets
Terre Haute Indiana
More than 25 shops and services with escalators
to the lower level.
Open Mon. through Fri. 11:00 A.M. to 8:30 P.M.
Saturday 9:00 A.M. to 6:00 P.M.
Comfortable Shopping - Free Parking
"Come As You Are"
Completed in 1956, with parking space for 1,500 cars, two of the larger original stores were Kroger's and Woolworth's along with 20 others. In 1958, a local branch of the Vigo County Public Library opened in the center. This was the first public library to open a branch in a shopping center in Indiana. It became simply "The Meadows" after renovations in 1982/3.
This page created 22nd August 2008, last modified 4th July 2009