Terre Haute Postcards
More postcards from my collection...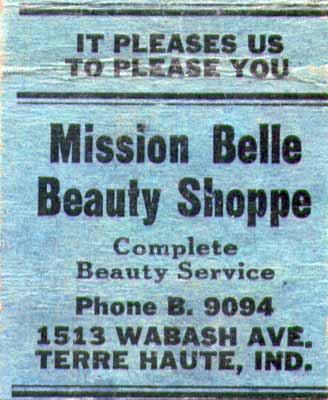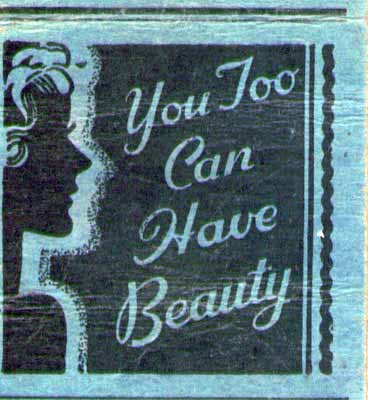 Mission Belle Beauty Shoppe
This matchbook advertises the Mission Belle Beauty Shoppe which was situated at 1513 Wabash Avenue. The address is now the offices of McCormick's Law Services.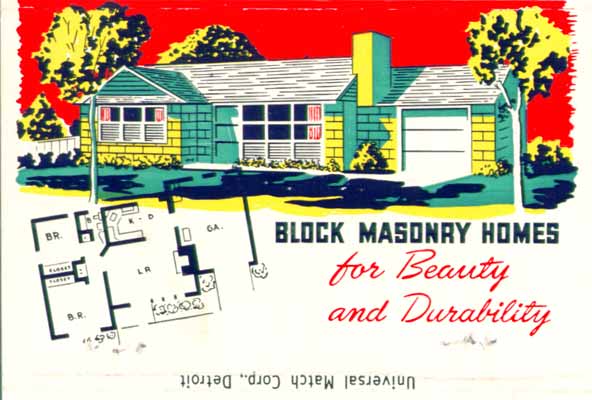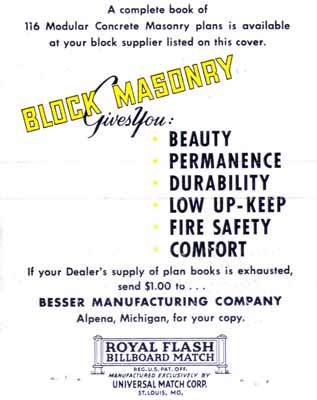 G. A. Monninger - Concrete & Cinder block - Matchbook
G. A. Monninger operated from premises at 7th and Lost Creek. The company is still in business - I presume it is the same business - as Monninger Concrete Products Inc. at 4600 North 13th Street.
The Monninger family name is well known in Terre Haute. I don't know if they are all related but in 1863 Captain Philip H. Monninger created a vineyard and winery on a plot of land at 7th Street, north of Wabash Avenue. In 1874, he built the Trivoli on the site.His son, Louis P. Monninger, later ran the winery and of his other sons, Gerhardt A. Monninger, in the 1940's, converted the original winery cellar into a restraunt - "The Devil's Den" and another establishment named the "Block House." Albert R. Monninger was part owner of the saloon in the Great Northern Hotel and Herbert became a jeweler.
Philip H. Monninger's great-grandson, Gerhardt A. Monninger's grandson, Gerhardt Wigginton in June 1977, purchased the Bierstube Restaurant at 1724 Lafayette Avenue.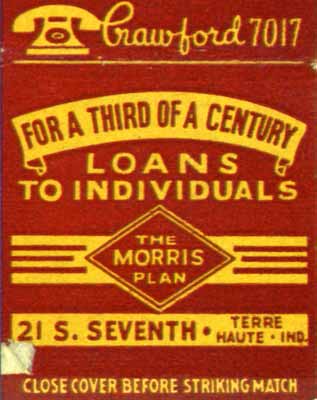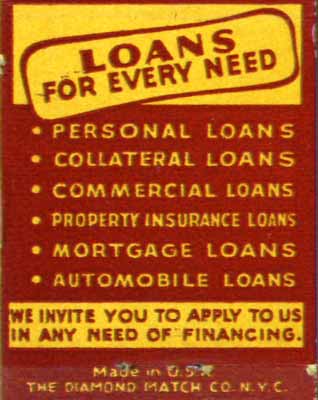 Morris Plan Bank and Loan Company
The Morris Plan loan company operated out of 21 South Seventh Street. The "History of Indiana from its Exploration to 1922", Horace E. Tune helped found the Morris Plan Company in 1916 and in 1920 was named its president. He was also a director of First National Bank. "Indiana and Indianans : a History of Aboriginal and Territorial Indiana and the Century of Statehood" says that Herman A. Mayer was Trustee in 1919 and Edwin B. Hilary was a director.
The Morris Plan company is now owned by First Financial and still in business at 817 Wabash Avenue.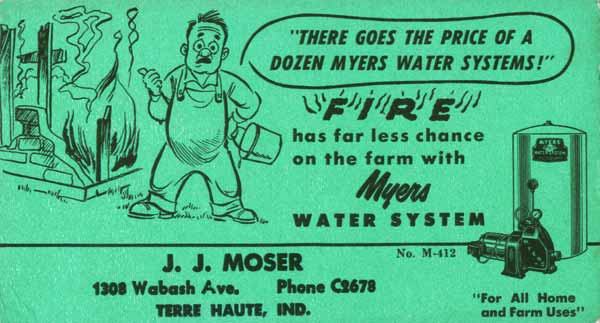 J. J. Moser tradecard / blotter
J. J. Moser operated out of 1308 Wabash Avenue, Terre Haute and this tradecard / blotter advertises the Myers Water System.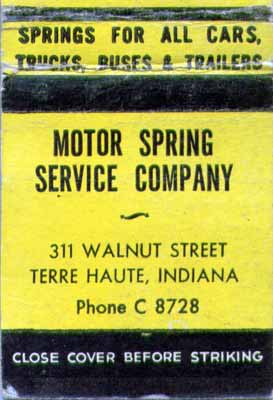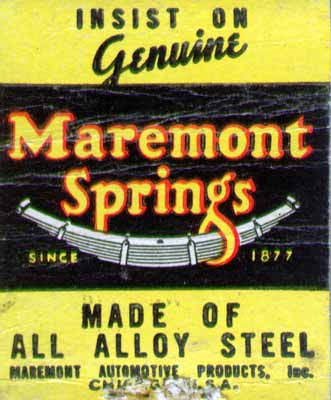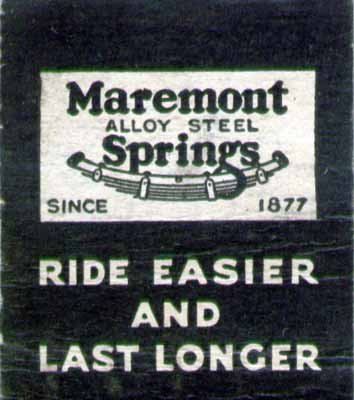 Motor Spring Service Companyy
This is not a postcard but a matchbook advertising the Motor Spring Service Company and Maremont Springs. The text on the matchbook is...
Motor Spring Service Company
Springs for all Cars, Trucks, Buses and Trailers
311 Walnut Street
Terre Haute, Indiana
Phone C 8728
Insist on Genuine
Maremont Springs
Since 1877
Made of All Alloy Steel
Maremont Automotive Products, Inc.,
Chicago U. S. A.
Maremont Alloy Steel Springs
Since 1877
Ride Easier and Last Longer
This page created 9th July 2009, last modified 7th January 2010