Terre Haute Postcards
More postcards from my collection...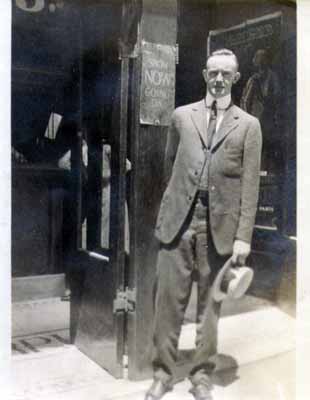 Photograph of Ray H. Weisbrod posing in front of the Orpheum Theater in Terre Haute, circa 1914
The Orpheum Theater started life as the Lyric Theater at 720 Wabash Avenue in 1905. It was later renamed the Orpheum and a new Orpheum Theater was built on the same site in 1919.
Ray Weisbrod was a famous percussionist and played with the Ringling Brothers (1913) and Barnum & Bailey (1915) circuses before becoming Marine Corps Drum Major at Parris Island, South Carolina. He eventually settled down in Fort Lauderdale, Florida.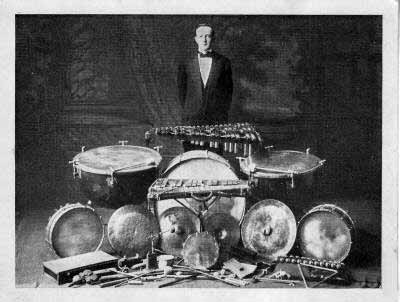 Ray Weisbrod's Business Card
Ray Weisbrod source: Bandwagon 1971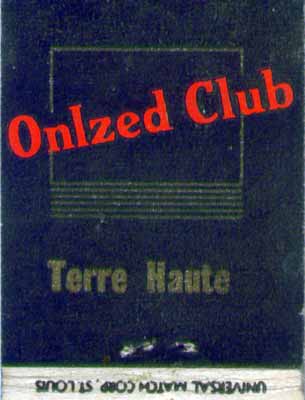 Owens - Illinois Glass Company matchbook
The Owens-Illinois Glass Company was formed in 1929 by a merger between the Illinois Glass Co. and the Owens Glass Co. Both companies were well established in the bottle-making industry by that time. The Owens Bottle Co. grew out of the Toledo Glass Co., originally opened in 1896. The company was renamed the Owens Bottle Machine Co. in 1903 to reflect the importance of Michael Owens' invention of the automatic bottle machine and was again renamed the Owens Bottle Co. in 1911. The Illinois Glass Co. was even older, established in 1873. Both companies continued to expand until their merger, eventually controlling a large share of the bottle business. The Terre Haute plant operated from 1934 and 1950.
Streator Onized Credit Union of Illinois was organized in 1939 by an group of employees from the Owen-Illinois Glass Co. in Streator. When the credit union was founded, it was limited to employees of the glass company and immediate family members. Now the credit union serves anyone who lives or works in La Salle, Livingston, Grundy or Marshall counties. The word "Onized" is derived from a club of employees of the glass company. The club was started in 1934 as a result of suggestions made in a Christmas suggestion letter contest, sponsored by the company. The Onized Club idea spread to include more than half a million employees at Owens-Illinois plants and offices around the country. During the 1940s the Onized Club contributed to the war effort through many projects of the Onized Club Welfare Council, which wrote letters to servicemen, sponsored blood donor groups, sent gifts to men in the service, served at the Streator Canteen and other activities.
Root Glass Company in Terre Haute was bought by Owens-Illinois Glass Company in 1932. Later the plant became part of the American-Wheaton Glass Corporation, in 1962 it was sold to the American Can Company, and then sold again to Midland Glass Company in 1968. After being purchased by the Anchor Glass Container Corporation, the property was closed down in 1984.
Sources:
Ask The Times
The Dating Game - A short history of the Owens-Illinois Glass Company and their bottle marks.
Glass Factory Marks on Bottles
Owens-Illinois Glass Company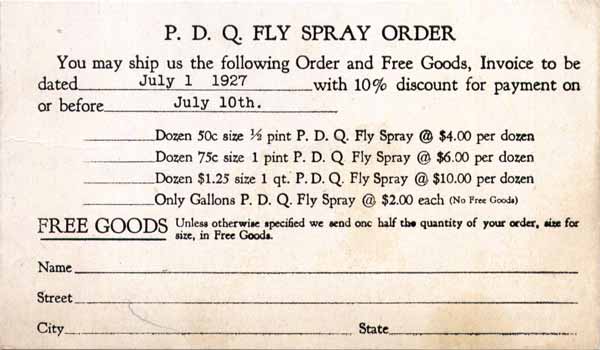 Owl Chemical Company
This tradecard from 1927 is an order form for P.D.Q. Fly Spray from the Owl Chemical Company of Terre Haute. The company was owned by Dr. E. H. Robinson who owned 62 properties around Terre Haute as well as the Owl Chemical Company and Owl Advertising Agency. Dr. Robinson had been a regular visitor to St. Petersburg, Florida and in 1928 bought a two acre plot there and appears to have moved there. P.D.Q. for this insect spray stood for Pesky Devils Quietus.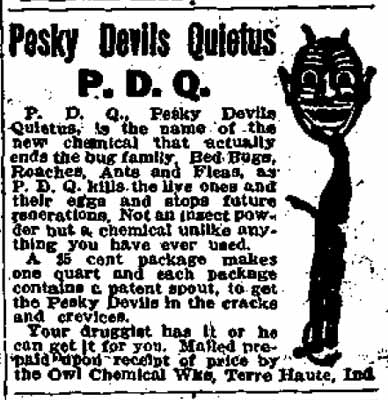 Advert from The South Jersey Republican of July 16th 1921.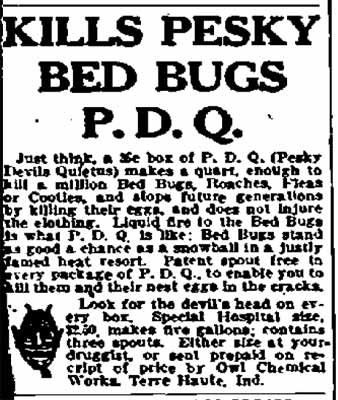 Advert from the New York Clyde Herald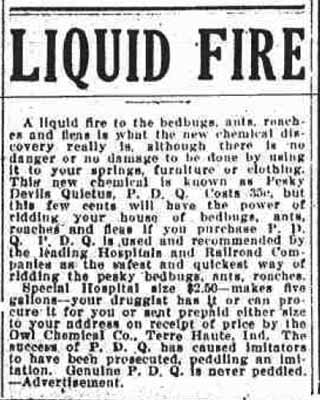 Advert from the Binghampton Press of April 2nd, 1920
Sources:
Binghampton Press - April 2nd, 1920 edition
New York Clyde Herald
St. Petersburg Evening Independent - February 10th 1928 edition
South Jersey Republican - July 16th 1921 edition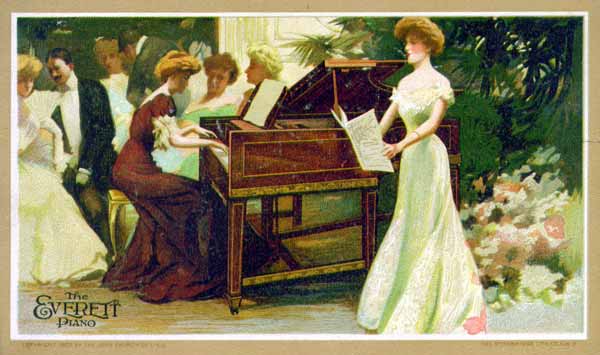 W. H. Paige & Co.
This tradecard has the following printed text...
Compliments of
W. H. Paige & Co.
Pianos ~ Pianolas ~ Victrolas
642 Wabash Ave., Terre Haute
The address on the tradecard dates it to between 1885 and 1900. The front of the tradecard advertises Everett Pianos. The Everett Piano Company was established in Boston, Massachusetts, in 1883, by the John J. Church Company, Cincinnati, Ohio, one of the leading music publishing concerns of America. In June, 1926, Everett merged with the Cable-Nelson Piano Company; and the firm moved manufacturing facilities from Boston to South Haven, Michigan. For more information see the Bluebook of Pianos website.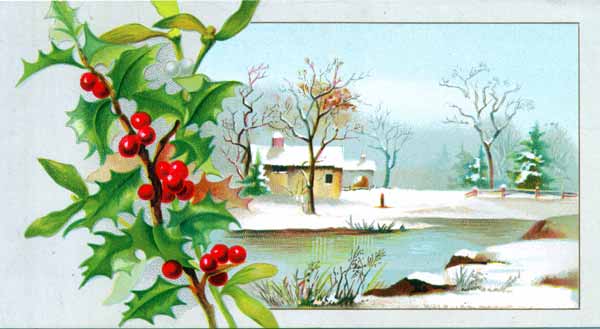 W. H. Paige & Co. tradecard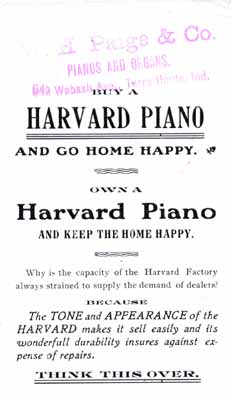 This tradecard has the following printed text...
W. H. Paige & Co.
Pianos and Organs
642 Wabash Ave., Terre Haute, Ind.
Buy a
Harvard Piano
and go home happy
Own a
Harvard Piano
and keep the home happy
Why is the capacity of the Harvard Factory
always strained to supply the demand of dealers?
Because
The Tone and Appearance of the
Harvard makes it sell easily and its
wonderfull durability insures against
expense of repairs.
Think this over.
The address on the tradecard dates it to between 1885 and 1900. The Harvard Piano Company Began making pianos in 1885, in Kentucky. It was later bought by John Church Co., and moved to Cincinnati. Ended production in 1925.
I found this article on the Indiana History site...
Paige's Music
Founded: 1871
Location: 605 (later 607) Main Street, Terre Haute (1871?86); 642 (originally 641; also 640) Wabash Avenue (1887? ); two locations on Dixie Bee Road, 3501 and 4004 ( ? 1977); 5252 East Sixty-fifth Street, Indianapolis (1977? )
William H. Paige came to Terre Haute in 1868 and taught vocal music in the city schools. Originally from outside Cleveland, Ohio, he attended Oberlin College and Ohio State Normal School of Music before moving to New Castle, Indiana, to teach school. In 1871 he opened the W. H. Paige & Company. Music House on the south side of Main Street in Terre Haute.
Paige and his partner, a prominent real estate agent named W. B. Wharton, sold a variety of musical instruments, including organs, pianos, accordions, concertinas, and guitars, as well as music books and related merchandise. "We have no desire to injure or supplant other dealers in our line," the store announced in its newsletter, Musical Guest. "We bid them God-speed! There is room enough for all."
Business was brisk, and Paige quit teaching in 1873 to devote his full energies to the store. His brother-in-law, E. C. Kilbourne, moved to Terre Haute and purchased Wharton?s interest. Paige, in turn, bought out Kilbourne in September 1878. Between 1885 and 1887 Paige moved the musical instrument store to 641 Wabash Avenue. He specialized in pianos and organs, registering average annual sales of $16,000 for Chickering pianos and $10,000 for Mason & Hamlin organs by 1888.
Before the turn of the century Frederick L. Paige joined the company. By 1902 the store was known as Fred L. Paige & Company. Fred later brought Warner H. Paige into the company. Eventually the store became known as Paige?s Music. Musical instruments were the store's primary stock, although in the 1910s, it began to sell "Talking Machines," or phonographs and in the 1930s radios. Both Warner H. Paige's son and grandson became involved in the family business. In the mid-1970s Paige's Music expanded, opening a second store on Dixie Bee Road in Terre Haute and between 1976 and 1977 one in Indianapolis at 5252 East Sixty-fifth Street. The Terre Haute stores closed in the mid-1980s. By the 1990s Paige's Music specialized in the sale, rental, and repair of band and orchestra instruments.
This page created 26th August 2008, last modified 12th December 2009