Terre Haute Postcards
More postcards from my collection...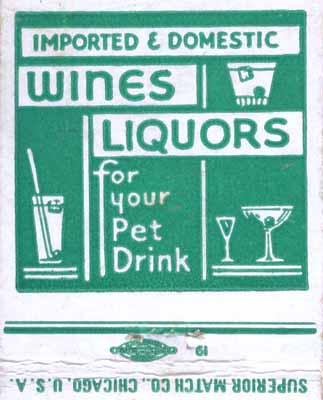 Pat's Liquor & Wine Store matchbook
Pat's Liquor & Wine Store operated at 434 North Ninth Street, Terre Haute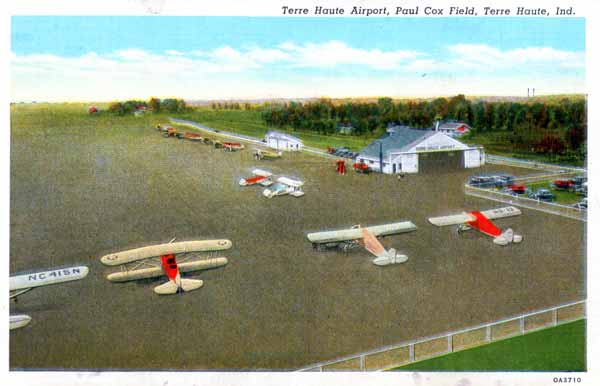 Terre Haute Airport, Paul Cox Field, Terre Haute, Ind.
This unused postcard also has the following text...
OA3710
Genuine Curteich-Chicago "C.T. American Art" Post Card (Reg. U.S. Pat. Off.)
Levin Brothers, Terre Haute, Ind.
Passenger and airmail services started from Dresser Field in 1928, the 168 acres were acquired for $82,175. It became the Municipal Airport in 1930 and was renamed Paul Cox Field in 1933. Cox was one of the first main promoters of the airfield but on June 23, 1932, Cox, aged 35, and 30-year-old passenger William Root were killed when Cox's private aircraft crashed at dusk in a field near Farmersburg. It was closed to air traffic in 1959 and the site is now part of Terre Haute South Vigo High School.
For more information see Abandoned & Little-Known Airfields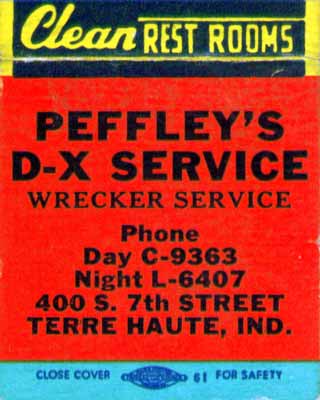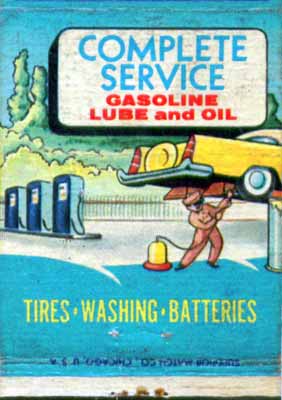 Peffley's D-X Service
This matchbook advertises Peffley's service station and wrecking service which was loacted at 400 South Seventh Street, Terre Haute.
This page created 12th December 2009, last modified 12th December 2009