Terre Haute Postcards
More postcards from my collection...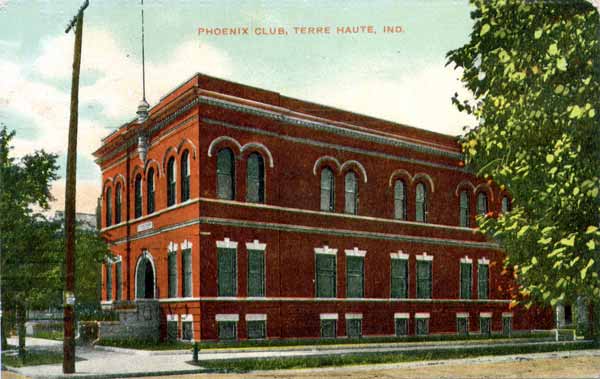 Phoenix Club, Terre Haute
This postcard posted but with an unreadable stamp apart from 1909, has the following text...
Made expressly for S. H. Knox & Co.
Printed in Germany
I have another copy of this postcard that was posted in Terre Haute on September 26th, 1910.
The Phoenix Club was a Jewish social and recreational club formed on February 6th, 1886. One of the founding members was David Goldman, who taught linguistics at the Coates College for Women. In 1909, the president of the club was Jacob R. Finkelstein, a leading financier around Terre Haute. His many business interests included A. L. Greenberg Iron Company, Linton Rolling Mill Company, Linton Ice & Cold Storage Company, Linton Opera House Company, Southern Indiana Railroad Company, Phoenix Building & Realty Company, Kettle Creek Coal Company, Fairbanks Oil & Gas Company,
The original building of the Phoenix Club stood at Fifth and Walnut Streets and was in use until 1919, when the Phoenix Club leased the Country Club of Terre Haute and maintained the golf course there until it closed in 1979 and turned into the housing development of Phoenix Hills. In 1923, the old clubhouse was taken over by the Central Labor Union and used as its headquarters. By 1925 the club boasted 25 family memberships but in 1926 became a men-only club.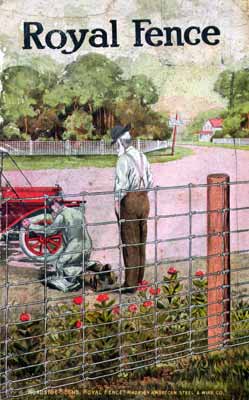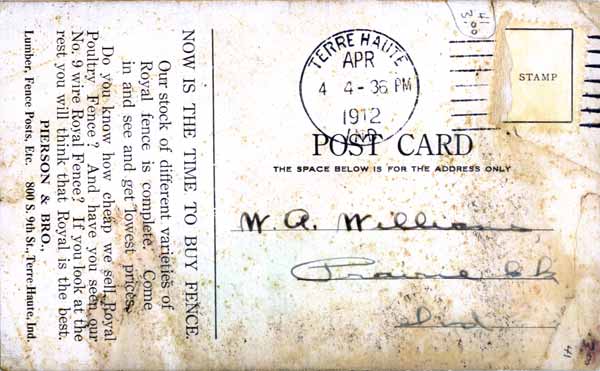 Pierson & Brother, Terre Haute
This postcard, posted in Terre Haute on April 4th, 1912, has the following text...
Royal Fence
Roadside Scene
Royal Fence
Made by American Steel & Wire Co.
Now is the Time to Buy Fence
Our stock of different varieties of Royal fence is complete. Come in and see and get lowest prices.
Do you know how cheap we sell Royal Poultry Fence?
And have you seen our No. 9 Royal Fence?
If you look at the rest you will think that Royal is the best.
Pierson & Bro.,
Lumber, Fence Posts, Etc.
800 S. 9th St., Terre Haute, Ind.
Pierson and Brother sold timber, lumber and wood products such as doors and windows, had a long history in Terre Haute. In 1890, they had premises at 210 and 212 Canal Street. The company was formed in 1883 by Moses and Isaac T. Pierson.
The brothers were born in Sullivan County, Moses on November 27th, 1842. During the Civil War he was a corporal in the 85th Indiana regiment. He was married on August 6th, 1874 to Laura McNutt. They had three children, Charles, Frank and Mary and lived at 702 South Sixth Street, Terre Haute.
Isaac T. was born on August 31st, 1845. He was married to Rhoda Bledsoe on March 31st, 1865.
This page created 4th October 2009, last modified 9th February 2010