Terre Haute Postcards
More postcards from my collection...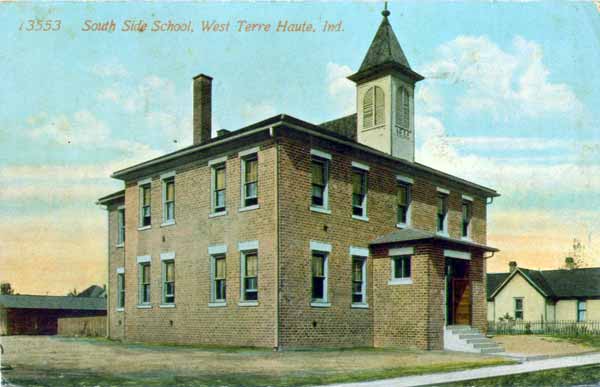 South Side School, West Terre Haute
This postcard, posted in Terre Haute but with an unreadable date stamp, has the printed text...
13553
Levin Bros.
Acmegraph Co., Chicago trademark logo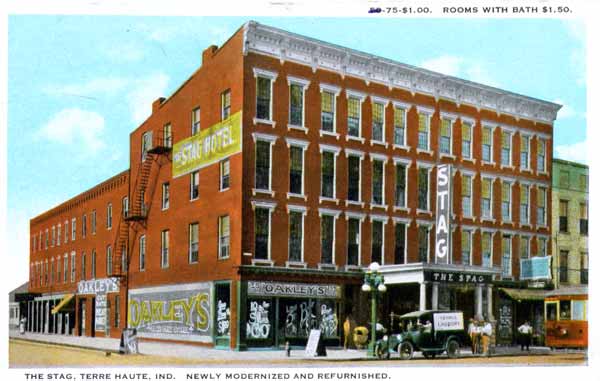 Stag Hotel
This postcard, stamped in Martinsville, Indiana on September 7th, but with an unreadable year, has the printed text...
75 - $1.00
Rooms with bath $1.50
The Stag, Terre Haute, Ind.
Newly Modernized and Refurnished
R-88816
Located on the northeast corner of 204 Wabash Avenue and Second Street this building was remodeled in the 1870's and became the St. Clair House. Samuel M. Young Jr. remodeled it again in the 1890's and it was renamed to Wabash Avenue Hotel. It was later renamed the Stag Hotel and advertised for "men only" and "a clean place for clean people" with S. B. Moore as manager. It was remodeled again by Samuel M. Young Jr. in 1928 and renamed the Indois hotel. The building was demolished in 1969.
The ground floor contained stores, one of which was Oakleys. On August 9th, 1909, Hollie N. Oakley of Terre Haute opened his first grocery store at 1105 Wabash Avenue. The store was a success and Oakley's soon became the largest independent grocery chain in Indiana. By 1920, there were 33 Oakley stores in and around the Wabash Valley alone.
The van in front of the hotel belongs to the Temple Laundry which was owned by banker Levi G. Hughes and opened in April. 1907. In a storm of July 7th, 1915 a basement retaining wall of the laundry collapsed.
This page created 13th October 2008, last modified 18th November 2009