Terre Haute Postcards - Swope (2)
More postcards from my collection...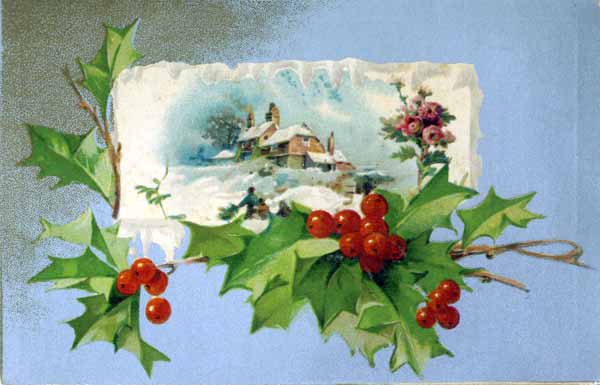 Swope & Nehf 1910 trade card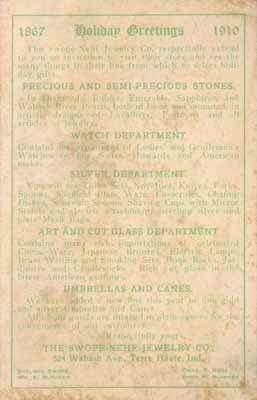 Swope & Nehf 1910 trade card
The back of this trade card reads...
1867 Holiday Greetings 1910
The Swope Nehf Jewelry Co. respectfully extend
to you an invitation to visit their store and see the
many things intheir line from which to select
holiday gifts.
Precious and Semi-Precious Stones
In Diamonds, Rubies, Emeralds, Sapphires, and
Wabash River Pearls, both loose and mounted in
artisitc designs of Lavalliers, Festoons and all
articles of jewelry.
Watch Department
Contains many patterns of Ladies' and Gentlemens'
Watches in fine Swiss, Howards and American
makes.
Silver Department
You will see Toilet Sets, novelties, Knives, Forks,
Spoons, Sheffield Plate, Casseroles, Chafing
Dishes, Souvenir Spoons, shaving Cups with Mirror
Stands and electric attachments, sterling silver and
plate Mesh Bags.
Art and Cut Glass Department
Contains many rich importations of celebrated
China Ware, Japanese Bronzes, Electric Lamps,
Brass Writing and Smoking Sets, Book Racks,
Jardiniers and Candlesticks. Rich cut glass in the
latest American cuttings.
Umbrellas and Canes
We have added a new line this year of fine gold
and silver Umbrellas and Canes.
All of our goods are marked in plain figures for the
convenience of our customers.
Respectfully yours,
The Swope - Nehf Jewelry Co.,
524 Wabash Avenue, Terre Haute, Ind.
Sheldon Swope, Chas. T. Nehf
Wm. E. Bloomer, Anna M. Bloomer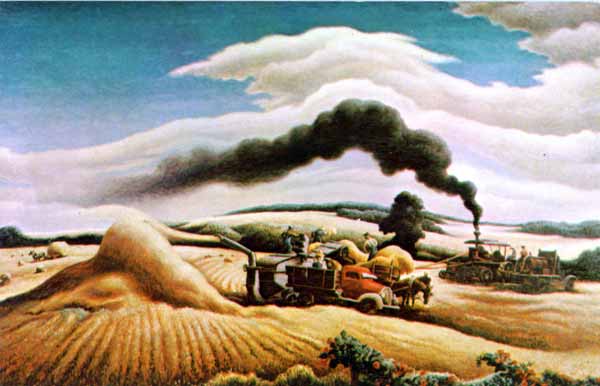 Threshing Wheat by Thomas Hart Benton
An example of the work displayed by the Sheldon Swope Art Museum.
This unused postcard has the printed text...
Thomas Hart Benton (b. 1889)
Threshing Wheat
tempera on panel, 1939
The Sheldon Swope Art Museum, Terre Haute, Indiana
83946-C
Pub. by Martin's Photo Shop, Terre Haute, Indiana, 47807
Made by Dexter Press, Inc., West Nyack, New York
Michael Sheldon Swope was born in Attica, Indiana on November 3, 1843 and spent most of his childhood on a farm near Evansville. In 1861, he came to Camp Vigo near Terre Haute to enlist in the 14th Indiana Regiment which which was the first Indiana regiment to leave for the war. After the war he became an apprentice in the jewelry trade to his half brother, James Swope, in Dayton, Ohio. In 1867, he returned to Terre Haute and opened a jewelry store with Stanley P. Freeman or Stephen R. Freeman (accounts vary). Freeman sold his share of his business to Swope who soon made Charles T. Nehf, a longtime employee, a partner in 1884.
The business moved to the Terre Haute Opera House building in late 1871. The Opera House was destoyed by fire on July 21st, 1896. The business then operated out of 526 Wabash Avenue and then, sometime before 1896, from 524 Wabash Avenue. The business was a great success and Swope - Nehf became Indiana's largest jewelry store. Swope's jewelry store went through several name changes, S. Swope and Co. became the Swope - Nehf Jewelry Co. in 1904 and by 1921 had become the Swope - Nehf - Bloomer Co.
One of the earliest employees was William E. Bloomer, whose name appears along with his wife's, on later Swope business cards. He arrived from Evansville in 1886 and was emplyed by Swope Jewelry store from its inception and eventually became the store manager and treasurer. He was married in 1905 to Anna Mae Reckert.
Sheldon Swope was widely regarded as a diamond merchant and respected as one of the widest read men in Terre Haute. He never married, travelled widely around the world and became a rich man.
The Swope Block was constructed by Swope on the northwest corner of Seventh and Ohio Streets in 1901. Terre Haute Commercial College, which later became the Wabash Business College occupied the thrid floor in 1907.
Having retired to florida, he died on July 9th, 1929, leaving an endowment for an art gallery in the Swope Block. This came as a surprise as Swope had never been an art collector. The had stipulated that the money he set aside for this be invested for ten years but litigation postponed the opening until March 21st, 1942. Originally named the Swope Art Gallery is was renamed to the Sheldon Swope Art Museum in 1988.
Sources:
History of Indiana from its exploration to 1922, Volume 3 by Logan Esarey and William F. Cronin
Sheldon Swope Art Museum
Terre Haute & Vigo County in Vintage Postcards by Dorothy W. Jerse and John R. Becker
Terre Haute: Queen City of the Wabash by Mike McCormick
Wabash Valley Profiles - Sheldon Swope
This page created 22nd November 2009, last modified 22nd November 2009