Terre Haute Postcards
More postcards from my collection...
Bud Taylor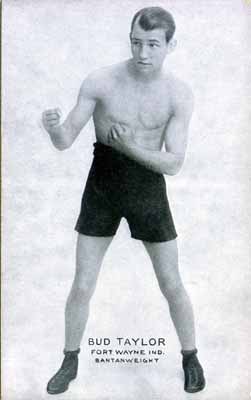 Bud Taylor
This unused postcard has the printed text...
Bud Taylor
Fort Wayne, Ind.
Bantamweight
Made in U. S. A.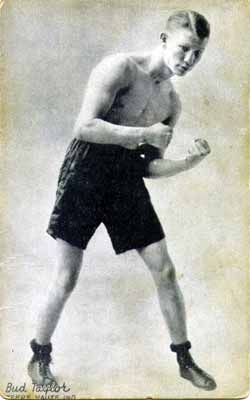 Bud Taylor
This unused postcard has the printed text...
Bud Taylor
Terre Haute, Ind.
Made in U. S. A.
The back of this card has Bud Taylor's boxing record...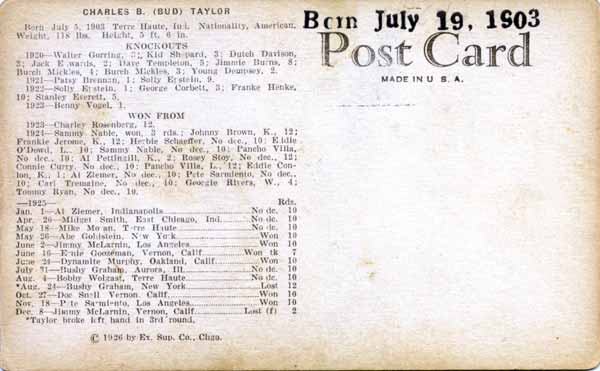 Bud Taylor's Boxing Record
The text says...
Charles B. (Bud) Taylor
Born July 5th 1903 [A separate stamp say's he was born on July 19th, 1903] Terre Haute, Ind. Nationality, American.
Weight, 118 lbs. Height, 5 ft. 6 in.
Knockouts
1920 - Walter Gorring, 3; Kid Shepard, 3; Dutch Davison, 3;
Jack Edwards, 2; Dave Templeton, 5; Jimmie Burns, 8;
Burch Mickles, 4; Burch Mickles, 3; Young Dempsey, 2.
1921 - Patsy Brennan, 2; Solly Epstein, 9.
1922 - Solly Epstein, 1; George Corbett, 3; Franke Henke, 10;
Stanley Everett, 5.
1923 - Benny Vogel, 1.
Won From
1923 - Charley Rosenberg, 12.
1924 - Sammy Nable, won 3 rnds; Johnny Browm, K., 12;
Frankie Jerome, K., 12; Herbie Schaeffer, No dec., 10;
Eddie O'Dowd, L., 10; Sammy Nable, No dec., 10; Pancho Villa, No dec., 10;
Al Pettingill, K., 10; Rosey Stoy, No dec., 12;
Connie Curry, No dec., 10; Pancho Villa, L., 12; Eddie Conlon, K., 1;
Al Ziemer, No dec., 10; Pete Sarmlento, No dec., 10;
Carl Tremaine, No dec., 10; Georgie Rivers, W., 4;
Tommy Ryan, No dec., 10.
1925
Jan. 1 - Al Ziemer, Indianapolis ... No de. 10 Rnds
Apr. 20 - Midget Smith, East Chicago, Ind. ... No de. 10
May 18 - Mike Moran, Terre Haute ... No de. 10
May 26 - Abe Goldstein, New York ... Won 10
June 2 - Jimmy McLarnen, Los Angeles ... Won 10
June 16 - Ernie Goozeman, Vernon, Calif. ... Won tk 7
June 24 - Dynamite Murphy, Oakland, Calif. ... Won 10
July 31 - Bushy Graham, Aurora, Ill. ... No de. 10
Aug. 4 - Bobby Wolgast, Terre Haute ... No de. 10
* Aug 24 - Bushy Graham, New York ... Lost 12
Oct. 27 - Doe Snell, Vernon, Calif. ... Won 10
Nov. 18 - Pete Sarmlento, Los Angeles ... Won 10
Dec. 8 - Jimmy McLarnen, Vernon, Calif. ... Lost (f) 2
* Taylor broke left hand in 3rd round.
Copyright by Ex. Sup. Co., Chgo.
Born in Terre Haute on July 22nd, 1903, Charles "Bud" Taylor was known as the "Blond Terror of Terre Haute" because of the aggressive manner in which he fought. He was a hard puncher with lots of stamina which endeared him to the crowd. He fought between 1920 and 1931 and was National Boxing Association world bantamweight champion 1927 - 1928. Two of his opponents, Frankie Jerome and Clever Sencio, died of injuries after fighting him. Taylor fought 24 year-old Jerome at Madison Square Garden on January 11th, 1924. Jerome collapsed in the twelfth round and died in hospital from a skull fracture on January 13th. Taylor fought 21 year-old Senico on April 19th, 1926. Senico was found dead the next morning of a cerebral hemorrhage in his hotel room. The deaths affected Taylor very much and both times he considered retiring from boxing. He died on March 8th, 1962, in Los Angeles. Taylor was inducted to the Ring Boxing Hall of Fame in 1986 and the International Boxing Hall of Fame in 2005.
Temple B'nai Abraham & Temple Israel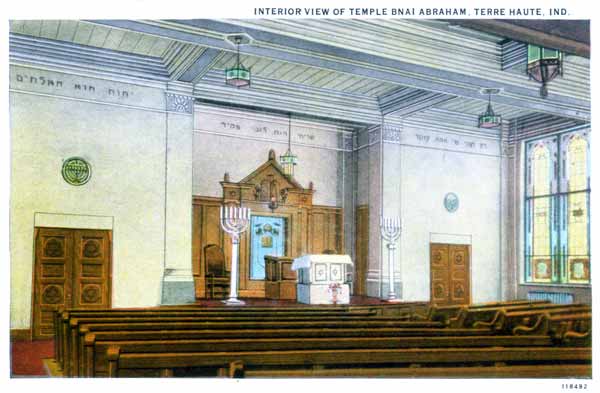 Temple B'nai Abraham
This unused postcard has the printed text...
118492
Published by Levin Bros., Terre Haute, Ind.
C. T. American Art Colored
Curt Teich, Chicago trademark logo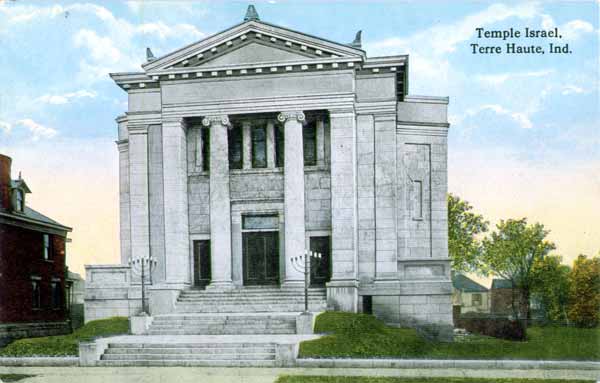 Temple Israel
This unused postcard has the printed text...
A-43937
The Model trademark logo
It's very simplistic but there are two Jewish congregations in Terre Haute, the Reformists and the Orthodox. The congregation at Temple Israel were reformists and that of Temple B'nai Abraham were orthodox.
In 1845, David Arnold, H. Moss, David Marsh, and Joseph Billingheimer purchased land at First Street and Eighth Avenue in Terre Haute for a burial ground. In 1849 the men founded the Terre Haute Israelite Burial Society - a reformist group.
Carr's Hall was the second floor of the Trotsky building, which was located at Fourth and Walnut Street. Mr. Trotsky, the owner of the apple orchard south of town, had a fruit market in this building. Originally the building was owned by Moses C. Carr who had a dry goods and grocery store there. In 1857, Mr. Carr rented the second floor to Walter Hegeman, who started Terre Haute's first theater there. The theater went bankrupt after a few months.
In 1858 a group of Jews led by N. Berlanger, Charles Springer, B. Kuppenheimer, Charles Alshuler, and Sam Mack formed a congregation known as the Zions Gemeinde. The congregation hired Carr's Hall for religious services with Charles Alshuler as President, and Mr. Baer from Buffalo, New York, as the religious leader.
Also in 1858, Rabbi Isaac Mayor Wise, founder of the American Jewish movement, first came to Terre Haute where he found about 33 Jewish families in the city. In 1891, Rabbi Wise returned to Terre Haute to install Rabbi Alexander Lyons in the Reform congregation.
By 1882, most of the Jewish community in Terre Haute was composed of German Jews. Around 1880, orthodox Jews from Eastern Europe - Poland and Russia, started moving into the city and by 1886, there were enough orthodox Jews to start a second congregation - B'nai Abraham. H. G. Goldberg was first president; other leaders include Meyer Levin, Benjamin Becker, and Luis Brown.
The United Hebrew Congregation synagogue, Temple Israel, at 540 South Sixth Street was built for the reformist Hebrew Congregation and Burial Association in 1910 in neo-claasical style. It was designed and built by Simon Eisendrath, a Chicago architect who had designed a number of East Coast synagogues.
In 1926, the orthodox congregation built Temple B'nai Abraham in Farrington's Grove which is now the Senior Citizens' Center at Fifth and Poplar Streets.
Sometime between 1934 and 1936, the two Terre Haute congregations merged creating the United Temple. This is thought to be the first time in the United States that such a merger took place. The United Temple made use of both buildings until the 1950s, when old orthodox Temple B'nai Abraham was given to the city and converted to the Senior Citizens' Center at Fifth Street betweeen Poplar and Walnut Streets. Later the name changed from United Temple to United Hebrew Congregation
The United Hebrew Congregation of Terre Haute website describes Temple Israel...
Simon Eisendrath was concerned with creating a sense of light and space within a relatively small space. This was achieved by installing a half-dome skylight over the bima of the sanctuary that casts natural light over the ark and the pulpit. The other three walls contain highly colorful stained glass windows in the Art Nouveau style of the time. The windows on the sides are approximately 15 feet tall. The central windows on the sides depict Abraham and Moses and are bordered with windows presenting abstract floral designs. The barrel structure of the ceiling reinforces the sense of verticality and size in a sanctuary which seats only about 250 people. The light blues, whites and greens of the walls, ceiling, and carpet set off the dark woods of the doors and ark.
Sources:
Indiana Jewish Post & Opinion
United Hebrew Congregation of Terre Haute
Vigo County History
Terminal Arcade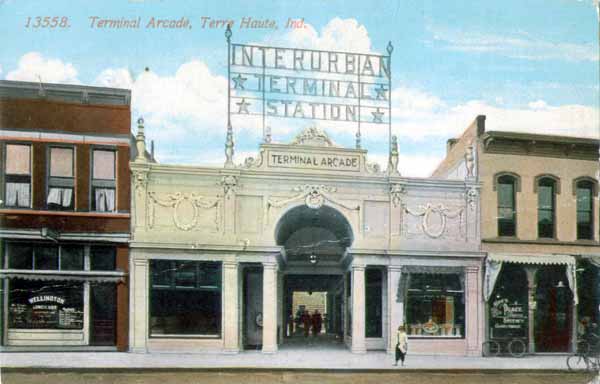 Terminal Arcade
This postcard, posted in Terre Haute on May 14th, 1915, has the printed text...
13558
Levin Bros.
The Acmegraph Co., Chicago tademark logo
The Terminal Arcade was built in 1911 on the site of J. S. Evans & Sons bicycle shop. Owned by the Terre Haute, Indianapolis and Eastern Traction Company the arcade is situated at 820 Wabash Avenue. The Arcade was used as the Interurban Terminal until the service ended in January 1940. After this it was used as the Union Bus Station from 1949 to 1972. today, the builsing is occupied by the Terminal Sports and Spirits Restaurant and Bar.
The Beaux-Arts Arcade is made of terra cotta and brick. It has identical facades on its north and south sides, constructed of limestone and with granite bases. Various designs carved upon the building include lions, garlands, and fruits. The building itself was designed by Daniel H. Burnham of Chicago; the facades were the work of Fred Edler and J. W. Quayle.
To the left of the Arcade in the postcard image is the Wellington Lunch Room, to the right is Mike's Place.
Terre Haute Advertising Company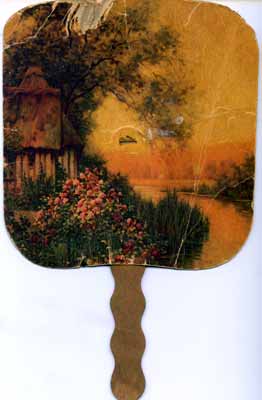 Fan made by Terre Haute Advertising Company
This fan was produced by the Terre Haute Advertising Company for the R. O. Robertson Community Store. The text on the back of the fan reads...
Cooling Compliments From
R. O. Robertson
The Friendly Community Store
Phone 2183
Klondike - Lithonia [Georgia]
Terre Haute Adv. Co., Terre Haute, Ind.

Envelope from Terre Haute Advertising Company
This envelope was used by the Terre Haute Advertising Company and was stamped in Terre Haute on January 24th, 1933.
There is an advertisement in the 1930 issue of the Wiley High School "The Wileyan" that says the company is the manufacturer of "Thermometers and Advertising Specialties" and gives the address as 1317 - 1319 Poplar Street. The Tribune Star of December 1st, 2007, reported the death of 83 year-old David J. Kirk who was "The TV Weatherman" of WTHI-TV for more than 20 years and who was the general manager of Terre Haute Advertising Company.
Terre Haute Brewing Company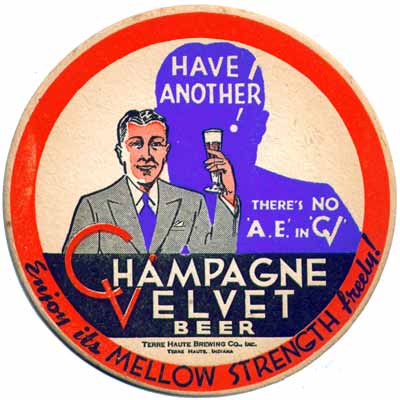 Terre Haute Brewing Company
Champagne Velvet Beer Mat or Coaster
This is not a postcard but a cardboard beer mat or coaster advertising Champagne Velvet made by the Terre Haute Brewing Company. The companyh operated between 1837 and 1959 at 904 Poplar Street.
There's more information about the brewery at the Brewers of Indiana Guild and the Champagne Velvet Beer Collection websites.
This page created 22nd November 2009, last modified 12th March 2010