Terre Haute Postcards - Terre Haute House (4)
More postcards from my collection...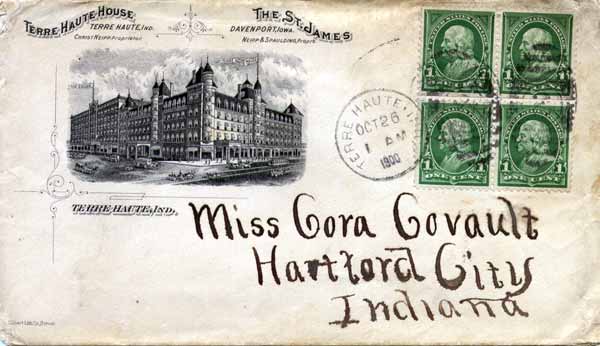 Terre Haute House envelope
Not a postcard but an interesting piece of memorabilia. This is a Terre Haute House envelope that was posted in Terre Haute on October 26th, 1900. It also advertises The St. James hotel in Davenport, Iowa. Christ Neipp was proprietor of Terre Haute House and Neipp and Spaulding were proprietors of The St. James.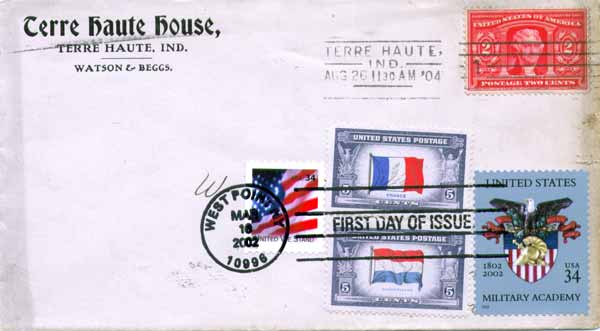 Terre Haute House envelope, West Point First Day Cover
Not a postcard but an interesting piece of memorabilia. This is a Terre Haute House envelope that was stamped in Terre Haute on August 26th, 1904. On the back is a Indianapolis date-stamp for the same date. The envelope was used as a First Day Cover for a set of West Point stamps on March 16th, 2002.
Two completely different buildings with the same name? A hotel has stood on this site, on the corner of U.S.41 and U.S.40 (Seventh and Wabash Streets), since 1837. The first hotel, Prairie House, was built in 1837 by Chanucey Rose. In 1855, it was raised to 4-storeys and renamed Terre Haute House. This is the turreted building that is depicted in the first postcards. The Terre Haute Hotel Co. bought the hotel from Chauncey in 1866 and in the 1870's it changed hands twice more. This hotel had several firsts - the first in the world to have electric lights in all the rooms (1886) and the first to supply portable electric fans (1891). It was remodeled in 1892 and again in 1914. Crawford Fairbanks bought the hotel but died in 1924 and his family decided to demolish the hotel in 1925 to make way for a new one but demolition did not start until February 18th, 1927.
Work started immediately on a new Terre Haute House, the blockier building in the later postcards, which was completed in July, 1928. The size of the Marine Room was doubled in 1935 and the Mayflower Room opened in 1936. Anton "Tony" Hulman purchased the hotel in 1959 but business continued to decline and it was closed on July 4th, 1970. The last ground floor businesses, the World Wide Travel Service and a coffee shop closed in 1980.
The building stood empty, slowly deteriating, for many years. Many people in Terre Haute did not want the building demolished and several proposals were put forward to renovate the building but these came to nothing. In September 2005, Gibson, who own Dennis Trucking in Terre Haute, was paid $1 by the Hulman family as a "development fee" of the site. Demolition of the 10-storey hotel was complete by October 2005.
However, the site still remains as a hotel. The 127-room Hilton Garden Inn opened for business on the site in August 2007.
For a fuller history see Wikipedia. You Tube has several videos of the interior of Terre Haute house before it was demolished.
This page created 16th December 2009, last modified 19th December 2009