Terre Haute Postcards
More postcards from my collection...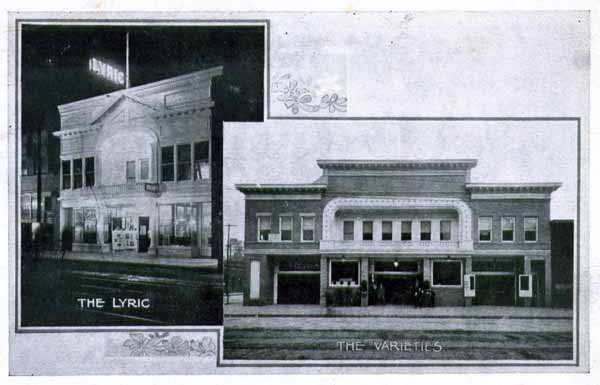 The Lyric and Varieties Theaters
This unused postcard has the printed text...
Pub. by Bundy, Terre Haute, Ind.
I have other copies of this postcard both posted in Terre Haute, one on July 3rd, 1907 and the other on October 9th, 1907.
Theodore W. Barhydt and Jack Hoeffler opened the Lyric in 1905 at 720 Wabash Avenue as a 10c vaudeville house playing four acts and a single reel movie. The Varieties vaudeville theater was built across the street in 1907, also owned by Barhydt. Vaudeville was very successful in Terre Haute and on February 14th, 1915, Barhydt opened the Hippodrome on the southwest corner of Eighth and Ohio Streets. This building was designed by Eberson. The Lyric later became the Orpheum, which was replaced by a new Orpheum Theater on the same site in 1919.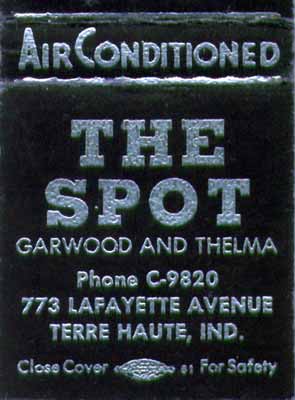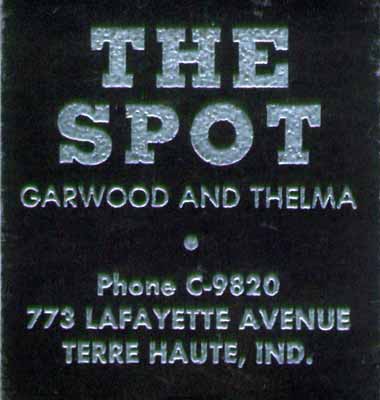 The Spot
This matchbook has the printed text...
The Spot
Garwood and Thelma
Phone C-9820
773 Lafayette Avenue
Terre Haute, Ind.
The Spot Tavern stood at 773 Lafayette Avenue. It was owned by husband and wife Garwood L. Tucker and Thelma Margaret Joseph Tucker. The couple also owned Tucker's Steak House at 30 North Brown Avenue and Tucker's Tavern. Thelma was born on Octocber 6th, 1913 and was married to Garwood on June 8th, 1935. Garwood died on June 11th, 1977 whilst Thelma survived until October 3rd, 2006 aged 92.
Colonel Richard W. Thompson
Bust outside of the Vigo County courthouse
This unused postcard has the printed text...
13357
Levin Bros.
Acmegraph, Chicago trademark logo
Ricahard Wigginton Thompson was born in Culpeper County, Virginia on June 9th, 1809. He moved to Louisville, Kentucky in 1831 and was clerk in a small store there. A few months later he was in Lawrence County, Indiana, working asa teacher. A few months later he was back to clerking in a store but was studying law in the evenings. He was admitted to the bar in 1834. As soon as he started on his career as a lawyer in Bedford, Lawrence County, Indiana he entered politics, first being elected to the state house of representatives (1834 - 1836) then in the State Senate (1836 - 1838).
He was elected to Congress (1841 - 1843 & 1847 - 1849), and moved to Terre Haute having finished his first term in 1843. In 1867 to 1869 he was Judge of the Eighteenth Circuit Court of Indiana. On March 12th, 1877, President Hayes made him Secretary of the Navy. He resigned on December 21st, 1881 to become the chairman of the American Committee of the Panama Canal Company. He was also director of the Panama Railroad Company between 1881 and 1888.
This well respected politician died in Terre Haute, just short of his 91st birthday, on February 9th, 1900 and is buried in Highland Lawn Cemetery. The bust of him pictured in the postcard ws placed near the courthouse in 1902.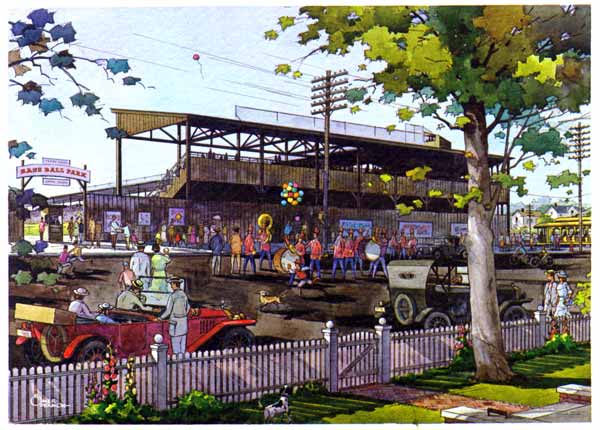 Three-I League Athletic Park
This is not a postcard but a greetings card from the Forest Sherer Insurance Agency, the message reads...
Seasons Greetings
to greet our Friends, Old and New, and to wish you Happiness and Prosperity throughout the Holidays and the New Year.
The print is by Omer Seamon (Denzil Omer "Salty" Seamon) a popular Indiana artist and illustrates...
Baseball history was made in Terre Haute at the old Three-I League's Athletic Park in the 2700 block on the south side of Wabash Ave.
From 1895 through 1924, baseball greats like Charlie Root, Art Nehf, Jim Elliot and Mordecai Brown played there.
Vendors sold popcorn and peanuts from wicker baskets to enthusiastic fans.
This page created 26th November 2009, last modified 27th November 2009