Terre Haute Postcards - Wabash River (3)
More postcards from my collection...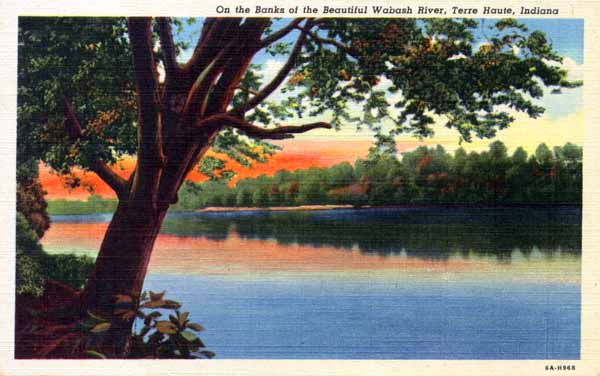 On the Banks of the Beautiful Wabash River, Terre Haute, Indiana
This unused postcard has the printed text...
OA-H968 [1930]
Wabash Valley News Agency Inc., Terre Haute, Ind.
Genuine Curteich-Chicago "C.T. Art-Colortone" Post Card (Reg. U.S. Pat. Off.)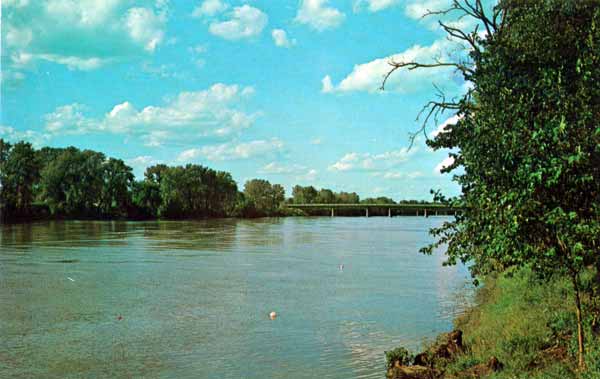 Wabash River, Terre Haute, Indiana
This unused postcard has the printed text...
Wabash River
Terre Haute, Indiana
This view was taken from Fairbanks Park in
Terre Haute, Indiana. It is one of the many
beautiful scenes in this area of Indiana.
Photo by John V. Pontiere, Jr.
45990
Estell Wholesale Co., 518 Arrowhead Dr., Seymour, Ind., 47274
The Wabash River is a 475 mile(765 km) long river in the eastern United States that flows southwest from northwest Ohio near St. Henry, Ohio across northern Indiana to Illinois where it forms the southern Illinois-Indiana border before draining into the Ohio River, of which it is the largest northern tributary.
When the Wisconsin Glacier melted 14,000 years ago, part of the meltwaters formed the proglacial Lake Maumee, the ancestor to Lake Erie. Eventually the meltwaters overtopped a glacial moraine located near Fort Wayne, Indiana, and catastrophically drained southwestward in the Maumee Torrent. The torrent carved the wide alluvial valley that the Wabash uses today.
The name "Wabash" is an English spelling of the French name for the river, "Ouabache." French traders named the river after the Miami Indian word for the river, waapaahsiiki, meaning "it shines white". The Miami name reflected the clarity of the river in Huntington County, Indiana where the river bottom is limestone. This is a historical oddity since today the river bottom is no longer visible due to water pollution and agricultural siltation.

The Wabash was mapped and named by French explorers to the Mississippi, including the sections now known as the Ohio River. For 200 years, from the mid-1600s into the 1800s, the Wabash was a major trading route, linking Canada, Quebec and the Great Lakes to the Mississippi River.
On March 14, 1913, Paul Dresser's song, "On the Banks of the Wabash, Far Away" became the state song of Indiana.
This page created 3rd January 2010, last modified 3rd January 2010