Terre Haute Postcards
More postcards from my collection...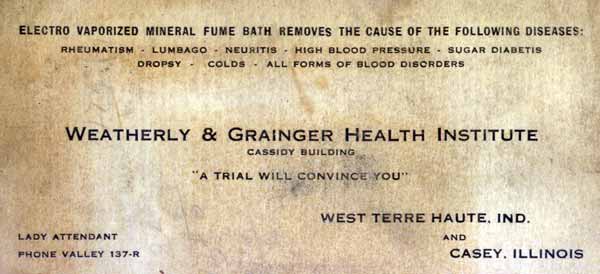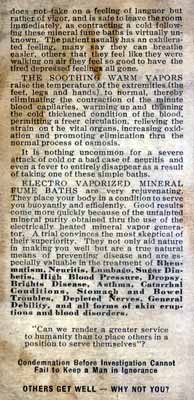 Weatherly & Grainger Health Institute business card
The Weatherly & Grainger Health Institute of West Terre Haute and Casey, Illinois offered "electro vaporized mineral fume baths that were supposed to offer relief from rheumatism, lumbage, neuritis, high blood pressure, sugar diabetes, dropsy, colds and all forms of blood disorders.
The back of the card says...
does not take on a feeling of languor but rather of vigor, and is safe to leave the room immediately, as contacting a cold following these mineral fume baths is virtually unknown. The patient usually has an exhilerated feeling, many say they can breathe easier, others that they feel like they were walking on air they feel so good to have the tired depressed feeling all gone.
The soothing warm vapors raise the temeperature ofthe extremeties (the feet, legs and hands) to normal, thereby eliminating the contraction of the minute blood capillaries, warming up and thinning the cold thickened condition of the blood, permitting a freer circulation, relieving the strain on the vital organs, increasing oxidation and promoting elimination thru the normal process of osmosis.
It is nothing uncommon for a severe attack of cold or a bad case of neuritis and even a fever to entirely disappear as a result of taking one of these simple baths.
Electro vaporized mineral fume baths are very rejuvenating. They place your body in a condition to serve you bouyantly and efficiently. Good results come more quickly because of the untainted mineral purity obtained thru the use of the electically heated mineral vapor generator. A trial convinces the most skeptical of their superiority. They not only aid nature in making you well but are a true natural means of preventing disease and are especially valuable in the treatment of rheumatism, neuritis, lumbago, sugar diabetes, high blood pressure, dropsy, Brights disease, asthma, catarrahal conditions, stomach and bowel troubles, depleted nerves, general dibility, and all forms of skin eruptions and blood disorders.
"Can we render a greater service to humanity than to place others in a postion to serve themselves"?
Condemnation before investigation cannot fail to keep a man in ignorance.
Others get well - why not you?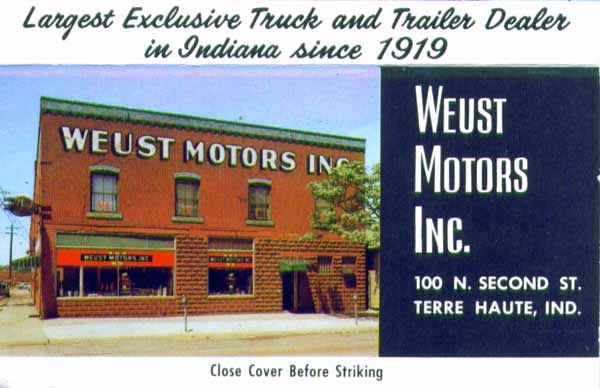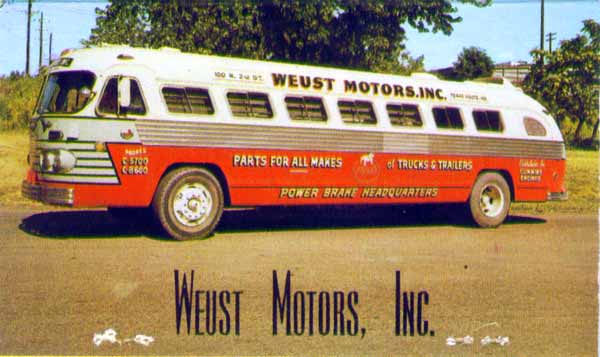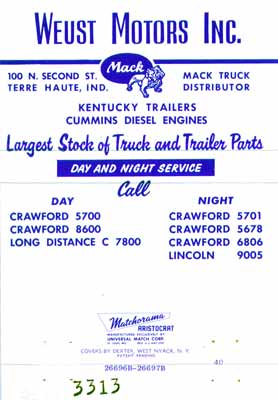 Weust Motors matchbook
Not a postcard, this is a marchbook advertising Weust Motors Inc. of 100 North Second Street, Terre Haute. Established in 1919 as truck and truck parts dealers, they are still in business as new and used car dealers at 205 Ohio Street, Terre Haute.
This page created 5th January 2010, last modified 5th January 2010