Indiana Limestone (3)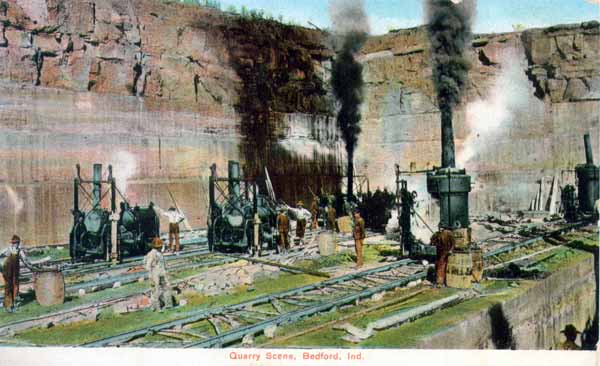 Quarry Scene, Bedford, Indiana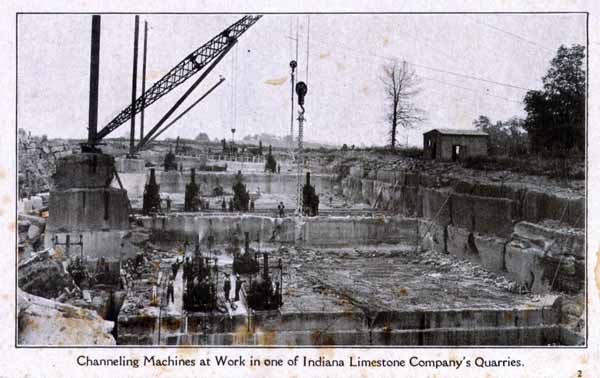 Channeling Machines at Work in one of Indiana Limestone Company's Quarries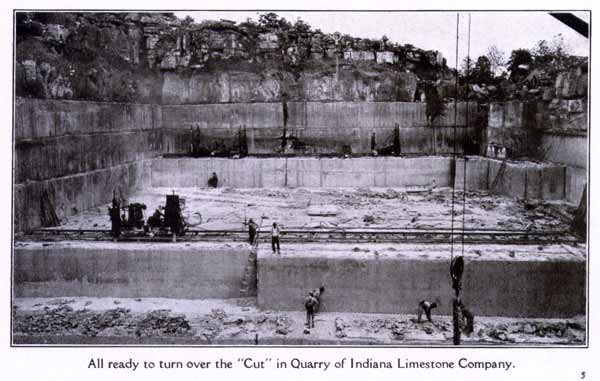 All ready to turn over the "Cut" in Quarry of Indiana Limestone Company
An investigation into the death of a quarry worker at the Maple Hill Quarry, owned and operated by B. G. Hoadley Quarries, near Bloomington in 2000 details how these "cuts" are made today...
Limestone was mined from multiple benches. A diamond belt saw cut the limestone into 120-foot long, 10-foot high, by 4-foot deep sections. The section was cut by slips-and-wedges to 6-foot and 10-foot long blocks which were transported by front-end loaders to the storage yard. Some blocks were sawed into desired slabs. Others were sold uncut. Some of the off-color blocks were transported to the cull block storage area about 1/8th mile behind the saw, where weathering after a period of time changed their color and made some of them useful for special orders. The blocks and sawed slabs were sold for construction materials.
Source: Report of Investigation - Mine Safety and Health Administration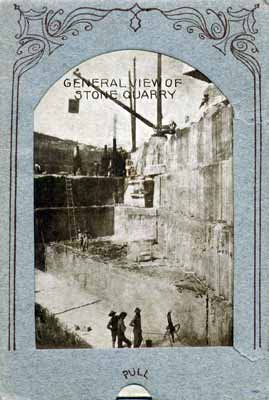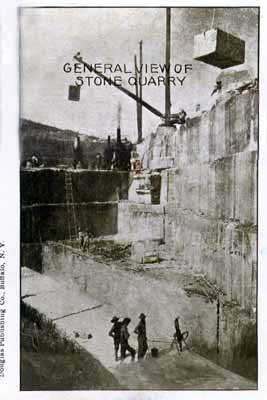 Quarry scene from near Bedford
Using digital photography techniques most of the postcard coverd by the cover can be recreated.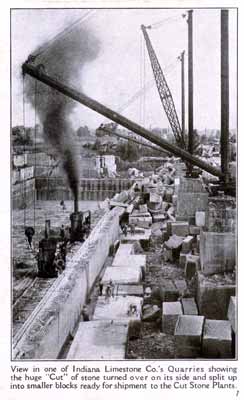 Splitting the "Cut"
The postcard text is "View in one of Indiana Limestone Co's quarries showing the huge "Cut" of stone turned over on its side and split up into smaller blocks ready for shipment to the Cut Stone Plants."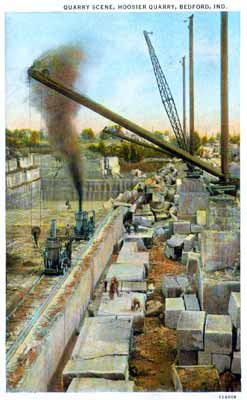 Quarry scene, Hoosier Quarry, Bedford, Indiana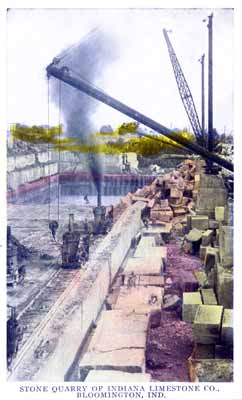 Stone Quarry of Indiana Limestone Co., Bloomington, Indiana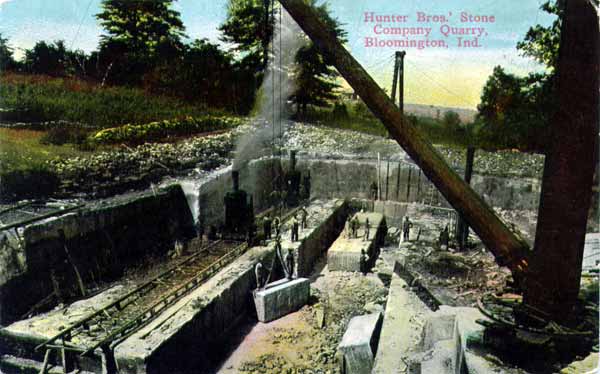 Hunter Bros.' Stone Company Quarry, Bloomington, Indiana
Postmarked 1915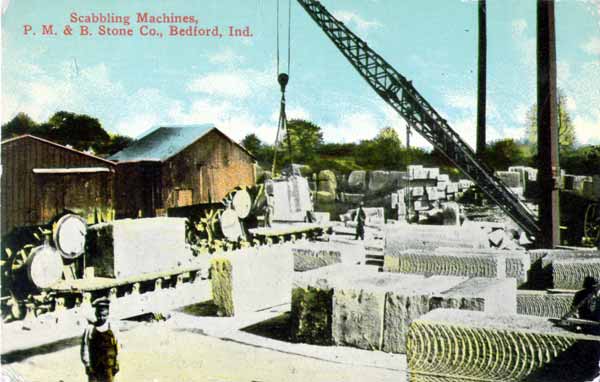 Scabbling Machines, P. M. & B. Stone Company, Bedford, Indiana
Scabbling is the process of roughly dressing stone prior to it being fine cut.
The P. M. & B. quarry is owned by the Indiana Limestone Company. It was from this quarry that limestone was extracted from the "Empire Hole" to provide the limestone for the Empire State Building which was opened in 1931. The "Empire Hole" was also the source of the limestone for the building's major 2001 renovations.
As far as I can tell, P. M. & B. refers to the Perry, Matthews, and Buskirk Stone Company. The company was founded by Captain Gilbert K. Perry of Ellettsville; Fred Matthews of Bloomington; W. N. Matthews of Bedford and Philip Kearney Buskirk of Bloomington in 1889. They opened the Horseshoe quarry which proved to be the most valuable stone property in the Oolitic belt on 240 acres of land at Bluff Ridge, 5 miles north of Bedford.. They had put all of their capital into the company and would have gone bankrupt if the company had failed. The limestone lay in a bed 50ft thick.
By 1896, they were operating 10 channel machines, 6 derricks, 4 drills and 3 pumps, all operated by steam and were extracting 700,000 cubic feet of stone per year. In one month they could extract 85,000 feet.
They later sold the quarry for $600,000. When he died in 1907, Buskirk was the only survivor of the original four founders.
A detailed description of the quarry appears on pages 411 - 419 of the 32nd Report by Indiana. Dept. of Geology and Natural Resources, Indiana. Dept. of Statistics and Geology
Sources:
History of Lawrence and Monroe Counties, Indiana
Philip Kearney Buskirk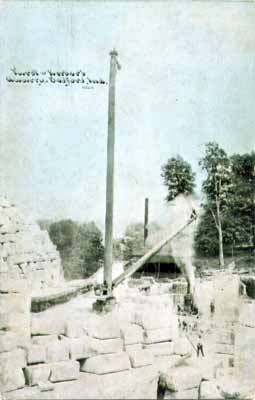 Furst & Kerber Quarry, Bedford, Indiana
In 1907, the Furst & Kerber quarry had one of the largest stone mills in Indiana. The quarry itself was opened in June 1904.
This page created 16th August 2008, last modified 5th February 2010