Terre Haute Postcards
More postcards from my collection...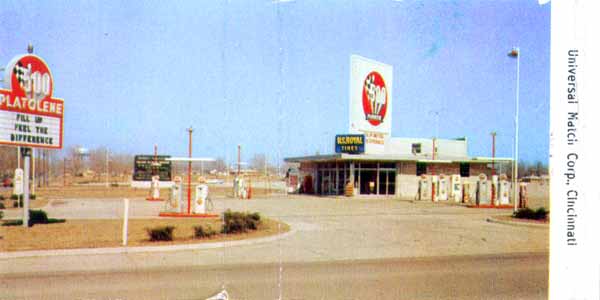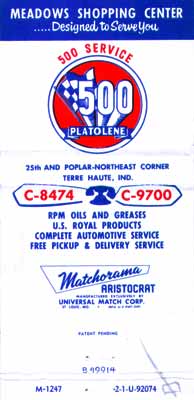 500 Platolene Service Station
This is a matchbook, not a postcard and has the following text...
Universal Match Corp., Cincinnati
Meadows Shopping Center
...Designed to Serve You
500 Service
500 Platolene
25th and Poplar - Northeast Corner
Terre Haute, Ind.
C-8474 C-9700
RPM Oils and Greases
U.S. Royal Products
Complete Automotive Service
Free Pickup & Delivery Service
Matchorama Aristocrat
Manufactured Exclusively by
Universal Match Corp.
St. Louis, MO. - Reg U.S. Pat Off
Patent Pending
B 49914
M-1247
2-1-U-92074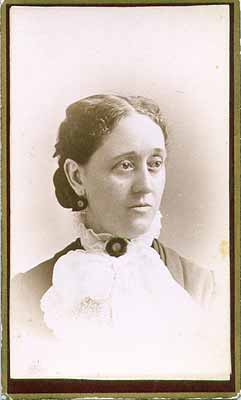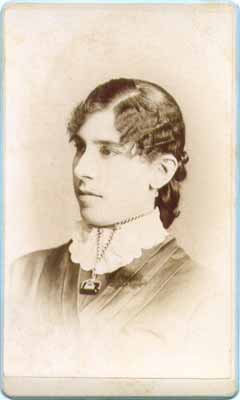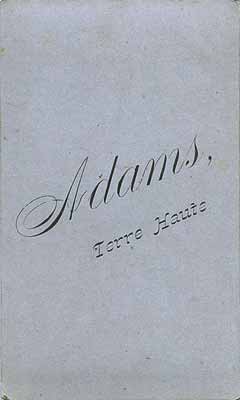 Unknown sitters, Adams Photographic Studio, Terre Haute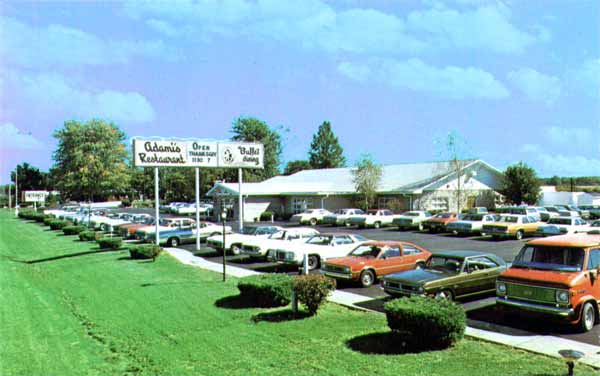 Adami's Restaurant
This unused postcard has the following text...
Adami's Restaurant
Ten miles east of Terre Haute on U.S. Highway 40
Adami's also has a Sarasota Meritorious Award Restaurant
in Sarasota, Florida. We feature over 70 different foods
on our twelve serving tables with one of he largest salad
bars in the country and have five private dining rooms for
parties from 25 to 500 and two acres of free parking.
Please call 812-446-3241for party reservations.
The dining room is open Wednesday through Saturday from
4:30 p.m. to 9:00 p.m. and Sunday from 11:30 a.m. to
7:00 p.m.
Pub. by Wriggelsworth Enterprises
4396 Woodmans Chart, Sarasota, Florida 33580
64182-D
Made by Dexter Press
West Nyack, New York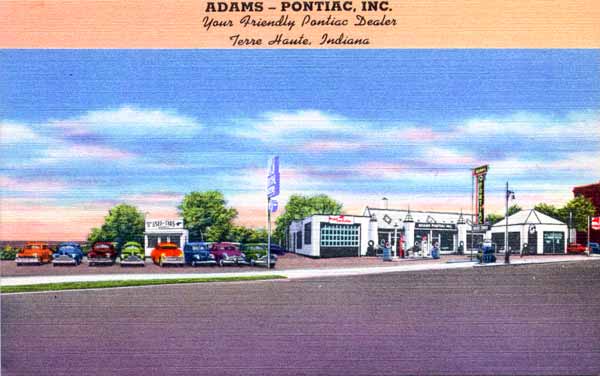 Adams Pontiac
This unused postcard has the following text...
Adams - Pontiac, Inc.
Your Friendly Pontiac Dealer
Terre Haute, Indiana
The One-Stop Auto Service Center
1. The most modern Pontiac sales
service and parts facilities.
2. U. S. Royal Tire Distributors.
3. The finest paint and body shop.
F10057
Made in U.S.A.
Fullcolor Post Card
Nationwide Advertising, Tyler, Texas - In Indianapolis Ind. Call W. E. Hoffman, TA-0237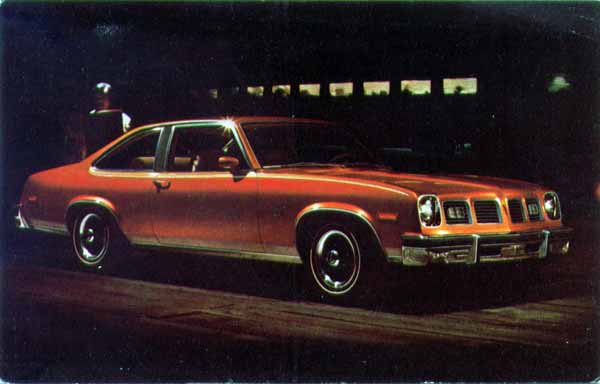 Adams Pontiac
This unused postcard has the following text...
1975 Pontiac Ventura SJ
2 Door Htchback Coupe
Adams Pontiac-GMC, Inc.
1430 Wabash Avenuer
Terre Haute, Indiana 47807
Now look what Pontiac's done for driving
This dealership opened in 1943 at 1430 Wabash Avenue. It was founded by Harry Adams who also headed the Motor Freight Corpoeration. Hary was succeeded by his son, Ronald and the business remained at this location, although remodelled, until 1981. The site is now occupied by Tempo Furniture. Ronald died on Thursday, Jan. 15, 2009, aged 75.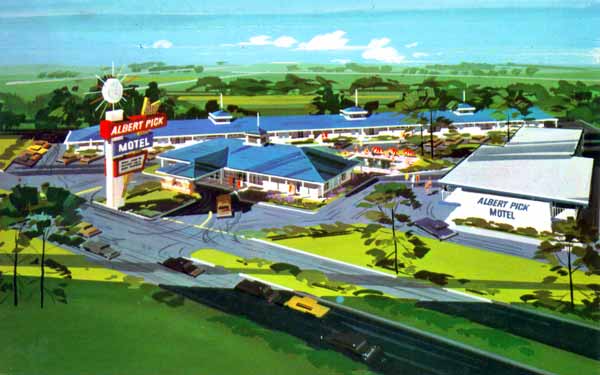 Albert Pick Motel
This unused postcard has the following text...
3DK-1831 [1963]
Albert Pick Hotels & Motels
CurteichColor 3-D Natural Color Reproduction (Reg. U.S.A. Pat. Off.)
Albert Pick Motel
4800 Dixie Bee Road, Terre Haute, Indiana, 47802
AAA
Phone: (812) 299-1181
Completely air-conditioned. all rooms with color TV, automatic-dial phones.
Swimming pool, Sabre and Saddle dining Room and Lounge.
No charge for children.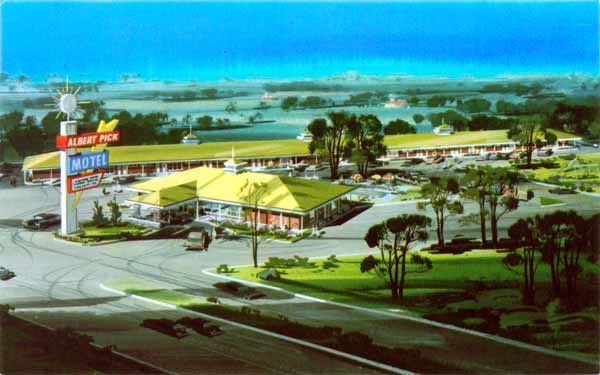 Albert Pick Motel
This postcard, stamped in Hopkinsville, Kentucky, on March 14th, 1962, has the following text...
CurteichColor 3-D Natural Color Reproduction (Reg. U.S.A. Pat. Off.)
Albert Pick Motel
4801 Seventh Street
Terre Haute, Indiana
AAA
Phone: Wabash 2191
Teletype TH-4
Completely air-conditioned. All rooms with television,
24-hour telephone service. Private swimming pool.
Restaurant. No charge for children under 12.
I found the online article "What I learned from my worst job: twelve people tell about the dead-end jobs they passed through on their road to success." published on 1st September 1996 on The Free Library website...
Newspaper editor Don Wycliff still remembers the names of his fellow employees at the Albert Pick Motel Restaurant in Terre Haute, Indiana: "Evie Baker was the salad lady, and Archie Summers was the chef."

It was the summer of 1965 between high school and college. Wycliff was a dishwasher working days and evenings. "There was minimal exercise of the mind," he says. "In retrospect, it was what people would call a dead-end job." But Wycliff is glad he had it. "I learned a heck of a lot."

The lessons were mostly about people. "I worked with people who were really good folks," he says. Baker was "kind of motherly," and the chef "was a tall black man who wasn't afraid to speak his mind." Wycliff says the power Summers wielded at the motel was impressive. "He was the ruler of the place." That kind of self-esteem was something Wycliff admired.

Wycliff, 49, earned 80 cents an hour at the motel restaurant and tried never to shortchange his employer on effort. "It was something my parents had been drilling into me from the time I was able to comprehend - to do your best no matter what," he says. The experiences that summer readied him for the working relationships he would establish in college at the University of Notre Dame and later during his newspaper career. "I'm the kind of person who does his best to get along with everybody. I try to see the best in people."
Wycliff, the editorial-page editor of the Chicago Tribune, spent years learning about the value of work on the staffs of such major papers as the Houston Post, Seattle Post-Intelligence, the Dallas Times-Herald, Chicago Sun-Times, and the New York Times. His best boss was Art Gorlick, an editor at the Chicago Daily News, where Wycliff worked in 1973 when he first arrived in Chicago. Wycliff worked the midnight shift as a general-assignment reporter. "Art taught me how to be a journalist. He was a taskmaster - he made you do your homework. I appreciate that now."
This page created 7th March 2005, last modified 12th July 2009