Terre Haute Postcards
More postcards from my collection...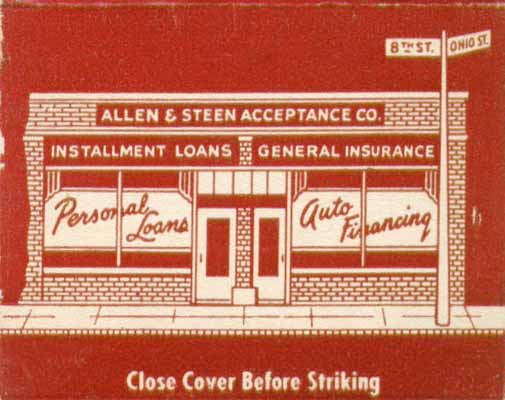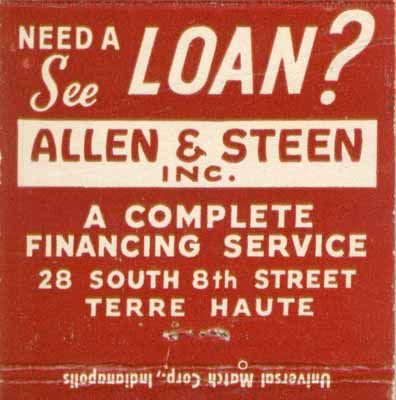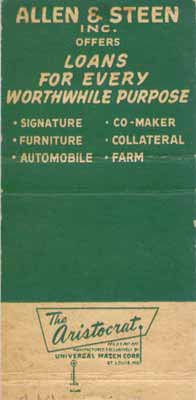 Allen & Steen Inc.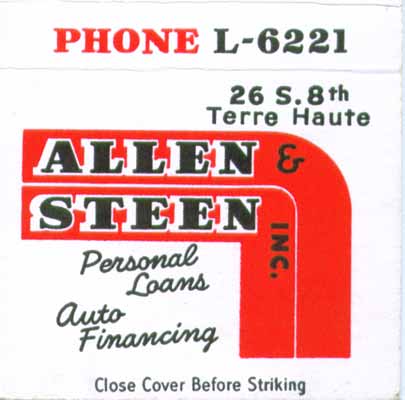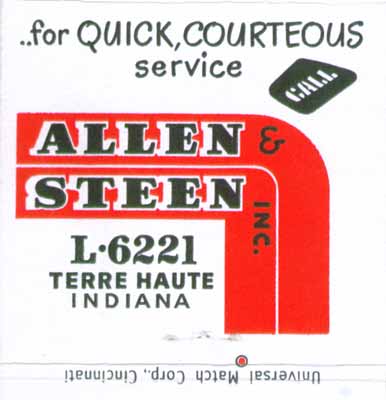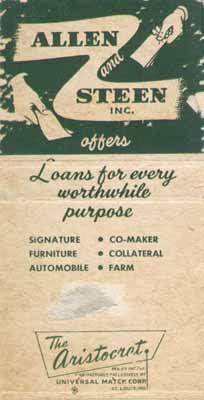 Allen & Steen Inc.
These matchbooks advertised Allen and Steen Inc. who offered loans and financing from premises at 26 / 28 South 8th Street, Terre Haute.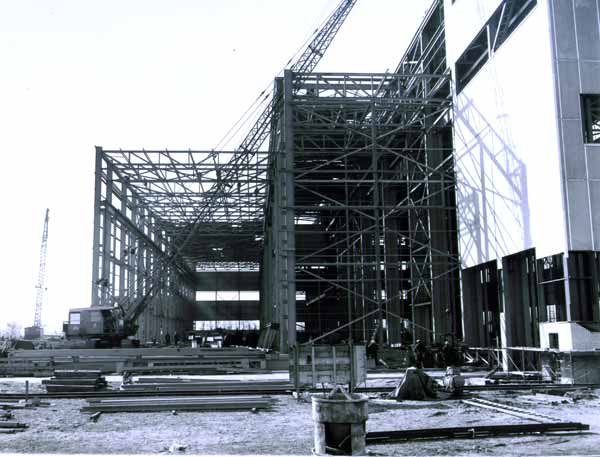 Allis-Chalmers, Transformer Assembly Building, Terre Haute
This photograph, not a postcard, has the printed text...
Allis-Chalmers
Transformer and Circuit Breaker Assembly Building
Circuit breaker and small transformer aisle on left, test apparatus aisle in center.
Construction by Austin Company, W. O. 3486, Photo #186176, 2-19-57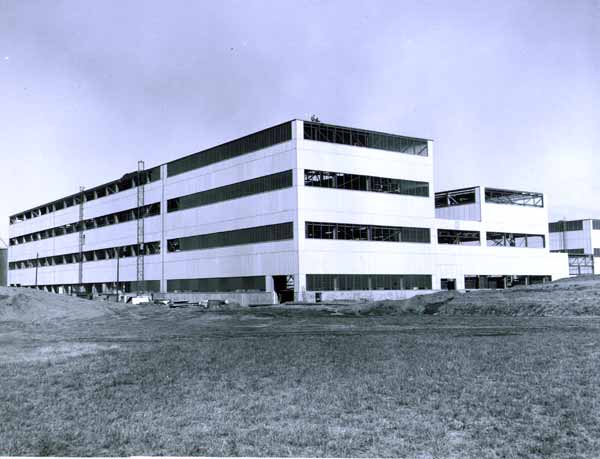 Allis-Chalmers, Transformer Assembly Building, Terre Haute
This photograph, not a postcard, has the printed text...
Allis-Chalmers
Transformer and Circuit Breaker Assembly Building
Large transformer assembly bay in foreground, height 92 ft., length 540 ft.
Construction by Austin Company, W. O. 3486, Photo #186177, 2-19-57
The Allis-Chalmers Manufacturing Co. of West Allis, Wisconsin was an American manufacturer with diverse interests, perhaps most famous for their bright orange farm tractors. The company eventually divested its manufacturing businesses and today is known as Allis-Chalmers Energy, and is based in Houston, Texas. As well as tractors the company also manufactured combine harvesters, hydroturbines, valves and pumps, compressors, electric motors, crushing and screening equipment, air purification and coal gasification equipment.
On April 28, 1951, the Milwaukee based Allis-Chalmers company announced that Terre Haute had been chosen as the site of a new plant to manufacture compressors for J-65 turbojet engines under the largest contract ever issued by the Curtiss - Wright Corporation. The $10 million plant was to employ between 3,500 and 4,000 people and the engines would be used in the A-4 Skyhawk, B-57 Canberra, F-11 Tiger, F-84F Thunderstreak, FJ-3 Fury, FJ-4 Fury and Lockheed XF-104 Starfighter.
Allis-Chalmers acquired a 215 acre site at 13th Street and Aythorne Avenue and the Terre Haute Chamber of Commerce planned to use the old interurban car barns at 2770 Wabash Avenue as a facility to train the engineers whilst the main plant was being built. On May 28, 1951, the plant and equipment were moved into the pilot plant / training facility.
On May 7, 1952, members of Local 1164 of the United Auto Workers went on strike. Construction of the more-than-half completed main plant stopped on June 20, 1952. Even though Allis-Chalmers threatened to pull out of Terre Haute the strike dragged on for 14 weeks. The Air Force set Tuesday, July 8, at 7:59 a.m., as the deadline for the resumption of work. Without a settlement, its mechanics would remove its machines and tools from the pilot plant. At 7 a.m. that morning, the union met in a tent adjoining the pilot plant and 250 of its 340 members voted to remain on strike. As warned, later that day air force personnel entered the building and started dismantling the equipment.
Things came to a head on Monday, July 28, 1952, which Mayor Ralph Tucker described as "a dark day in history of the City of Terre Haute." About 250 members of the Operating Engineers formed a "flying wedge" at the picket line guarding the gate at Allis-Chalmers' pilot plant. Blocking traffic on U.S. Highway 40, the attack force broke through to allow five cars carrying 34 American Federation of Labor workers to enter the plant. The two sets of workers battled each other with fists, clubs and even knives and an American Federation of Labor worker was severely wounded with a punctured lung after being stabbed in the chest.
The strike finally was settled on August 20, 1952 and production was finally underway by December 1, but on a much smaller scale than was originally anticipated. Just 700 people of the planned 3,500 plus were employed. The air force never did return the 29 machines it had removed from the plant in July, but instead gave them to other companies to fulfill the contract. Production of J-65 turbojets was terminated by the air force in 1956 and a contract to produce J-79 assemblies was cancelled in 1957.
Allis-Chalmers, despite the problems, surprisingly still believed in Terre Haute and in 1954 announced plans to erect another $4 million plant to build transformers and switch gear in Terre Haute. There were still problems though and Terre Haute was again told that unless productivity improved the equipment would be moved back to West Allis - the home of Allis-Chalmers. Completed in 1957/8, this factory closed just four years later in 1962.
Sources:
Letters To Robert Klassen About Allis-Chalmers
Tribune Star
Wikipedia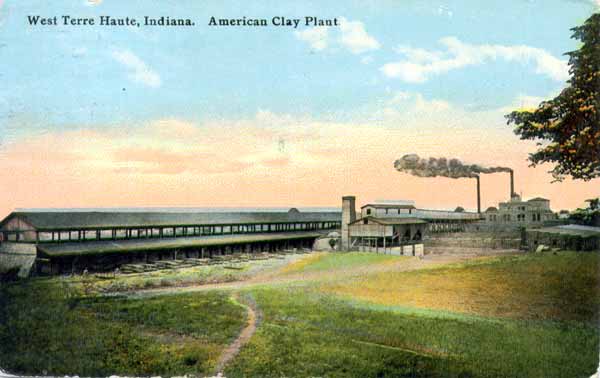 American Clay Plant, West Terre Haute
This postcard, stamped in Terre Haute on September 12th, 1912, has the printed text...
A-20810
The Model
I have another copy of this postcard that was posted in Terre Haute on September 15th, 1915, that as well as the above printed text has the UNCO registered trademark logo
In 1912, the plant was said to be "the finest of its kind in the state" and produced drain, fireproofing and roof tiles as well as hollow blocks for smokestacks. The plant and its clay pits occupied a 10 acre piece of land southwest of West Terre Haute that contained the richest clay and shale deposits in Clay County. The site was later used for growing mushrooms.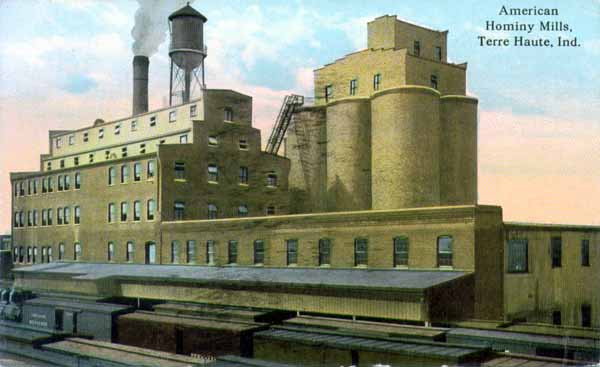 American Hominy Mills
This unused postcard has the printed text...
A-20826
The Model
I have another copy of this card that was postmarked in Terre Haute on August 7th, 1913.
The mills were originally owned by father and son, Theodore and Benjamin Hudnut. They produced corn products such as grits, hominy, flour and "Mazoil" cooking oil. Theodore was known as Terre Haute's "Hominy King". The Hudnut Milling Company moved from Edinburgh, Indiana, to Terre Haute in the early 1860s helping the city to become the nation's fifth most important center for flour and gristmill products in the 1880's. Six of their mills were sold to the American Hominy company in 1902. The Terre Haute mill was situated on the northwest corner of Water and Chestnut Streets. They also had a store that stood at 113 Poplar Street.
See the New York Times site for a 1902 article about the takeover.
HOMINY refers to corn without the germ. It is served both whole or ground. Hominy is boiled until cooked and served as either a cereal or as a vegetable. Hominy may also be pressed into patties and fried. This dish is especially popular in the southern United States. Samp is another name for coarse hominy. Hominy ground into small grains is sometimes called "hominy grits."

American colonists used the words "hominy" and "samp" interchangeably to mean processed corn. The colonists, unfamiliar with corn, had to learn from the Indians how make the tough grain edible. The pioneers prepared hominy by soaking the kernels in a weak wood-based lye until the hulls floated to the surface.

Colonists usually kept both a samp mill and an ash hopper near their kitchens. A samp mill was a giant mortar and pestle made from a tree stump and a block of wood, which was hung from a tree branch. The branch acted as a spring. The samp mill was used to crack hard kernels of dried corn into coarse meal. The ash hopper was a V-shaped wooden funnel. Wood ashes were put into the funnel, and then water was run through the funnel to make lye. The lye was then used to soften the corn hulls and create hominy.

An English traveler in 1668 once described hominy as similar to the English dish, "Hasty Pudding." Hasty pudding and hominy were the instant cereal of colonial times.

The word samp fell out of use but the word "hominy" was eventually joined with the word "grits" in the American South. In the rest of America, hominy referred to the whole kernels which were skinned but not ground; in most of the South, "hominy" came to mean the coarsely-ground skinned kernels used to make the dish known as "hominy grits" or plain "grits."
From Wise Geek

GRITS - Traditionally the corn for grits is ground by a stone mill. The results are passed through screens, with the finer part being corn meal, and the coarser being grits.
From Wikipedia
Sources:
A History of Terre Haute, Indiana
Hudnut Hominy Co.
Indiana History: A Book of Readings By Ralph D. Gray
New York Times
Terre Haute & Vigo County in Vintage Postcards By Dorothy Jerse, John R. Becker
Wikipedia
Wise Geek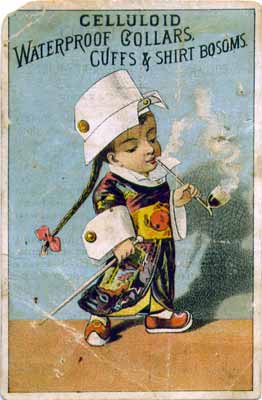 A. Arnold Tradecard
Not really a postcard this is a tradecard. The reverse reads...
Celluloid
Waterproof
Collars, Cuffs and Shirt Fronts
Sanborn's Patent
These goods differ only from the ordinary
Linen, in as much as they are Linen done
up with a preparation of Celluloid instead
of starch, giving them the same appearance,
but being decidedly better as they are
perspiration proof and require no laundry
other than to be wiped off when soiled with
a damp cloth when stained; use stiff brush,
soap and water or Celluline (made expressly
for the purpose). The goods can be worn
a full month without change, thus saving
time and trouble, to say nothing of expense.
Recommended by leading Physicians as a
preventative of contagious diseases on
account of the disinfectant qualities of the
camphor used in the celluloid preparation.
None should be without these goods.
For sale by
A. Arnold
Terre Haute, Indiana
Underneath this text is a pencil note saying "423 Main St."
Letters patent No. 200.989, granted to Albert A. Sanborn, Charles O. Kanouse, and Rufus H. Sanborn, March 5, 1878, describe a fabric for collars and cuffs having outer sheets or layers of celluloid and an interlining of textile or fibrous materials. There was a court case involving the Celluloid Manufacturing Company et al versus the American Zylonite Company et al in New York on June 26, 1888 which is reported in the Bulk Resource website which contains copies of selected U.S. government archives.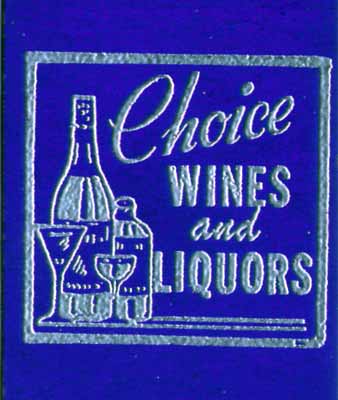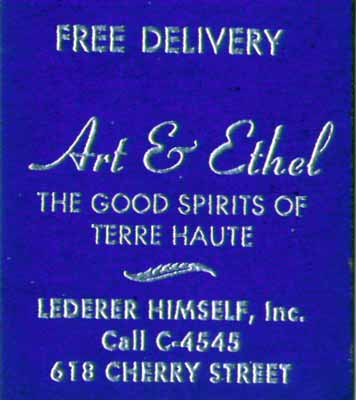 Art & Ethel Liquors
This matchbook has the following text...
Choice Wines and Liquors
Free Delivery
Art & Ethel
The Good Spirits of Terre Haute
Lederer Himself Inc.
Call C-4545
618 Cherry Street
This page created 7th March 2005, last modified 26th September 2009