Terre Haute Postcards
More postcards from my collection...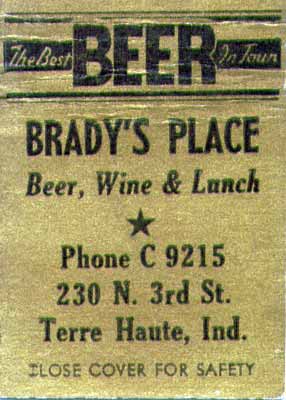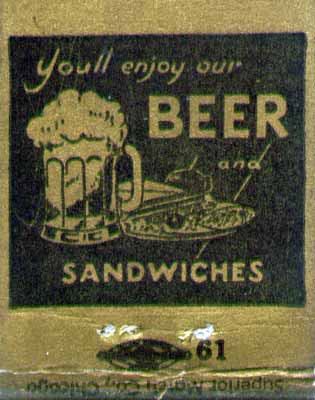 Brady's Place
This matchbook advertises Brady's Place a bar at 230 North Third Street. "Sweet Adeline" may refer to the 1929 musical of that name, but I think it refers to the 1909 song which was a very popular "standard".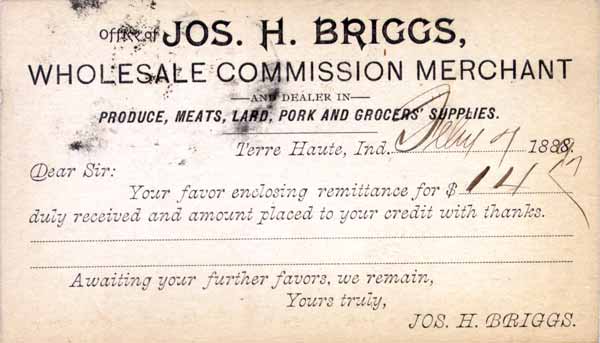 Jos. H. Briggs, Wholesale Commission Merchant
This postcard / tradecard dated February 7th, 1889, also has an interesting back...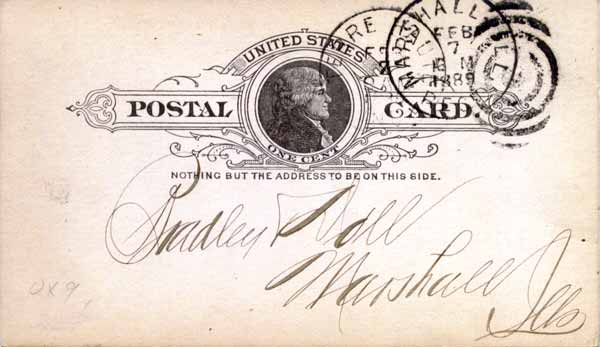 Jos. H. Briggs was born in Washington county, New York. About the year 1858 he came west, and located at Alton, Illinois, where he remained about seven years. He then removed to Terre Haute and engaged in the hardware trade, which he continued about four years and then began his produce business. His produce house was located on the northwest corner of Fourth and Cherry Streets, where he did an extensive business in the handling of fruits and produce, both buying and selling and on commission. In addition to this he had another house located corner of Ninth and Cherry Streets, which was devoted to the handling of eggs and poultry, in which he also did an extensive business. Source: Vigo County Indiana Biographies Project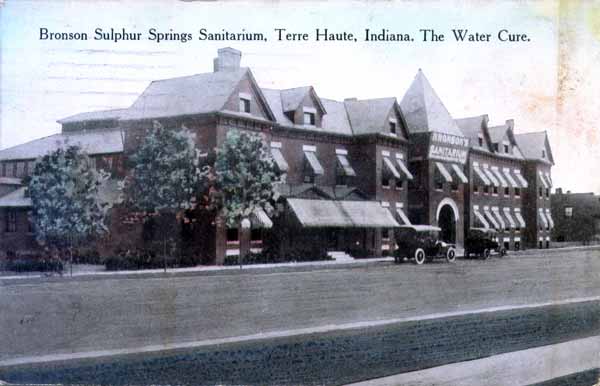 Bronson Sulphur Springs Sanitarium
This postcard, posted in Terre Haute on October 21st, 1915, has the printed text...
Plate 681
E. C. Kropp Co., Pub. Milwaukee
Whilst drilling on land belonging to David Bronson a company found not oil but artesian water in 1889. Bronson opened his health resort on the site first naming it the "Exchange Artesian Springs and Bath House and then later the Bronson Sulphur Springs Sanitarium. Due to it's accidental finding the spa was known as "a fortune from a misfortune." It was located at 207 North 10 1/2 Street and was partially destroyed by fire in 1921 and completely destroyed by another fire in 2006.
Bronson was another of Terre Haute's entrepreneurs. In 1904 he established a professional roller polo team at the Coliseum at Eighth and Cherry Streets. The team didn't last long but the Coliseum became a popular vaudeville house until it was destroyed by fire in November 1909.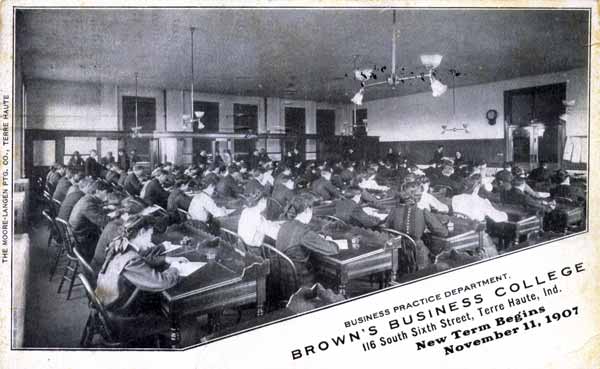 Brown's Business College
This used postcard, with an unreadable postal stamp, has the following printed text...
The Moore - Langen Ptg Co., Terre Haute
Business Practice Department
Brown's Business College
116 South Sixth Street, Terre Haute, Ind.
New Term Begins
November 11, 1907
A commercial school had operated in Peoria, Illinois, as early as 1857. Others followed and in 1888 had consolidated into ownership that included George W. Brown, Principal of the Jacksonville (IL) Business College. This was the origin of Brown's Business College that grew into twenty-two institutions, including locations at St. Louis, Bloomington, Davenport, Rockford, Terre Haute, Cairo, Jacksonville, Decatur, Muscatine and other cities of the central west. In 1915, it was the first to admit women students and offered typing, shorthand, salesmanship and stenotype. It merged with the Wabash Business College in the 1930s to become the Wabash - Brown College of Commerce.
Sources: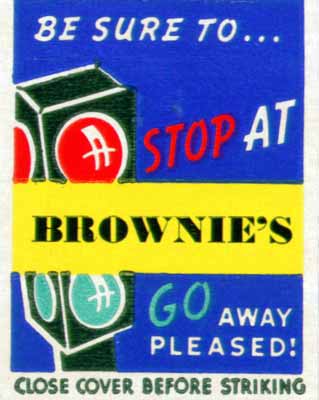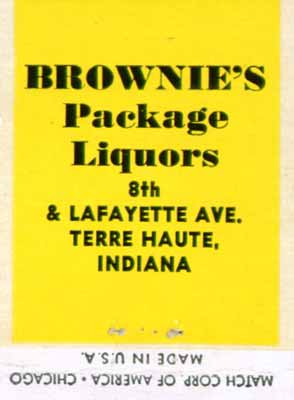 Brownie's Package Liquors
This matchbook has the printed text...
Be Sure to...
Stop At
Brownie's
Go Away Pleased
Brownie's Package Liquors
8th & Lafayette Ave.
Terre Haute
Indiana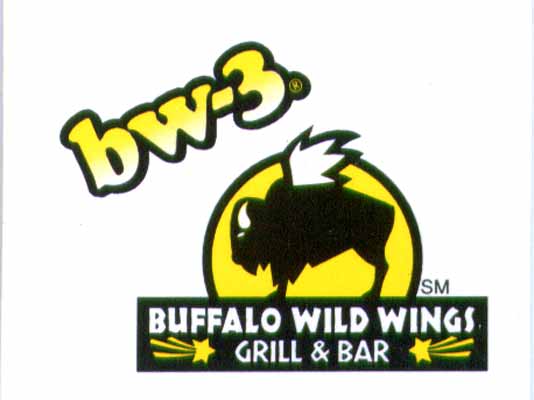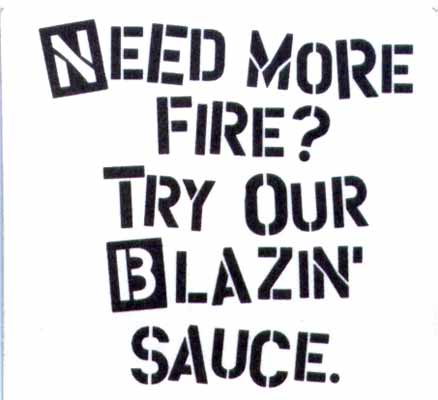 BW3
This is a matchbook avertising BW3 Grill and Bar which is situated at 3718 3rd Street (U.S. Highway 41). BW3's is based in Minneapolis, Minnesota. The first BW3 opened in 1982 as Buffalo Wild Wings & Weck - hence BW3. A Weck is short for kimmelweck, a Kaiser roll seasoned with various toppings and is an east-coast speciality. In 1998, the name was changed to Buffalo Wild Wings Grill & Bar but they are still known and advertised as BW3s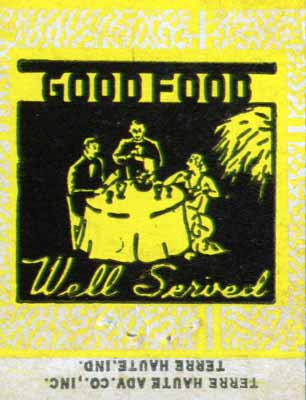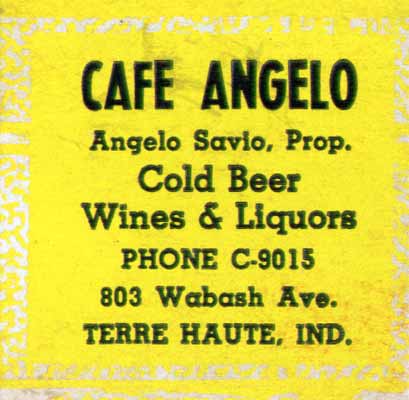 Cafe Angelo
This matchbook has the printed text...
Good Food
Well Served
Cafe Angelo
Angeo Savi, Prop.
Cold Beer
Wines & Liquors
Phone C-9015
803 Wabash Ave.
Terre Haute, Ind.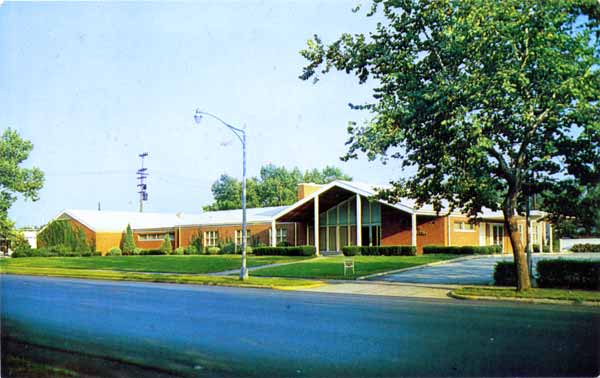 Callahan Funeral Home
This unused postcard has the following printed text...
Callahan Funeral Home
2425 Wabash Avenue
Terre Haute, Indiana
Serving Families in the Wabash Valley for Fifty Years
38888-B
Pub. by Martin's Photo Shop, Terre Haute, Ind.
Made by Dexter Press, West Nyack, N.Y.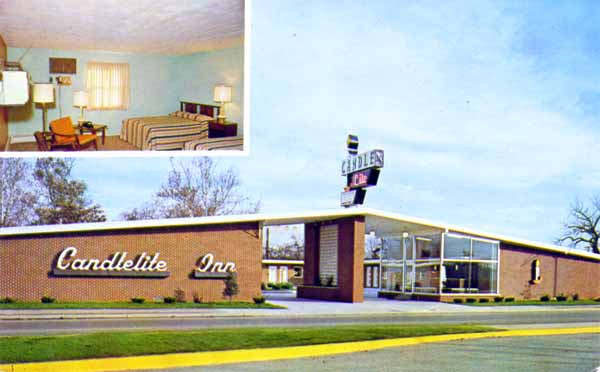 Candlelite Inn Motel
This unused postcard has the following printed text...
71315-B
Pub. by Richard H. Bruce, Terre Haute, Ind.
Dexter Press, Inc.
West Nyack, New York
Candlelite Inn Motel
803 N. 3rd St., Terre Haute, Ind.
Phone C7031
Located on highways 63 - 41, 8 blocks north downtown Terre Haute.
23 Luxury Rooms - Carpeted - Air Conditioned - Free Television - Tub and Shower Comb. - Telephones - Free Coffee in Rooms - Free Paper.
American Express and Carte Blanche credit cards honored.
I have another copy of this postcard with the hand-written date of 1970.
Carte Blanche originated as a Travel & Entertainment (T&E) card owned by Hilton Hotels, and competed with both American Express and Diners Club. The company changed ownership after being sold by Hilton, with Citibank owning the company for a brief period during the 1960s, and finally repurchasing it in 1979, and phasing the card out of service in the late 1980s. Throughout most of the 1960s and 1970s, the Carte Blanche card was considered to be a more prestigious worldwide travel and entertainment than American Express or Diners Club, though its small cardholder base hindered its success. Carte Blanche also was the first to implement a 'Gold Card' program, but initially only as a means to recognize cardholders who were frequent users and paid their bills on time. In 2000, the Carte Blanche name was revived in the United States when Diners Club, which was also acquired by Citibank in 1981, introduced an upscale version of its card: the Diners Club Carte Blanche Card.
This page created 26th April 2009, last modified 4th October 2009