Terre Haute Postcards
More postcards from my collection...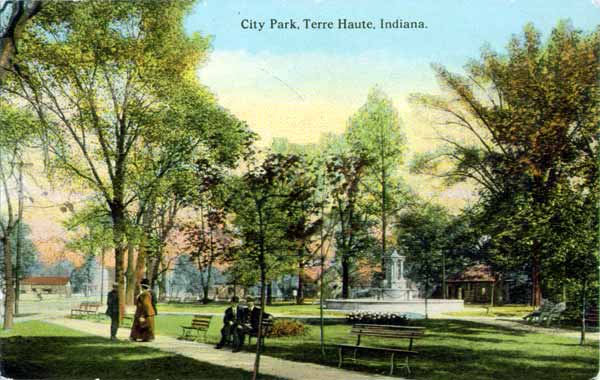 City Park, Terre Haute
This unused postcard has the printed text...
R-24745
The Model trademark logo
I have another copy ofthis postcard that was posted in Terre Haute on may 3rd, 1912.
This park is located at Fourteenth Street and Wabash Avenue. It was later known as Steeg Park in honour of Henry C. Steeg, who was mayor in 1898. It was later renamed Gilbert Park after Curtis Gilbert, who was postmaster at Fort Harrison in December 4th, 1817 - October 26th, 1818. In March 1918, Gilbert became the first clerk and recorder of Vigo County. He built a house on the northeast corner of Ohio and Water Strrets and when the post office in Fort Harrison closed in October 1818 he moved the post office into his home, which ws the first two-storey frame house in Terre Haute.
Source:
Greater Terer Haute and Vigo County

Clabber Girl Envelope
This envelope belonged to the Clabber Girl Baking Powder Company and was stamped on September 5th, 1935.
In early 1850, Hulman & Company opend a wholesale grocery store. In 1869, a spice mill and storeroom was added. In 1879, the company started making baking powders, named "Crystal" and Dauntless". As the process was improved, new baking powders were introduced "Milk" was introduced in 1887 and "Clabber" in 1899. In 1923, "Clabber" became "Clabber Girl". This became the best selling baking powder in America.
For more information see the Clabber Girl Museum
Clabber is (or was) a popular dish of the Old South and MidWest. Clabber is unpasteurized milk that has soured and thickened naturally. Depending on its thickness, icy-cold clabbered milk was (and sometimes still is) enjoyed as a drink. It may also be eaten with fruit, or topped with black pepper and cream or simply sprinkled with sugar.
Source: Answers.com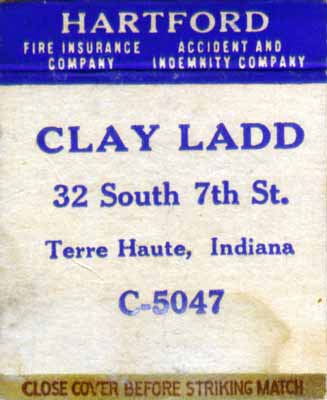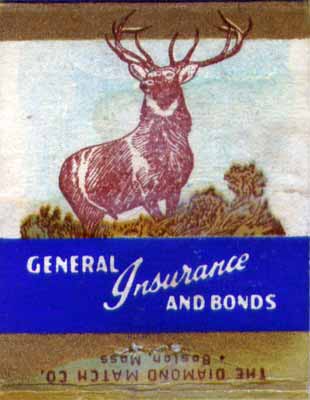 Clay Ladd Insurance Company
This matchbook is an advertisement for the Clay Ladd Insurance Agency of Terre Haute and for one of the companies they represent - the Hartford Inurance Company. Clay Ladd was founded in 1908 and is still trading. At the time this matchbook was produced Clay Ladd was operating at 32 South Seventh Street.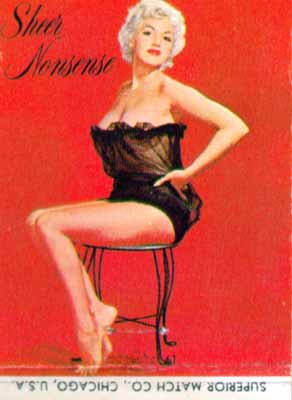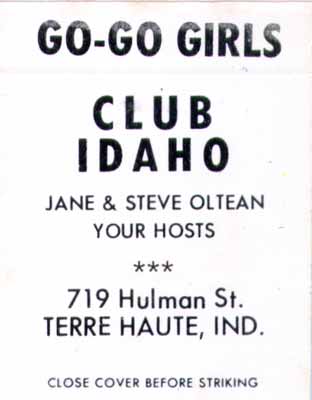 Club Idaho
This matchbook has the text...
Sheer Nonsense
Go-Go Girls
Club Idaho
Jane and Steve Oltean
Your Hosts
719 Hulman St.
Terre Haute, Ind.
Time magazine of Friday, February 21st, 1969, carried a story entitled "Open House in Terre Haute"...
Mayor Leland Larrison, 53, appeared on a local TV news show to protect his reputation. Indignantly, he denied a wire service story that he had vowed to rid Terre Haute of prostitution and gambling. The mayor's firm stand in defense of vice raised a modest cheer from gamblers in the upstairs room at the Club Idaho on Hulman Street, and then they went back to their roulette and poker. A sign on the door read:
WHAT YOU SEE, WHAT YOU HEAR, WHEN YOU LEAVE, LEAVE IT HERE.
As well as gambling and go-go girls Club Idaho was also a venue for several groups. The Collegiates (1962 - 1966) of DePauw University played at the club for a month. The Seventeens, a band from Vincennes, was house band in 1963 and opened for bands like The Champs - which had two young band members - Jimmy Seals and Dash Crofts, later to become "Seals and Crofts".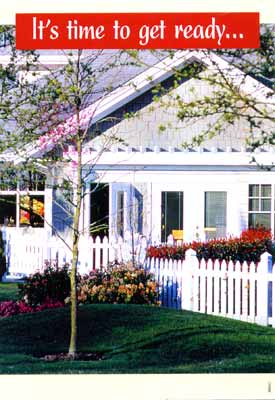 Colder Banker - Larry Helman Realtors (front)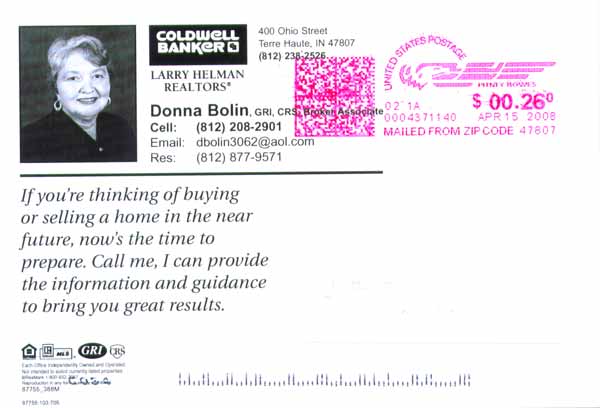 Colder Banker - Larry Helman Realtors (back)
This used postcard, stamped in Terre Haute on April 15th, 2008, has the following pertinent printed text...
388SC
87755_388M
87755:103:705
This postcard is included on the assumption that today's trash may well be tomorrow's treasure.
This page created 28th April 2009, last modified 1st November 2009